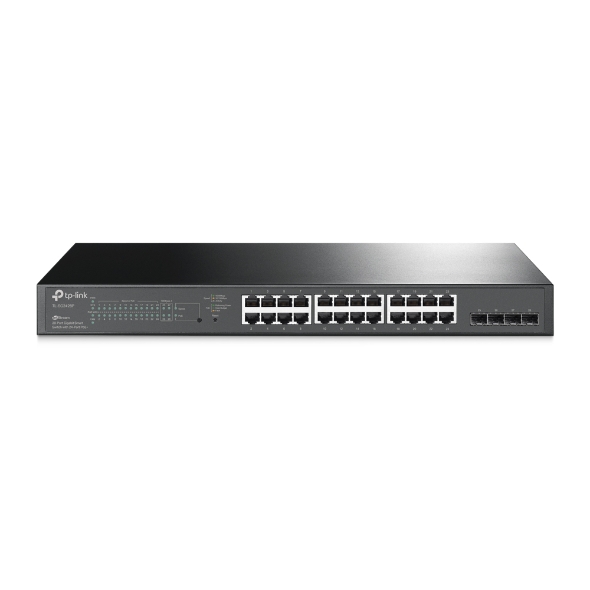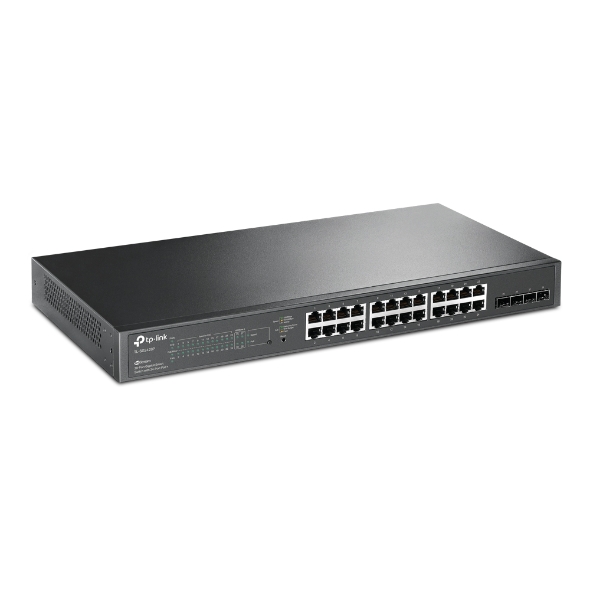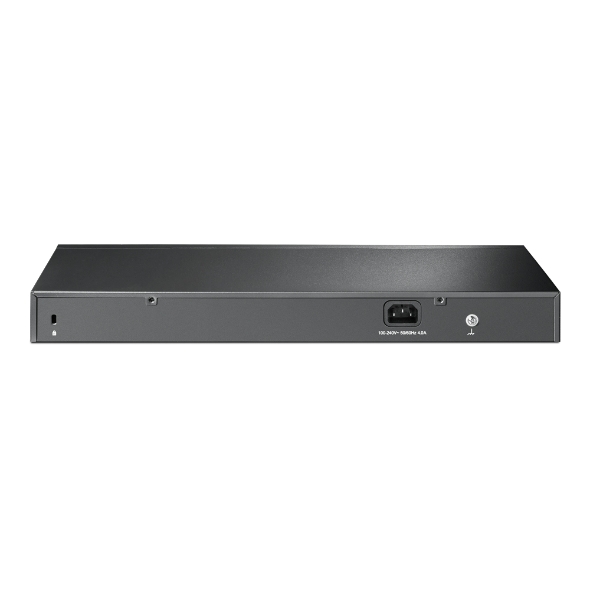 TL-SG2428P
Switch Smart con 24 Porte Gigabit PoE+ e 4 Slot SFP | Jetstream by Omada
Switch Gigabit PoE+ - Switch dotato di 28 porte Gigabit - 24 PoE+ e 4 SFP.
Power Budget totale - Alimentazione PoE+ 802.3at/af-compliant fino a 250 W su tutte le 24 porte PoE+.*
Dispositivo integrato Omada SDN* - La nuova soluzione Omada Software Defined Networking consente di gestire le reti Omada con modalità Hybrid Cloud e Full-Cloud. Integra Access Point della serie EAP, Router VPN SafeStream e Switch JetStream by Omada.
App Omada - L'intuitiva app Omada, per dispositivi Android e iOS, consente di accedere da remoto alla rete tramite Cloud, in qualunque momento, ovunque ti trovi.
Routing Statico - Gestione efficace delle risorse di rete, ottimizzazione traffico dati interno.
Massima Sicurezza - IP-MAC-Port Binding, ACL, Port Security, DoS Defend, Storm control, DHCP Snooping, 802.1X, Radius Authentication, ecc.
Ottimizzazione video/voce - Con funzionalità L2/L3/L4 QoS e IGMP snooping.
Compatibile IPv6 - IPv6 con supporto dual IPv4/IPv6 stack, MLD snooping e IPv6 neighbor discovery.
Scopri di più sulla tecnologia PoE >

Software Defined Networking
Switch PoE+ per installazioni flessibili e reti altamente scalabili
Switch JetStream 28 Porte Gigabit: 4SFP - 24 PoE+
TL-SG2428P
Gestione centralizzata in Cloud

Dispositivo integrato Omada SDN

Funzionalità Layer L2+

L2/L3/L4 QoS, ACL, routing statico

Massima sicurezza

LAN Area Investment Protection

Supporto PoE+

24 Porte PoE+ - Power budget totale 250 W*
Omada SDN - Software Defined Networking
Omada SDN è la soluzione Software Defined di TP-Link che offre soluzioni wireless e cablate ideali per strutture alberghiere e sanitarie, edifici scolastici, aziende, spazi pubblici e molto altro. Omada SDN integra una gamma completa di dispositivi - Access Point, Switch, Gateway e Hardware Controller - in una soluzione altamente scalabile con gestione Full-Cloud e Hybrid-Cloud.
Switch per Sorveglianza

La gamma switch di TP-Link comprende numerosi modelli PoE ideali per la creazione di infrastrutture di rete e per l'implementazione di sistemi di videosorveglianza, per un network scalabile e flessibile in grado di crescere in base alle esigenze del tuo business.

Trasmissione PoE a lunga distanza
Auto Camera Recovery
Sicurezza avanzata del Network

Hospitality

La soluzione Omada SDN consente di realizzare reti business wireless & networking affidabili e performanti per andare incontro alle esigenze in continua evoluzione del settore Hospitality.

Piena copertura Wi-Fi e connessione cablata
Controllo flessibile degli accessi alla rete
Captive portal di autenticazione
Seamless Roaming e Omada Mesh
Gestione intuitiva con piattaforma centralizzata in Cloud

Education

TP-Link offre soluzioni di networking professionali stabili, sicure e scalabili a supporto degli istituti scolastici, dalla scuola primaria all'università ideali per affrontare le attuali esigenze di ammodernamento digitale.

Gestione intuitiva tramite Cloud, anche da remoto
Piena copertura wireless e connessioni cablate ad alta velocità in ambienti ad alta densità di client
Funzionalità di sicurezza avanzate
VPN per accesso da remoto alle risorse centrali dell'Istituto
Autenticazione sicura alla rete Ospiti tramite Captive Portal
Centro Vaccinale di Novegro

TP-Link Professional Solution in ambito Healthcare per il Centro Vaccinale di Novegro. Progetto realizzato da TP-Link Partner POL-ONE S.r.l.

Centro Vaccinale di Novegro

TP-Link Professional Solution in ambito Healthcare per il Centro Vaccinale di Novegro. Progetto realizzato da TP-Link Partner POL-ONE S.r.l.

Pol-One i partner installatori: "TP-Link ha fornito i dispositivi di rete indispensabili per la realizzazione delle postazioni informatizzate del Centro Vaccinale, che consentono di operare in modo rapido e sicuro durante tutte le fasi, dal processo di accettazione dei pazienti fino alla registrazione e certificazione dell'avvenuta vaccinazione. L'infrastruttura realizzata consente di sfruttare al massimo la velocità di connessione disponibile, snellendo notevolmente i tempi necessari a completare le pratiche amministrative."

Sim Lim Square

Singapore's largest IT and electronics shopping mall, Sim Lim Square, deploys TP-Link Auranet Indoor Wi-Fi solution

Sim Lim Square

Singapore's largest IT and electronics shopping mall, Sim Lim Square, deploys TP-Link Auranet Indoor Wi-Fi solution

"Our customer satisfaction levels have been greatly improved since we started offering free public Wi-Fi throughout the entire mall. For that alone, the solution TP-Link provided was the best choice." —Sean Chia, Head of Advertising & Promotions, Sim Lim Square.
CARATTERISTICHE HARDWARE
Standard e protocolli
IEEE 802.3i, IEEE 802.3u, IEEE 802.3ab, IEEE802.3z, IEEE 802.3ad, IEEE 802.3x, IEEE 802.3az, IEEE 802.1d, IEEE 802.1s, IEEE 802.1w, IEEE 802.1q, IEEE 802.1p, IEEE 802.1x
Interfaccia
• 24× 10/100/1000 Mbps RJ45 Ports (Auto Negotiation/Auto MDI/MDIX)• 4× Gigabit SFP Slots
Media
• 10BASE-T: UTP category 3, 4, 5 cable (maximum 100m)• 100BASE-TX/1000Base-T: UTP category 5, 5e or above cable (maximum 100m)• 1000BASE-X: MMF, SMF
Numero ventole
2
Alimentazione
100-240V AC, 50/60Hz
Porte PoE+
• Standard: 802.3at/af compliant• PoE+ Ports: 24 Ports• Power Supply: 250 W
Porte PoE
• Standard: 802.3at/af compliant• PoE+ Ports: 24 Ports• PoE Power Budget: 250 W*
Dimensioni ( L x P x A )
440 × 220 × 44 mm
Tipo di montaggio
Rack Mountable
Max Power Consumption
• 32.1 W (110 V/ 60 Hz with no PD connected)• 308.6 W (110 V/ 60 Hz with 250 W PD connected)
Max Heat Dissipation
• 109.53 BTU/h (with no PD connected)
• 1052.94 BTU/h (with 250 W PD connected)
PRESTAZIONI
Capacità di switching
56 Gbps
Bandwidth/Backplane
56 Gbps
Packet Forwarding Rate
41.7 Mpps
Tabella ARP
8K
Buffer (pacchetti)
4.1 Mbit
Jumbo frame
9KB
CARATTERISTICHE SOFTWARE
QoS (Quality of Service)
• 802.1p CoS/DSCP priority
• 8 priority queues
• Priority Schedule Mode
- SP (Strict Priority)
- WRR (Weighted Round Robin)
• Queue Weight Config
• Bandwidth Control
- Port/Flow based Rating Limit
• Smoother Performance
• Storm Control
- Multiple Control Modes(kbps/ratio)
- Broadcast/Multicast/Unknown-Unicast Control
Funzionalità L2 e L2+
• 16 IP Interfaces
- Support IPv4/IPv6 Interface
• Static Routing
- 32 IPv4/IPv6 Static Routes
• DHCP Server
• DHCP Relay
- DHCP Interface Relay
- DHCP VLAN Relay
• DHCP L2 Relay
• Static ARP
• Proxy ARP
• Gratuitous ARP
• Link Aggregation
- Static link aggregation
- 802.3ad LACP
- Up to 8 aggregation groups and up to 8 ports
per group
• Spanning Tree Protocol
- 802.1D STP
- 802.1w RSTP
- 802.1s MSTP
- STP Security: TC Protect, BPDU Filter/Protect,
Root Protect
• Loopback Detection
• Flow Control
- 802.3x Flow Control
• Mirroring
- Port Mirroring
- CPU Mirroring
- One-to-One
- Many-to-One
- Flow-Based
- Ingress/Egress/Both
• Device Link Detect Protocol (DLDP)
• 802.1ab LLDP/ LLDP-MED
VLAN
• VLAN Group
- Max. 4K VLAN Groups
• 802.1Q tag VLAN
• MAC VLAN: 12 Entries
• Protocol VLAN
• GVRP
• Voice VLAN
ACL (Access Control List)
• Support up to 230 entries
• Time-Range
- Time Slice
- Week Time-Range
- Absolute Time-Range
- Holiday
• Time-based ACL
• MAC ACL
- Source MAC
- Destination MAC
- VLAN ID
- User Priority
- Ether Type
• IP ACL
- Source IP
- Destination IP
- IP Protocol
- TCP Flag
- TCP/UDP Source Port
- TCP/UDP Destination Port
- DSCP/IP TOS
• IPv6 ACL
• Combined ACL
• Rule Operation
- Permit/Deny
• Policy Action
- Mirror
- Rate Limit
- Redirect
- QoS Remark
• ACL Rules Binding
- Port Binding
- VLAN Binding
• Actions for flows
- Mirror (to supported interface)
- Redirect (to supported interface)
- Rate Limit
- QoS Remark
Sicurezza
• AAA
• 802.1X
- Port based authentication
- MAC (Host) based authentication
- Authentication Method includes PAP/EAP-MD5
- MAB
- Guest VLAN
- Support Radius authentication and
accountability
• IP/IPv6-MAC Binding
- 512 Binding Entries
- DHCP Snooping
- DHCPv6 Snooping
- ARP Inspection
- ND Detection
• IP Source Guard
- 253 Entries
- Source IP+Source MAC
• IPv6 Source Guard
- 183 Entries
- Source IPv6 Address+Source MAC
• DoS Defend
• Static/Dynamic/Permanent Port Security
- Up to 64 MAC addresses per port
• Broadcast/Multicast/Unicast Storm Control
- kbps/ratio control mode
• Port Isolation
• Secure web management through HTTPS with
SSLv3/TLS 1.2
• Secure Command Line Interface (CLI)
management with SSHv1/SSHv2
• IP/Port/MAC based access control
IPv6
• IPv6 Static Routing and ACL
• IPv6 Dual IPv4/IPv6
• IPv6 Interface
• Multicast Listener Discovery (MLD) Snooping
• IPv6 neighbor discovery (ND)
• Path maximum transmission unit (MTU) discovery
• Internet Control Message Protocol (ICMP)
version 6
• TCPv6/UDPv6
• IPv6 applications
- DHCPv6 Client
- Ping6
- Tracert6
- Telnet(v6)
- IPv6 SNMP
- IPv6 SSH
- IPv6 SSL
- Http/Https
- IPv6 TFTP
Caratteristiche avanzate
• Automatic Device Discovery• Batch Configuration• Batch Firmware Upgrading• Intelligent Network Monitoring• Abnormal Event Warnings• Unified Configuration• Reboot Schedule
MIBs
• MIB II (RFC1213)• Bridge MIB (RFC1493)• P/Q-Bridge MIB (RFC2674)• Radius Accounting Client MIB (RFC2620)• Radius Authentication Client MIB (RFC2618)• Remote Ping, Traceroute MIB (RFC2925)• Support TP-Link private MIBs• RMON MIB(RFC1757, rmon 1,2,3,9)
GESTIONE
Omada App
Yes
Centralized Management
• Omada Cloud-Based Controller• Omada Hardware Controller (OC300)• Omada Hardware Controller (OC200)• Omada Software Controller
Cloud Access
Yes (Through OC300, OC200, Omada Cloud-Based Controller, or Omada Software Controller)
Zero-Touch Provisioning
Yes. Requiring the use of Omada Cloud-Based Controller (Supported by TL-SG2428P v1, v3 and above, while is not supported by TL-SG2428P v2)
Management Features
• Web-based GUI
• Command Line Interface (CLI) through telnet
• SNMPv1/v2c/v3
• SNMP Trap/Inform
• RMON (1,2,3,9 groups)
• SDM Template
• DHCP/BOOTP Client
• Dual Image, Dual Configuration
• CPU Monitoring
• Cable Diagnostics
• EEE
• SNTP
• System Log
ALTRO
Certificazione
CE, FCC, RoHS
Contenuto della confezione
TL-SG2428P• Power Cord• Installation Guide• Rackmount Kit• Rubber Feet
Requisiti di sistema
Microsoft® Windows® XP, Vista™ or Windows 7, Windows 8, Windows 10, MAC® OS, NetWare®, UNIX® or Linux.
Ambiente
• Operating Temperature: 0–50 ℃ (32–122 ℉);
• Storage Temperature: -40–70 ℃ (-40–158 ℉)
• Operating Humidity: 10–90% RH non-condensing
• Storage Humidity: 5–90% RH non-condensing
*Il calcolo del Power Budget PoEsi basa su test di laboratorio. Le prestazioni possono variare in base a limitazioni dei client e fattori ambientali.
**La funzionalità Zero-Touch Provisioning è disponibile con Omada Cloud-Based Controller (Full-Cloud).
* Verifica a questo link le funzionalità switch disponibili con Omada SDN.
From United States?
Get products, events and services for your region.