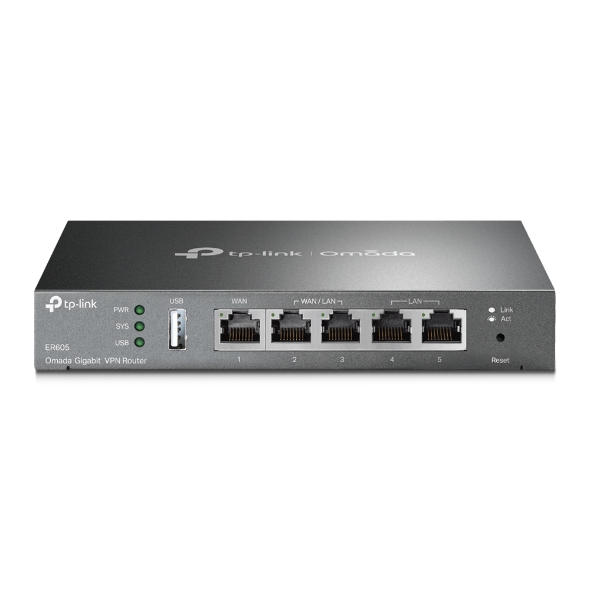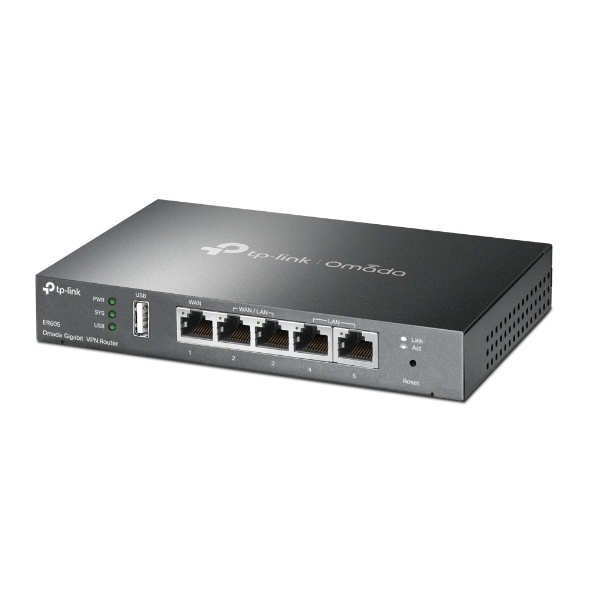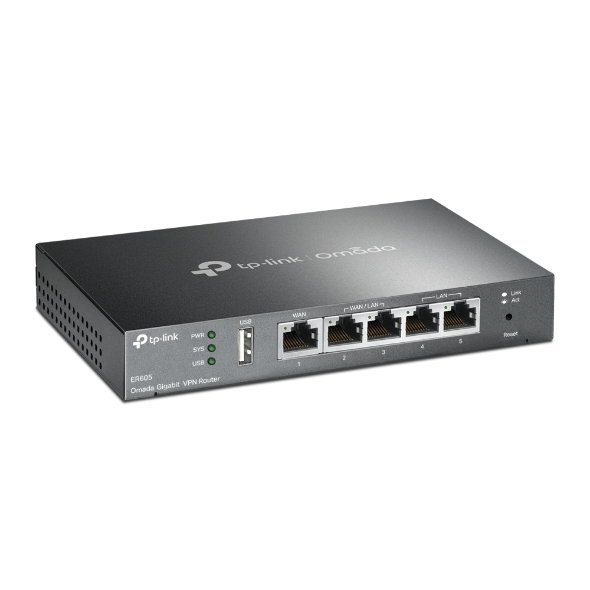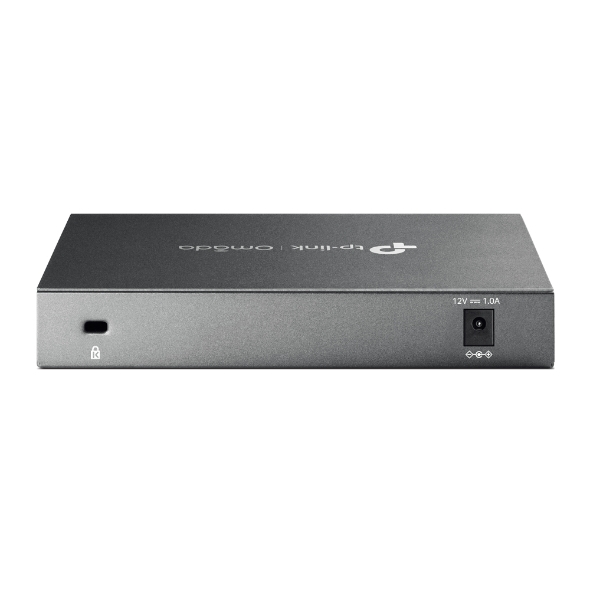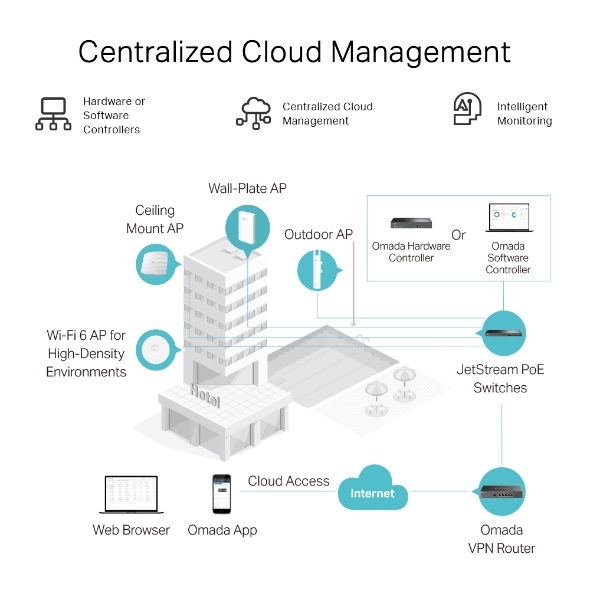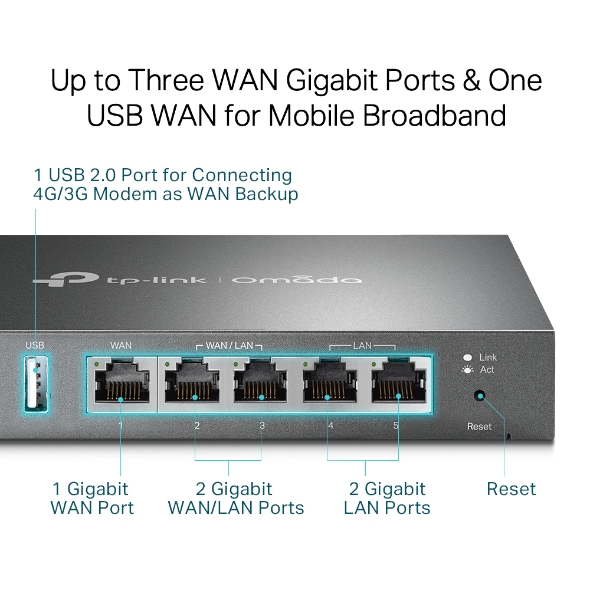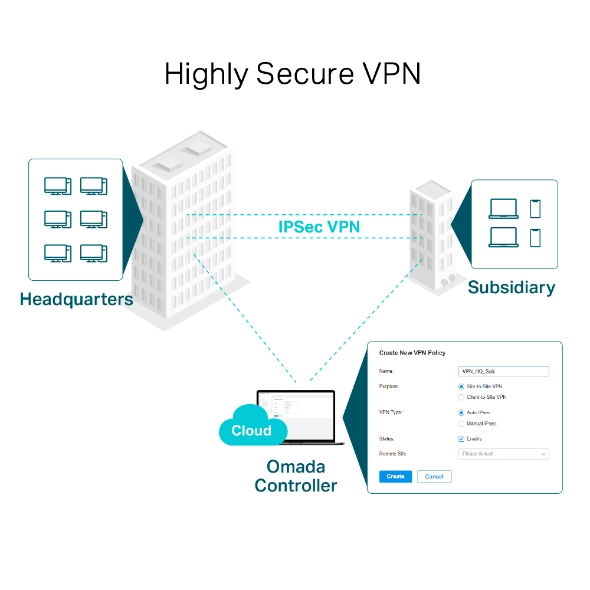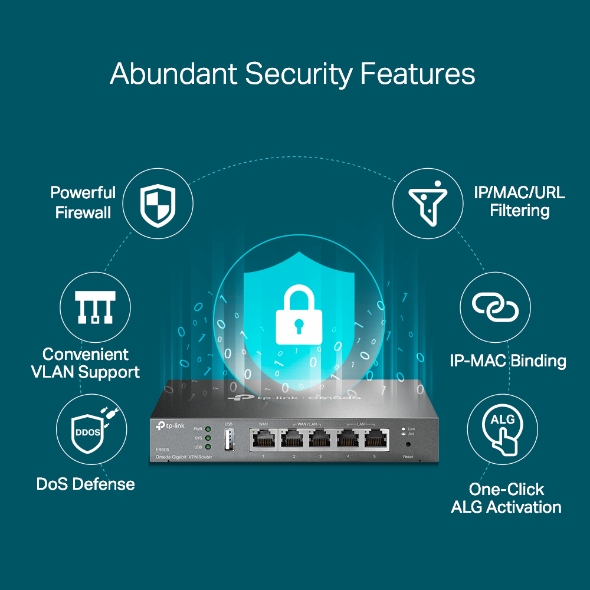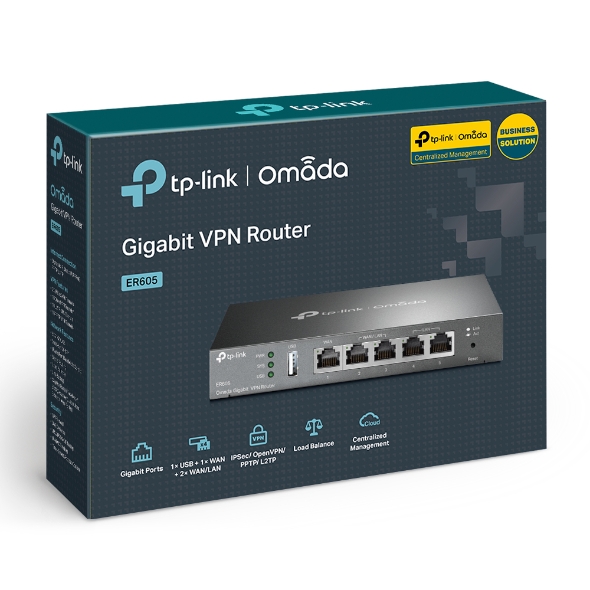 Gateway VPN Gigabit Multi-WAN SafeStream by Omada
5 Porte Gigabit: connettività cablata ultraveloce.
Fino a 3 porte WAN: 1 porta gigabit WAN e 2 porte gigabit WAN/LAN con load balance per un'utilizzo di banda ottimizzato
1 Porta USB WAN: supporta dongle LTE 4G/3G come connessione di backup.
VPN sicure: Supporta fino a 20 connessioni LAN-to-LAN IPsec, 16 connessioni OpenVPN*, 16 connessioni L2TP, e 16 connessioni PPTP VPN.
Sicurezza avanzata protocolli di sicurezza firewall avanzati, DoS defense,IP/MAC/URL filtering e molto altro, per proteggere la rete e la sicurezza dei dati.
Dispositivo integrato Omada SDN - La soluzione Omada Software Defined Networking consente di gestire le reti Omada con modalità Hybrid Cloud e Full-Cloud. Integra Access Point della serie EAP, Gateway VPN e Switch Giggabit Managed.
App Omada - L'intuitiva app Omada, per dispositivi Android e iOS, consente di accedere da remoto alla rete tramite Cloud, in qualunque momento, ovunque ti trovi.
Scopri di più su Omada Cloud SDN>​

Software Defined Networking
Gateway VPN Multi-WAN per Reti Business con gestione centralizzata in Cloud tramite Omada SDN
ER605
Gestione centralizzata

Porte Gigabit

1 USB + 1 WAN + 2 WAN/LAN

Load Balance

IPSec/OpenVPN*/ PPTP/L2TP

Firewall potente

VLAN**

Omada App
Omada SDN - Soluzioni Business Wireless & Networking
La soluzione Omada Software Defined Networking (SDN) consente di gestire in maniera centralizzata da remoto l'intera rete (router, switch, access point) tramite Cloud Based Controller Omada. ER605 si integra perfettamente nella soluzione Omada, ma può essere gestito anche in modalità stand-alone tramite interfaccia web o app.
Hardware or Software Controllers

Centralized Cloud Management

Intelligent Monitoring
Wi-Fi 6 AP per ambienti ad akta densità
Omada Hardware Controller
Omada Software Controller
Fino a 3 Porte Gigabit WAN e una porta USB WAN per backup 4G
ER605 permette di sfruttare fino a 3 porte WAN per andare incontro a diverse esigenze di accesso internet utilizzando un solo gateway, 2 delle porte LAN possono infatti essere utilizzate liberamente come porte WAN. La funzione Multi-WAN Load Balancing distribuisce i data stream a seconda della disponibilità di banda di ogni WAN. ER605 è inoltre dotato di porta USB 2.0 per supportare backup WAN su dongle 4G/3G.
1× Porta USB 2.0 per backup WAN 4G/3G
Connessioni VPN estremamente sicure
ER605 supporta VPN IPSec/PPTP/L2TP su protocolli IPSec/SSL. La funzionalità One-click auto IPSec VPN* semplifica la configurazione VPN e facilita le operazioni di gestione, mettendo in sicurezza e criptando le comunicazioni private site-to-site. Questa versione migliora le performance VPN fino a 5 volte grazie alla linea di comunicazione aperta con la user base Omada.
Funzionalità di sicurezza
Firewall Potente
Il firewall avanzato protegge la rete e i dati degli utenti.
Supporto VLAN
Crea segmenti di rete per aumentare i livelli
di sicurezza e semplificare la gestione della rete.***
DoS Defense
Identifica e blocca in automatico gli attacchi
Denial of Service (DoS) come TCP/UDP/ICMP Flooding,
Ping of Death e altri pericoli.
IP/MAC/URL Filtering
Previene virus e tentativi di intrusione.
IP-MAC Binding
Riserva l'assegnazione degli IP Statici ai client
per proteggere la rete da attacchi ARP
e spoofing.
One-Click ALG Activation
Attivazione One-Click per
applicazioni come FTP, H323, SIP,
IPsec e PPTP.
Gestione degli accessi
IP/MAC/URL Filtering e Access Control List (ACL)consentono di specificare i permessi di accesso alla rete degli utenti. L'autenticazione tramite Captive Portal consente di monitorare più facilmente la rete classificando gli accessi, impostando appropriate risorse di rete per particolari utenti o ospiti.
Gestione intuitiva con Omada App
Segui le istruzioni di configurazione dell'app gratuita Omada per rendere operativo ER605 in pochi minuti.
L'app Omada permette di eseguire configurazioni, monitorare il network, gestire i client, il tutto direttamente dal tuo dispositivo Android o iOS.
CARATTERISTICHE HARDWARE
Standard e protocolli
• IEEE 802.3, 802.3u, 802.3ab, IEEE 802.3x, IEEE 802.1q• TCP/IP, DHCP, ICMP, NAT, PPPoE, NTP, HTTP, HTTPS, DNS, IPSec, PPTP, L2TP, OpenVPN, SNMP
Interfaccia
• 1 Fixed Gigabit WAN Port
• 2 Fixed Gigabit LAN Ports
• 2 Changeable Gigabit WAN/LAN Ports
• 1 USB 2.0 Port (Connecting 4G/3G Modem as WAN Backup‡)
Media
• 10BASE-T: UTP category 3, 4, 5 cable (Max 100m)EIA/TIA-568 100Ω STP (Max 100m)• 100BASE-TX: UTP category 5, 5e cable (Max 100m)EIA/TIA-568 100Ω STP (Max 100m)• 1000BASE-T: UTP category 5, 5e, 6 cable (Max 100m)
Tasto
Reset Button
Alimentazione
External 12V/1A DC Adapter
Flash
128 MB NAND
DRAM
256 MB DDR
LED
PWR, SYS, WAN (Link/Act), LAN (Link/Act), USB
Dimensioni ( L x P x A )
6.2 × 4.0 × 1.0 in (158 × 101 × 25mm)
Max Power Consumption
7.94 W
PRESTAZIONI
Sessioni concorrenti
150,000
New Sessions /Second
2,600
NAT (Static IP)
• Upload: 945.77 Mbps
• Download: 945.56 Mbps
• Bi-Directional: 1808.29 Mbps
NAT(DHCP)
• Upload: 945.93 Mbps
• Download: 945.43 Mbps
• Bi-Directional: 1808.11 Mbps
NAT(PPPoE)
• Upload: 940.44Mbps
• Download: 940.52 Mbps
• Bi-Directional: 1804.27 Mbps
NAT (L2TP)
• Upload: 845.64 Mbps
• Download: 802.65 Mbps
• Bi-Directional: 931.96 Mbps
NAT (PPTP)
• Upload: 771.66 Mbps
• Download: 874.81 Mbps
• Bi-Directional: 999.54 Mbps
64 Byte Packet Forwarding Rate
• Upload/Download: 1,402,238 pps
• Bi-Directional: 1,681,548 pps
Throughput VPN IPsec
• ESP-MD5-AES256: 171.26 Mbps
• ESP-SHA1-AES256: 224.86 Mbps
• ESP-SHA2-AES256: 248.04 Mbps
OpenVPN
• 21.70 Mbps
L2TP VPN Throughput
• Unencrypted: 864.65 Mbps
• Encrypted: 47.11 Mbps
PPTP VPN Throughput
• Unencrypted: 703.20 Mbps
• Encrypted: 76.65 Mbps
FUNZIONI DI BASE
Tipo connessione WAN
• Static/Dynamic IP
• PPPoE
• PPTP
• L2TP
• Mobile Broadband: 4G/3G modem for backup via USB port‡
MAC clone
Modify WAN/LAN MAC Address†
DHCP
• DHCP Server/Client• DHCP Address Reservation• Multi-net DHCP*• Multi-IP Interfaces*
IPv6
StaticIP / SLAAC / DHCPv6 / PPPoE / 6to4Tunnel / PassThrough
VLAN
802.1Q VLAN
IPTV
IGMP v2/v3 Proxy, Custom Mode, Bridge Mode
FUNZIONALITA' AVANZATE
ACL
IP/Port/Protocol/Domain Name Filtering
Routing avanzato
• Static Routing• Policy Routing
Bandwidth control
IP-based Bandwidth Control
Load balance
• Intelligent Load Balance• Application Optimized Routing• Link Backup (Timing§, Failover)• Online Detection
NAT
• One-to-One NAT§• Multi-Net NAT• Virtual Server• Port Triggering§• NAT-DMZ• FTP/H.323/SIP/IPSec/PPTP ALG, UPnP
Sicurezza
• SPI Firewall• VPN Passthrough• FTP/H.323/PPTP/SIP/IPsec ALG• DoS Defence, Ping of Death• Local Management
Session Limit
IP-based Session Limit
VPN
VPN IPsec
• 20 IPsec VPN Tunnels
• LAN-to-LAN, Client-to-LAN
• Main, Aggressive Negotiation Mode
• DES, 3DES, AES128, AES192, AES256 Encryption Algorithm
• IKEv1/v2
• MD5, SHA1 Authentication Algorithm
• NAT Traversal (NAT-T)
• Dead Peer Detection (DPD)
• Perfect Forward Secrecy (PFS)

VPN PPTP
• PPTP VPN Server
• 10 PPTP VPN Clients**
• 16 Tunnels
• PPTP with MPPE Encryption
VPN L2TP
• L2TP VPN Server
• 10 L2TP VPN Clients**
• 16 Tunnels
• L2TP over IPSec
OpenVPN
• OpenVPN Server*
• 10 OpenVPN Clients*△
• 16 OpenVPN Tunnels*
SICUREZZA
Filtering
WEB Group Filtering§URL FilteringWeb Security§
ARP inspection
• Sending GARP Packets§• ARP Scanning§• IP-MAC Binding§
Attack defence
• TCP/UDP/ICMP Flood Defense• Block TCP Scan (Stealth FIN/Xmas/Null)• Block Ping from WAN
Access Control
Source/Destination IP Based Access Control
AUTHENTICATION
Web Authentication
• No Authentication• Simple Password*• Hotspot(Local User / Voucher* / SMS* / Radius*)• External Radius Sever• External Portal Sever*• Facebook*
GESTIONE
Omada App
Yes
Centralized Management
• Omada Hardware Controller (OC300)
• Omada Hardware Controller (OC200)
• Omada Software Controller
• Omada Cloud-Based Controller
Cloud Access
Yes (Through OC300, OC200, Omada Cloud-Based Controller, or Omada Software Controller)
Servizio
Dynamic DNS (Dyndns, No-IP, Peanuthull, Comexe)
Manutenzione
• Web Management Interface
• Remote Management
• Export & Import Configuration
• SNMP v1/v2c/v3
• Diagnostics (Ping & Traceroute)§
• NTP Synchronize§
• Syslog Support
Management Features
• Automatic Device Discovery
• Intelligent Network Monitoring
• Abnormal Event Warnings
• Unified Configuration
• Reboot Schedule
• Captive Portal Configuration
ALTRO
Certificazione
CE, FCC, RoHS
Contenuto della confezione
• Gigabti VPN Router ER605• Power Adapter• RJ45 Ethernet Cable• Quick Installation Guide
Requisiti di sistema
Microsoft Windows 98SE, NT, 2000, XP, Vista™ or Windows 7/8/8.1/10, MAC OS, NetWare, UNIX or Linux
Ambiente
• Operating Temperature: 0–40 ℃ (32–104 ℉);• Storage Temperature: -40–70 ℃ (-40–158 ℉)• Operating Humidity: 10–90% RH non-condensing• Storage Humidity: 5–90% RH non-condensing
△ Per Open VPN: quando il dispositivo è impostato come VPN server ogni porta WAN può connettere fino a 10 client VPN. Quando il dispositivo è impostato come VPN client può connettersi con un massimo di 10 VPN server. Il numero totale dei tunnel VPN è limitato a 16.
‡ Lista completa dei dongle 4G/3G supportati al link https://www.tp-link.com/it/er605/compatibility/
*** La creazione di vlan separate è disponibile in standalone mode. In controller mode occorrerà l'ausilio degli switch della serie Omada SDN.
† Gli indirizzi LAN MAC possono essere modificati solo in modalità Standalone Mode.
* Funzionalità supportate solo in modalità Standalone Mode.
** ER605 può essere utilizzato come client VPN e può connettere fino a 10 server VPN.
Iscriviti alla newsletter TP-Link prende la Privacy seriamente. Per maggiori informazioni sul trattamento dei tuoi dati consulta l'Informativa Privacy.
From United States?
Get products, events and services for your region.