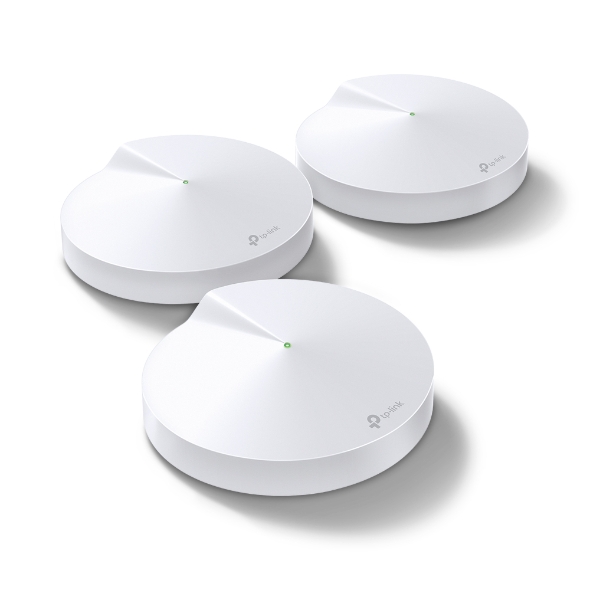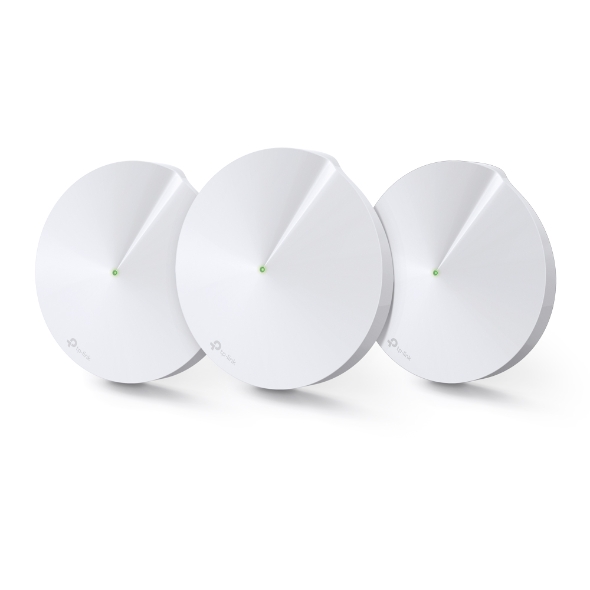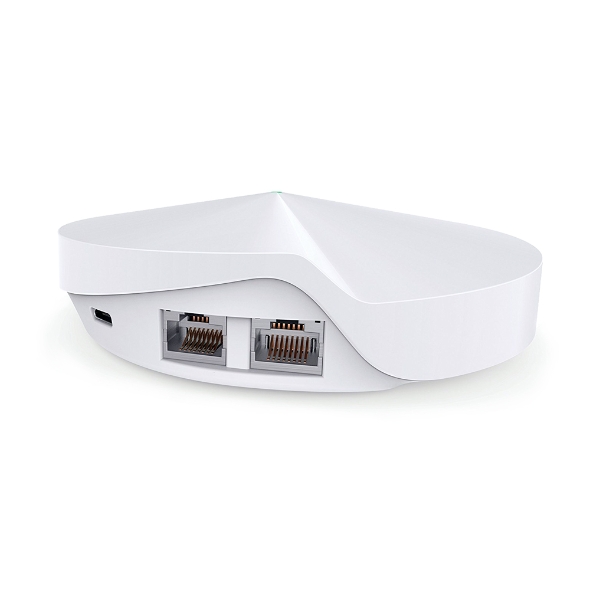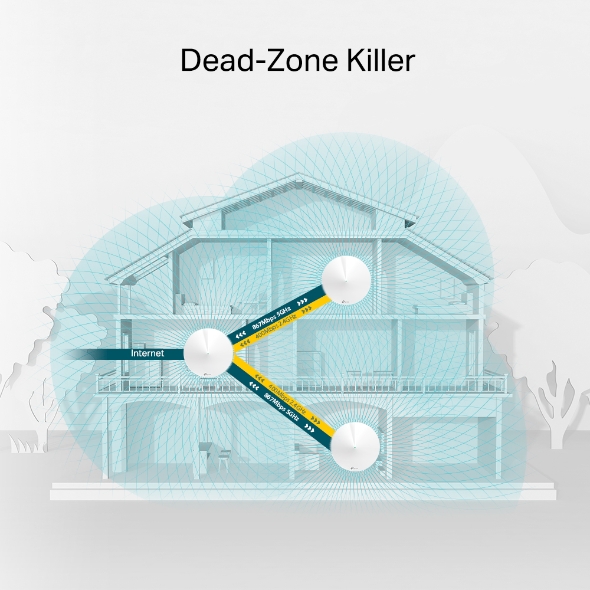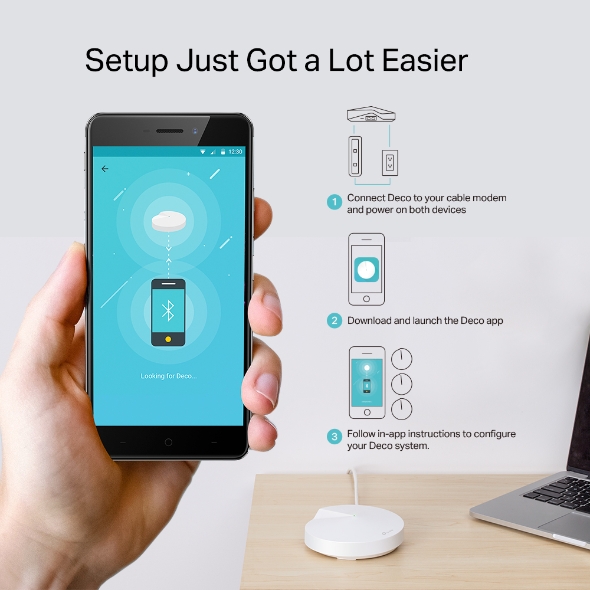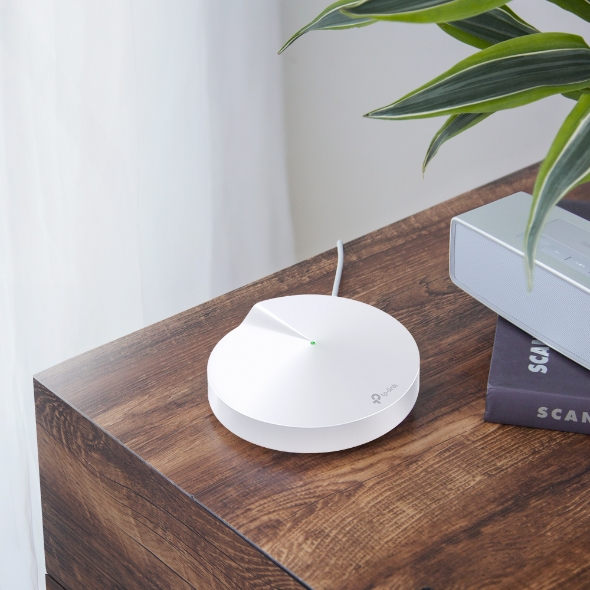 AC1300 egész otthont lefedő Mesh Wi-Fi rendszer
Deco uses a system of units to achieve seamless whole-home Wi-Fi coverage — eliminate weak signal areas once and for all!
With advanced Deco Mesh Technology, units work together to form one unified whole-home network with the same network name. Devices automatically switch between Decos as you move through your home for the fastest possible speeds.
A Deco M5 delivers Wi-Fi to an area of up to 2,000 square feet. And if that's not enough, simply add more Decos to the network anytime to increase coverage.
Deco M5 provides fast and stable connections with speeds of up to 1267Mbps and works with any internet service provider (ISP) and modem.
Deco can handle traffic from even the busiest of networks, providing lag-free connections for over 100 devices.
TP-Link HomeCareTM provides a suite of personalized and secure features, including Parental Controls, built-in Antivirus and Quality of Service (QoS).
Setup is easier than ever with the Deco app there to walk you through every step.
Éld az életed megszakítások nélkül
A Deco egy otthoni Wi-Fi megoldás a legszéleskörűbb biztonsági beállításokkal. Minden szobában gyors, megszakítás mentes W-iFi-t biztosít a szükséges mennyiségű különálló AC1300-as egységnek köszönhetően és mindezt közel 420 m² nagyságú területen. Könnyen beállítható és bővíthető, egyedülálló technikai támogatással.
Deco Router
Hagyományos Router jelismétlővel
Kiemelkedő előnyök
HomeCareTM

A HomeCare a legátfogóbb biztonsági megoldásokat nyújtja a teljes otthont lefedő WiFi rendszerek között..

HomecareTM szolgáltatások:

Robosztus szülői felügyelet

Állítsa be, hogy mit és mikor érhetnek el az egyes eszközök az interneten.

3 év beépített vírusvédelem

Védje otthonának összes eszközét a vírusokkal és a kémprogramokkal szemben.

Használati jelentések

Tekintse át a havi összesítőben a használatot, blokkolt tartalmakat és a biztonsági fenyegetéseket.

Szolgáltatások minősége

Priorizálja az eszközöket és az alkalmazásokat, amelyeknek nagyobb sebességre van szükségük.
Alkalmazáson keresztüli beállítás

A Deco segít gyorsan megtalálni a tökéletes pozíciót a lakásában minden egyes Deco egységhez.
Sebességmérés

Ellenőrizheti a letöltési és feltöltési sebességét a maximális sebesség elérése érdekében.
ART (Adaptive Routing Technology)

Automatikusan kiválasztja a legtisztább útvonalat minden egyes eszköz számára a Deco egységek elhelyezkedésétől függően.
Mert a WiFi-nek mindig működnie kell
A Deco egy otthoni Wi-Fi megoldás, amely egy erős hálózatot alakít ki függetlenül otthona méretétől és felépítésétől. Egységes Wi-Fi hálózatot alakít ki, így Ön élvezheti a zökkenőmentes kapcsolatot, anélkül, hogy helyhez lenne kötve az otthonában.
M5
Az első otthoni Wi-Fi rendszer átfogó biztonsági megoldásokkal
Termékjellemzők
TP-Link ARTTM
(Adaptive Routing Technológia)
A legjobb kapcsolat. Mindig. Minden szobában.
Az ART automatikusan kiválasztja a legtisztább útvonalat otthonában az összes eszköz számára a Deco egységek elhelyezkedésétől függően. Nem számít hol van eszköze, mindig a legjobb elérhető kapcsolattal fog rendelkezni egyetlen SSID (hálózati név) használatával. Akár 2,4 GHz, akár 5 GHz, az ART a megfelelő sávra fogja helyezni az Ön eszközét. Az ART-tal szabadon mozoghat a szobák között, miközben streamel, játszik, letölt, vagy épp böngészik, és ezt mind egy egységes Wi-Fi hálózaton.
Automatikosan optimalizálja a Deco hálózatát Wi-Fi-n keresztül
Automatikusan az elérhető legjobb Deco egységhez csatlakoztatja eszközét a leggyorsabb kapcsolat érdekében
TP-Link HomeCareTM
Otthoni Wi-Fi rendszer. Otthoni biztonság.
A HomeCareTM vírusvédelmi szolgáltatás a Trend Micro-tól ($360 értékű) naponta több mint 100 000 új biztonsági fenyegetéstől védi meg minden eszközét, amely a hálózatra kapcsolódik. Az AV-TEST, egy független tesztelő intézet, első helyre rangsorolta védelemben, teljesítményben és használhatóságban. Naponta nyolc milliárd URL-t dolgoz fel, amely érintheti a Wi-Fi kompatibilis eszközöket, mint például a számítógépeket, okostelefonokat, IP kamerákat és egyéb otthoni okos eszközöket.

Amint egy rosszindulatú URL élesedik, a HomeCareTM 15 percen belül blokkolja azt. A három fázisú védelmi rendszer blokkolja a rosszindulatú fenyegetéseket és adathalász oldalakat. A lehető legjobb védelem érdekében a Deco automatikusan frissíti a vírusdefiníciós adatbázisát és könnyen használható szülői felügyeletet biztosít.
Három év ingyenes HomeCareTM vírusvédelmi szolgáltatás a Trend Micro-tól ($360 értékű)
A szülői felügyelet lehetőséget nyújt korcsoport alapján a tartalom szűrnésére
Időkorlátot állíthat be a család egyes tagjaira
Szüneteltetheti az internet elérést, amikor csak szeretné
Távolról irányíthatja Ön vagy mások (az Ön engedélyével) a hálózatát
Internet használati és vírus jelentés
Tiltólista bizonyos eszközök számára
Kiemelt technikai támogatás
Könnyed kezelhetőség az alkalmazáson keresztül
Futtassa az eszközeit az Ön sebességével
A Deco mobil alkalmazása több mint a Wi-Fi beállítása. Az alkalmazás lehetőséget ad az eszközök priorizálására a nagyobb sebesség elérése és a gyorsabb megosztás érdekében — és ezt mind az okostelefonjáról.
Alkalmazások és eszközök priorizálása a nagyobb sebesség elérése érdekében
Vendég Wi-Fi hálózat megosztása
Hibakeresés, sebességmérés és diagnosztikák futtatása
Egyes eszközök forgalmának megfigyelése
Specifikációk
Minden a részletekben rejlik.
Négymagos CPU
Wi-Fi: 400 Mbps (2,4 GHz) + 867 Mbps (5 GHz)
4 beépített antenna Deco egységenként
2 Gigabites port Deco egységenként
1 USB Type-C port Deco egységenként
IPv6 kompatibilis (Internet Protocol version 6)
Termék méretei: (120 mm átm. x 38 mm magasság)
Bluetooth 4.2
Összehasonlítás
Deco M5
Eero
Luma
Google WiFi

Wi-Fi jellemzők

MU-MIMO
Automatikus útválasztás
AP Steering
Band Steering
Beamforming

Egyszerű használat

Mobil alkalmazás
Bluetooth Onboarding
Helymeghatározás
Sebességteszt
Eszközök listája
Vendég hálózat

Software & Biztonság

Hálózat monitorozás
Antivírus
Tűzfal
QoS (eszköz)
QoS (alkalmazás)
Eszköz tevékenységi jelentés
Szülői felügyelet (Időkorlát)
Szülői felügyelet (URL Szűrés)
Havi jelentések
Automatikus FW frissítés
*Kérjük vegye figyelembe, hogy az eszközökkel való összehasonlítás a 4/12 2017-es adatok alapján katalógusokból/weboldalról származnak. Konkrét tesztelés nem történt.
Fedezd fel a Deco lehetőségeit
M5
A Deco egy otthoni Wi-Fi rendszer, ami Önnel együtt nő, így minden eszközét zökkenőmentesen lefedheti.
Igazi zökkenőmentes barangolás
A Deco egységek egy egységes hálózatot alkotnak. A telefon vagy a tablet automatikusan csatlakozik a leggyorsabb Deco készülékhez és valóban zökkenőmentes online élményt nyújt. Az IEEE 802.11r támogatás és a 802.11k / v szabványok alkalmazásával az átlagos átkapcsolás egy Deco-ról a másikra olyan sima, hogy észrevehetetlen, még a streaming vagy voip hívás során sem szakad meg a kapcsolat.
Adaptív útválasztás

A TP-Link Mesh Technológia mindig a leggyorsabb utat és a leggyorsabb Wi-fi sávot választja ki az eszközéhez így garantálja a gyors és stabil kapcsolatot bárhol legyen otthonában.
Öngyógyító hálózat

Ha az egyik Deco egység újraindul vagy frissül, a rendszer automatikusan egy másik egységre tereli át a csatlakozásokat.
Wi-Fi + Powerline
A Powerline kapcsolat a meglévő elektromos vezetékeket használja a Deco eszközök csatlakoztatására.
A powerline és a wi-fi egyidejű használatával akár 60%-os sebességnövekedést is elérhet a hálózatán belül.
Boosted speeds
60%
Normál Wi-Fi
Hybrid Wi-Fi
Powerline

Megjegyzés:Wi-Fi + Powerline csak a Deco P7 készülékben érhető el
IoT Mesh
A meglévő okos otthon HUB-okkal szemben a TP-Link Mesh Technológia teljes IoT lefedettséget biztosít Wi-Fi, Bluetooth és Zigbee eszközöknek egyetlen hálózatba integrálva. Viszlát különálló HUB-ok.
*Az IoT technológia egyenlőre csak a Deco M9 Plus eszközöknél érhető el
- - -

Wi-Fi

- - -

Zigbee

- - -

B

luetooth
Why is TP-Link Mesh Technology
an industry-leading solution?
Complete Comparison

Model Number
TP-Link Deco
Netgear Orbi
Google WiFi
Wireless Backhaul
Tri-Band (2.4G+5G_1+5G_2)¹
Single-Band (5G_1 Only)
Dual-Band (2.4G+5G)
Mesh Protocol Supported
IEEE 802.11k/v/r
IEEE 802.11k/v
IEEE 802.11s
True Seamless Roaming
√
×
×
APS(Adaptive Path Selection)
√
×
√
IoT Mesh
√²
×
×
Powerline Backhaul
√³
×
×
Wireless + Powerline Bandwidth
√⁴
×
×
Band Steering
√
√
√
AP Steering
√
√
√
Self-Healing
√
√
√

Notes: 1&2: For Deco M9 Plus Only

3&4: For Deco P7 Only

Spec sourced by Dec. 2017
POWER
AC adapter input
100-240V ~ 50/60Hz 0.4A
AC adapter output
12V ⎓ 1.2A
Hardver jellemzők
Processzor
Quad-core CPU
Csatlakozások
2 LAN/WAN Gigabit Ethernet Ports
Gomb
1 Reset button on the underside
Külső tápellátás
12 V/1.2 A
Dimensions
Φ4.7 in. x 1.5 in. (Φ120 mm x 38 mm)
Antenna
4 internal antennas per Deco unit
Bluetooth version
4.2 and above
Vezeték nélküli jellemzők
Wi-Fi sztenderd
IEEE 802.11 ac/n/a 5 GHz, IEEE 802.11 b/g/n 2.4 GHz
Frekvencia
2.4 GHz and 5 GHz
Adatátvitel
400 Mbps on 2.4 GHz867 Mbps on 5 GHz
Sugárzási teljesítmény
FCC: <30 dBmCE: <20 dBm (2.4 GHz) <23 dBm (5 GHz)
Vezeték nélküli biztonság
WPA-PSK/WPA2-PSK
További funkciók
● Router/ Access Point Mode● Optional Ethernet Backhaul● TP-Link Mesh Technology:MU-MIMOAuto Path SelectionSelf-HealingAP SteeringBand SteeringBeamforming
Szoftver jellemzők
QoS (szolgáltatás minősége)
WMM
IPv6
Support
WAN típus
Dynamic IP/Static IP/PPPoE
Vezérlés
Local Management, Remote Management
DHCP
Server, Client
Port Forwarding
Support
Hozzáférés kezelése
Blacklist
Tűzfal biztonság
SPI Firewall
Protokollok
Supports IPv4 and IPv6
További jellemzők
Homecare:AntivirusParental ControlsQuality of Service
További funkciók
SpeedtestMonthly Usage ReportsAuto FW UpdateExpand for more deco
Vendéghálózat
2.4 GHz guest network * 15 GHz guest network * 1
Nyalábformálás
Support
Mobil alkalmazás
Easy setup by Deco App
Egyéb jellemzők
Tanúsítványok
CE, FCC, IC, NCC, BSMI, IDA, RCM, JPA, JRF, VCCI, KC, RoHS
Csomagolás tartalma
● Deco M5 (3-pack):3 Deco units1 RJ45 Ethernet Cable3 Power Adapters● Deco M5 (1-pack):1 Deco unit1 RJ45 Ethernet Cable1 Power Adapter
Smartphone/Tablet Requirements
iOS 9.0 or later
Android 4.4 or later
Bluetooth 4.0 or later
Környezet
Operating Temperature: 0℃~40℃ (32℉~104℉)Storage Temperature: -40℃~70℃ (-40℉~158℉)Operating Humidity: 10%~90% non-condensingStorage Humidity: 5%~90% non-condensing
†Maximum wireless signal rates are the physical rates derived from IEEE Standard 802.11 specifications. Actual wireless data throughput and wireless coverage, and quantity of connected devices are not guaranteed and will vary as a result of network conditions, client limitations, and environmental factors, including building materials, obstacles, volume and density of traffic, and client location.
‡Seamless roaming requires that clients need to support 802.11k/v/r and may require additional set up. Performance may vary depending on the client device.
*TP-Link HomeCareTM is available for free for the first few months after subscription. Please visit and check: www.tp-link.com/homecare
From United States (English)?
Check products and services for your region.