How to Configure my TP- LINK Range Extender on MAC(For TL-WA730RE V1)

* The Range extender's resource CD cannot be used on MAC computers, but Mac users can use Safari to install the Range Extender through its built-in web interface according to the below instruction. This installation relates a lot to your existing wireless modem/router and computer's network settings, therefore, it would possibly take a longer time than setting up a normal modem/router. If you fail to setup the Range Extender finally after followed the below instruction, please contact our technical support and tell us in which step you were stopped. We sincerely appreciate your patience and time.
Note:TL-WA730RE V1's default LAN IP Address is 192.168.1.254,while V2's default LAN IP Address is 192.168.0.254.If you have V2,please refer to
this link
for guidance.
Part 1: Collecting information of Root Router:
Before configuring the TL-WA730RE to make it successfully join to the router's wireless network, please confirm below information of your root router:
1. What's the router's LAN IP address?
----In this article, we take 192.168.0.254 for example.
2. What's the router's SSID (Wireless Network Name)?
----In this article, we take 2WIRE_TEST for example.
3. What's the router's security type (Encryption Type)?
----In this article, we take WPA2-PSK with AES for example.
4. What's the router's Security Key/Password?
----In this article, we take testtplink for example.
* If you are not sure about the above information of your router, please DO contact the router's vendor to confirm that important information and then continue with the below setup procedures.
Part 2: Assigning a static IP address on MAC computer
Step 1
Please connect the MAC computer to the Range Extender's LAN port with theEthernet cable in the package. Then click the Applemenu and select System Preferences. When the System Preferences screen appears, please find Network and click it.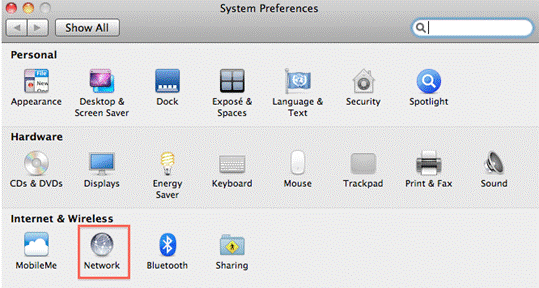 Step 2
In the Network panel, please select Ethernet, then go for Configure IPv4, and select "Manually", fill in the parameters like below, and click Apply:
IP Address: 192.168.1.100
Subnet Mask: 255.255.255.0
Part 3: Configuring Range Extender
Step 1
Please Open Safari, type http://192.168.1.254 (the default IP of TL-WA730RE) in the address bar and press enter, put in the default username and password "admin", then click Log In.

Step 2
Please go to Wireless->Wireless Settings, Select Range Extender as the Operation Mode. Then click Search/Surveybutton, it will display all visible wireless signals around your location. Please find the SSID (wireless network name) of your root router and click on Connect, then Save it.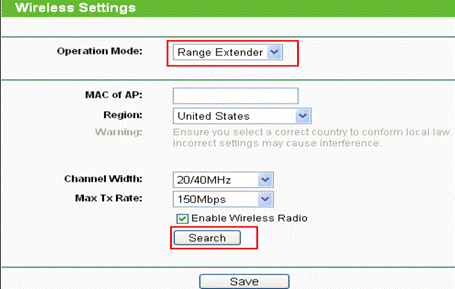 All visible signals: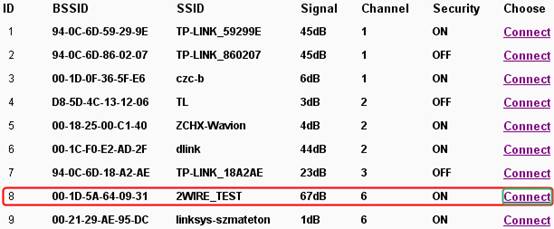 Step 3
Please go to Wireless -> Wireless Security page. According to Part 1 of this article, we have supposed the router's security type to be WPA2-PSK with AES,so here we do the same settings on the TL-WA730RE, and input the same password "testtplink" into the PSK Password field, then Save it.

* The Security settings on the Range Extender should be exactly the same with the root router. If you are not sure, please contact the vendor of your router to confirm that information.
Step 4
Click Network in the left menu of the management page, and change the IP address according to the below instructions:
A:
If your root router's LAN IP address is 192.168.1.254, please change the TL-WA730RE's IP address to
192.168.1.250
like below
to avoid IP confict
, then save the settings, and wait a minute until the TL-WA730RE finishes rebooting.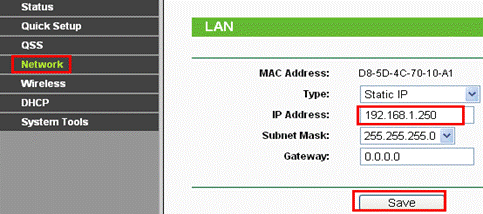 B: If your root router's LAN IP address is 192.168.0.X(X ranges from 1-254),please change the TL-WA730RE's IP address to 192.168.0.Y like below: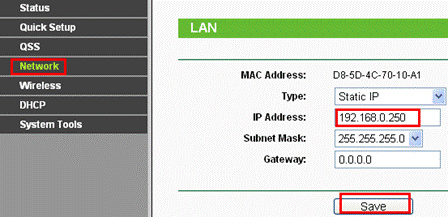 Step 5
Please go to System Tools-> Reboot page, click on Reboot button to restart this range extender. About 1 minute later, the Range Extender should work properly with the Root Router.
Step 6
So far we have finished all configurations on the range extender.Please go back to MAC computer's Apple menu->System Preferences->Network ->Ethernet, change Configure IPv4 back to Using DHCP as it was before, and click Apply.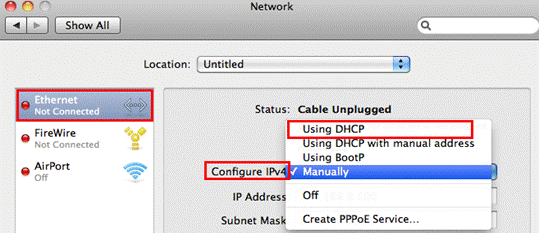 After that, please check whether you can access Internet. If YES, please unplug the Ethernet cable, turn on the Wi-Fi (Airport) of the MAC computer and check whether or not you can get a better wireless signal and access to Internet wirelessly.
Get to know more details of each function and configuration please go to
Download Center
to download the manual of your product.
Is this faq useful?
Your feedback helps improve this site.

TP-Link Community
Still need help? Search for answers, ask questions, and get help from TP-Link experts and other users around the world.
From United States?
Get products, events and services for your region.