General Questions about Kasa Care
Ce document concerne les modèles suivants :
*Note: All Kasa Cams require and only work with the Kasa for Mobile App
Q 1: What is Kasa Care?

Refer to What is Kasa Care?
Q 2: How do I manage my Kasa Care subscription?
Your Kasa Care subscription can be managed at any time via the Kasa app. Simply open the app, and click on the 3 bars icon on the left side of your screen. From here click on Kasa Care.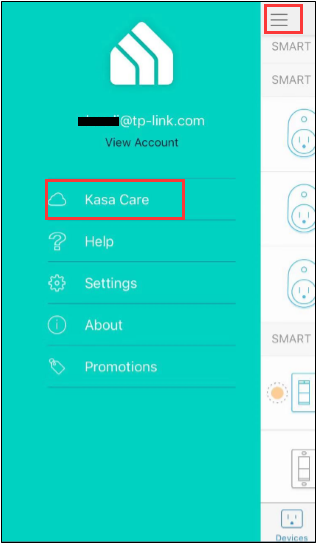 Q 3: How long does the free plan last?
All the Kasa cameras will apply a 2-year limitation for the free plan. The plan will start right after you set up the camera. After 2 years, you need to subscribe to one of the paid plans to continue to use the cloud storage.
Q 4: What is the Kasa Care service agreement?
You can find and review the Kasa Care service agreement here.
Q 5: What countries is the Kasa Care service available in?
Currently, Kasa Care is only available to customers in the U.S.
Q 6: How secure is my Personal information using Kasa Care?
We use a PCI compliant subscription management platform that stores your information securely in their vault. For more information click here.
Q 7: What do the memory limits of the Kasa Care plans mean?
You can access your video recordings from the Activity Center within the Kasa app. Each Kasa Care subscription plan defines 2 limits.
1) The number of days of video history that you can access from the Activity Center. 2) The maximum amount of memory allocated to your plan.
When your recorded videos reach either one of these 2 limits, oldest video recordings will be deleted to make way for the newest activity recordings.
For example, if your Kasa Cam is on the free plan and is pointed towards a busy street, it may generate activity recordings more frequently and will reach the plan's memory limit even before 2 days. In this case, you will not have access to video recordings from the entire past 2-day period.
*Note: Kasa Spot cameras on the free service will have access to 12-hours/256MB of video recordings.
Q 8: What payment methoeds are accepted by Kasa Care
*Note: All Kasa Cams require and only work with the Kasa for Mobile App
Kasa Care currently accepts Visa, Mastercard, American Express, Discover, Diners Club and JCB.
If you need further assistance contact TP-Link Customer Support here.
Est-ce que ce FAQ a été utile ?
Vos commentaires nous aideront à améliorer ce site.
Newsletter TP-LinkTP-Link prend votre vie privée au sérieux. Pour plus de détails sur lesa poltique de confidentialité de TP-Link, veuillez consultez la page suivante Politique de confidentialité de TP-Link .