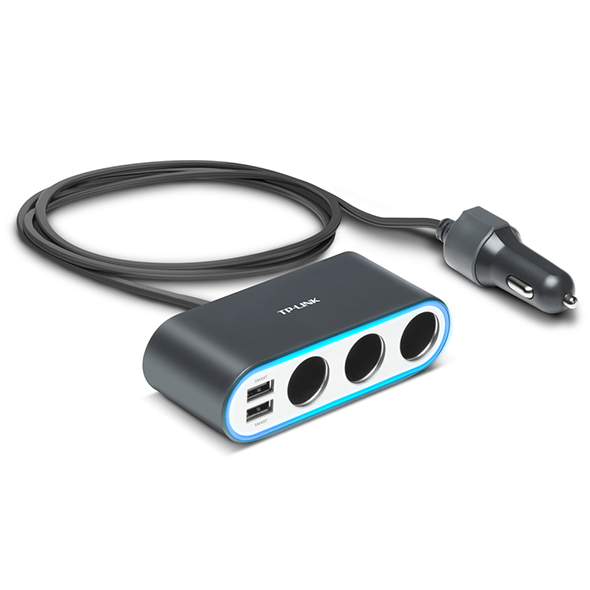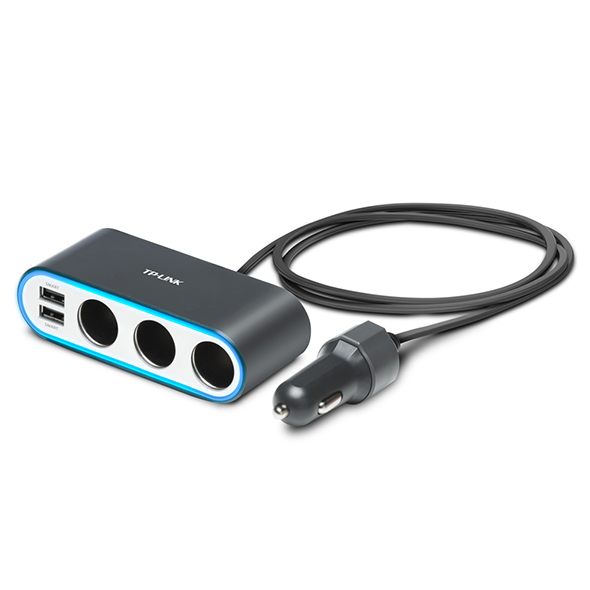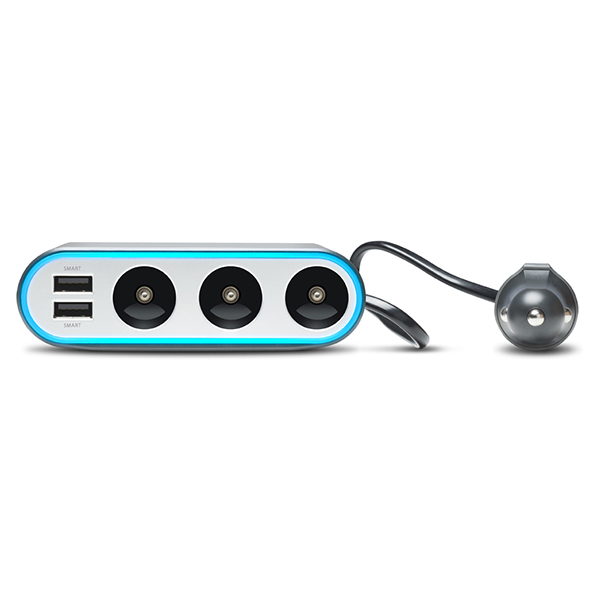 Adaptateur allume-cigare 3 ports avec chargeur USB 2 ports
Détection automatique et de charge intelligente
Charge rapide 1.65X
Conception de circuits intelligents
Compatibilité universelle
Dream Speed for your Dream Car
CP250 is equipped with TP-LINK Smart Charging technology and incorporates the high performance dual 2.4A USB outputs. TP-LINK Smart Charging technology intelligently identifies the connected devices to ensure no matter a short distance drive or a long journey ride, the 2.4A USB ports in CP250 allow you to charge at full speed on the road.
30 mins drive charges up to 38%
As measured by the charging capacity in 30 mins on iPhone 6S Plus, it charges up to 38% within the drive in order to provide sufficient power for further use.
* The exact time may vary depend on different situation.
65% Faster Charge than original charger
Charge 65% faster, save up to 40% charging time. Fully charging iPhone6s Plus takes 150 mins with CP250 Smart Port while it takes 250 mins with an original Apple charger.
* Fully charging iPhone 6s Plus takes no more than 150 mins with CP250
while an original charger only reaches 60% in that certain period of time.
Safety as Your First Priority
The safety issue in a car is seriously taken, either should be a car charger.
CP250 has a sophisticated circuit design with Multiple protections against
over-heat, over-current, over-charging and short circuit.
Over-heating
Protection
Over-current
Protection
Over-charging
Protection
Shot Circuit
Protection
A Fine Piece of Work
Through Strict Quality Controls
Premium manufacturing through numbers of strict quality controls ensures every details in CP250 are prudently considered. CP250 is fabricated by high quality polycarbonate and Acrylonitrile Butaadiene Styrene with superior metallic findings not only make it sturdy and durable but also allow you to power up in style.
Universial Compatibility
Compatible with smart devices running iOS, Android, Windows and most other USB-charged devices, such as GPS Navigator Car Vacuum Cleaner, Car Air Humidifier, Car Air Purifier and Event Data Recorder. CP250 fully supports and is applicable to most of the current car models.
Designed to be Considerate
Built in Soft Internal
LED power indicator
A dimmed LED indicator help visualize the connection status and does not distract you while driving.
Spécifications
Compatibilité
Smart devices running iOS, Android, Windows and most other USB-charged devices
Dimensions
35 x 117 x 50 mm
Interface de sortie
2 USB-A 2.0 Ports
Interface d'entrée
1 Car Cigarette Lighter
Contenu de l'emballage
- 3-Port Cigarette Lighter Power Adapter with 2-Port USB Charger- Quick Installation Guide
Newsletter TP-LinkTP-Link prend votre vie privée au sérieux. Pour plus de détails sur la politique de confidentialité de TP-Link, veuillez consultez la page suivante Politique de confidentialité de TP-Link .