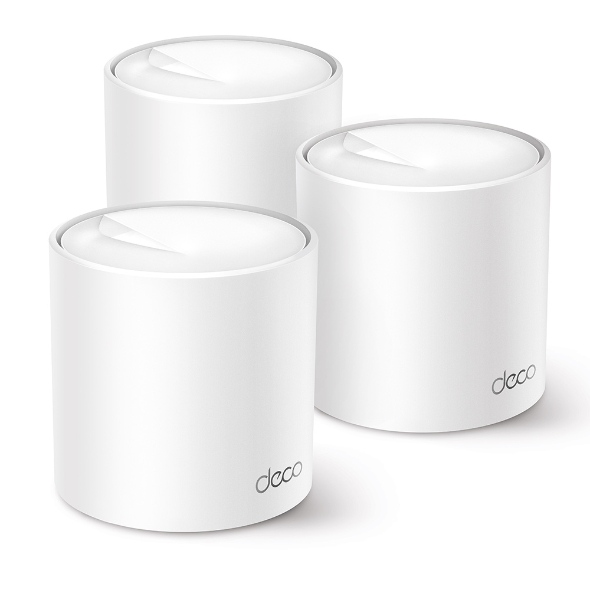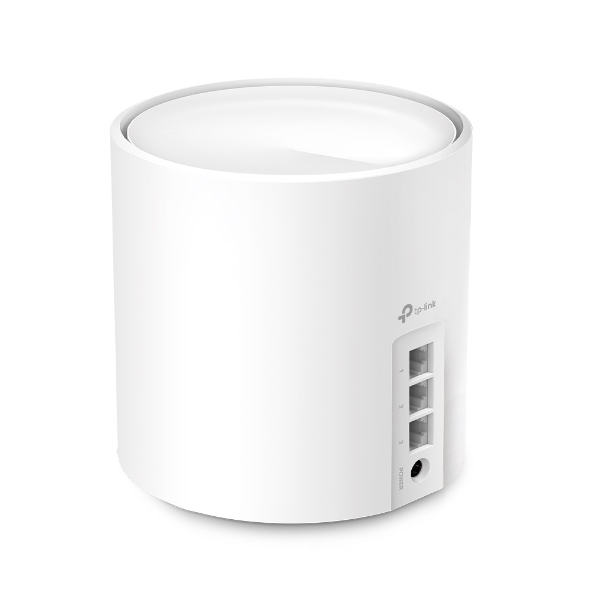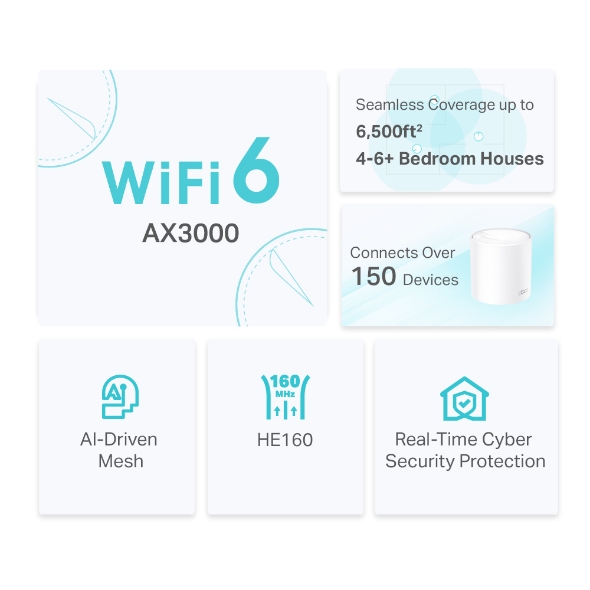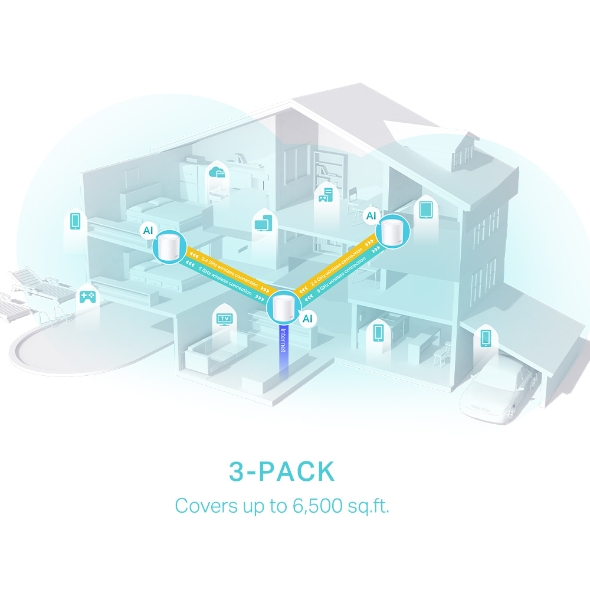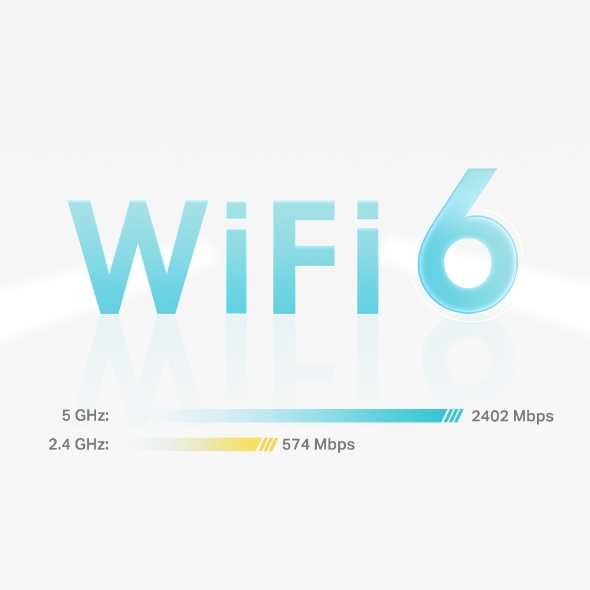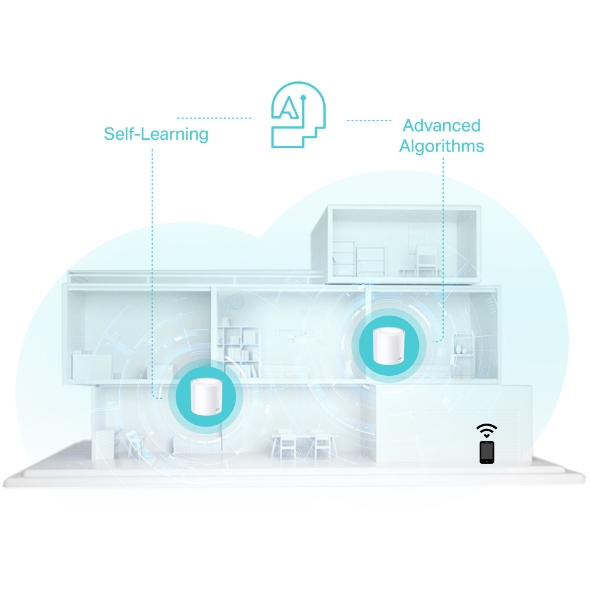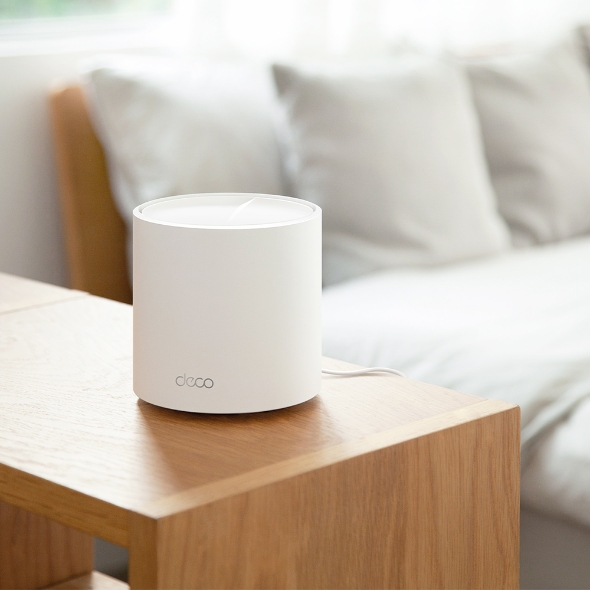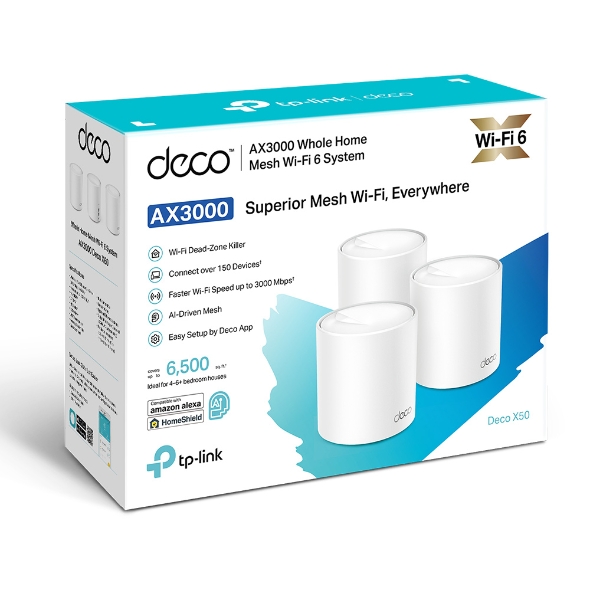 AX3000 Whole Home Mesh WiFi 6 System
AX3000 Dual Band WiFi - Super-fast WiFi 6 with speeds up to 3.0 Gbps
4 Streams, Less Lag - 2×2/HE160 2402 Mbps + 2×2 574 Mbps
Gigabit Wired Speed - 3× Gigabit ports provide sufficient connectivity
Boosted Seamless Coverage - Seamless mesh WiFi coverage up to 6,500 ft2 (3-pack)
AI-Driven Mesh - Intelligently learns the network environment to provide ideal WiFi unique to your home
TP-Link HomeShield - Provides comprehensive network protection, robust parental controls, and real-time IoT protection
Setup Made Easier Than Ever - The Deco app walks you through the setup step-by-step
Deco X50
Superior Mesh WiFi, Everywhere
AX3000 Whole Home Mesh WiFi 6 System
AX3000
Seamless Coverage up to 6,500ft²
4-6+ Bedroom Houses
Connects Over 150 Devices
AI-Driven Mesh
HE160
Real-Time Cyber Security Protection
Ultra-Fast WiFi 6 Mesh
Armed with WiFi 6 technology, Deco whole home mesh WiFi is designed to deliver a huge boost in coverage, speed, and total capacity. Get on the latest mesh WiFi to enjoy the future network that loads faster and connects more.△
4× Larger Capacity

3× Faster Speed

1024-QAM

HE160
Doubling bandwidth

Backwards Compatible
5 GHz:
2.4 GHz:
2402 Mbps
574 Mbps
WiFi 6 Mesh
Broader Coverage

More Connections
Whole-Home Coverage: WiFi Dead Zone Killer
With clearer and stronger signals enhanced by BSS Color and Beamforming, Deco X50 boosts broader whole home WiFi coverage with great performance. Wireless connections and optional Ethernet backhaul work together to link Deco units, providing even faster network speeds and truly seamless coverage. Want more coverage? Simply add another Deco.†
BSS Color Minimize WiFi Conflicts

Beamforming Concentrate Signal Strength
2-PACK
Covers up to 4,500 sq.ft.
3-PACK
Covers up to 6,500 sq.ft.
720P Streaming
IP Camera Streaming
High-speed Downloading
Smart Home Devices
1080P Streaming
4K Streaming
Web Browsing
Up to 4x More Capacity for Immersive Streaming†
Enhanced by WiFi 6, featuring with OFDMA and MU-MIMO technology, Deco X50 allows you to connect over 150 devices. Enjoy a more efficient network that loads faster without dragging down performance.†
connections for over
150
devices
AI-Driven Mesh: Always Learning, Constantly Optimizing
Armed with AI-Driven Mesh, Deco X50 delivers smart WiFi that follows you wherever you are, without interruption. It automatically learns your network environment, client quality, and user behaviors. Sophisticated algorithms account for various factors so that Deco X50 provides ideal mesh WiFi, unique to your home. Walk through your home and enjoy seamless streaming at the fastest possible speeds.*
Self-Learning
Advanced Algorithms
Seamless Roaming with One WiFi Name
TP-Link Mesh means Deco units work together to form one unified network. Your phone or tablet automatically connects to the fastest Deco as you move through your home, creating a truly seamless WiFi experience.‡
Let the Experts Secure Your Home
Customize your home network with enhanced security using TP-Link HomeShield's kit of built-in features. Whether you're identifying network security holes, limiting the time your children spend online, or blocking websites, HomeShield gives you the tools you need to fully manage your network.*
Detect cyber threats to keep your privacy and connected devices well protected.

Manage online time and block inappropriate content to keep families healthy online.

Prioritize your bandwidth needs to get a faster networking experience.

Gain full statistics and insights to help you know your home network better.
Quick Setup with the Deco App
Unbox Deco, install the app and then simply follow the on-screen directions. Deco app will take care of the rest, getting your network up and running in minutes.
1 Connect Deco to your cable modem and power on both devices

2 Download and launch the Deco app; just follow the in-app directions to finish the setup steps.

3 For the next Deco, simply power on it to automatically join the network.
WiFi Made Easy
Easy Management

Manage your WiFi at home or away on the Deco app, including seeing all connected devices, prioritizing your own, setting up a guest network, and more.

Voice Control

Pair with Alexa to control Deco X50 with simple voice commands. Enjoy the convenient life.

All Decos Work Together

Deco X50 is compatible with every other Deco model to form a mesh network. Expand mesh WiFi coverage anytime by simply adding more Decos.
More than a Router, Functional and Beautiful
The pure white design, simple but all-embracing, evokes a wintery mood or a bright summer day. Deco X50 with a delicate body case makes it perfect to blend into various home decorations.
Nahtlose Übertragung
Die Decos arbeiten zusammen, um ein einheitliches WLAN-Netzwerk zu bilden. Ihr Telefon oder Tablet verbindet sich immer automatisch mit der Deco-Einheit, welche Ihnen die höchste Geschwindigkeit bietet, während Sie sich durch Ihr Zuhause bewegen. Dank der Unterstützung von 802.11r und 802.11k/v können Sie das unterbrechungsfreie WLAN trotz Wechsel zwischen den Deco-Einheiten vollumfänglich genießen.
Bester WLAN-Empfang

TP-Link Mesh-Technologie findet immer die beste Übertragungsmöglichkeit in einem geeigneten Band für Sie. Egal wo Sie sich aufhalten.
Selbstreparatur

Wenn eine Deco-Einheit ein Problem feststellt, organisiert das System automatisch eine andere Verbindungsmöglichkeit mittels der anderen Deco Einheiten, damit Sie immer online bleiben. Die fehlerhafte Deco Einheit wird danach unverzüglich von den anderen Deco Einheiten repariert.
WLAN + Powerline
Nicht nur per WLAN, sondern auch über die Stromleitung können die Decos des P7 zusammenarbeiten. Dicke Wand? Kein Problem mehr.
Im Vergleich zu einer einzelnen WLAN-Verbindung wird die Geschwindigkeit durch die Kombination über Powerline um 60% erhöht.
-Systemdigkeit um 60%
Standard WLAN- System
Hybrid WLAN-System
Powerline

Hinweis:WLAN + Powerline ist nur beim Deco P7 verfügbar
IoT Mesh*
Die TP-Link Deco Einheiten des M9 Plus bietet die direkte Integration von Zigbee, Bluetooth und WLAN. Dadurch wird Ihr Mesh Netzwerk zur IoT Zentrale für Ihre Smart Home Geräte – ohne zusätzlichen Hub oder Bridges.
* nur verfügbar beim TP-Link Deco M9 Plus
- - -

Wi-Fi

- - -

Zigbee

- - -

Bluetooth
Warum TP-Link Mesh-Technologie
Model Number
TP-Link Deco
Netgear Orbi
Google WiFi
Wireless Backhaul
Tri-Band (2.4G+5G_1+5G_2)¹
Single-Band (5G_1 Only)
Dual-Band (2.4G+5G)
Mesh Protocol Supported
IEEE 802.11k/v/r
IEEE 802.11k/v
IEEE 802.11s
True Seamless Roaming
√
×
×
APS(Adaptive Path Selection)
√
×
√
IoT Mesh
√²
×
×
Powerline Backhaul
√³
×
×
Wireless + Powerline Bandwidth
√⁴
×
×
Band Steering
√
√
√
AP Steering
√
√
√
Self-Healing
√
√
√

HINWEIS: 1&2: Nur für Deco M9 Plus

3&4: Nur für Deco P7

Quelle in Dez. 2017
Deco Management, einfach auf einen Klick
Mit der Deco-App können Sie Ihr Deco-Mesh-Netzwerk einfach und unkompliziert über jedes iOS- oder Android-Gerät verwalten.
Kinderleichte Installation
Deco-Einheiten auspacken, App installieren und den Anweisungen auf dem Bildschirm folgen. Deco wird sich um den Rest kümmern und Ihr Netzwerk in wenigen Minuten initialisieren.
Verbinden Sie einen Deco mit dem DSL-Modem, dann schalten Sie beide Geräte ein.

Laden Sie die Deco-App herunter und installieren Sie diese.

Folgen Sie den Anweisungen der App zur Konfiguration Ihres Deco-Systems.
Einfaches Management
Die Deco App ermöglicht Ihnen das Netzwerk von überall aus zu verwalten.
Klares Management-Dashboard

Klare Übersicht über Ihren Netzwerk-Status und Status aller angeschlossenen Geräte in Echtzeit.

Mehrere Deco-Einheiten, eine App

Mit einer Deco-App lassen sich mehrere Decos verwalten.

Kontrolle über alle Zugangsrechte

Sie können sehen, wer gerade online ist und wer in Ihrem Netzwerk über welche Zugangsrechte verfügt.

Management auf Distanz

Der Fernzugriff auf Ihr Netzwerk per Smartphone ist von überall aus möglich.
Umfassender Jugendschutz
Bestimmen Sie, wie lange und welche Seiten besucht werden dürfen.
Erstellen Sie Benutzerprofile für alle Ihre Familienmitglieder und legen Sie Zeitbeschränkung sowie Zugriff fest.

Beaufsichtigen Sie Ihre Kinder bei allen Ausflügen ins Internet, indem Sie Web-Inhalt altersgerecht filtern.

Bestimmen Sie Online-Zeiten für Ihre Familienmitglieder.

Erhalten Sie eine Übersicht über Online-Zeiten und besuchten Internetseiten.

Unterbrechen Sie den WLAN-Empfang zur gewünschten Zeit einfach per Tastendruck.
Eine intuitive App mit vielen Funktionen
Monatlicher Nutzungsreport
Der monatliche Report gibt alle Details Ihres Netzwerks an, z.B. die Verwendungshistorie, blockierte Inhalte, Sicherheitsdrohung und vieles mehr.
Heim-Automatisierung
Die Automatisierung und Steuerung per Stimmung macht das Leben leichter.
*Zurzeit nur für Deco M9 Plus
Vereinfachte Kontrolle
Die Kontrolle aller Geräte über Ihr Smartphone erfolgt einfach per Klick.
*Zurzeit nur für Deco M9 Plus
Schützen Sie Ihr Netzwerk
Das integrierte Antiviren-Programm schützt alle verbundenen Geräte vor Viren und sichert Ihr Online-Banking vor ungewolltem Zugriff.
*Zurzeit nur für Deco M9 Plus, Deco P7 und Deco M5
Priorisierung von Geräten
Sie können bestimmten Geräten eine höhere Priorität der Geschwindigkeitsnutzung zuweisen
oder für bestimmte Zeitspannen die besten Verbindungen zuweisen.
App-Priorisierung
Verteilen Sie mehr Bandbreite zu Anwendungen die Sie wichtig finden.
*Zurzeit nur für Deco M9 Plus, Deco P7 und Deco M5
WLAN-Teilen mit Freunden
Einfaches Einrichten von Gäste-WLAN mit simpler Passwortübertragung per Smartphone App.
Geschwindigkeit Testen
Klare Übersicht über Ihre WLAN-Geschwindigkeit und den Status aller Ihrer angeschlossenen Geräte.
Wir unterstützen Sie gerne
Haben Sie noch weitere Frage über unser Deco Mesh Heimnetzwerk? Kontaktieren Sie uns einfach unter https://www.tp-link.com/de/support
Support
Hinweis: App-Oberfläche und Funktionen können je nach App-Version und Deco-Modellen variieren.
WLAN
Standards
Wi-Fi 6IEEE 802.11ax/ac/n/a 5 GHzIEEE 802.11ax/n/b/g 2.4 GHz
WiFi Speeds
AX30005 GHz: 2402 Mbps (802.11ax, HE160)2.4 GHz: 574 Mbps (802.11ax)
WiFi Range
4-6+ Bedroom Houses (3-pack)

---

TP-Link Mesh TechnologyOptional Ethernet backhaul work together to link Deco units to provide seamless coverageAI-Driven MeshIntelligently learns the network environment to provide ideal Wi-Fi unique to your home2× Antennas (Internal)Multiple antennas form a signal-boosting array to cover more directions and large areasBeamformingConcentrates wireless signal strength towards clients to expand WiFi range
WiFi Capacity
High

---

Dual-BandDistribute devices to different bands for optimal performance2×2 MU-MIMOSimultaneously communicates with multiple MU-MIMO clientsOFDMASimultaneously communicates with multiple WiFi 6 clients4 StreamsMore than enough bandwidth for connected devices
Working Modes
Router ModeAccess Point Mode
HARDWARE
Processor
1 GHz Dual-Core CPU
Button
Reset Button
Ethernet Ports
3× Gigabit Ports*Per Deco Unit Supports WAN/LAN auto-sensing
SICHERHEIT
WiFi Encryption
WPA-Personal
WPA2-Personal
WPA3-Personal
Network Security
SPI FirewallAccess ControlHomeShield Security

---

Real-Time IoT ProtectionMalicious Site BlockerIntrusion Prevention SystemDDoS Attack PreventionHome Network Scanner
Guest Network
1× 5 GHz Guest Network1× 2.4 GHz Guest Network
SOFTWARE
Protocols
IPv4 IPv6
Service Kits
HomeShieldLearn More>
Parental Controls
HomeShield Parental Controls

---

Custom ProfilesProfessional Content Filter LibraryFamily TimeBedtimeOff TimeTime RewardsFamily Online Time RankingPause the InternetWeekly and Monthly Reports
WAN Types
Dynamic IPStatic IPPPPoEPPTPL2TP
Quality of Service
HomeShield QoS

---

QoS by Device
Cloud Service
OTA Firmware UpgradeTP-Link ID DDNS
NAT Forwarding
Port Forwarding
UPnP
IPTV
IGMP ProxyIGMP SnoopingBridgeTag VLAN
DHCP
Address ReservationDHCP Client ListServer
DDNS
TP-Link
Management
Deco App
PHYSICAL
Dimensions (W×D×H)
4.33 × 4.33 × 4.49 in (110 × 110 × 114 mm)
Package Contents
Deco X50 (1-pack)1 Deco X50 unit1 RJ45 Ethernet cable1 Power adapter1 Quick Installation GuideDeco X50 (2-pack)2 Deco X50 units1 RJ45 Ethernet cable2 Power adapters1 Quick Installation GuideDeco X50 (3-pack)3 Deco X50 units1 RJ45 Ethernet cable3 Power adapters1 Quick Installation Guide
SONSTIGES
Systemanforderungen
Android 4.4 or lateriOS 9.0 or later
Zertifizierung
CE, FCC, RoHS, RCM
Umgebung
Operating Temperature: 0°C~40°C (32°F~104°F)Storage Temperature: -40°C~70°C (-40°F~158°F)Operating Humidity: 10%~90% non-condensingStorage Humidity: 5%~90% non-condensing
TEST DATA
WiFi Transmission Power
CE:<20 dBm (2.4 GHz)<23 dBm (5 GHz)FCC:<30 dBm (2.4 GHz)<30 dBm (5 GHz)
△ Für die Verwendung von WiFi 6 und anderen Funktionen, einschließlich OFDMA, MU-MIMO, 1024-QAM, HE160 und BSS Color, müssen die Clients auch die entsprechenden Funktionen unterstützen. Die 160-MHz-Bandbreite ist im 5-GHz-Band in einigen Regionen/Ländern aufgrund von gesetzlichen Beschränkungen möglicherweise nicht verfügbar.
† Die maximalen drahtlosen Signalraten sind die physikalischen Raten, die von den Spezifikationen des IEEE-Standards 802.11 abgeleitet werden. Der tatsächliche drahtlose Datendurchsatz und die drahtlose Abdeckung sowie die Anzahl der angeschlossenen Geräte sind nicht garantiert und variieren aufgrund von Netzwerkbedingungen, Client-Einschränkungen und Umgebungsfaktoren, einschließlich Baumaterialien, Hindernissen, Verkehrsaufkommen und -dichte sowie Client-Standort.
‡ Clients müssen 802.11k/v/r unterstützen und erfordern möglicherweise eine zusätzliche Einrichtung. Die Leistung kann je nach Client-Gerät variieren.
* HomeShield beinhaltet den kostenlosen Basisplan. Für den Pro Plan fallen Gebühren an. Weitere Informationen finden Sie unter tp-link.com/homeshield.
Subscription Für TP-Link ist Datenschutz sehr wichtig. Weitere Informationen zu unseren Datenschutzbedingungen finden Sie in der Datenschutzerklärung von TP-Link.
Von United States?
Erhalten Sie Produkte, Events und Leistungen speziell für Ihre Region