Oct.2019

17
Highly Anticipated TP-Link® Wi-Fi 6 Router Arrives in Canada, Delivering AX Speeds Of 5,952 Mbps.
More award-winning TP-Link AX products coming to Canada this year.
Richmond Hill, ON – October 17, 2019 – TP-Link®, a leading global provider of consumer and business networking products and winner of the 2019 CES Innovation Awards for the AX11000 Net-Gen Tri-Band Gaming Router, is now bringing its first AX router to Canada, the AX6000 Next Gen Dual-Band Wi-Fi Router.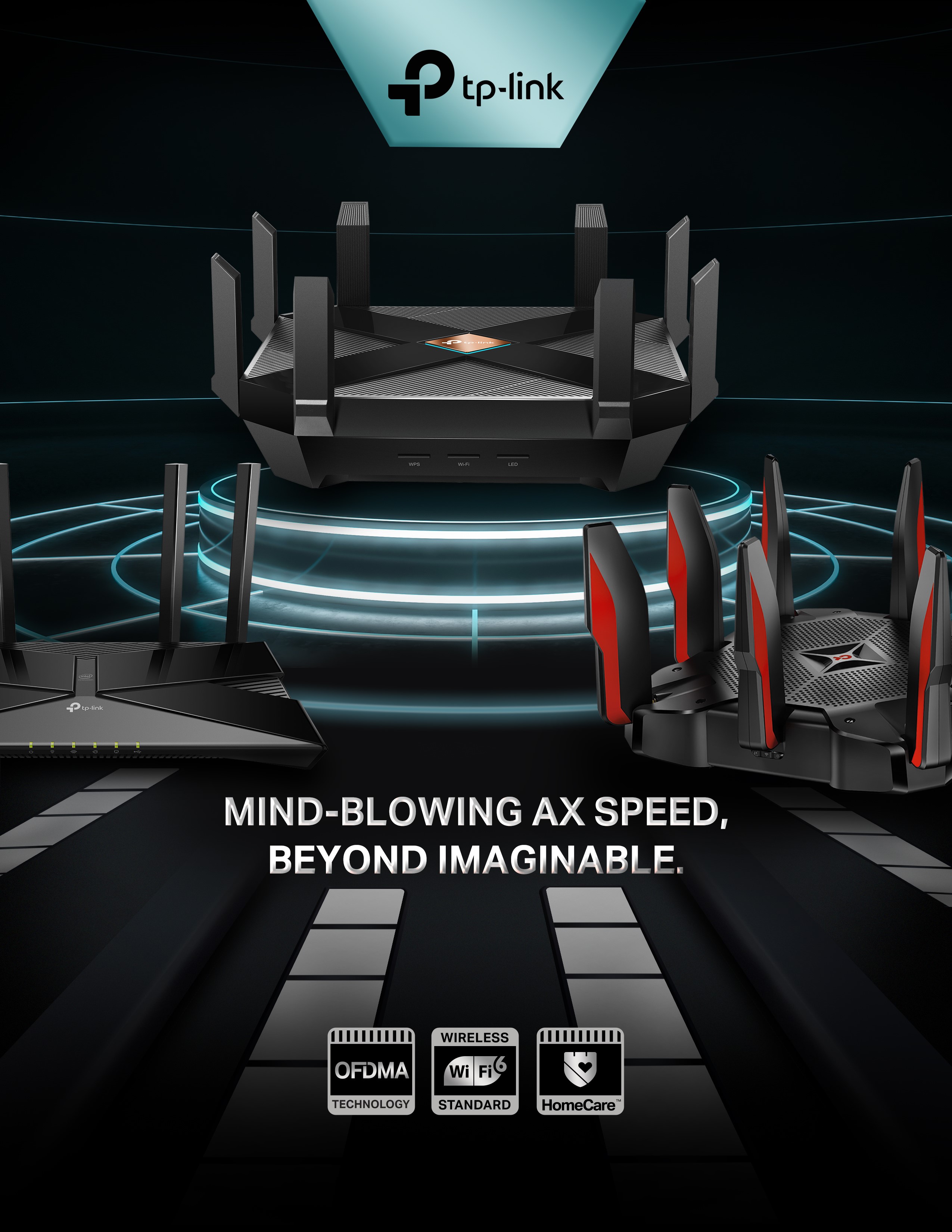 (Left-to-Right) AX50 Dual-Band Gigabit Wi-Fi 6 Router, AX6000 Next-Gen Dual-Band WiFi Router, AX11000 Next Gen Tri-Band Gaming Router
At the hub of the powerful AX6000 router is Broadcom's 802.11ax (Wi-Fi 6) chipset. The next generation 802.11ax standard is designed to provide incredible Wi-Fi speed with the stability, range and efficiency to optimize home Wi-Fi networks. Consumers with numerous Wi-Fi devices throughout their home or living in bandwidth-intensive households greatly benefit from the improved experience with OFDMA and MU-MIMO technology in the Archer AX6000 router.
OFDMA optimizes bandwidth utilization by simultaneously servicing multiple up-link and down-link client devices. A single frequency wave can carry more data transmission packets. Combined with 8x8 MU-MIMO, spatial streams are doubled from 802.11ac 4x4 MU-MIMO to any client device in a single direction adding up-link transmission capabilities, making Wi-Fi 6 more efficiently distributed.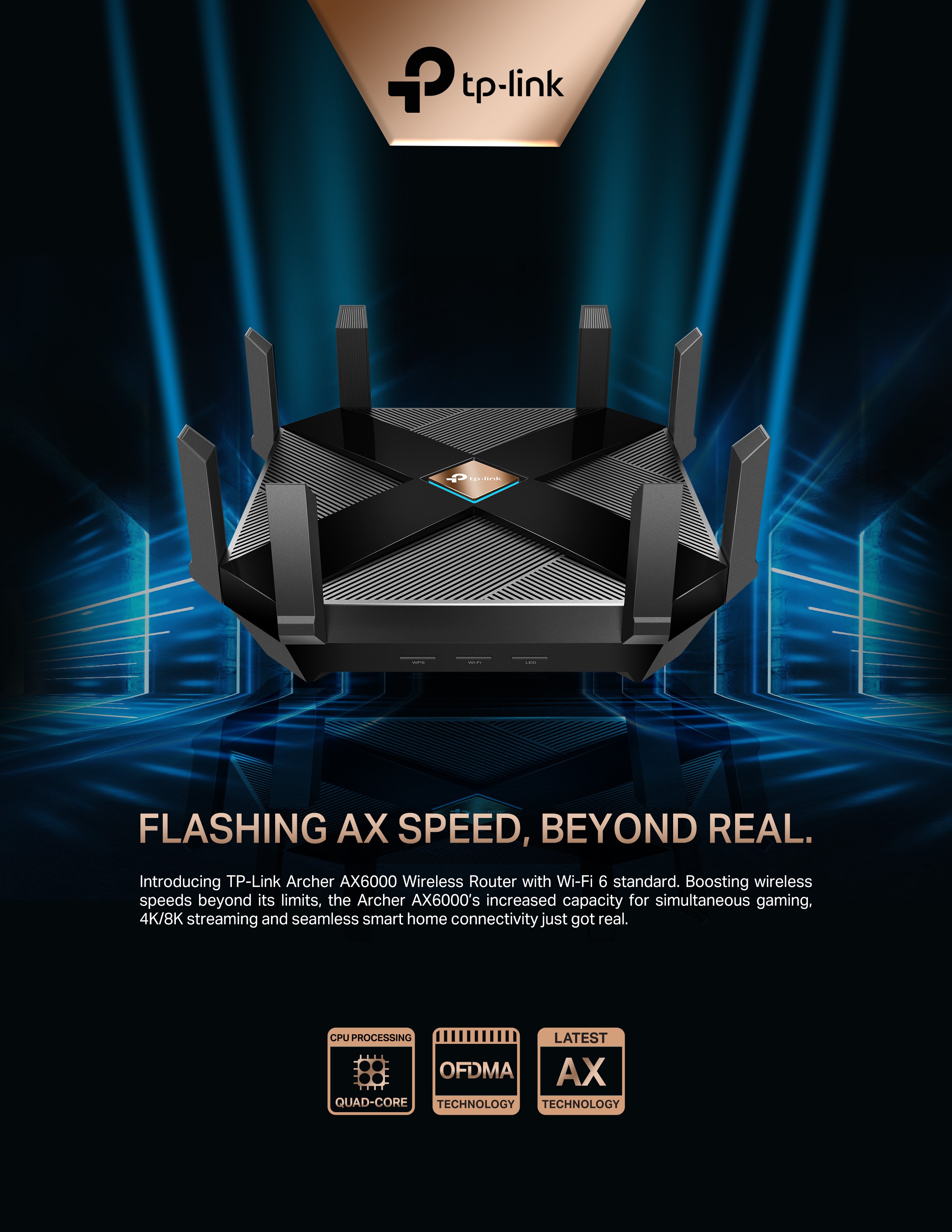 "Wi-Fi 6 is the next standard of wireless performance," said Ivan Li, general manager of TP-Link Canada Inc. "Offering Wi-Fi 6 products support our mission to continue to evolve with the lifestyle of our consumers and satisfy the demands of tomorrow. As an original manufacturer of networking products consistently bringing high-quality products into the market, consumers can expect our AX6000 router to be as robust as it is competitive."
The Archer AX6000 is designed to achieve breathtaking speeds of up to 1,148 Mbps on the 2.4 GHz band and 4,804 Mbps on the 5 GHz band*. Equipped with a 2.5 Gigabit WAN port and eight Gigabit LAN ports, the Archer AX6000 seamlessly services multiple wireless connections simultaneously. Downloading a 20 GB movie can take as little as 2 minutes**.
AX11000 and AX50 will follow the launch of AX6000 to cater to different user activities. AX11000 gives gamers an edge with higher capacity and speed performance for lower latency and fast reaction speed. AX50 is a sleek AX router equipped with Wi-Fi Gig+6 by Intel, providing stronger connections in high-density homes of up to 256 devices. All TP-Link AX routers come with TP-Link HomeCareTM for advanced cyber threats, password protection and parental controls security.
To learn more about the full lineup of AX products at CES, visit here.
Archer AX6000 Key Features Highlight
Wi-Fi 6 (802.11ax) speeds of 4,804 Mbps (5GHz) and 1,148 Mbps (2.4GHz)

Backwards compatibility with 802.11a/b/g/n/ac

Advanced OFDMA, MU-MIMO and 1024-QAM (4x more capacity, performance and speed)

2.5 Gbps WAN port

1.8 GHz 64-bit Quad-Core CPU

1 Type C USB 3.0 Port

1 Type A USB 3.0 Port

8 Gigabit Ethernet Ports

HomeCare Parental Controls and Antivirus monitoring

RangeBoost, Beamforming and Smart Connect Technologies

Accelerated VPN Access (5× faster OpenVPN and PPTP VPN connections)

Airtime Fairness

Link Aggregation doubles the connection speeds
Pricing and Availability
TP-Link Next-Gen AX Routers can be purchased at BestBuy Canada starting at MSRP $199.99 CAD for Archer AX50, $399.99 CAD for Archer AX6000 and $549.99 CAD for Archer AX11000.
About TP-Link
Founded in 1996, TP-Link is a global provider of reliable networking devices and accessories, involved in all aspects of everyday life. The company is consistently ranked by analyst firm IDC as the No. 1 provider of WLAN and broadband CPE devices***, supplying distribution to more than 120 countries and serving hundreds of millions of people worldwide.
With a proven heritage of stability, performance and value, TP-Link has curated a portfolio of products that meet the networking needs of all individuals. Now, as the connected lifestyle continues to evolve, the company is expanding today to exceed the demands of tomorrow.
Selected as the Canadian Reseller Choice Awards**** for Best Home and Consumer Router manufacturer in 2018 and ranked highest in customer satisfaction for wireless routers by J.D. Power in 2017 for signal strength, brand confidence and reputation, speed specifications and ease of use. TP-Link is committed to delivering innovative, affordable and reliable wireless networking and smart home products to homes and businesses around the world.
*Uses of 802.11ax WiFi standard and technologies such as 160 MHz channel and MU-MIMO require clients to also support such standard and technologies. Routers featured in this article may not support all the mandatory features as ratified in Draft 3.0 of IEEE 802.11AX specification.**Download time may vary according to different conditions like devices, environment and ISP input speed.***According to IDC Worldwide Quarterly WLAN Tracker Report, Q4 2017 Release****The Reseller Choice award logo is the trademark of Technoplanet Productions Inc.
For further information visit TP-Link, follow TP-Link on Facebook, Twitter, YouTube, Instagram or the TP-Link Forum.
Canada Media Contact:
communications.ca@tp-link.com
From United States?
Get products, events and services for your region.