Oct.2018

17
TP-Link® Transforms Centralized IT Operations with New Cloud-Managed Wi-Fi Solution
The subscription-free Omada business cloud Wi-Fi solution provides IT departments with the ability to instantly configure a network, quicken IT response time and increase network visibility across multiple access points.
Richmond Hill, ON – October 17, 2018 – TP-Link®, a leading global provider of consumer and business networking products, has launched the Omada OC200 cloud controller. This cloud-managed wireless network gives decentralized IT operations the flexibility to control multiple access points in different locations and instantly troubleshoot from anywhere in the world without having to move from site to site. The ability to set up a robust wireless connection at multiple sites while managing and controlling the network in a centralized location greatly reduces business costs and improves productivity.
The Omada wireless solution includes a hardware cloud controller, EAP cloud-enabled controller software, ceiling-mount access points, and outdoor access points. Adding to the comprehensive Omada solution is the just released EAP225-Wall AC1200 MU-MIMO PoE Wall-Plate Access Point which gives users fast, private and stable dedicated in-room Internet connections regardless of room size. These wall-plated access points are widely used in hotels, dormitories and other locations.
"When business partners choose TP-Link, they choose robust industry-leading hardware with no hidden fees," said Ivan Li, general manager of TP-Link Canada. "I am proud to offer our cloud Wi-Fi solution with an unlimited subscription-free license. Our business partners only pay the upfront hardware costs and save money over the years as their business scale out and expand. It is the TP-Link way of doing business with our partners."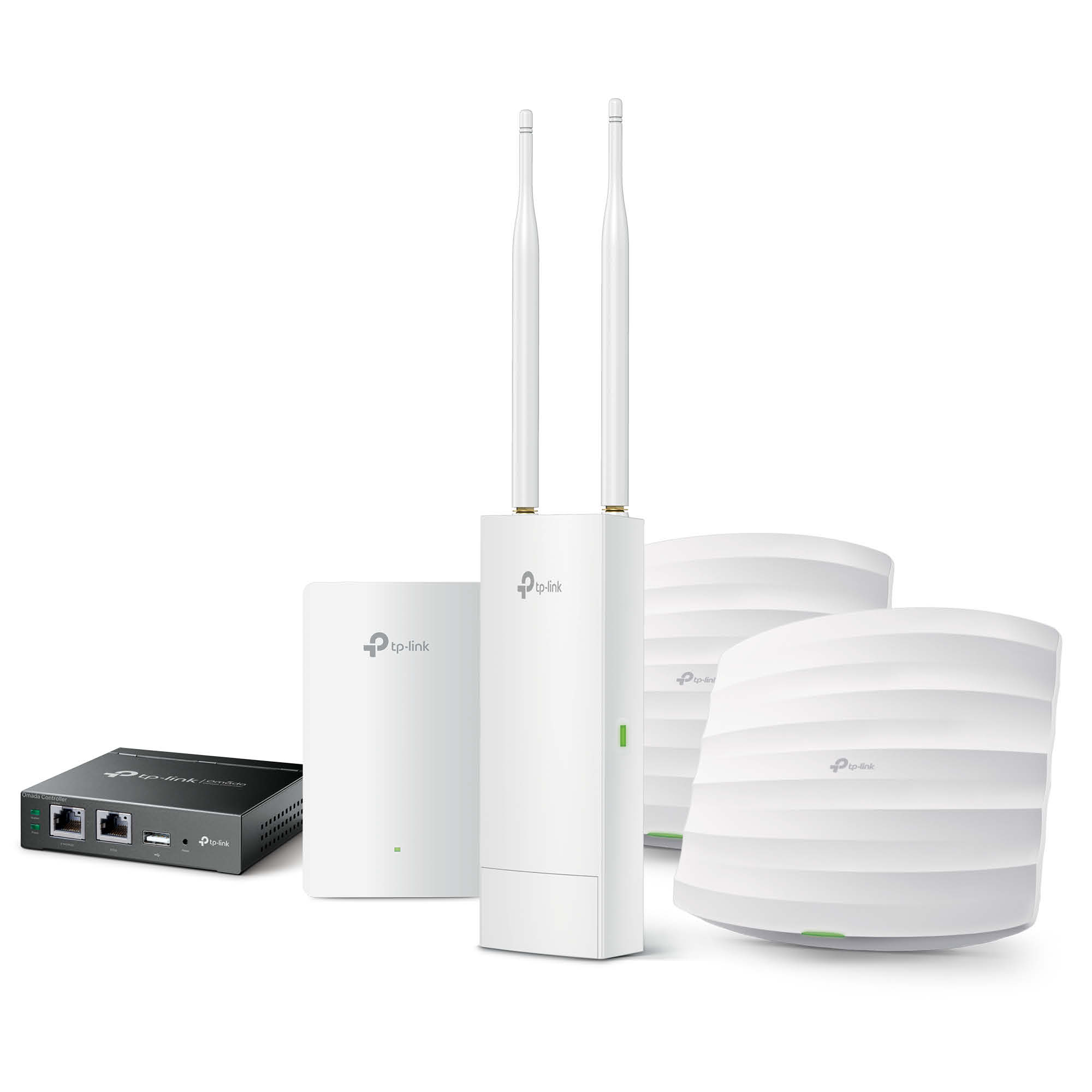 Omada hardware products are powered by Broadcom and Qualcomm enterprise-grade chipsets and provide abundant processing power and superior wireless experience. The elegant and modern encasing blends in with any interior design and appeals to hospitality, campuses, parks, stadiums, restaurants, retailers, offices and government IT departments moving towards a cloud-managed solution.
Instantly Configure a Network
Centralized management with the Omada controller software and cloud access gives IT administrators remote access from a single location. Simple plug-and-play configuration allows for new access points to be set up within minutes.
Quicken IT Response Time
Network downtime can be costly for any businesses. IT administrators no longer need to travel to the physical location to troubleshoot wireless connectivity with a cloud-managed solution. Omada hardware also connect to form one seamless mesh network. If an access point fails within the network, other access points on the same network adapt to the change automatically and connect to the wireless equipment to maintain seamless coverage.
Increase Network Visibility
The complimentary EAP cloud-enabled access point controller software allows the ability to control, adjust and visualize the entire network from any connected PC or device remotely. Speeds can be throttled, network usage reports can be generated and IT administrators can detect network issues before they happen with improved network visibility application.
Omada Cloud-Managed Solution, Pricing and Availability Overview:
Cloud Controller
Cloud Access Controller for Centralized Management
Manage wireless network over the cloud with PoE (802.3af/802.3at) support, Omada App and secure login via SMS and Facebook.
Model#: OC200 – MSRP $99.99 (CAD)
Wall-Plate Access Point
AC1200 Wireless MU-MIMO Wall-Place Access Point
Upgrade Ethernet wall jacks to a high-performance wireless access point. No additional wiring required with PoE (802.3af/802.3at) support and acts as switch by providing three Ethernet ports.
Model#: EAP225-Wall – MSRP $89.99 (CAD)
Ceiling Mount Access Point
AC1350 Wireless MU-MIMO Gigabit Access Point
Model#: EAP225 V3 – MSRP $99.99 (CAD)
AC1750 Wireless Dual-Band Gigabit Access Point
Model#: EAP245 V3 – MSRP - $129.99 (CAD)
AC1200 Broadcom Wireless Dual-Band Gigabit Access Point
Model#: EAP320 – MSRP - $199.99 (CAD)
Outdoor Access Point
300Mbps Durable and Weatherproof Wireless N Outdoor Access Point
Model#: EAP110-Outdoor – MSRP $69.99 (CAD)
The Omada Cloud Managed Solution is available for TP-Link resellers at any TP-Link authorized distributor. Customers can also purchase TP-Link business products at any national retailer and e-tailer. Learn more about the Omada Wireless Solution.
For further information visit TP-Link, follow TP-Link on Facebook, Twitter, YouTube, Instagram or the TP-Link Forum.

Canada Media Contact:
communications.ca@tp-link.com
SubscriptionTP-Link takes your privacy seriously. For further details on TP-Link's privacy practices, see TP-Link's Privacy Policy.
From United States?
Get products, events and services for your region.