How do I get pass the step of connecting to the internet during Deco setup?
You may be stuck at the step of "connecting to the internet" during Deco setup, sometimes it returns a window for you to choose the correct connection type, like what is displayed in the picture below: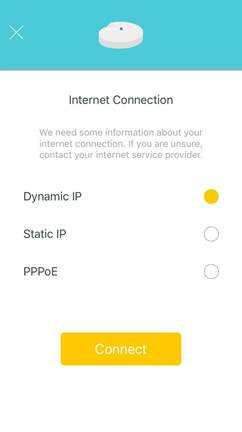 Once selected a connection type and click Connect, this window may come back again and again or at times, return an error saying "Deco is not properly connected".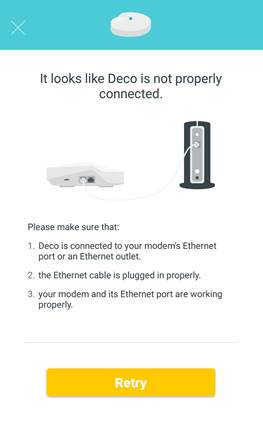 Here are some tips for you to get pass this step.
Connect the Deco correctly.
Have a Combo modem/router? These Combo devices often have multiple LAN ports, some of these LAN ports may be reserved for specific services such as IPTV or VOIP, connecting the Deco to these ports would certainly not work, be sure to connect your Deco to the port labelled "LAN".
To ensure you've connected to the correct port: take out the Deco, wire a laptop/PC to the same port on the modem, restart the modem, wait for 2 minutes and check if the laptop/PC gets Internet this way, contact your ISP if otherwise.
Once the Deco is connected, make sure it is connected firmly on both ends and the Ethernet cable used to connect them is in good condition.
Confirm your connection type.
It is important to choose the correct connection type, consult your ISP if you are not 100% sure about this information.
Release MAC binding
It is possible some of the ISPs bind your front-end device's MAC address with your account for easy management, contact them and ask them to renew your MAC address if MAC binding indeed is enabled.
Esta FAQ é útil?
Your feedback helps improve this site.
From United States?
Get products, events and services for your region.