How to configure IPv6 settings on modem router (self-developed UI)
Este artículo se aplica a:
Note:
Here we take TD-W8970 as an example to configure IPv6 settings. Please make sure your ISP does provide you IPv6 access service. If so, please refer the following steps to configure IPv6 settings on this modem router.
Before we do the configuration on this modem router, please see the following topology and make sure the physical connection is correct; and then check the ADSL light (

), assure ADSL light is solid on, not flashing or off. If physical connection is no problem, please plug your laptop or PC to the LAN port (any LAN port is OK) of this modem router by Ethernet cable.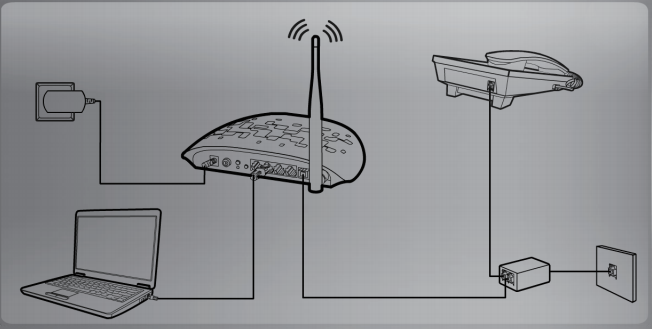 Log in to the Web-based Management Interface of TD-W8970 by
http://192.168.1.1or http://tplinkmodem.net

. (Default username & password: admin, admin.)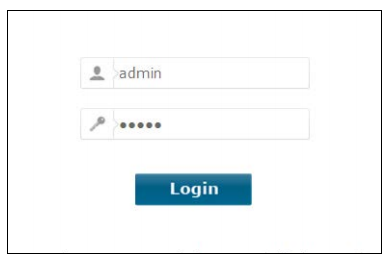 Go toleft handside, Network---WAN settings, in WAN Service Setup , choose Connection type (Here we just set up PPPoE as an example, if you are not sure, please contact your IPv6 provider), and then type in the PPP username and PPP passwrod from your ISP. After these information is finished, please click on Save button.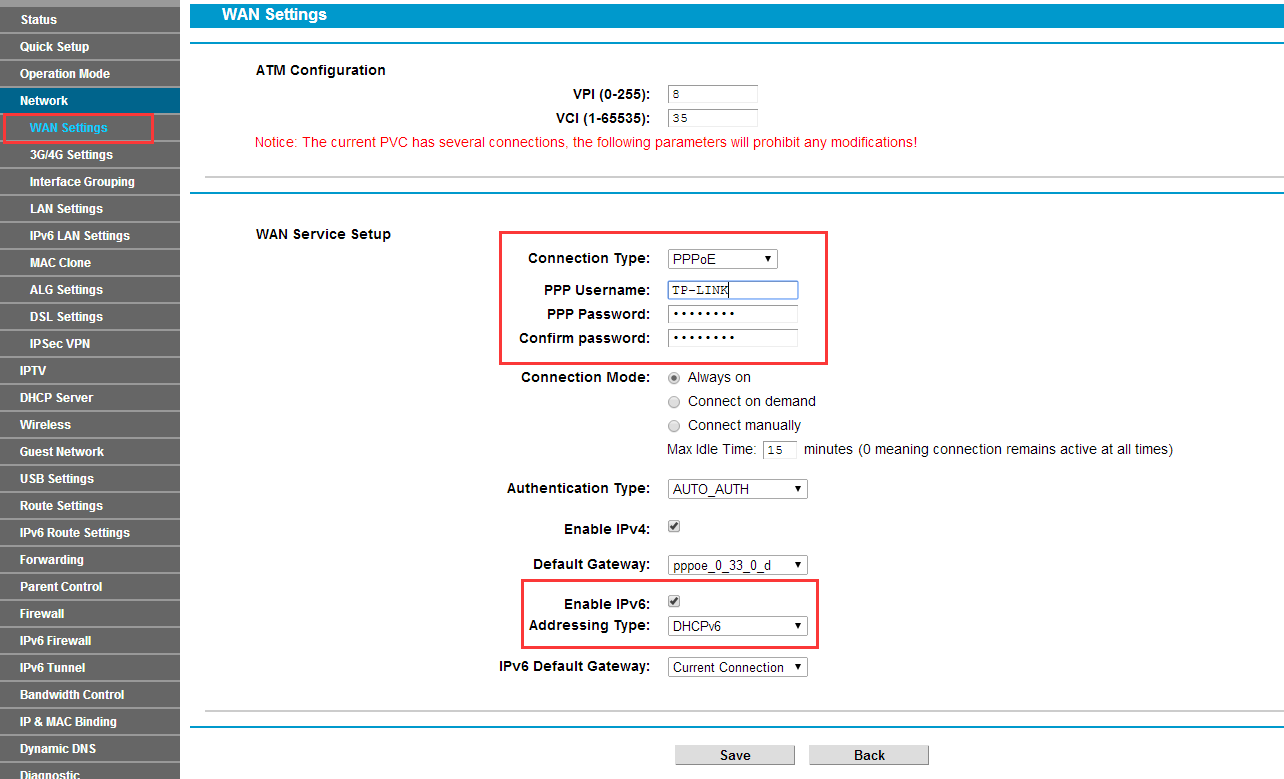 Note:
Check the box Enable IPv6; choose the Addressing Type provided by your ISP, now we have DHCPv6 & SLAAC. If you are not quite sure your Addressing Type, please contact your ISP to confirm it.
Go to Network-----IPv6 LAN settings, keep the default settings as follow. The Address Autoconfiguration Type chooses RADVD; the Site Prefix Configuration Type chooses Delegated, click on save button.

Go to Status----Basic Settings---IPv6 WAN, if it has IPv6 Address and Status shows connected, the IPv6 settings is configured successfully.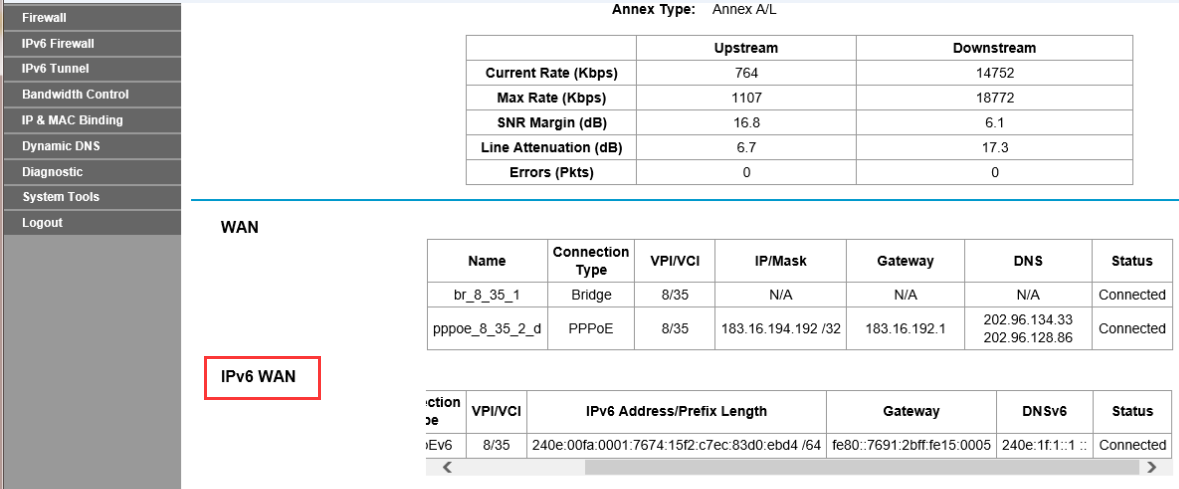 Go to left hand side, System Tools----Reboot, click on reboot button, when the process bar go to 100%, it has rebooted successfully, now you can enjoy your internet.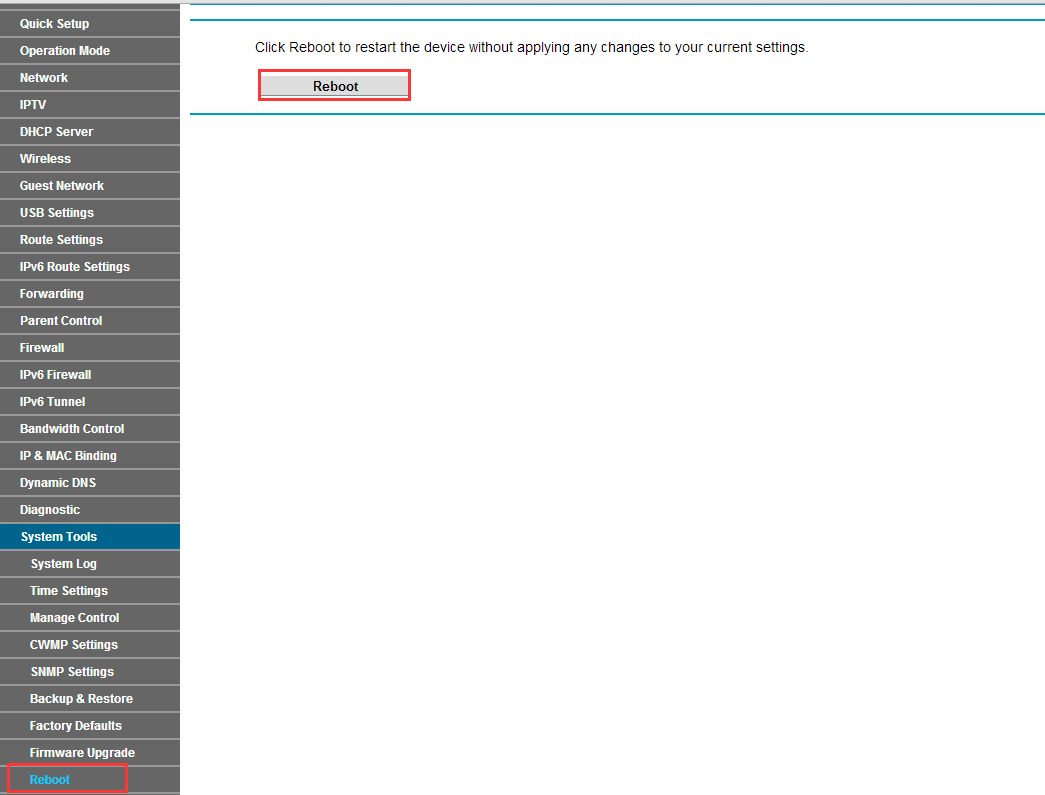 Get to know more details of each function and configuration please go to
Download Center
to download the manual of your product.
¿Es útil esta pregunta frecuente?
Sus comentarios nos ayudan a mejorar este sitio.
Desde United States?
Obtenga productos, eventos y servicios para su región.