Jan.2023

01
TP-Link Unveils Its First Wi-Fi 7 Router — The Flagship Archer BE900
SHENZHEN, China – Feb. 01, 2023 – TP-Link® officially released the first quad-band Wi-Fi 7 router—Archer BE900. This Wi-Fi 7 router was first unveiled on Nov. 14, 2022, at the TP-Link Wi-Fi 7 Product Launch Event, along with Deco Whole Home Mesh Wi-Fi 7, Omada Enterprise Wi-Fi 7, and Aginet Wi-Fi 7 for Internet Service Provider markets. Archer BE900 pre-orders began on Dec. 31, 2022, in the United States. And today it is finally available.
TP-Link is at the forefront of Wi-Fi 7, unlocking the potential of what's possible with this cutting-edge technology. Continuing the top performance of the Archer series and powered by the latest Wi-Fi 7 technology,‡ Archer BE900 brings unprecedented experiences to homes. This Wi-Fi 7 router offers 24.4 Gbps quad-band Wi-Fi 7 speeds† and comes with a brand-new design — totally reimagined from previous routers. It sports a futuristic and upright design, complete with an LED screen and touch controls on the front face. BE900 has 12× optimally positioned internal antennas that achieve the effects of high gain, high isolation, high integration, and multidirectional coverage. Equipped with two 10G WAN/LAN ports — one RJ45 port and an RJ45/SFP+ combo port — Archer BE900 provides flexible support for both fiber and copper connections. The additional four 2.5G ports and two USB ports make it an ideal solution for future-proofing your home network.
"We are excited that you are joining us in stepping into a new era together", said Pingji Li, vice president of TP-Link. "We are aiming to redefine Wi-Fi routers. The BE24000-level Wi-Fi 7 router comes with TP-Link's dedicated research efforts and helps our customers explore more of life's possibilities."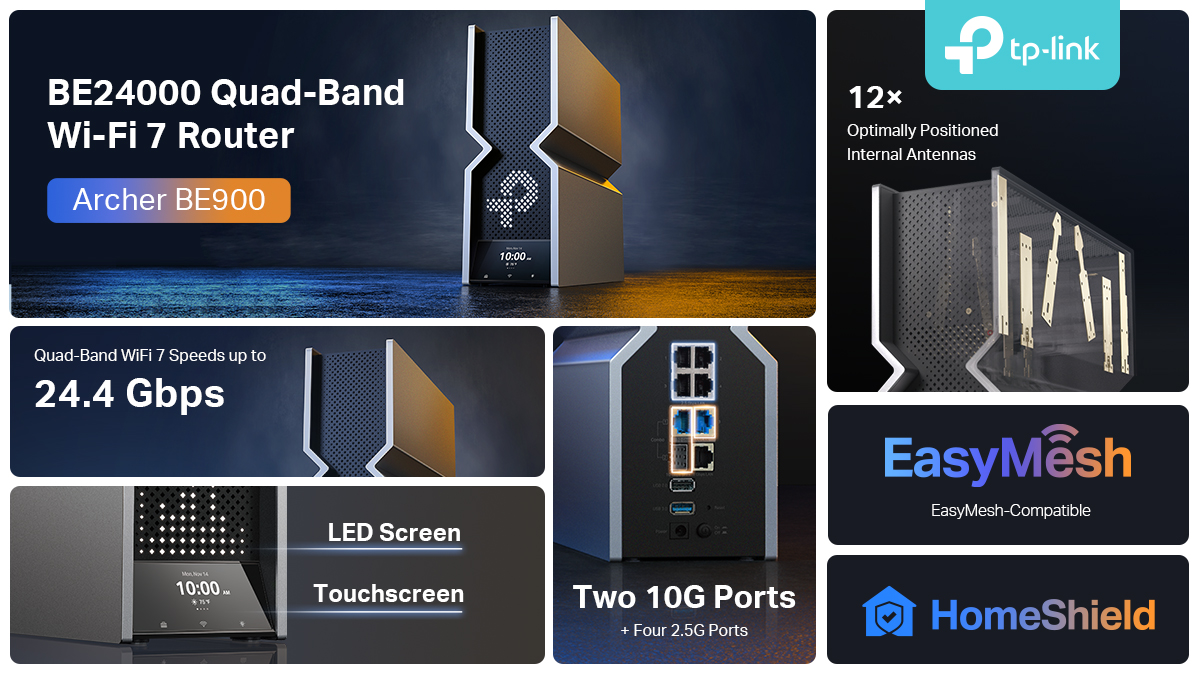 With Wi-Fi speeds increasing, more antennas are needed. That's why you see traditional Wi-Fi routers sporting a mess of external antennas. However, why not have a router with top performance and an elegant appearance? That's what our Wi-Fi 7 router does. It adopts internal antennas to clean up the design. On the fuselage, the innovative V-fold design creates a sharp aesthetic, making this the centerpiece of any home's entertainment and decor. The narrow front and vertical casing allow for neat desktop placement that takes up little space. Its metallic texture enhances its sleek look without compromising the Wi-Fi performance. The router levels up the elegance of any home environment.
The antennas play a key part in the performance. Archer BE900 is equipped with 12 of them, providing 16 streams to clients simultaneously. All are optimally positioned and internal. The high-performance antennas are placed in an independent compartment and come with proprietary Wi-Fi optimization for the best performance without needing further manual adjustment. We've optimized the antenna layout to match their frequency band patterns. This improves the isolation between the frequency bands and reduces the interference between the bands.
All antennas are designed with a high-gain structure and low-loss material to ensure high gain and high efficiency for strong and reliable Wi-Fi signals over larger areas. Also, the 5 GHz antennas are specially designed to be placed at an inclination of 15.1°. The horizontal coverage of Wi-Fi is ensured, and the three-dimensional coverage of the antennas was also optimized.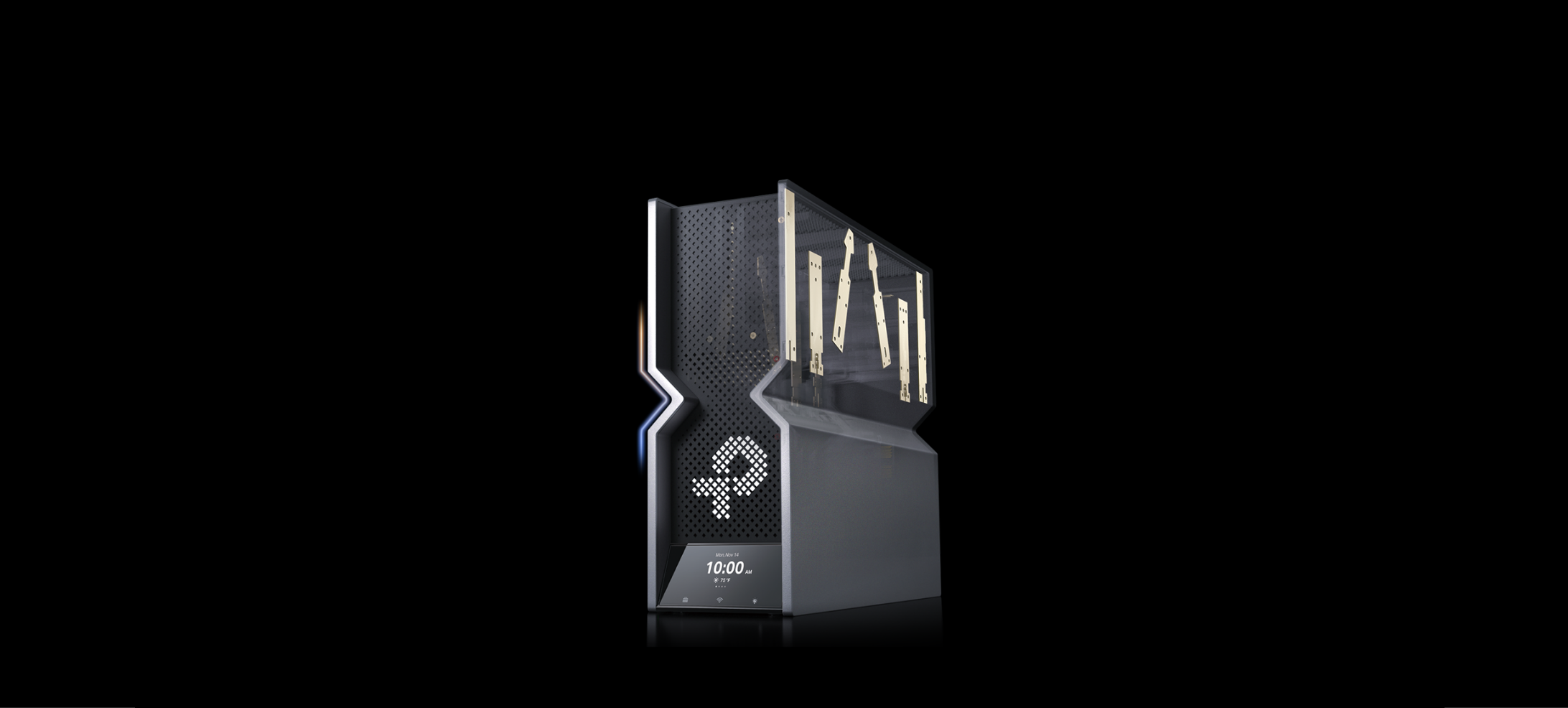 The 12 internal antennas generate powerful quad-band Wi-Fi 7 across your home, with Wi-Fi speeds reaching up to an eye-watering 24.4 Gbps. The 24.4 Gbps Wi-Fi consists of over 11520 Mbps on the 6 GHz band, 5760 Mbps on two 5 GHz bands, and 1376 Mbps on the 2.4 GHz band.† The brand-new 6 GHz band never overlaps or interferes with other bands and older devices. This means a congestion-free frequency that offers more bandwidth, faster speeds, and lower latency. Because the 6 GHz band is relatively new and it'll take some time for more 6 GHz clients to hit the market, dual 5 GHz bands were adopted. This way, the clients that support the 6 GHz band won't be the only ones to enjoy higher speeds. Now, more clients can connect to 5 GHz to get higher throughput.

10G Wi-Fi of the Wi-Fi 7 router combines with 10G wired connections to take us into a true 10G era. Archer BE900 is equipped with one 10 Gbps SFP Fiber and RJ45 Ethernet Combo port, and one 10 Gbps RJ45 Ethernet port, both with WAN/LAN functionalities. The fiber port makes 10G fiber from your ISP a reality.§ The 10 Gbps WAN/LAN port is 10 times faster than a traditional gigabit port, enabling the downloading of a 30 GB blue-ray movie in 27 seconds.§ Simultaneously, the router is equipped with four 2.5 Gbps Ethernet ports and one Gigabit Ethernet port, offering more flexibility to your wired connections. Two of the four 2.5 Gbps ports support link aggregation to combine into 5 Gbps speed.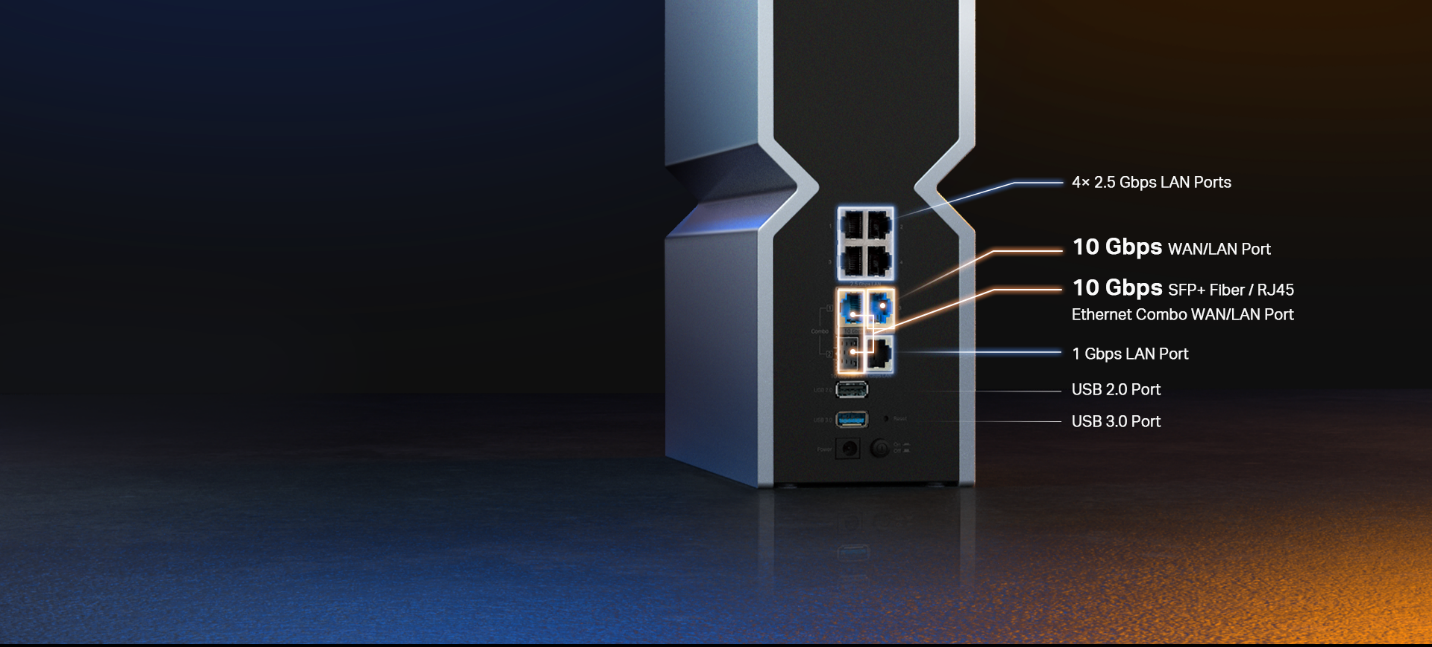 Downloading and streaming video with little to no delay is certainly important for home networks, but the ease of use is something that's often neglected. Archer BE900 is more than a powerful Wi-Fi 7 router. For starters, it's equipped with an LED screen and a touchscreen.
With the LED screen, it can display real-time weather, time, text, and even emojis with up to 3000+ customized graphics. Choose your favorite graphic from the Tether app! The touchscreen increases the ease of managing the router. Simply touch to change the screen's display. A tilted edge is also added that features touch-based controls.
With the Tether app, network setup and management could not be simpler — you can manage various types of devices from anywhere at any time. Or customize and choose the displays shown on the LED screen to increase the fun.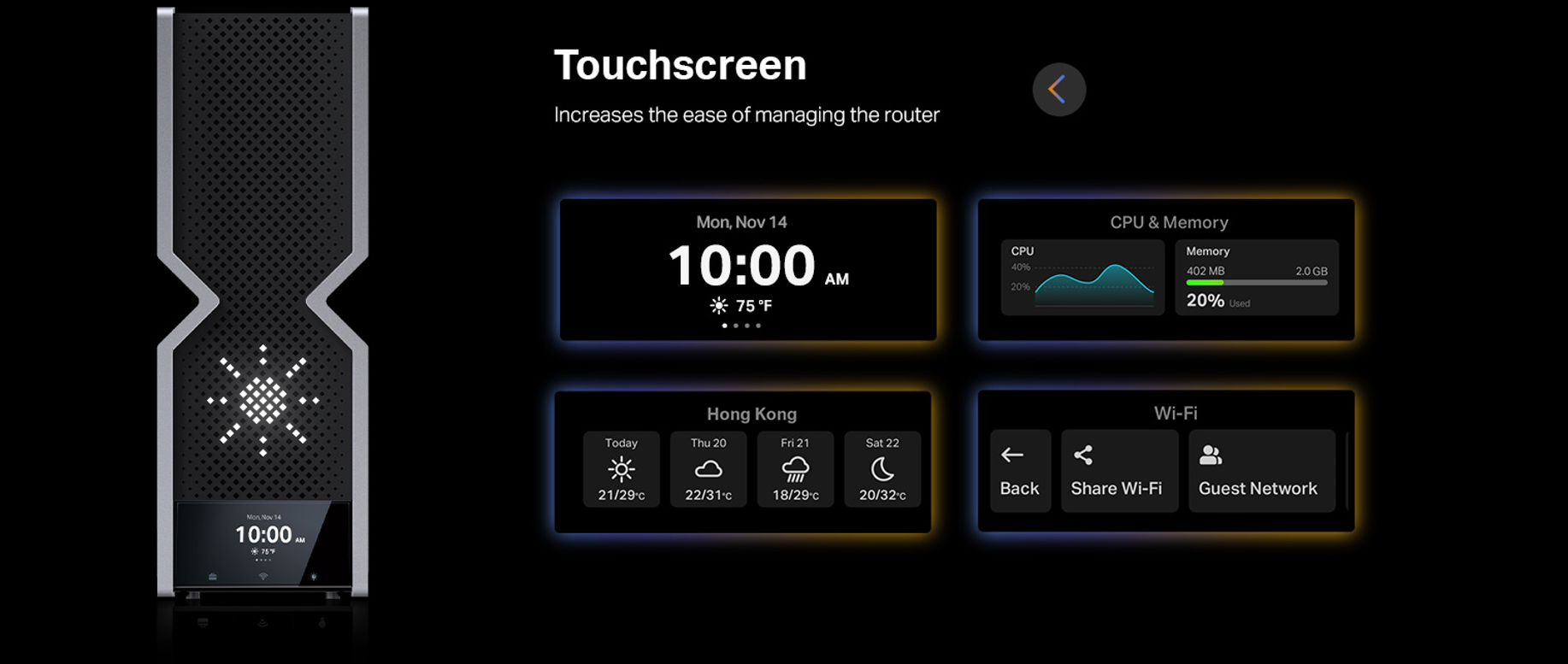 Apart from the wireless and wired 10G speeds, Archer BE900 also supports OpenVPN/PPTP/L2TP/WireGuard VPN clients and servers and can create VPN connections without installing VPN software on every device in a home.
The Wi-Fi router is also EasyMesh compatible, meaning it can work with another EasyMesh router or range extender to further form your whole home multi-gigabit mesh Wi-Fi.
BE900 also supports setting up a separate Wi-Fi for IoT devices and overlaying HomeShield to better protect the security of your home networking and IoT devices.
And that concludes TP-Link's first Wi-Fi 7 router, Archer BE900, an elegant router with 24 Gbps quad-band Wi-Fi,† two 10 Gigabit ports and four 2.5 Gigabit ports, an ease-of-use LED screen and touchscreen, EasyMesh compatibility, and HomeShield functionalities.
###
About TP-Link
TP-Link is a global innovator and provider of consumer and enterprise networking products and the world's No. 1 provider of WLAN and broadband CPE devices* with products available in over 120 countries for hundreds of millions of customers. TP-Link provides award-winning networking products in wireless routers, cable/DSL gateways, powerline adapters, range extenders, cloud cameras, smart home devices, and accessories for global end-users. We remain committed to intensive R&D, efficient production, and strict quality control. TP-Link also endeavors to provide stable Business Wi-Fi solutions for small and medium business customers and reliable enterprise switches and routers.
†Maximum wireless signal rates are the physical rates derived from IEEE Standard 802.11 specifications. Actual wireless data throughput, wireless coverage, and connected devices are not guaranteed and will vary as a result of network conditions, client limitations, and environmental factors, including building materials, obstacles, volume and density of traffic, and client location.
‡Use of Wi-Fi 7 (802.11be), Wi-Fi 6 (802.11ax), and features including 320 MHz Bandwidth, 4K-QAM, OFDMA, and MU-MIMO requires clients to also support the corresponding features.
§10 Gbps internet speeds require compatible service plans and equipment. Actual internet speeds are limited by the internet bandwidth access from an Internet Service Provider. The two 10 Gbps ports cannot be concurrently configured as WAN ports.
*According to IDC Worldwide Quarterly WLAN Tracker Report, Q4 2021 Release. Based on units shipped.
For more information about TP-Link, please visit us online at www.tp-link.com or follow us on:
- Facebook: facebook.com/tplink
- Twitter: twitter.com/tplink
- YouTube: youtube.com/tplinktech
- LinkedIn: linkedin.com/company/tp-link-technologies-co-ltd/
- TP-Link Community: community.tp-link.com
Media Contact: pr@tp-link.com
All information and pricing provided are subject to change without notice. TP-Link is a registered trademark of TP-Link Corporation Limited. All trade names are the property of their respective owners.
From United States?
Get products, events and services for your region.