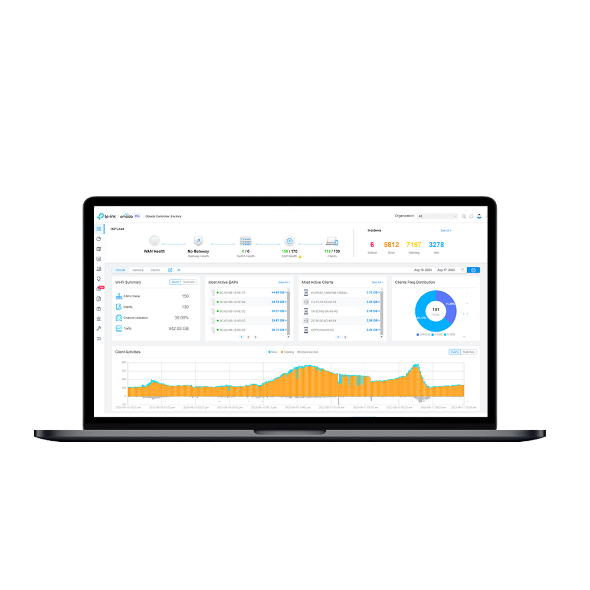 Omada Pro Software Controller
New
Omada Pro Software Controller
Unlimited Enterprise-Level Centralized Management Scale: Centralized management for unlimited Omada Pro access points, switches, and routers.*
On-Premises Deployment

:

Suitable for various scenarios with high-security requirements.
Cloud Access: Manage and monitor with the Omada app or Web UI from anywhere, anytime.
Multi-Site and Multi-Customer Management: Management, configuration, and monitoring provided by different sites.
Automated Radio Frequency Deployment: Provides automated channel selection, power adjustment, bandwidth allocation, and frequency band deployment for high-density radio environments.
Intelligent Anomaly Detection and Analysis: Supports real-time network health monitoring as well as abnormal event detection and analysis.
Omada App Support: Use cloud access to manage with the Omada app from anywhere, anytime.
What This Product Does
The Omada Pro Software Controller, the enterprise-grade on-premises controller for the Omada Pro Software Defined Networking (SDN) platform, provides 100% centralized management of Omada Pro access points, switches, and routers—all controlled from a single interface.
Engineered for Enterprise Verticals
The Omada Pro Software Controller focuses on various vertical enterprise networks like MDUs, hospitalities, K-12 education, and more. There are plenty of advanced features, such as Private Pre-Shared Keys (PPSK), Automated Radio Frequency Deployment, Wireless Intrusion Detection Systems/Wireless Intrusion Protection Systems (WIDS/WIPS), and much more.
In the future, the Omada Pro Software Control will launch more advanced features to protect enterprise networks. Tell us what you need and leave the rest to us.
Hybrid Cloud for Maximum Convenience
Featuring hybrid cloud technology, the Omada Pro Software Controller allows you to remotely control your whole network wherever you are in the world with cloud access. On-premises management provides the ultimate stability for each enterprise network.
Intelligent Network Maintenance
· Wi-Fi Heatmap Simulator
Generate a Wi-Fi solution by simulating the wireless coverage effect of APs at the actual site. Determine the appropriate number and location of APs according to your coverage needs.
· Visual Network Report for Convenient Summaries
Enable service providers to effortlessly report network service quality to clients through reports. IT administrators can also seamlessly convey network operation status using reports.
· Batch Management, Multi-Site Management, and Remote Firmware Updates
Improve network maintenance without needing to configure on-site or manage devices one by one.
· Powerful Scheduling
Maintain your network easily with more agile and effective processing. No manual tasks required.
Efficient and Simple Management
· Multi-Site and Multi-Customer Management
Management, configuration, and monitoring provided by different sites can be done independently of one another without affecting each other. MSPs can implement differentiated configuration and management services according to actual site scenarios.
· Open API
Supports device management and system monitoring through API to improve system integration.
· Single Sign On (SSO)
Supports third-party accounts to log in to the Omada Pro Software platform, such as the account of the apartment management system. SSO also eases repeated login issues encountered by administrators while in multiple application systems at the same time.
· Real-Time Network Status and Full Reports of Clients, Devices, WAN, and Wi-Fi
System integrators can easily share network service quality with administrators through customized reports.
Always-Assured Network Security
· Private Pre-Shared Key (PPSK)
Creates unique pre-shared keys for individual users on the same SSID to enhance residents' network security. For the entire complex, PPSK offers mesh coverage and seamless roaming without a manual switch.
· Wireless Intrusion Detection Systems/Wireless Intrusion Protection Systems (WIDS/WIPS)
Identify and quarantine abnormal behaviors or attacks from rogue APs and clients in the environment. Operate 24/7 with generally no need for management or admin involvement. In the backend of the Omada Pro Software Controller, WIDS allows customization of detection types based on user scenarios.
WIPS offers diverse protection functions to safeguard network health and enhance performance. Protection methods encompass De-auth Counter and Dynamic Blacklist. Instant, multi-dimensional, adaptive WIPS aids in securing sensitive information and network resources.
· Intrusion Detection Systems/Intrusion Protection Systems (IDS/IPS)
Support the detection and protection of various threats, like password brute-forcing, botnets, malware, server and terminal vulnerability attacks, and more. The protection methods include Block List, Device Isolation, Allow List, and Signature Suppression. The built-in attack protection signature database can be updated regularly and supports more than 4000+ signature rules.
· Deep Packet Inspection (DPI)
The built-in application feature recognition library captures traffic packets through a DPI engine to analyze, identify, and match them with the application library. The recognition library can identify up to 40+ categories of mainstream software, including messaging, conferencing, email, education, gaming, and more. It features country/region-based traffic management to finely allocate and regulate available bandwidth for critical applications or application classes while suppressing unnecessary application traffic.
Greater Convenience with the Omada App
Remotely access and configure your whole network with a tap of your phone from anywhere in the world.
MANAGEMENT
Omada App
Yes
Centralized Management
Unlimited management of Omada Pro access points, switches, and routers*
Cloud Access
Yes
L3 Management
Yes
Multi-site Management
Yes
Management Features
• WiFi Heatmap Simulator• Multi-Site Management• Multi-User Privilege Assignment• Automatic Device Discovery • Batch Configuration• Batch Firmware Upgrading • Intelligent Network Monitoring• Abnormal Event Warnings and Notifications• Unified Configuration• Reboot Schedule• Captive Portal (Voucher, SMS, etc.)• Network Summary Report
OTHERS
System Requirements
• Windows10, 8, 7,Vista, Ubuntu 14.04/16.04/18.04, CentOS 6.x/7.x, Fedora 20 (or above) and Debian 8/9
*Actual management scale of the Omada Pro Software Controller depends on the PC/server's hardware specifications.
From United States?
Get products, events and services for your region.