Are your suffering from WiFi disconnections or buffering time after time? Maybe your devices are just being held back by your outdated home router. It doesn't matter how fast your internet is if you're sticking with your default ISP router. A right pick of WiFi router will save you from annoying WiFi problems and improve efficiency especially in a time when more and more people are having to work from home.
How to choose the right WiFi router?We've provided you with the best solution and here is everything you should know.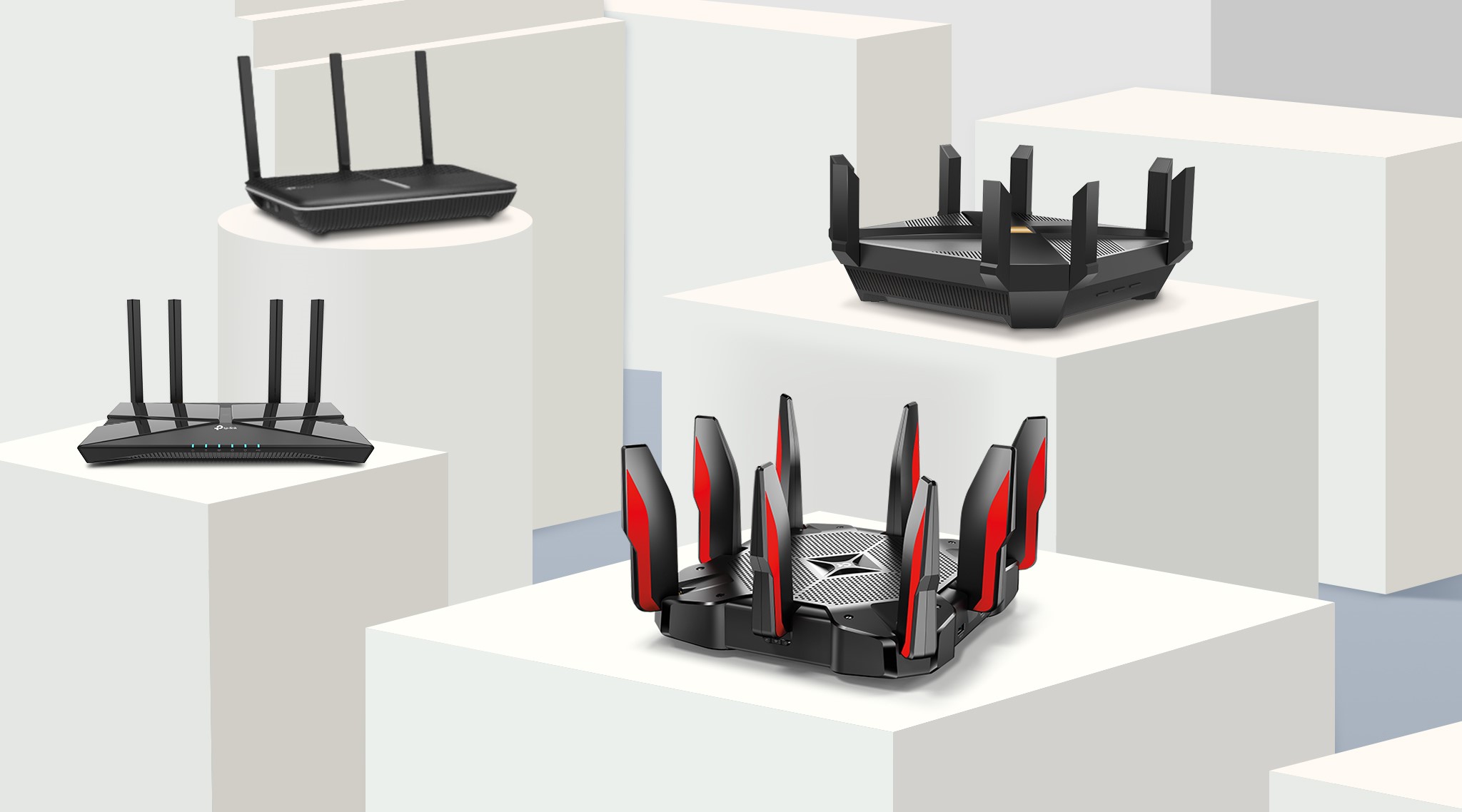 Features to Consider When Shopping for the Best WiFi Router
Today, WiFi becomes essential to our lives, like water and the air, while routers become the driving force behind the rapid rise of the WiFi. Knowing how to select the best WiFi router is important. The following points are recommended for your comprehensive consideration.
Speed
WiFi Standard
When choosing the best WiFi router, the first factor to consider is the wireless standard being used. Wireless technology is constantly evolving to meet the demand for higher speeds. Common wireless technologies are 802.11n (WiFi 4), 802.11ac (WiFi 5) and 802.11ax (WiFi 6). And you can easily tell from the name that WiFi 6 is now the latest generation of WiFi technology, born to improve speed, increase efficiency, and reduce congestion in heavy bandwidth usage scenarios.
WiFi speed is affected by distance, obstacles (such as walls and ceilings), electronic interference, and the number of devices connected to the network. And here are some general suggestions based on daily online activities.
| | | |
| --- | --- | --- |
| Number of Devices | Activity | Recommended Technology |
| 1-2 | Web surfing, email, video chat or internet phone calls | WiFi 4 |
| 3-5 | Online multiplayer gaming, 4K streaming | WiFi 5 |
| More than 5 | All of the above plus downloading large files and live streaming video | WiFi 5 or WiFi 6 |
WiFi Band
The main WiFi bands are 2.4 GHz and 5 GHz. Some may have two separate frequency bands in the 5GHz area. The router operates both the 2.4GHz and 5GHz bands, ensuring amazing wireless performance. Simple tasks like sending e-mails or web browsing can be handled by the 2.4GHz band while bandwidth-intensive tasks like online gaming or HD video streaming can be processed by the 5GHz band – all at the same time. Dual-band or tri-band WiFi routers also emit their wireless signal on the 5GHz frequency. Make sure that the router is dual band or tri-band, and then you can select the best band to get the best performance.
QAM
The router could pack more data with higher QAM. For example, with 1024-QAM, each symbol carries 10 bits rather than 8 bits, improving raw speeds by 25% compared to 802.11ac 256-QAM. Watch Netflix at home or live stream Twitch Broadcasts from your home computer – with 1024-QAM, streaming just got that much better. If you want a faster wireless network, take it into consideration.
Coverage
The environment also plays a pretty big part in the coverage and performance of wireless devices.
In different houses, due to various WiFi interference and different reception sensitivity of clients, the devices will not perform in the same way. Generally, the range of 2.4GHz is about 20 meters and 5GHz is within 15 meters to guarantee a good networking experience. High gain antenna, Beamforming technology, and other factors help improve range.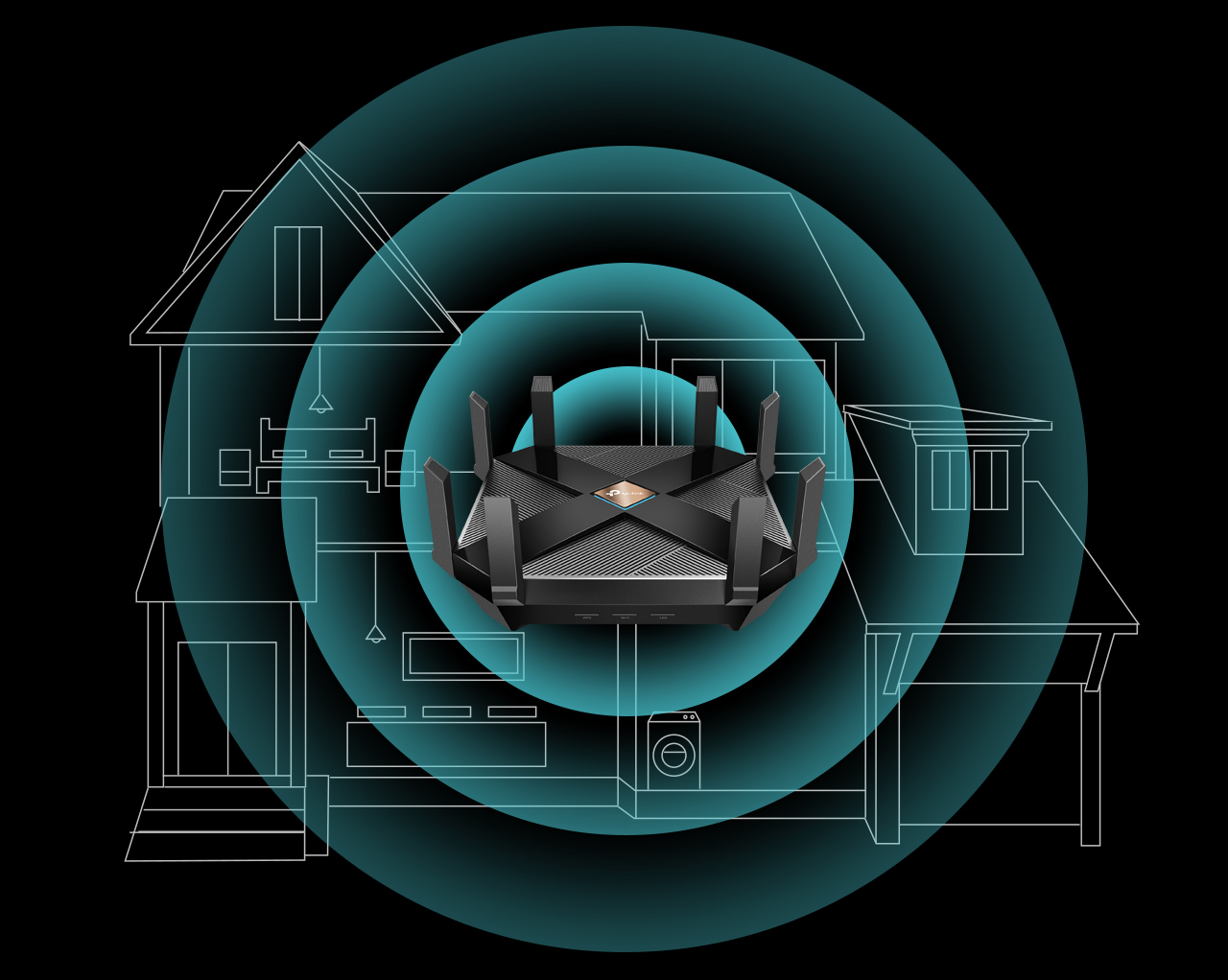 1) Antennas
The antenna should be taken into consideration when buying a WiFi router. The antenna can have one to four "channels" to give you more space to send data. Generally, more antennas mean faster speeds and greater coverage. And the high-gain antennas could transmit Wi-Fi signals to more places in the home. Sometimes the router does not use all the antennas you see, or some antennas are internally embedded into the router.
2) Beamforming Technology
The router with the Beamforming technology detects the location of your connected devices and concentrates the WiFi towards them to create stronger overall connections.
3) RangeBoost Technology
The RangeBoost technology is a must-have for high-end routers due to the great improvements it makes to the WiFi signal reception. It focuses on signal processing to amplify the router's ability to detect/receive WiFi signals from devices that are farther away, ensuring higher overall throughput and reducing dead spots. Improvements that eliminate signal dead spots allow WiFi clients to connect from further away and enjoy higher speed connections.
Capacity
WiFi speed is also affected by the number of devices connected to the network. If you have lots of devices in your home, you can pay more attention to the following features/technologies when choose a WiFi router.
MU-MIMO
When one client was communicating with a router, the other clients would have to wait until the transmission finished. MU-MIMO (Multiple-User, Multiple-Input, and Multiple-output) overcomes this issue by allowing multiple users to access the router's functions without congestion. With the help of MU-MIMO, routers can now communicate with different clients at the same time. This greatly boosts network efficiency, especially in high-density scenarios, as each client has more chances to access the router without wasting time waiting.
MU-MIMO was first introduced as an upgrade for Wi-Fi 5, but only 4x4 MU-MIMO (downloads only) is supported. In 2019, The Wi-Fi 6 version of MU-MIMO is 8x8 MU-MIMO which means your router antenna can transmit data to 8 devices simultaneously.
OFDMA/OFDM
OFDMA or OFDM technology greatly improves network efficiency and capacity to connect more devices simultaneously, satisfying your diverse networking needs ranging from extremely low traffic to highly bandwidth-intensive. OFDMA is also a key feature of WiFi 6 that lifts network capacity substantially.
Ethernet Ports
A LAN stands for a local area network. It consists of two or more devices that are connected by physical cable or wireless connection in a certain location. Conversely, a WAN, or a wide area network, covers multiple geographical areas. The most typical example of WAN is the internet.
ForWiFi routers, the LAN port is designed for local connection while the WAN port is used to gain public internet. So a high-speed port is critical to your connection speed.
There are multi-Gig, Gigabit and fast Ethernet ports. You can take full advantage of broadband at speeds up to 1 Gbps through the Gigabit WAN port.. When choosing a best router, check the internet speed provided by your ISP and select the right router with ports you need. If you have great demand for wired connection, you also need to pay attention to the number of ports, especially the LAN ports for connecting your home devices.
Other factors
When choosing a best WiFi router, you can also look at the "advanced" features it provides. Some features are really useful, such as…
Quality of Service (QoS) – Prioritizes devices or the internet traffic of specific online activities
Secure VPN Access – Connects to a private network with a safe and secure OpenVPN and PPTP VPN connection
USB Ports – Connects external storage devices to rapidly share files, photos, and videos
Encryption Version – Supports WPA2 or WPA3 encryption for enhanced security
What are the best routers?
Best WiFi 6 Router
Archer AX6000—Ideal Router for the Smart Home
If you want to make the upgrade of your home network or get prepared for the next generation of devices, go for the TP-Link Archer AX6000. The Archer AX6000 is TP-Link's first 802.11ax WiFi router. It is designed to speed up your connection with up to 6Gbps across its bands and serve more devices simultaneously—making it the perfect router for your modern home or office whether you're streaming 4k/8k movies, online gaming, experiencing VR, or engaging with your smart devices.
With a 1.8 GHz quad-core processor and two WiFi co-processors, the Archer AX6000 is a perfect choice to get your toes wet in the world of faster Wi-Fi with peak performance and features.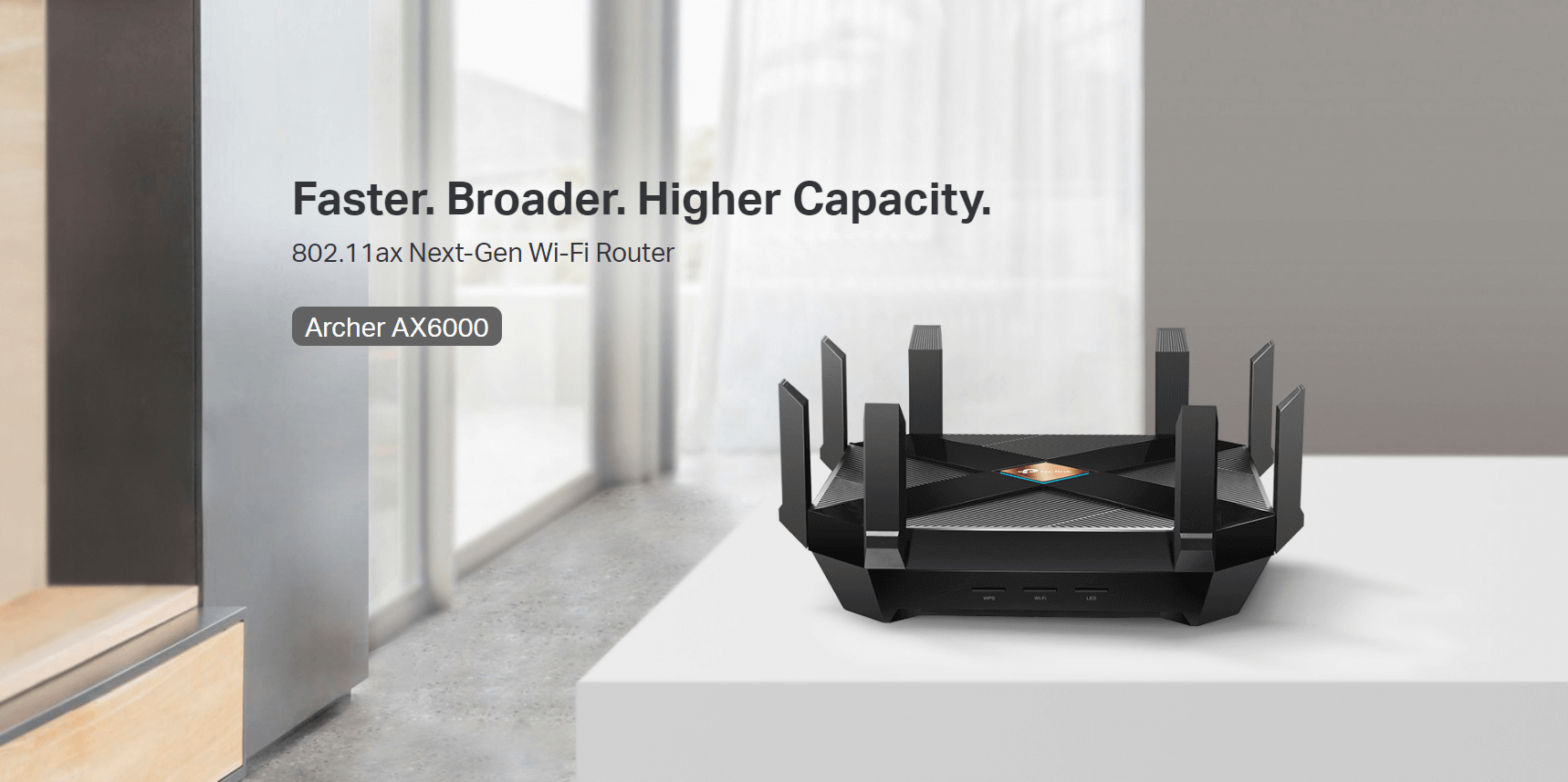 Best Router on a Budget
Archer C7—The Best Router for Most People
TP-Link's Archer C7 is one of the cheapest ways to equip your house with 802.11ac WiFi. A review of dozens of wireless routers by the New York Times in collaboration with The Wirecutter concluded that Archer C7 is the best option for most consumers.
The Archer C7 is a fast 802.11ac router with incredible range. It's better than many routers that are twice as expensive. This advanced WiFi is designed for high-traffic online activities and can help to run applications at triple the speed of the previous 802.11n standard.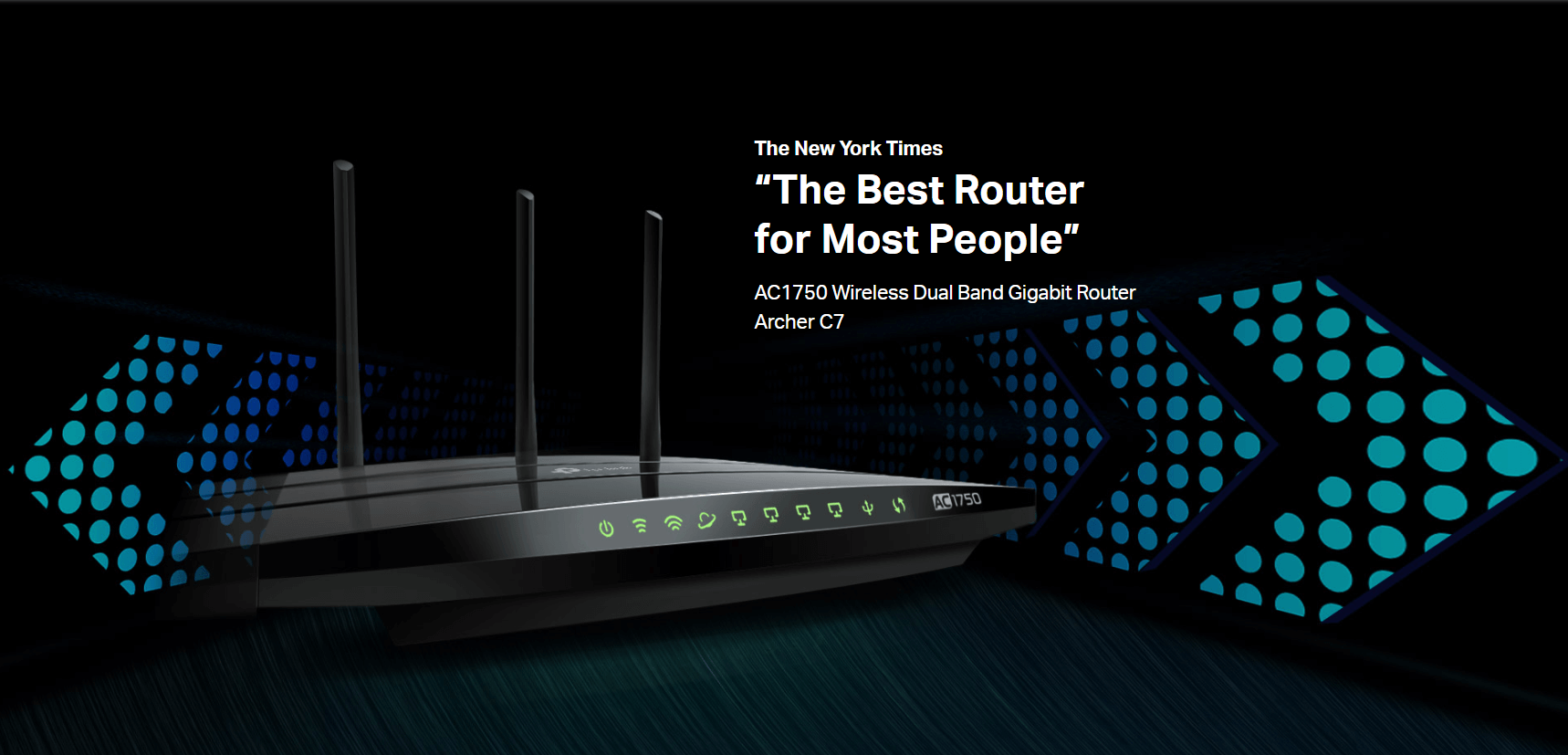 Archer C80—High-Performance WiFi for the Mainstream
Archer C80 delivers high-performance and affordable home WiFi with total speeds up to 1900 Mbps. Handle simple tasks like sending e-mails or web browsing on the 2.4 GHz band and bandwidth-intensive tasks like online gaming or 4K/8K UHD streaming on the 5 GHz band—all lag-free.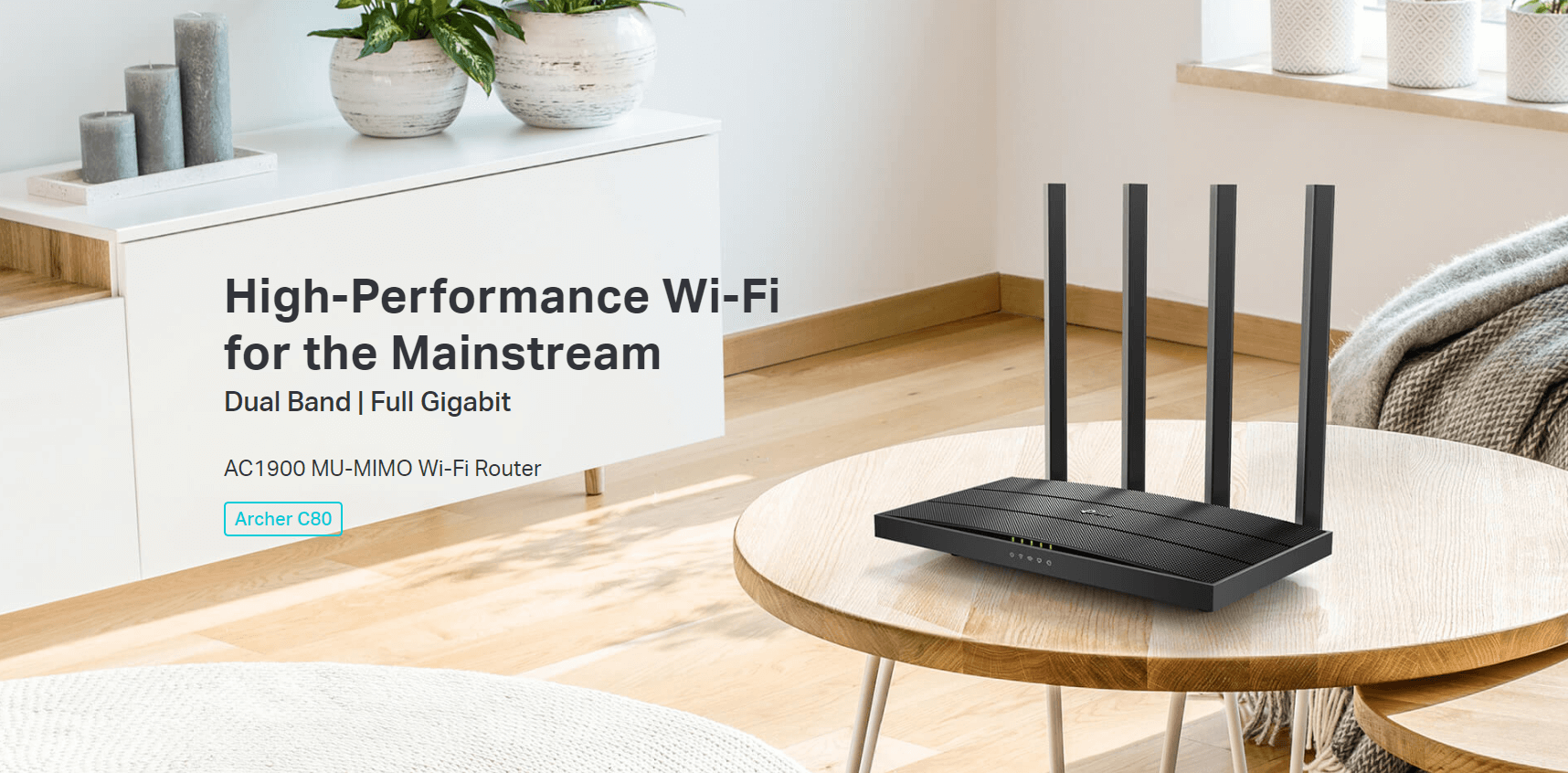 Best Mesh Router
Deco M5—Whole Home Mesh WiFi Loved by Everyone
Using a system of units to achieve seamless whole-home WiFi coverage — eliminate weak signal areas once and for all! With advanced Deco Mesh Technology, units work together to form one unified whole-home network with the same network name.
Deco M5 uses new technology to cover your entire home of up to 5,500 sq. ft. in powerful WiFi. With multiple units working together seamlessly, Deco M5 creates a home network like nothing you've ever experienced.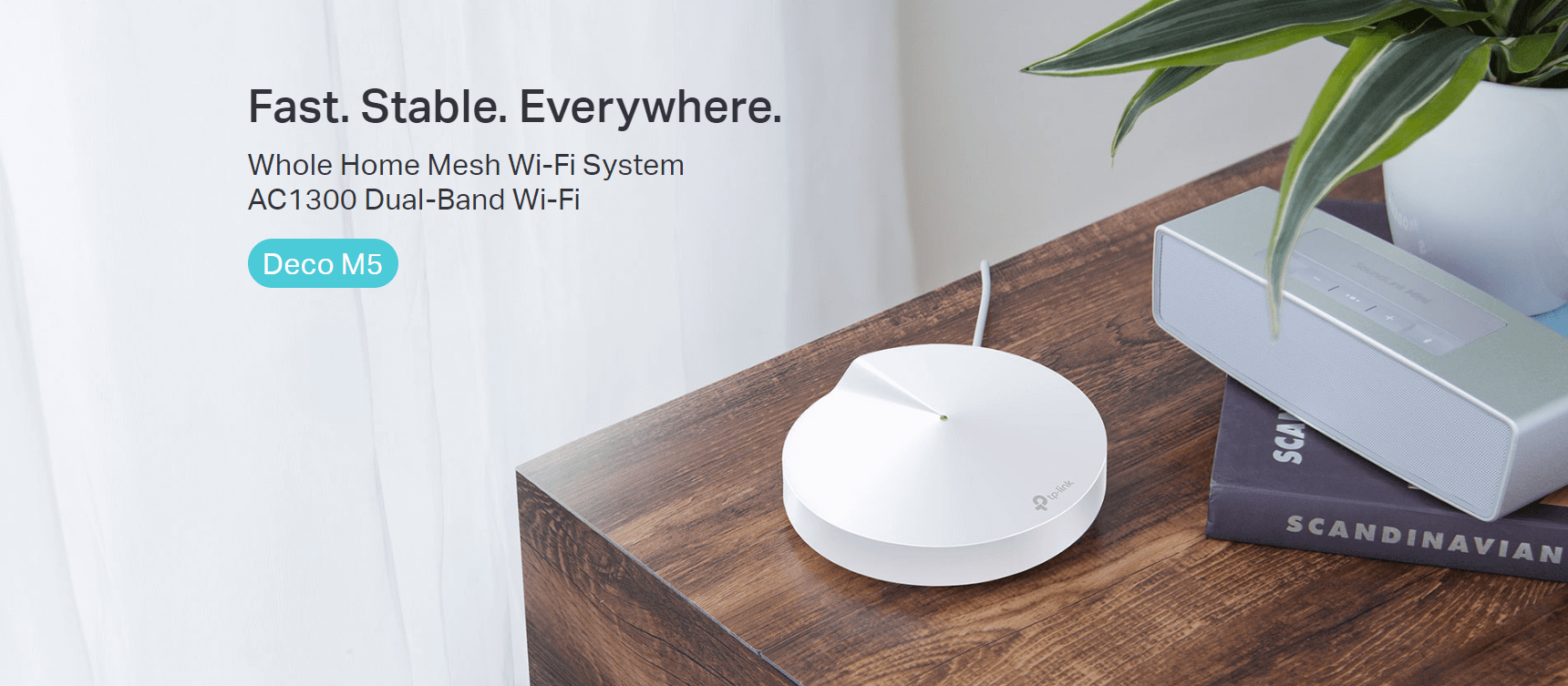 Deco M9 Plus—The Smart Brain of Your Entire Home
Deco M9 Plus Deco is the simplest way to guarantee a strong WiFi signal in every corner of your home up to 6,500 square feet. Enjoy fast and secure Tri-Band WiFi no matter how many devices you have. Deco M9 Plus connects and controls your smart home devices as a hub, no need for an additional hub.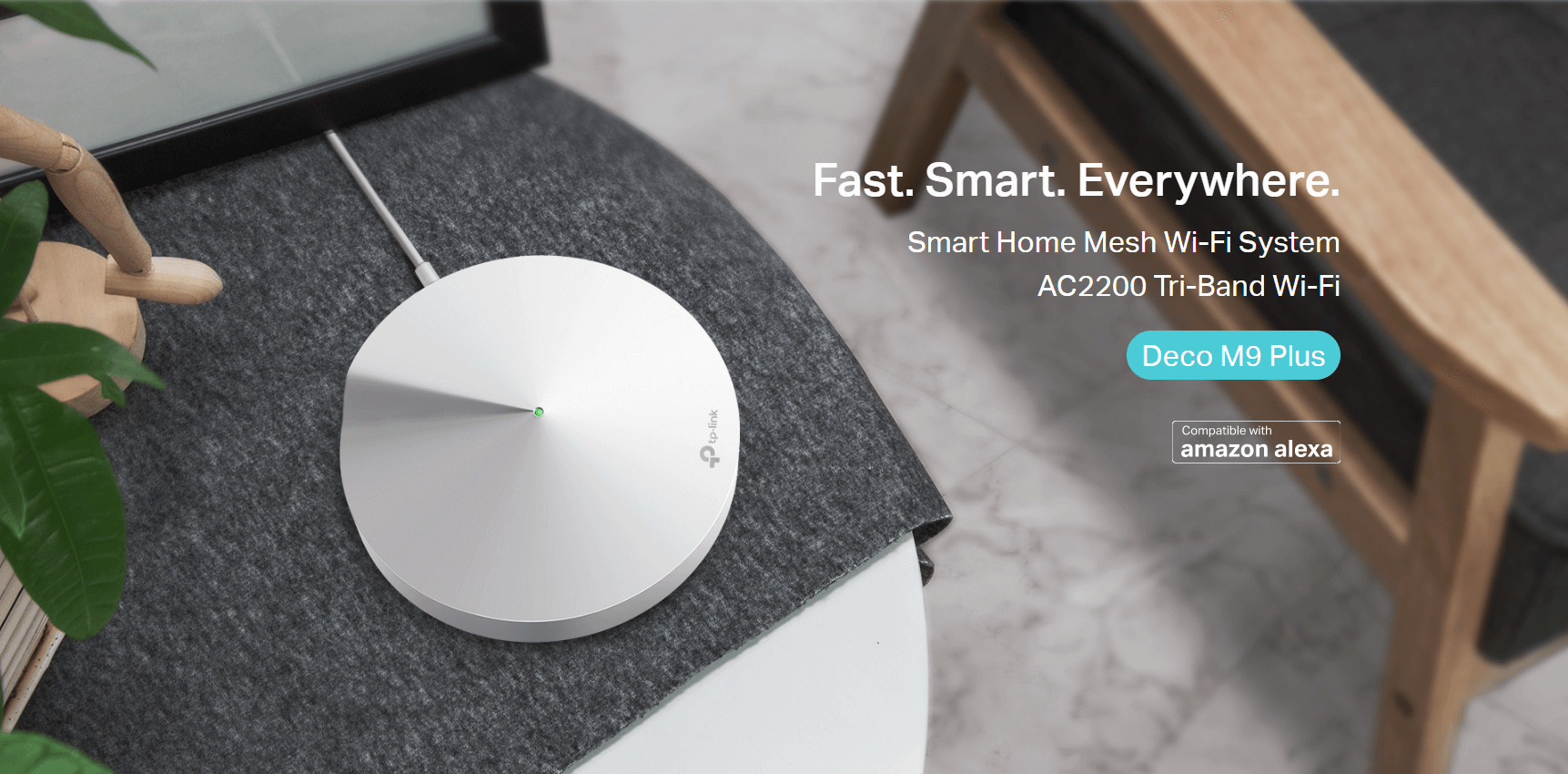 Best Gaming Router
Archer AX11000—Perfect for Enthusiastic Gamers
A WiFi 6 router designed for gaming enthusiasts, the Archer AX11000 offers astonishing tri-band WiFi speeds up to 10756 Mbps with an extended range. It comes loaded with a 1.8GHz quad-core CPU with three WiFi co-processors, 1 GB RAM, and 512 MB Flash, making it one of the most powerful gaming routers on the market today.
Gaming enthusiasts can further optimize their network for gameplay through the TP-Link Game Center to optimize bandwidth allocation, see real-time gaming data, and create a VPN tunnel for the best gaming performance. The revolutionary OFDMA technology and Gaming Accelerator combine to demolish latency and interference, which is the perfect network hub for all gaming needs.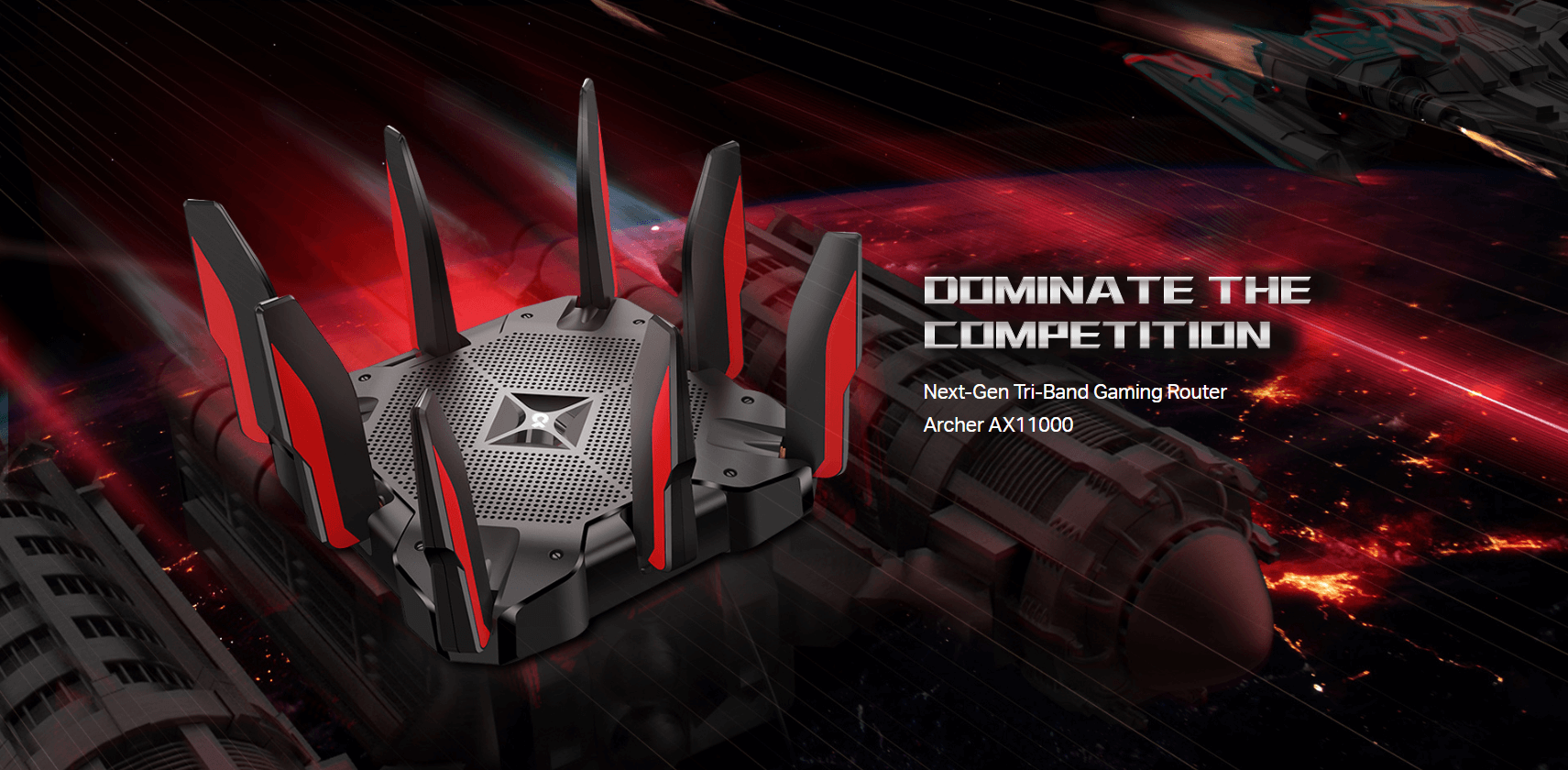 Archer C5400X—Best AC Gaming Router
You've spent hours picking the perfect parts for your gaming rig. Now get the most out of it with the Archer C5400X—the router designed to power the performance demanded from high-end gaming rigs. It is the recommended router by GeForce NOW™ – the leading platform for cloud gaming.
Archer C5400X kills latency and guarantees your dominance in online gaming. Advanced game accelerator and tri-band technology bring immersive gaming to a new level.
Get into the action with incredible AC5400 tri-band WiFi speeds over the 2.4 GHz (1000 Mbps) and two 5 GHz bands (2167 Mbps).
1.8 GHz 64-bit Quad-Core CPU provides impressive processing power to handle multi-gigs of transmitting data and decimate the latency.
If you're a competitive online gamer, just focus on your competition and Archer C5400X will do the rest.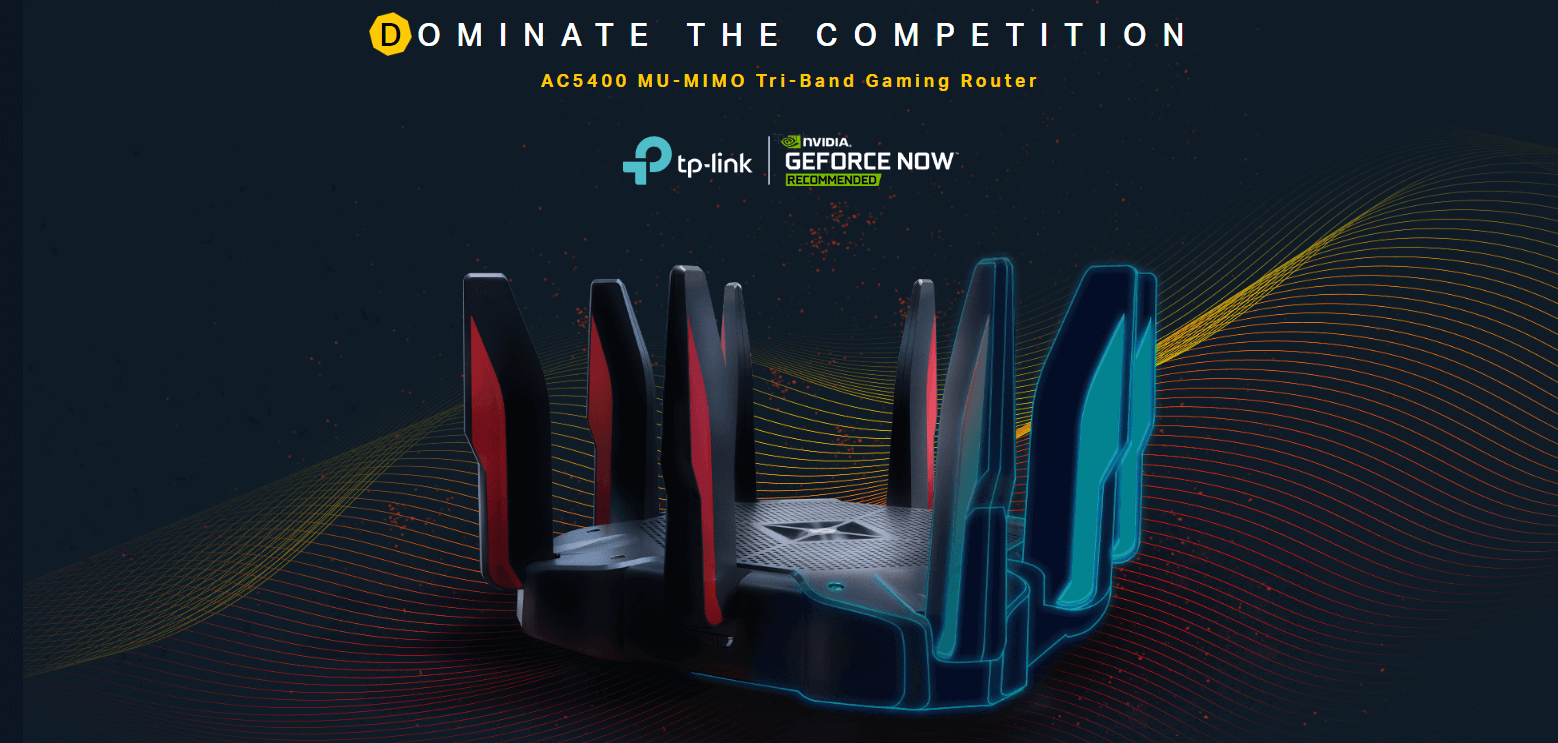 What else do you need to know?
Common FAQ about WiFi routers
How to log into the web-based interface of the Wi-Fi router(new designed blue UI)?
How to setup an AC-class Wi-Fi Router as an Access Point (New Blue UI)?
How to set up QoS using TP-Link Wi-Fi Router (new designed blue UI)?
What should I do if I cannot access the internet through Wi-Fi router?
Wi-Fi Routers Experiencing Slow Wi-Fi Performance With Android and Google Chromecast Built-in Devices
How to configure Guest Network of Archer Wi-Fi Router (new designed blue UI)?
How to use OpenVPN to access your home network through the Wi-Fi Routers (new logo)?
How to configure Dynamic IP or Static IP on the TP-Link Wi-Fi router to work with a Cable/Fiber modem or a community network(new designed blue UI)?
From United States?
Get products, events and services for your region.