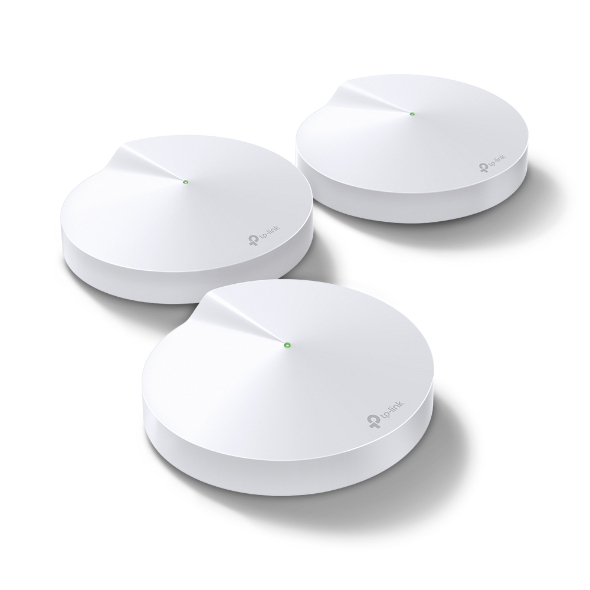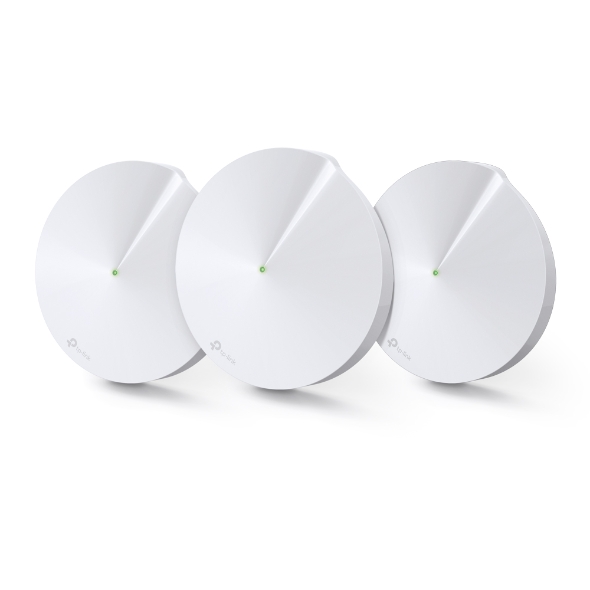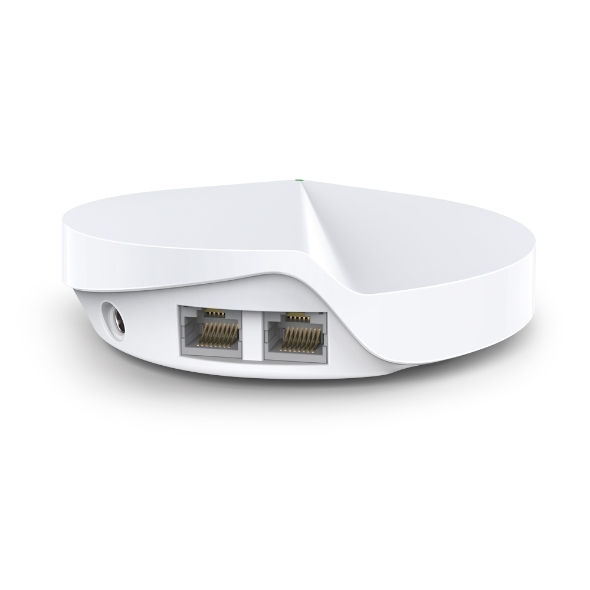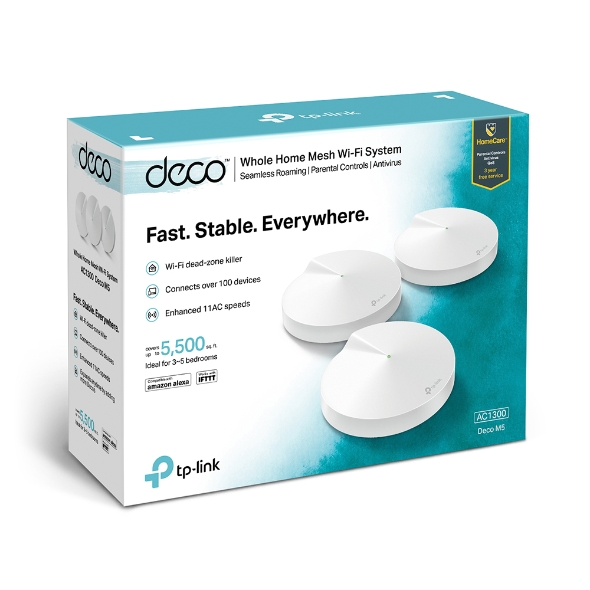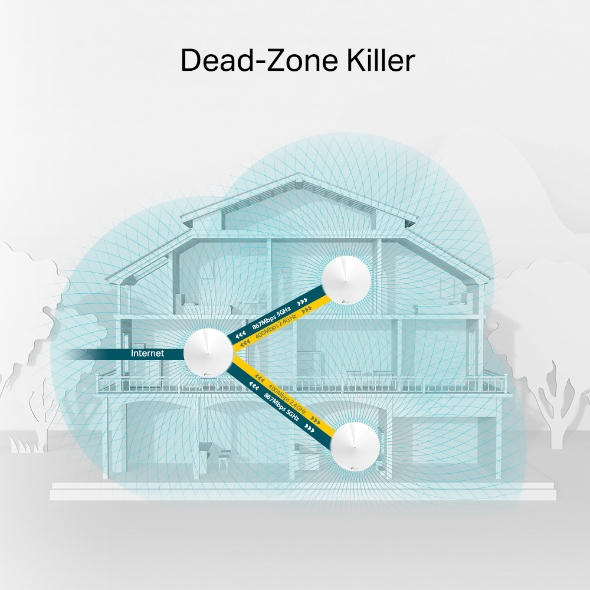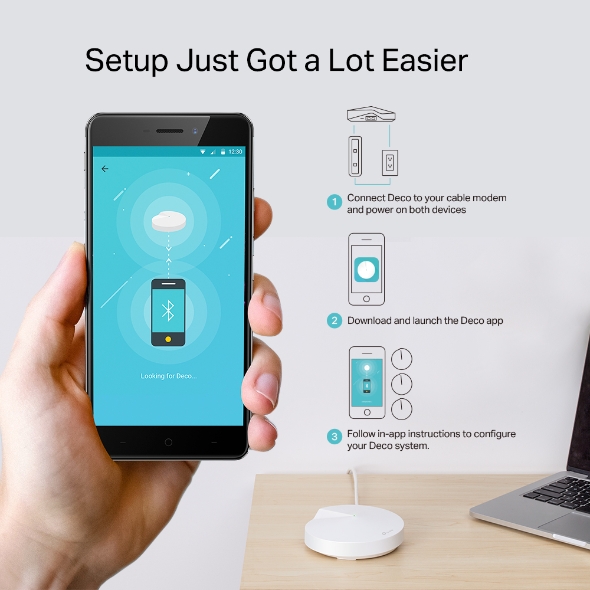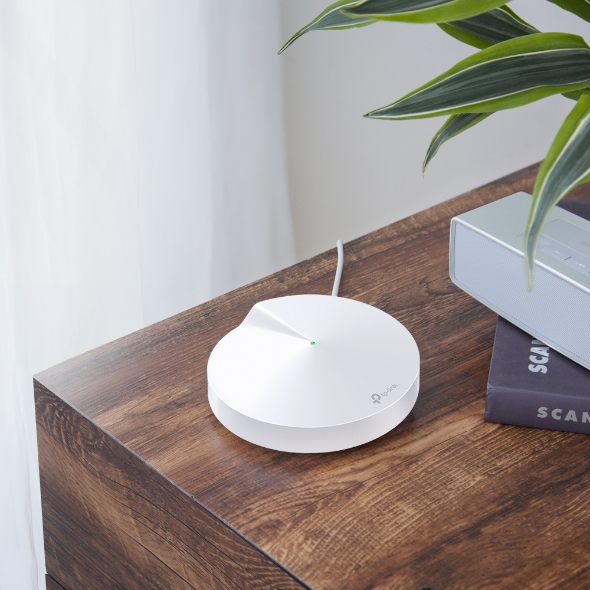 AC1300 Whole Home Mesh Wi-Fi System
Deco usa un sistema de unidades para lograr una cobertura Wi-Fi perfecta para el hogar: ¡elimine las áreas de señal débil de una vez por todas!
Con la avanzada tecnología Deco Mesh, las unidades trabajan juntas para formar una red unificada para el hogar completo con el mismo nombre de red. Los dispositivos cambian automáticamente entre Decos a medida que te desplazas por tu hogar para obtener las velocidades más rápidas posibles.
Las fundas de tres paquetes Deco M5 ofrecen Wi-Fi en un área de hasta 500 metros cuadrados. Y si eso no es suficiente, simplemente agregue más Decos a la red en cualquier momento para aumentar la cobertura.
11AC mejorado proporciona conexiones rápidas y estables con velocidades de hasta 1267Mbps.
Deco puede manejar el tráfico incluso desde las redes más ocupadas, brindando conexiones sin retardo para más de 100 dispositivos.
TP-Link HomeCareTM ofrece un conjunto de funciones personalizadas y seguras, que incluyen controles parentales, antivirus incorporado y calidad de servicio (QoS).
La configuración es más fácil que nunca con la aplicación Deco para guiarlo a través de cada paso.
Fast. Stable. Everywhere.
Whole Home Mesh Wi-Fi System
AC1300 Dual-Band Wi-Fi
Deco M5
Deco is the simplest way to guarantee a strong Wi-Fi signal in every corner of your home. Enjoy fast, stable connections for an army of devices in homes up to 5500 square feet. Setup couldn't be easier with the Deco app there to walk you through every step.
Wi-Fi dead-zone killer

Connects over 100 devices

Enhanced 11AC speeds
Dead-Zone Killer
Eliminate weak signal areas with whole-home Wi-Fi. No more searching around for a stable connection.
Want more coverage? Simply add another Deco.
No More Buffering
Tired of endless loading? With an ever increasing number of bandwidth-hungry gadgets in our homes, you need a network that can rise to the challenge. With network speeds three times faster than the previous generation routers thanks to 802.11ac wireless technology, Deco can provide lag-free connections for over 100 devices.
Seamless Roaming
Decos work together to form one unified Wi-Fi network. Your phone or tablet will automatically connect to the Deco that provides the fastest speeds as you move through your home, creating a truly seamless online experience.
Deco M5

Router's Wi-Fi

RE's Wi-Fi 1

RE's Wi-Fi 2

Router + Range Extenders
Setup Just Got a Lot Easier
Unbox Deco, install the app and then simply follow the on-screen directions. Deco will take care of the rest, getting your network up and running in minutes.
Connect Deco to your cable modem and power on both devices

Download and launch the Deco app

Follow in-app instructions to configure your Deco system.
TP-Link HomeCareTM
TP-Link HomeCareTM ensures every device on your network remains protected, with a threat database updated live by Trend MicroTM.
Powerful parental controls can limit online time and block inappropriate content according to unique profiles created for each family member.
Learn More >>
Block inappropriate content and restrict time spent online

Protect all connected devices in your home from online threats

Prioritize devices and applications for faster performance when needed
Fits Every Type of Home
Multi-Story Home

Modern Home

Apartment
The Reviews Are In
"The M5 can protect the entire network from online threats."
- C|NET
---
"If you're looking to ditch your traditional router-extender setup for a whole-home Wi-Fi system, put the TP-Link Deco M5 Wi-Fi System on your short list"
- PCMAG.COM
True Seamless Roaming
Deco units work together to form one unified network with a single network name. You phone or tablet automatically connects to the fastest Deco as you move through your home. The switching takes less than 0.3 second and is smooth and unnoticeable, creating a truly seamless online experience.
Adaptive Path Selection

TP-Link Mesh Technology dynamically chooses the best route and band for your connections and applications, guaranteeing a fast Wi-Fi no matter where you are in the home.
Self-Healing

If one Deco has an issue, the system will automatically reroute data via the other Decos to make sure you stay online.
Wi-Fi + Powerline
Powerline connections utilize your home's electrical circuit to link Decos, bypassing even the thickest of walls and ceilings.
The dual-band Wi-Fi and powerline work together to transmit data between Deco units. The total network speed is greatly improved compared with using Wi-Fi only.
Wi-Fi + Powerline:

Hybird Wi-Fi System

Boosted Speeds

Traditional Mesh Wi-Fi:

Standard Wi-Fi System
Powerline

Note:Wi-Fi + Powerline is only for Deco P9
IoT Mesh
Unlike traditional smart hubs, TP-Link Mesh Technology provides whole-home IoT coverage with Wi-Fi, Bluetooth and Zigbee integrated into a single system.Enjoy the magic of your smart home in every room with TP-Link Mesh Technology. Say goodbye to countless hubs.
- - -

Wi-Fi

- - -

Zigbee

- - -

Bluetooth
Wi-Fi 6 Mesh
Armed with Wi-Fi 6 technology,
Deco whole home mesh Wi-Fi is designed to deliver a huge boost in coverage, speed, and total capacity. Get on the latest mesh Wi-Fi to enjoy the future network that loads faster and connects more.
Broader coverage

More Connections

Faster Wi-Fi 6 Speed
without Wi-Fi 6 technology
AI-Driven Mesh
Armed with AI Mesh technology,Deco automatically learns and improves itself from experience.
This provides the ideal mesh Wi-Fi unique to your home and network environment.
Walk through your home and enjoy seamless streaming at the fastest possible speeds.
Why TP-Link Mesh Technology
an industry leading solution?
Compete Comparison

Model Number
TP-Link Deco
Netgear Orbi
Google WiFi
Wireless Backhaul
Tri-Band(2.4G+5G_1+5G_2)¹
Single-Band(5G_1 Only)
Dual-Band(2.4G+5G)
Mesh Protocol Supported
IEEE 802.11k/v/r
IEEE 802.11k/v
IEEE 802.11s
True Seamless Roaming
✔
×
×
APS(Adaptive Path Selection)
✔
×
✔
IoT Mesh
✔²
×
×
Wi-Fi 6 Mesh
✔5
✔
×
AI-Driven Mesh
✔6
×
×
Powerline Backhaul
✔³
×
×
Wireless + Powerline Bandwidth
✔⁴
×
×
Band Steering
✔
✔
✔
AP Steering
✔
✔
✔
Self-Healing
✔
✔
✔

Notes: 1&2 For Deco M9 Plus Only;5 for Deco X20;Deco X90;6 for Deco X90 only.




Spec sourced by Dec. 2019
SubscriptionTP-Link toma en serio su privacidad. Para obtener más detalles sobre las prácticas de privacidad de TP-Link, consulte la Política de privacidad de TP-Link.
From United States?
Check products and services for your region.