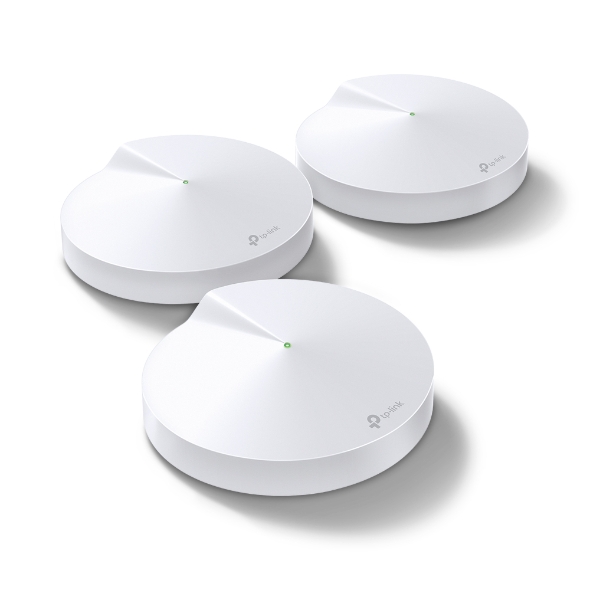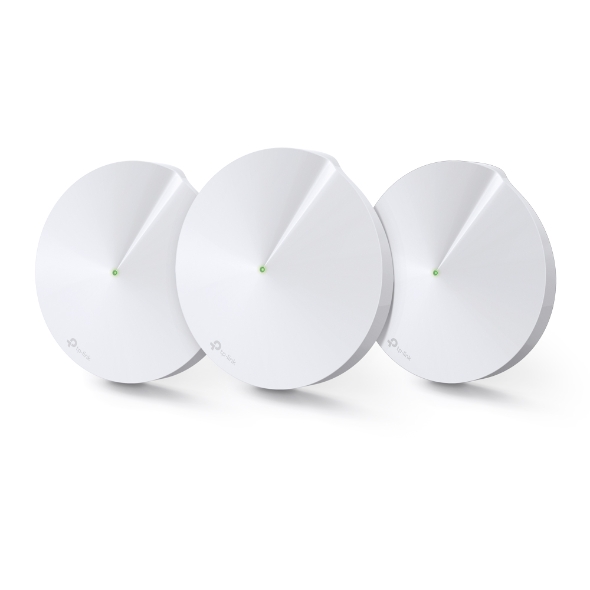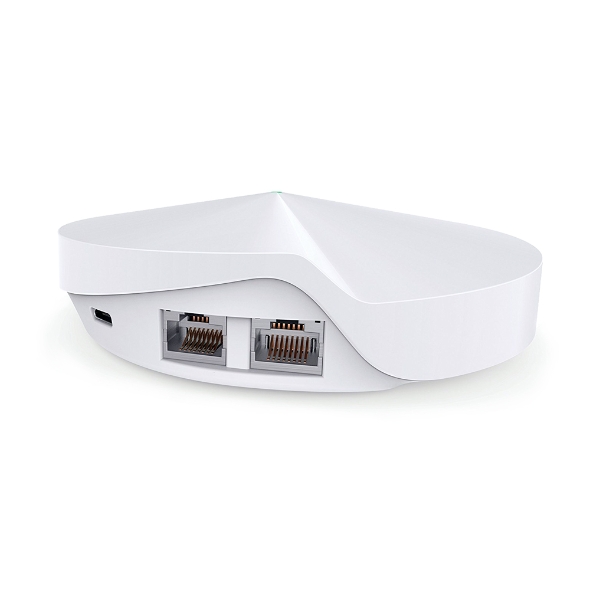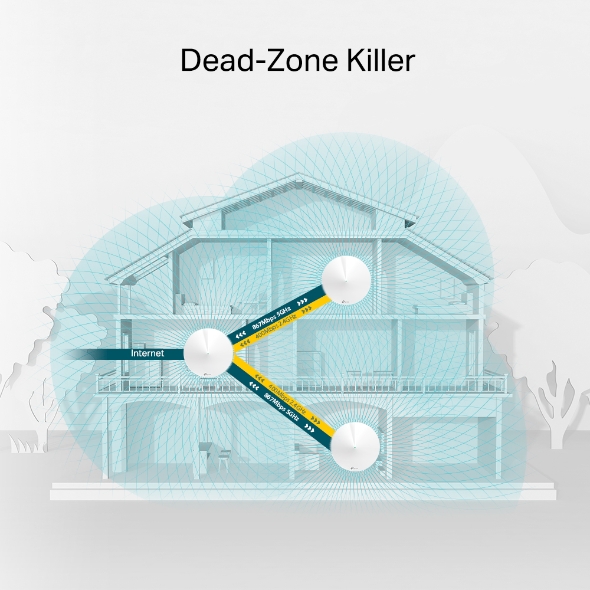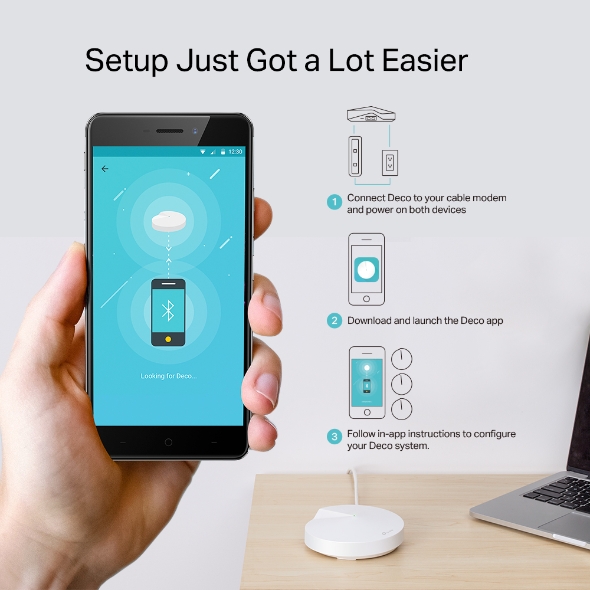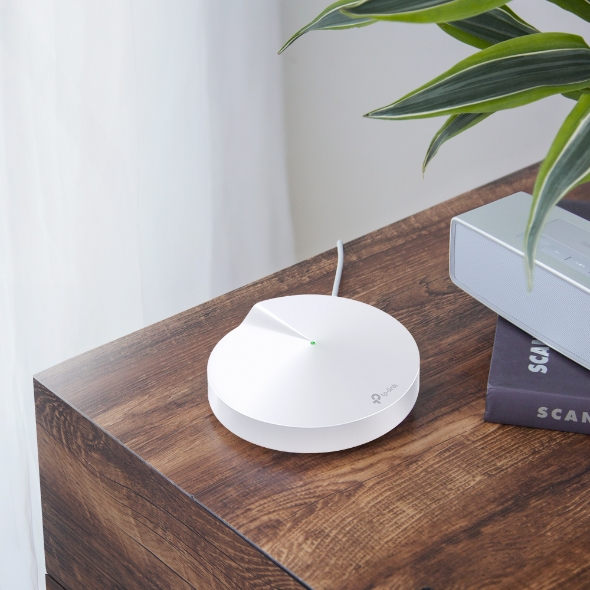 Deco Whole-Home Wi-Fi Deco M5
Deco uses a system of units to achieve seamless whole-home Wi-Fi coverage — eliminate weak signal areas once and for all!
With advanced Deco Mesh Technology, units work together to form one unified whole-home network with the same network name. Devices automatically switch between Decos as you move through your home for the fastest possible speeds.
A Deco M5 three-pack delivers Wi-Fi to an area of up to 5500 square feet, while a Deco M5 two-pack delivers up to 3800 square feet. And if that's not enough, simply add more Decos to the network anytime to increase coverage.
Deco M5 provides fast and stable connections with speeds of up to 1267Mbps and works with any internet service provider (ISP) and modem.
Deco can handle traffic from even the busiest of networks, providing lag-free connections for over 100 devices.
TP-Link HomeCareTM provides a suite of personalized and secure features, including Parental Controls, built-in Antivirus and Quality of Service (QoS).
Setup is easier than ever with the Deco app there to walk you through every step.
Live Life Without Interruptions
Deco is the whole-home Wi-Fi solution with the most comprehensive security. It delivers fast, uninterrupted Wi-Fi to every room by harnessing the power of three separate AC1300 units for up to 4,500 sq. ft. of seamless coverage. Deco is also easy to set up and grows as you add devices to your home. And Deco is backed by the industry's only 24/7 lifetime support.
Deco Router
Traditional Router with Extender
Features Down to a Fine Art
HomeCareTM

HomeCare gives Deco the most comprehensive security of any whole-home Wi-Fi system.

Included with HomecareTM

Robust Parental Controls

Manage content and control when each device can access the internet.

3-Year Built-In Antivirus

Protect all connected devices in your home from viruses and malware.

Usage Report

Review a monthly list of usage, blocked content and security threats.

Quality of Service

Prioritize devices and applications for faster performance when needed.

LEARN MORE
Assisted Setup

Deco helps you quickly find the perfect spot to place each unit.
Speedtest

Check on the upload and download speeds of your network to keep it running at full speed.
ART (Adaptive Routing Technology)

Automatically chooses the clearest path for all your devices based on the location of each Deco unit.
24/7 Support

Contact us anytime for no-cost technical service, including setup assistance, for the lifetime of your product.
Because Wi-Fi Should Always Work
Deco is a whole-home Wi-Fi solution that keeps your network strong, no matter the size or construction of your home. It creates a unified Wi-Fi network so you can enjoy one seamless connection as you move around your home.
M5
The first whole-home Wi-Fi system with comprehensive security.
TP-Link ARTTM
(Adaptive Routing Technology)
The best connection. Every time. Every room.
ART automatically chooses the clearest path for all the devices in your home based on the location of each Deco unit. No matter where you are, you always have the best possible connection, all through a single SSID (network name). Whether it's 2.4 GHz or 5 GHz, ART places your devices on the right band based on the device and what you're using it for. With ART, you're free to move from room to room as you stream, game, download and browse—all on a seamless Wi-Fi connection.
Automatically optimizes your Deco network over Wi-Fi
Automatically connects you to the best Deco unit for the best internet connection
TP-Link HomeCareTM
Whole-Home Wi-Fi. Whole-Home security.
HomeCare powered by Trend Micro (a $360 value) protects every device connected to your network from more than 100,000 new security threats daily. AV-TEST, an independent testing institute, ranked it first in the categories of protection, performance and usability. It processes eight billion URLs each day that can affect Wi-Fi-enabled products such as computers, smartphones, smart locks and IP cameras.

When new malicious URLs go live, it also blocks them within 15 minutes. A three-phase defense system blocks malicious threats and phishing sites, learns to stop attacking traffic and isolates infected devices. To better guard your network against viruses and malware, Deco automatically updates itself with the latest definitions and provides powerful, easy-to-use parental controls.
LEARN MORE
Three years of free HomeCare powered by Trend Micro ($360 value)
Parental controls allow you to filter content by age groups
Set time limits for different family members
Pause the internet whenever you'd like
Control your network or others (with permission) remotely
Internet usage and health report
Backlist devices from accessing your network
24/7 unlimited lifetime support
App Usage Outside
Run your devices at your speed.
Deco's mobile app goes beyond Wi-Fi. The app gives you the power to prioritize devices for faster speeds and sharing—all from your smartphone.
Prioritize devices and applications for faster performance
Share guest network Wi-Fi information
Troubleshoot, test speed and run diagnostics
Monitor the traffic for individual devices
Specs
It's all in the details.
Quad-core CPU
Wireless: 400 Mbps on 2.4 GHz + 867 Mbps on 5 GHz
4 internal antennas per Deco unit
2 Gigabit ports per Deco unit
1 USB Type-C port
Compatible with IPv6 (Internet Protocol version 6)
Product dimensions (120 mm dia x 38 mm h)
Bluetooth 4.2
Compare
Deco M5
Eero
Luma
Google WiFi

Wi-Fi Features

MU-MIMO
Auto Path Selection
AP Steering
Band Steering
Beamforming

Ease of Use

Mobile App
Bluetooth Onboarding
Location Assistant
Speedtest
Device List
Easy Guest Wi-Fi Sharing

Software & Security

Network Scanning
Antivirus
Firewall Security
QoS (By Device)
QoS (By Application)
Device Activity Report
Parental Controls (Time Restrictive)
Parental Controls (URL Filtering)
Monthly Usage Reports
Auto FW Update
*Please note that the comparison was compiled based on product information available from product brochures/websites as of 4/12 2017. No actual testing was performed.
Get Started with Deco
M5
Deco is a whole-home Wi-Fi solution that grows with you so every device is seamlessly covered.
*1. Maximum wireless transmission rates are the physical rates derived from IEEE Standard 802.11 specifications. Range, coverage, and maximum quantity of connected devices are based on test results under normal usage conditions. Actual wireless data throughput. wireless coverage, and quantity of connected devices are not guaranteed and will vary as a result of 1) environmental factors, including building materials, physical objects, and obstacles, 2) network conditions, including local interference, volume and density of traffic, product location, network complexity, and network overhead, and 3) client limitations, including rated performance, location, connection quality, and client condition.
*2. TP-Link HomeCareTM is available for free for the first few months after subscription. Please visit and check: www.tp-link.com/homecare
*3. Deco M3/ E3 is comprised of a router (Deco M4R/ E4R) and one or two satellites (Deco M3W), while Deco M4/ E4 is comprised of two or three Deco M4R/ E4R units. And Deco M3W will be released soon.
True Seamless Roaming
Deco units work together to form one unified network with a single network name. You phone or tablet automatically connects to the fastest Deco as you move through your home. The switching takes less than 0.3 second and is smooth and unnoticeable, creating a truly seamless online experience.
Adaptive Routing

TP-Link Mesh Technology dynamically chooses the best route and band for your connections and applications, guaranteeing a fast Wi-Fi no matter where you are in the home.
Self-Healing

If one Deco has an issue, the system will automatically reroute data via the other Decos to make sure you stay online.
Wi-Fi + Powerline
Powerline connections utilize your home's electrical circuit to link Decos, bypassing even the thickest of walls and ceilings.
The dual-band Wi-Fi and powerline work together to transmit data between Deco units. The total network speed is greatly improved compared with using Wi-Fi only.
Wi-Fi + Powerline:

Hybird Wi-Fi System

Boosted Speeds

Traditional Mesh Wi-Fi:

Standard Wi-Fi System
Powerline

Note:Wi-Fi + Powerline is only for Deco P9
IoT Mesh
Unlike traditional smart hubs, TP-Link Mesh Technology provides whole-home IoT coverage with Wi-Fi, Bluetooth and Zigbee integrated into a single system.Enjoy the magic of your smart home in every room with TP-Link Mesh Technology. Say goodbye to countless hubs.
- - -

Wi-Fi

- - -

Zigbee

- - -

Bluetooth
Wi-Fi 6 Mesh
Armed with Wi-Fi 6 technology,
Deco whole home mesh Wi-Fi is designed to deliver a huge boost in coverage, speed, and total capacity. Get on the latest mesh Wi-Fi to enjoy the future network that loads faster and connects more.
Broader coverage

More Connections

Faster Wi-Fi 6 Speed
without Wi-Fi 6 technology
AI-Driven Mesh
Armed with AI Mesh technology,Deco automatically learns and improves itself from experience.
This provides the ideal mesh Wi-Fi unique to your home and network environment.
Walk through your home and enjoy seamless streaming at the fastest possible speeds.
Why TP-Link Mesh Technology
an industry leading solution?
Compete Comparison

Model Number
TP-Link Deco
Netgear Orbi
Google WiFi
Wireless Backhaul
Tri-Band(2.4G+5G_1+5G_2)¹
Single-Band(5G_1 Only)
Dual-Band(2.4G+5G)
Mesh Protocol Supported
IEEE 802.11k/v/r
IEEE 802.11k/v
IEEE 802.11s
True Seamless Roaming
√
×
×
APS(Adaptive Path Selection)
√
×
√
IoT Mesh
√²
×
×
Wi-Fi 6 Mesh
√5
√
×
AI-Driven Mesh
√6
×
×
Powerline Backhaul
√³
×
×
Wireless + Powerline Bandwidth
√⁴
×
×
Band Steering
√
√
√
AP Steering
√
√
√
Self-Healing
√
√
√

Notes: 1&2 For Deco M9 Plus Only;5 for Deco X20;Deco X90;6 for Deco X90 only.




Spec sourced by Dec. 2019
Deco Network Management at Your Fingertips!
The Deco app provides the easiest way to set up, manage and monitor your Deco Whole Home Mesh Wi-Fi System through your iOS or Android devices.
Setup Just Got a Lot Easier
Unbox Deco, install the app and then simply follow the on-screen directions. Deco app will take care of the rest and get your network up and running in minutes.
Connect Deco to your cable modem and turn on both devices

Download and launch the Deco app

Follow the in-app instructions to configure your Deco system.
Simple Management
Deco makes it easy to manage your Wi-Fi from anywhere, whether you're on the couch, at work, or anywhere in between.
Simple Management Dashboard

View the working status of your network, check the connected devices and get all the features your router offers.

Multiple Decos, One App

The Deco app manages all your Deco networks and devices connected to your Deco Wi-Fi.

Check the Connected Devices

View a list of your connected devices with the ability to pause and resume internet access, test the internet speed and prioritize or block the devices.

Remote Management

Remotely take control of the network with a tap of your phone—no matter where you find yourself.
Powerful Parental Controls
Simple, intuitive parental controls make it easy to keep your children safe while they're online.
Easily create a profile for each family member and set custom time limits and online time allowances. Assign devices to profiles so rules extend to individual devices as well as family members.

Keep your family safe online with one-touch security settings that block content based on age-appropriateness.

Set limits on how much time each person in your family can spend online.

With Insights, you can check out which sites your children visit and how much time they spend on each. It's a great way to know your children are safe while they're having fun online.

Take a break from Wi-Fi for dinner and family game nights. Just tap a button to suspend internet access for everyone in your home.
An Intuitive App Full of Features
Monthly Usage Summary
See a comprehensive list of your network details every month, including usage,
blocked content, security threats and more.
Home Automation
Make your life easy with powerful automation and voice control tools.
*Currently only for Deco M9 Plus
Flexible Shortcut
Flexibly control all devices from your phone or tablet with just one click.
*Currently only for Deco M9 Plus
Protect Your Network
Built-in Antivirus helps you defend against malicious website and guard your online payment.
*Currently only for Deco M9 Plus, Deco P7 and Deco M5
Prioritize Your Devices
Choose which devices always have the fastest connections
or set priority for a specific time duration.
Set Application Priorities
Allocate more bandwidth for the activities most important to you with simple controls.
*Currently only for Deco M9 Plus, Deco P7 and Deco M5
Share Wi-Fi with Friends
Set up separate Wi-Fi profiles for guests and share the password to
make it easier for them to hop online.
Check Your Speed
Run a speed test to ensure you're getting the internet speeds you're paying for.
View every device on your network and see how much bandwidth they're using.
Our Support Always Has Your Back
Have questions about Deco? Help is always just a click away. Find the answers in Deco app and don't hesitate to contact us with just a simple click.
Support
Notes: App interfaces and functions may vary slightly based on the app version and Deco models.
POWER
AC adapter input
100-240V ~ 50/60Hz 0.4A
AC adapter output
12V ⎓ 1.2A
HARDWARE FEATURES
Processor
Quad-core CPU
Interface
2 LAN/WAN Gigabit Ethernet Ports
Button
1 Reset button on the underside
External Power Supply
12 V/1.2 A
Dimensions
Φ4.7 in. x 1.5 in. (Φ120 mm x 38 mm)
Antenna
4 internal antennas per Deco unit
Bluetooth version
4.2 and above
WIRELESS FEATURES
Wireless Standards
IEEE 802.11 ac/n/a 5 GHz, IEEE 802.11 b/g/n 2.4 GHz
Frequency
2.4 GHz and 5 GHz
Signal Rate
400 Mbps on 2.4 GHz867 Mbps on 5 GHz
Transmit Power
FCC: <30 dBmCE: <20 dBm (2.4 GHz) <23 dBm (5 GHz)
Wireless Security
WPA-PSK/WPA2-PSK
Advanced Functions
● Router/ Access Point Mode● Optional Ethernet Backhaul● TP-Link Mesh Technology:MU-MIMOAuto Path SelectionSelf-HealingAP SteeringBand SteeringBeamforming
SOFTWARE FEATURES
Quality of Service
WMM
IPv6
Support
WAN Type
Dynamic IP/Static IP/PPPoE
Management
Local Management, Remote Management
DHCP
Server, Client
Port Forwarding
Support
Access Control
Blacklist
Firewall Security
SPI Firewall
Protocols
Supports IPv4 and IPv6
Advanced Features
Homecare:AntivirusParental ControlsQuality of Service
Advanced Functions
SpeedtestMonthly Usage ReportsAuto FW UpdateExpand for more deco
Guest Network
2.4 GHz guest network * 15 GHz guest network * 1
Beamforming
Support
APP
Easy setup by Deco App
OTHERS
Certification
CE, FCC, IC, NCC, BSMI, IDA, RCM, JPA, JRF, VCCI, KC, RoHS
Package Contents
● Deco M5 (3-pack):3 Deco units1 RJ45 Ethernet Cable3 Power Adapters● Deco M5 (1-pack):1 Deco unit1 RJ45 Ethernet Cable1 Power Adapter
Smartphone/Tablet Requirements
iOS 9.0 or later
Android 4.4 or later
Bluetooth 4.0 or later
Environment
Operating Temperature: 0℃~40℃ (32℉~104℉)Storage Temperature: -40℃~70℃ (-40℉~158℉)Operating Humidity: 10%~90% non-condensingStorage Humidity: 5%~90% non-condensing
SubscriptionTP-Link takes your privacy seriously. For further details on TP-Link's privacy practices, see TP-Link's Privacy Policy.