¿Porqué la WiFi de mi Deco avisa que puede no haber acces a internet en mi móvil?
Este artículo se aplica a:
Los usuarios pueden experimentar problemas de roaming en sus dispositivos móviles cuando se encuentran conectados a la Wi-Fi del Deco. Al andar por casa, en ciertas zonas de la casa en las que se tiene una unidad Deco cerca, el móvil puede reportar el fallo "Internet May not Be Available/Internet puede no estar disponible".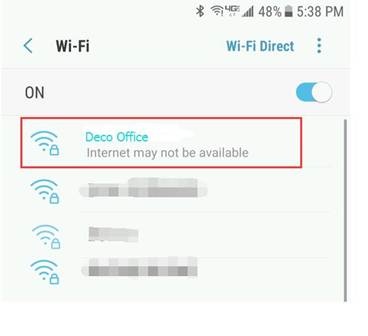 El dispositivo móvil puede ver la Wi-Fi del Deco más cercano, y la barra de cobertura se encuentra al máximo, el móvil sigue estando conectado a una unidad Deco más distante. Como resultado la velocidad de asociación no es la adecuada para que se mantenga una estabilidad con internet. Ésto explica porque teniendo la cobertura al máximo, no haya acceso a internet. Pero los usuarios sepreguntan porqué mi móvil no se conecta al Deco más cercano, ya que este tiene mejor cobertura? La razón de este problema es que su dispositivo móvil no soporta 802.11k&v.
¿Soporta el estándar roaming 802.11k&v el Deco M5?
Si. El Deco M5 soporta el estándar 802.11k&v roaming, pero para sacar el máximo provecho el dispositivo cliente también tiene que soportar el estándar 802.11k&v. Gracias al estándar, el dispositivo móvil escanea de manera regular la calidad de la señal WiFi y elige cambiar de punto de acceso de manera mucho más eficiente.
Cómo puedo saber si mi dispositivo móvil soporta el estándar 802.11k&v roaming?
Tiene que confirmar con el fabricante de su móvil, aunque los móviles actuales ya soportan este estándar de manera habitual.
¿Es útil esta faq?
Sus comentarios nos ayudan a mejorar este sitio.
From United States?
Check products and services for your region.