¿Cómo configurar la función de reenvío de puertos en el enrutador inalámbrico N 4G LTE de TP-Link (nueva interfaz de usuario)?
Este artículo se aplica a:
Virtual servers can be used for setting up public services on your LAN. A virtual server is defined as a service port, and all requests from internet to this service port will be redirected to the computer specified by the server IP.
Here takes TL-MR6400 as demonstration.
1. Log into the router's web management page:
How do I log into the web-based Management Page of TL-MR6400 (new logo)?
2. Go to Forwarding → Virtual Servers, you can view and add virtual servers.

Service Port - The numbers of External Service Ports. You can enter a service port or a range of service ports (the format is XXX - YYY, XXX is Start port, YYY is End port).
Internal Port - The Internal Service Port number of the PC running the service application. You can enter a specific port number, or leave it blank if the Internal Port is the same as the Service Port.
IP Address - The IP Address of the PC providing the service application.
Protocol - The protocol used for this application, either TCP, UDP, or All (all protocols supported by the router).
Status - The status of this entry, "Enabled" means the virtual server entry is enabled. The status of this entry is either Enabled or Disabled.
To setup a virtual server entry:
1. Click Add New….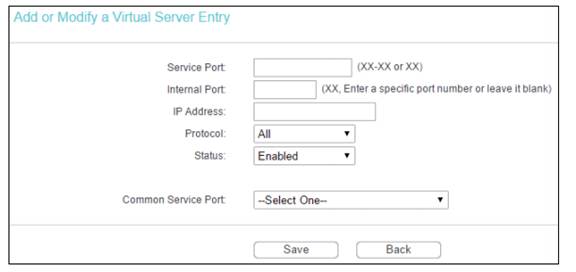 2. Seleccione el servicio que desea utilizar de la lista Puerto de servicio común . Si la lista Puerto de servicio común no tiene el servicio que desea utilizar, escriba el número del puerto de servicio o el rango de puertos de servicio en el cuadro Puerto de servicio .
3. Escriba la dirección IP del ordenador en el cuadro Dirección IP .
4. Seleccione el protocolo utilizado para esta aplicación, ya sea TCP o UDP , o Todos .
5. Seleccione Activado para activar el servidor virtual.
6. Haga clic en Guardar .
Nota:
1. Es mejor que asigne una dirección IP estática a su servidor, de modo que la entrada del Servidor Virtual tendrá efecto todo el tiempo. O simplemente puede hacer una reserva de dirección IP para el servidor. Consulte el siguiente enlace para hacerlo: ¿Cómo configurar la reserva de direcciones de Archer MR6400 (nuevo logotipo)?
2. Si configura el puerto de servicio del servidor virtual como 80, debe configurar el puerto de administración web en la página Seguridad → Administración remota para que tenga cualquier otro valor excepto 80, como 8080. De lo contrario, habrá un conflicto para deshabilitar el servidor virtual .
Para conocer más detalles de cada función y configuración, vaya al Centro de descargas para descargar el manual de su producto.
¿Es útil esta faq?
Sus comentarios nos ayudan a mejorar este sitio.
De United States?
Obtener productos, eventos y servicios para su región.