The introduction of Signal light on TP-LINK Smart Switch
Este artículo se aplica a:
Here is planar structure chart of HS200: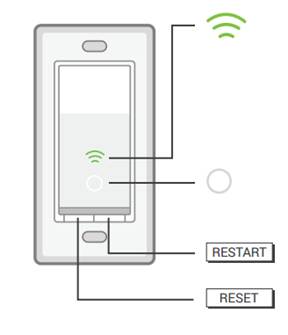 Wi-Fi status LED:
Blinking Amber and Green: App-Config mode initiated.
Solid Green: Successfully connected to the Wi-Fi network.
Blinking Amber: Resetting or during firmware update.
Solid Red: No Wi-Fi connection.
Note: The Wi-Fi light will be closed automatically within 30 seconds after successful configuration.
White Round LED:
Lit up when the light is switched OFF to show Smart Switch location in the dark.
Rules:
1. Press RESTART button and reboot the Smart Switch.
The Wi-Fi status LED will be amber and turns to be blinking green until successful reconnection.
2. Press RESET button and hold (about 5 seconds) until the Wi-Fi status LED blinks amber and green alternately to initiate App-Config mode.
3. Press RESET button and hold (about 10 seconds) until the Wi-Fi LED blinks green rapidly to factory reset the Smart Switch.
Factory reset will clear out the configuration parameter except of unbinding cloud account. You could unbind the cloud account by deleting device in the original account manually.
¿Es útil esta faq?
Sus comentarios nos ayudan a mejorar este sitio.
De United States?
Obtener productos, eventos y servicios para su región.