¿Qué hacer si no recibo el mail al registrar mi cuenta cloud o al resetear mi contraseña?
Este artículo se aplica a:
Paso 1:
Comprobar el tipo de dominio de la dirección de correo. El servidor SMTP comprobará el recipiente para asegurar que el correo se envió correctamente. El método de comprobación funciona para los correos cuyos dominios pertenencen a pequeños comercios, medicina, instituciones universitarias o agencias gobernamentales. Emails de dominios superioes no son recomendados.
Paso 2:
Comprueba los ajustes de tu correo en tu cuenta de correo. Ejemplificamos con una cuenta Gmail.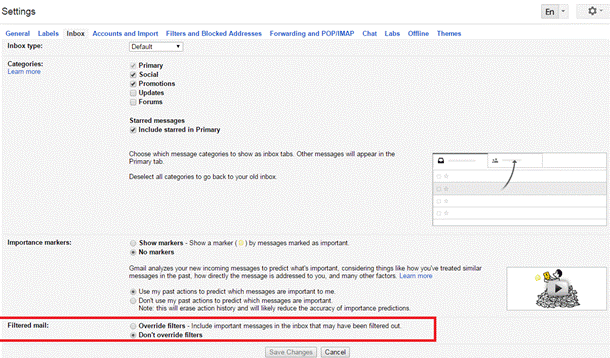 Paso 3:
Añadir noreply@tp-link.com en la lista blanca (pulsar en Crear un nuevo filtro) en los ajustes de tu correo.
En la páginade Gmail Filters and Blocked Addressed setting revisar los mails bloqueados de tu cuenta.

Si los pasos anteriores no solucionan el problema:
Recomendamos usar otro correo para la cuenta clould. No hay problema por ese cambio ya que nuestro cloud mantiene en secreto cualquier información.
La razón principal por la que no llega el mail de nuestro cloud tiene que ver con los ajustes de bloqueo de la cuenta de correo, ya que algunos servidores de correos tienen ajustes de bloqueo elevados.
Además, el servidor SMTP puede impedir el envio de correos debido a los ajustes SPF. SPF es un acrónimo para Sender Policy Framework, que comprueba la identidad del emisor con la dirección IP seleccionando los mails de spam. Éste recipiente tiene distintas maneras de autenticar. El SPF del dominio TP-LINK el dominio hace un registro adicional y se adapta al correo electrónico común en general.
Para obtener más detalles de cada función y configuración, por favor, acceder a ​Download Center para descargar el manual del producto.
¿Es útil esta faq?
Sus comentarios nos ayudan a mejorar este sitio.
From United States?
Check products and services for your region.