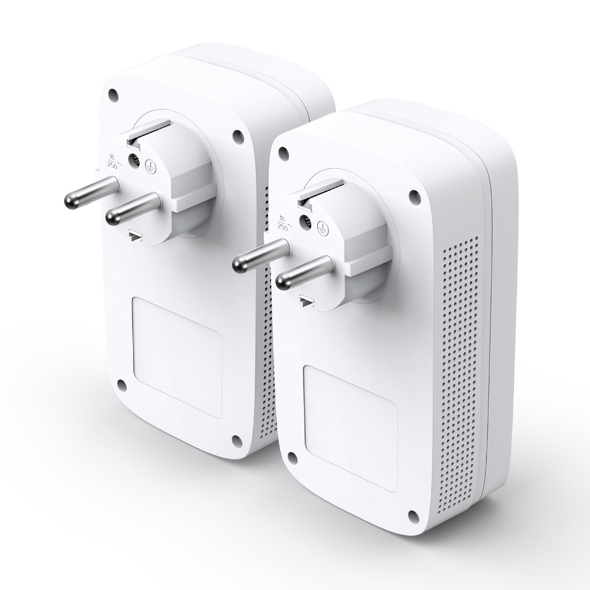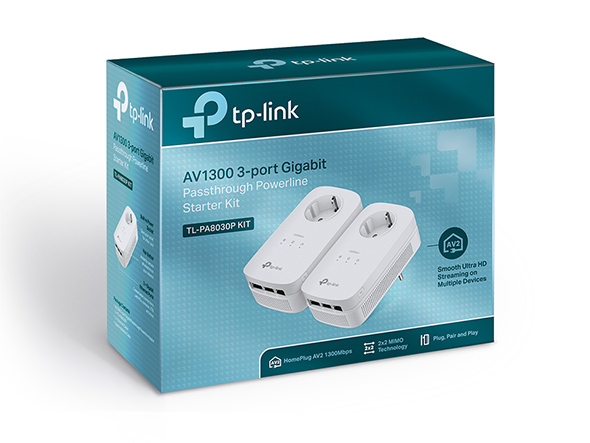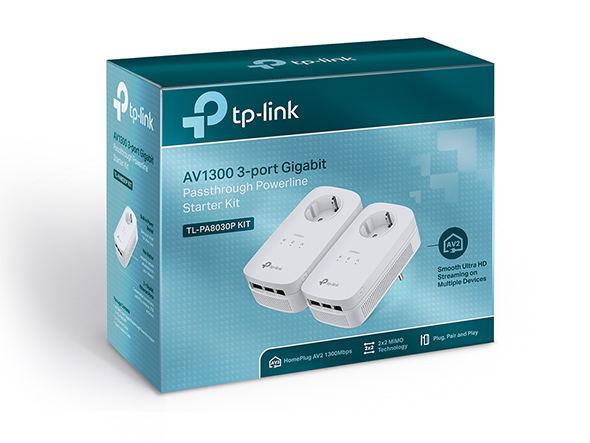 TL-PA8030P KIT
AV1300 3-port Gigabit Passthrough Powerline Starter Kit
HomePlug AV2 standard compliant, high-speed data transfer rates of up to 1200Mbps1, supports all your online needs
Line-Neutral/Line-Ground 2×2 MIMO with Beamforming ensures larger range, higher transmission capacity and more stable connections
3 gigabit ports create secure wired networks for desktops, smart TVs or games consoles
Integrated power socket ensures no power outlet goes to waste
Plug and play, no configuration required
Patented Power-Saving Mode automatically reduces power consumption by up to 85%2
AV1300 Powerline Kit
Bring Your Network
Into New Era
HomePlug AV2
AV1300 3-Port
Gigabit Passthrough
Powerline Starter Kit
TL-PA8030P KIT
Upgraded 1300Mbps!
Perfect for Bandwidth
Demanding Activities
Advanced HomePlug AV2 technology means the TL-PA8030P KIT
supports 2x2 MIMO* with beamforming, so users benefit from ultra-fast
data transfer speeds of up to 1300Mbps. Perfect for bandwidth
demanding activities like streaming Ultra HD video to multiple devices
simultaneously, online gaming and large file transfers.
*The MIMO functionality within HomePlug AV2 significantly improves
data transfer rates especially during peak periods.
Line-Neutral/Line-Ground with Beamforming
Larger Range
MIMO Technology with Beamforming maximizes the performance on the independent streams, which improves coverage throughout the home, particularly for previously hard to reach outlets.
Long Distance Long Distance
MIMOSISO
Higher Transmission Capacity & More Stable Connections
MIMO Technology means the TL-PA8030P KIT can use the 3 wires, including the live, neutral and earth to create multiple data paths, meaning that you benefit from faster data throughput and more stable connections.
Neutral Wire
Line Wire
Ground Wire
MIMOSISO
Note:
MIMO - Multi-input Multi-output
SISO - Single-input Single-output
3 Gigabit Ports
for Maximum Connectivity
With 3 gigabit Ethernet ports, TL-PA8030P KIT can simultaneously connect up to 3 wired-only devices. This makes the TL-PA8030P KIT the perfect home entertainment companion. Connect any 3 devices from smart TVs and game consoles to NAS boxes and computers to the Internet at the same time. Just plug the Ethernet cable into the powerline and away you go!
Game Console
4K TV
Computer
Plug and Play,
No Configuration Required
Connect a powerline adapter to the router; plug another powerline adapter into a wall socket in another room, and connect it to your Internet enabled device via Ethernet - and you're done!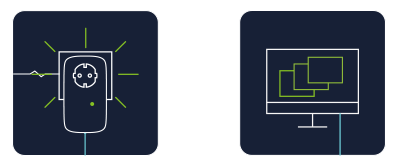 Extra Power Socket for
Additional Devices
The integrated power socket, with power output of up to 16A*, means the powerline can be used like a traditional electrical socket. Simply plug in your device or extension lead as though it were a normal wall socket. The built-in noise filter also helps to prevent electrical signal noise from affecting Powerline performance.
*Power output of up to 16A is suitable for high-power
electrical appliances to be connected.
Power Save by
Up to 85%
TL-PA8030P KIT is a new-generation of Powerline adapter. Its sophisticated Power-Saving mode automatically switches from its regular "Working" mode to "Power-Saving" mode reducing energy consumption by up to 85%.
Working mode
Power-Saving mode
Related Products
TL-PA8030P

TL-PA8010P

AV1200 Gigabit Passthrough Powerline Starter Kit

TL-PA8010P KIT

HomePlug AV2 Standard

√

√

Powerline Speed

1200Mbps

1200Mbps

Ethernet Port

3 Gigabit Ports

1 Gigabit Port

Extra Power Socket

√

√

One Button Security

√

√

Power Saving Mode

85%

85%
CARACTERÍSTICAS DE HARDWARE
Tipo de Enchufe
EU,UK
Estándares y Protocolos
HomePlug AV2, HomePlug AV, IEEE 1901, IEEE 802.3, IEEE 802.3u, IEEE 802.3ab
Interfaz
3 puertos Gigabit Ethernet, Enchufe de Corriente
Botones
Botón de emparejamiento
Consumo de Potencia
Máximo: 6W (220V/50Hz)
Típico: 6W (220V/50Hz)
En espera: 0.5W (220V/50Hz)
Indicador de LED
PWR, PLC, ETH
Dimensiones
(131×72×42 mm)
Alcance
300 Metros sobre el circuito eléctrico
Potencia de salida del Enchufe Integrado
16A
Otros
Certificaciones
CE, RoHS
Contenido del Paquete
Adaptador Powerline
Cable Ethernet (RJ45) de 2m (6.5 ft.)
CD de recursos
Guía de instalación Rápida
Requisitos del sistema
Windows 2000/XP/2003/Vista, Windows 7/8, Mac, Linux
Factores Ambientales
Temperatura de operación: 0°C~40°C (32°F ~104°F)
Temperatura de Almacenamiento: -40°C~70°C (-40°F ~158°F)
Humedad de Funcionamiento: 10%~90% sin condensación
Humedad de Almacenamiento: 5%~90% sin condensación

Revisiones
Premios

Recommended Product

TL-PA8030P KIT was recommended by Redes Zone

2015, Spain

Very Good

TL-PA8030P KIT has received Very Good award from CHIP Magazine.

2015, Germany

Ranked #1

TL-PA8030P KIT was ranked #1 by SmallNetBuilder

2015, U.S.A

Best Buy

TL-PA8030P KIT has received Best Buy award from Sunday times

2015, UK

Recommended Product

TL-PA8030P KIT was recommended by Todo HTPC

2016, Spain
The theoretical maximum channel data transfer rate is derived from HomePlug AV2 specifications. Actual data transfer rate will vary from network environment including: distance, network traffic, noise on electrical wires, building material and construction, quality of electrical installation and other adverse conditions.
Actual data will vary because of the network conditions and environment factors.
From United States (English)?
Check products and services for your region.