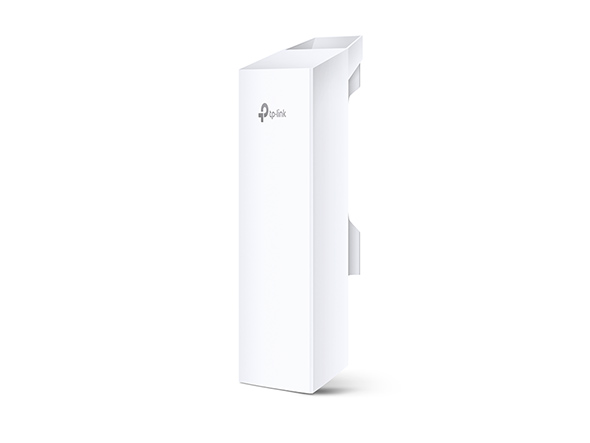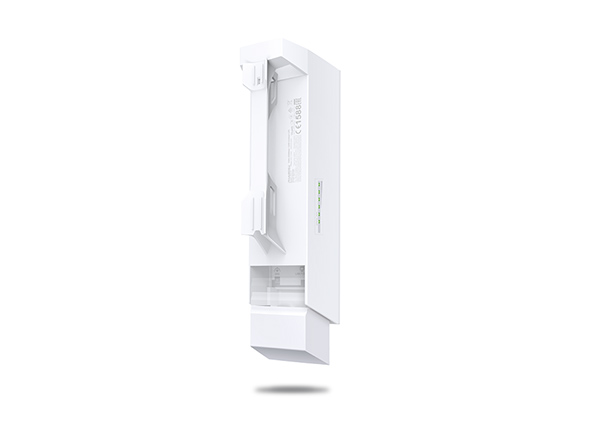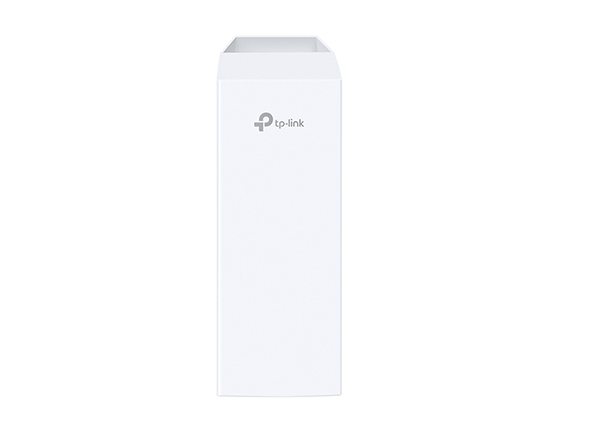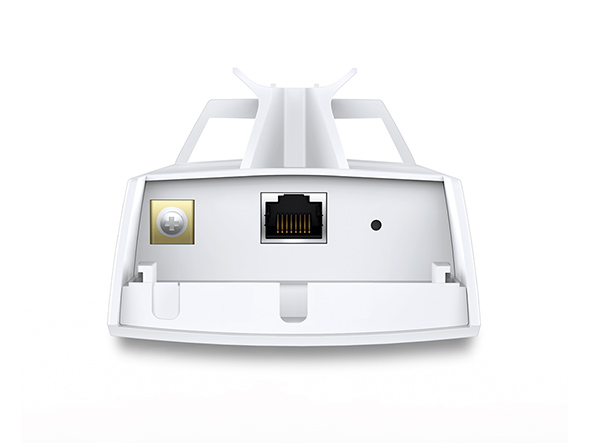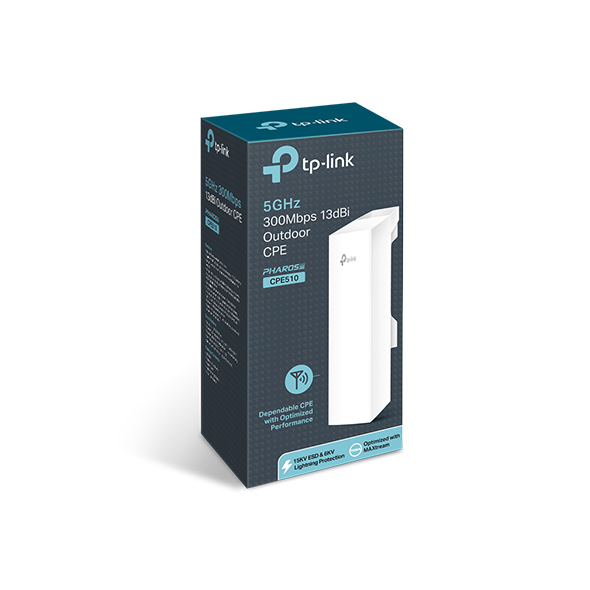 CPE510
CPE 5GHz 300Mbps 13dBi Outdoor
Antenna integrata MIMO 2x2 a doppia polarizzazione da 13dBi
Potenza regolabile da 0 a 17dBm
Ottimizzazione per link fino a 3km
Tecnologia TP-LINK Pharos MAXtream TDMA (Time-Division-Multiple-Access) per ottimizzare capacità e latenza, ideale per applicazioni PTMP
Gestione centralizzata Pharos Control
Modalità operative AP / Client / AP Router / AP Client Router (WISP)
Injector PoE Passivo (incluso nella confezione) con capacità fino a 60m e funzionalità di RESET remoto
Connessioni Punto - Multi punto
CPE510, CPE Outdoor 5GHz 300Mbps 13dBi di TP-LINK, è la soluzione efficace ed economica per applicazioni di rete wireless outdoor. La sua gestione centralizzata lo rende flessibile ed ideale per applicazioni punto-punto, punto-multipunto e copertura Wi-Fi outdoor. Prestazioni professionali e semplicità nell'utilizzo rendono CPE510 la scelta ideale sia per professionisti che per privati.
Utilizzo Professionale
Chipset Qualcomm Atheros di livello enterprise, antenne ad alto guadagno, qualità dei componenti, scocca ideata per ambienti esterni e alimentazione PoE.CPE510 è ideato per l'impiego in ambiente esterno e può operare adattandosi a qualsiasi temperatura da -30 ℃ a +70 ℃.
CPU Qualcomm Atheros enterprise 560MHz
Tx ad alta potenza e Rx ad alta ricezione
Antenna avanzata
Antenne ad alto guadagno integrate e doppia polarizzazione
La riflessione metallica garantisce un maggior guadagno e risente meno delle interferenze.
V-Pol Co-polarization Pattern
H-Pol Co-polarization Pattern
Trasmissione dati wireless fino a 3km
Studiato specialmente per utilizzi outdoor, CPE510 è ideale per trasmissioni dati wireless fino a 3km.
Fino a 3km
Tecnologia TP-LINK MAXtream TDMA
All'aumentare delle dimensioni delle reti wireless, si assiste ad un forte incremento delle collisioni fra CPE e dispositivi Wi-Fi che impattano fortemente sulle prestazioni complessive delle reti wireless. Per mitigare questi effetti, CPE510 utilizza la tecnologia MAXtream TDMA.
Pharos Control – Sistema di gestione centralizzata
CPE510 è inoltre dotato di un software di gestione centralizzata che consente agli utenti di gestire facilmente tutti i dispositivi presenti nella rete, tramite un singolo PC - Pharos Control. Funzioni come rilevamento dei dispositivi, monitoraggio dello stato, aggiornamento firmware e manutenzione della rete, possono essere gestiti utilizzando Pharos Control.
PharOS
Sistema di gestione su base web e di semplice utilizzo, consente ai professionisti di gestire configurazioni avanzate.
5GHz 300Mbps 13dBi Outdoor CPE CPE510
Antenne direttive ad alto guadagno e doppia polarizzazione integrate da 13dBi
Modalità AP / Client / AP Router / AP Client Router (WISP)
Protezione da fulmini fino a 6000V
Scocca waterproof –utilizzo esterno
Protezione ESD fino a 15KV
Adattatore PoE passivo
CPE520
CPE510
CPE220
CPE210

Wireless Performance

Wireless Speed

5GHz 300Mbps

5GHz 300Mbps

2.4GHz 300Mbps

2.4GHz 300Mbps

Transmit Power

27dBm

23dBm

30dBm

27dBm

Antenna

16dBi

13dBi

12dBi

9dBi

MIMO

√

√

√

√

Coverage Range

20km+

15km+

13km+

5km+

Hardware

Compatibility

802.11a/n

802.11a/n

802.11b/g/n

802.11b/g/n

External Antenna Interface

-

-

-

-

Weatherproof Enclosure

√(IPX5)

√(IPX5)

√(IPX5)

√(IPX5)

Dual Ethernet Ports

√

√

√

√

PoE Passthrough

√

√

√

√

Grounding Terminal

√

√

√

√

Lightning Protection over
Ethernet Cable

√

√

√

√

ESD Protection

15kV

15kV

15kV

15kV

Lightning Protection

6kV

6kV

6kV

6kV

Power Supply

24V Passive PoE
Adapter
24V Passive PoE
Adapter
24V Passive PoE
Adapter
24V Passive PoE
Adapter

Software

Operation Modes

AP / Client / Bridge / Repeater / AP Client Router (WISP Client) / AP Router Mode

Channel Bandwidth

5/10/20/40MHz

5/10/20/40MHz

5/10/20/40MHz

5/10/20/40MHz

Transmit Power Control

Stepping 1dBm

Stepping 1dBm

Stepping 1dBm

Stepping 1dBm

MAXtream TDMA Mode

√

√

√

√

Throughtput Monitors

√

√

√

√

Spectrum Analyzer

√

√

√

√

Iperf Speed Test Tool

√

√

√

√

Pharos Control Supported
(Central Network Management Application)

√

√

√

√
Peru WISP

TP-Link Helps WISP to Provide Reliable Wireless Connectivity in Peru

Peru WISP

TP-Link Helps WISP to Provide Reliable Wireless Connectivity in Peru

"The performance of CPE was better than expected, working stable even with -85 dBm of received power." —David Grillo, Engineer, Kroton
CARATTERISTICHE HARDWARE
Processore
Qualcomm Atheros Enterprise 560MHz CPU, MIPS 74Kc
Memoria
64MB DDR2 RAM, 8MB Flash
Interfaccia
1 10/100Mbps Shielded Ethernet Port (LAN0,Passive PoE in)
1 Grounding Terminal
1 Reset Button
Alimentazione
Passive Power over Ethernet via LAN0 (+4,5pins; -7,8pins)
Voltage range: 16-27VDC
Consumo energetico
9.8 Watts Max
Note: When deployed using Passive PoE, the power drawn from the power source will be higher by some amount depending on the length of the connecting cable.
Dimensioni ( L x P x A )
224 x 79 x 60 mm
Tipo di antenna
Built-in 13dBi 2x2 Dual-polarized Directional Antenna
Beam Width: 45° (H-Plane) / 30° (E-Plane)
Note: For more details, please refer to datasheet
Sicurezza
15KV ESD Protection
6KV Lightning Protection
Enclosure
Outdoor ASA stabilized plastic material
IP65 waterproof Certification
CARATTERISTICHE WIRELESS
Standard wireless
IEEE 802.11a/n (with Pharos MAXtream disabled)
Protocollo proprietario
TDMA Mode (with Pharos MAXtream enabled)
Velocità wireless
Up to 300Mbps (40MHz,Dynamic)
Up to 144.4Mbps (20MHz,Dynamic)
Up to 72.2Mbps (10MHz,Dynamic)
Up to 36.1Mbps (5MHz,Dynamic)
Frequenza
5.15~5.85GHz
Note: Available operating frequency may vary depending on the limitations of the countries or regions in which the device is used.
Potenza di trasmissione
26dBm/398mw (Adjustable power by 1dBm)
Note: Maximum transmission power may vary across different channels depending on the limitations of the countries or regions in which the device is used.
CARATTERISTICHE SOFTWARE
Configurazioni wireless
Pharos MAXtream TDMA Technology
802.11a/n Modes
Selectable Channel Width: 5/10/20/40MHz
Automatic Channel Selection
Transmission Power Control
Dynamic Frequency Selection (DFS)
WDS Enable/Disable
Security: WPA/WPA2, WPA-PSK/WPA2-PSK (AES/TKIP) Encryption, 64/128/152-bit WEP Encryption
SSID Broadcast Enable/Disable
Multi-SSID with VLAN Tagging (AP mode only)
Distance/ACK Timeout Setting
Wireless MAC Address Filter
Wireless Advanced:
> Beacon Interval/RTS Threshold/Fragmentation
>Threshold/DTIM Interval/AP Isolation/Short GI/Wi-Fi Multimedia
Gestione
Discovery and Remote Management via Pharos Control application
HTTP/HTTPS Web-based management
System Log
SNMP Agent(v2c)
Ping Watch Dog
Dynamic DDNS
SSH Server
Tool di sistema
Wireless Signal Quality Indicators:
Signal Strength/Noise/Transmit CCQ/CPU/Memory
Monitors: Throughput/Stations/Interfaces/ARP/Routes/WAN/DHCP
Spectrum Analyzer
Speed Test
Ping
Traceroute
Ottimizzazioni di sistema
Optimized IGMP Snooping/Proxy for multicast applications
Hardware watch dog
CARATTERISTICHE ADATTATORE POE
Dimensioni ( L x P x A )
85.8×43.9×29.7 mm
Interfacce
1 AC Jack with Earth Ground
1 10/100/1000Mbps Shielded Ethernet Port (Power + Data)
1 10/100/1000Mbps Shielded Ethernet Port (Data)
Tasto
Remote Reset Button
Indicatori di carica LED
Green
Input
100-240VAC, 50/60Hz
Output
24VDC, 1.0A Max
+4, 5pins; -7, 8pins. (Support up to 60m Power over Ethernet)
Efficienza
>80%
Certificazioni
CE/FCC/UL/IC/GS/PSB/C-tick/SAA/S-Mark/KC-mark
ALTRO
Certificazione
CE, FCC, RoHS, IPX5
Contenuto della confezione
Outdoor Wireless CPE
24V 1A Passive PoE Adapter
Pole Mounting Straps
AC Power Cord
Installation Guide
Requisiti di sistema
Microsoft Windows 98SE, NT, 2000, XP, Vista™ or Windows 10, Windows 8, Windows 7, MAC OS, NetWare, UNIX or Linux.
Note: We recommend you to use one of following Web browsers for an improved user experience: Google Chrome, Safari, and Firefox. IE browsers are not recommended.
Ambiente
Operating Temperature: -30°C~70°C (-22℉~158℉)
Storage Temperature: -40℃~70℃ (-40℉~158℉)
Operating Humidity: 10%~90% non-condensing
Storage Humidity: 5%~95% non-condensing
From United States?
Get products, events and services for your region.