IEEE 802.11ac - La prossima generazione Wi-Fi
Archer C20i è dotato di Wi-Fi standard di ultima generazione – 802.11ac, compatibile con 802.11n e tre volte più veloce.
Grande efficienza e sicurezza, la tecnologia Wi-Fi 802.11ac è la soluzione perfetta per accelerare la trasmissioni di contenuti multimediali ed evitare congestioni causate dall'utilizzo di numerosi dispositivi.
Le prestazioni wireless dell'Archer C20i arrivano a 433Mbps a 5GHz e 300Mbps a 2.4GHz.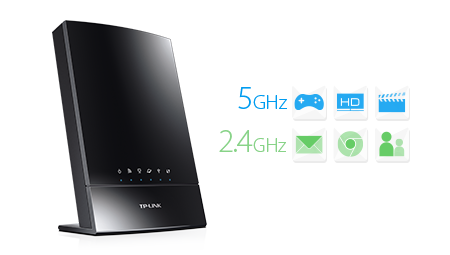 Lag-free
La gestione simultanea delle due frequenze permette di distribuire il traffico e di conseguenza di ridurre i tempi di trasferimento, a vantaggio di tutte le applicazioni in tempo reale. Sarà quindi possibile utilizzare la rete a 2.4GHz per le applicazioni tradizionali (es. web, e-mail) riservando la rete a 5GHz per applicazioni multimediali a banda intensiva (es. streaming HD e 3D, giochi online).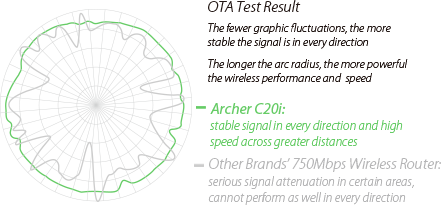 Copertura wireless più ampia e stabile
Le antenne interne utilizzano la miglior tecnologia radiotrasmissiva per ottenere una completa copertura anche in grandi ambienti.
Gli amplificatori ad alta potenza incrementano la stabilità del segnale.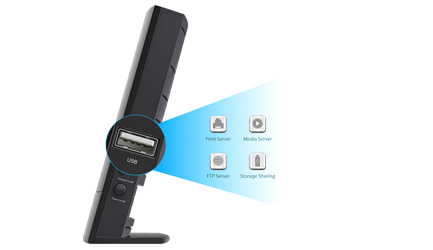 Porta USB multifunzione
La porta USB 2.0 consente la condivisione di stampanti sulla rete locale e di storage sulla rete locale e su Internet.
Guest wireless network access

La rete Guest è particolarmente indicata per la connessione di dispositivi "ospite" ai quali è imposto un alto livello di sicurezza ed isolamento dal resto della rete.

Parental Control

Il Parental Control permette ai genitori o agli amministratori di rete in azienda di stabilire politiche d'accesso per i bambini o per i dipendenti.

Configurazione guidata

Archer C20i è configurabile, oltre che attraverso l'interfaccia web tramite la quale è possibile realizzare configurazioni avanzate, tramite l'assistente all'installazione su CD-ROM che guida l'utente nella configurazione del prodotto.

IPv6

Completo supporto alla tecnologia IPv6, pienamente compatibile con il nuovo standard di indirizzamento.
CARATTERISTICHE HARDWARE
Interfaccia
4 porte LAN 10/100
1 porta WAN 10/100
1 porte USB 2.0
Tasto
WPS/RESET
Wireless ON/OFF
Power ON/OFF
Alimentatore esterno
12VDC /1A
Dimensioni ( L x P x A )
113 x 60 x 171 mm
Antenna
3 antenne interne
CARATTERISTICHE WIRELESS
Standard wireless
IEEE 802.11ac/n/a 5GHz
IEEE 802.11b/g/n 2.4GHz
Frequenza
2.4GHz e 5GHz
Signal rate
IEEE 802.11ac/n/a 5GHz
IEEE 802.11b/g/n 2.4GHz
Sensibilità di ricezione
5GHz
11a 6Mbps: -91dBm, 11a 54Mbps: -74dBm
11ac HT20: -66dBm, 11ac HT40: -64dBm, 11ac HT80: -61dBm,
11n HT20: -71dBm, 11n HT40: -69dBm
2.4GHz
11g 54M: -74dBm
11n HT20: -72dBm, 11n HT40: -69dBm
Potenza di trasmissione
<20dBm(EIRP)
Funzionalità wireless
Wireless ON/OFF
Bridge WDS
WMM
Statistiche
Sicurezza wireless
WEP, WPA/WPA2, WPA-PSK/WPA2-PSK
CARATTERISTICHE SOFTWARE
QoS (Quality of Service)
WMM, Bandwidth Control
Tipo WAN
Dynamic IP/Static IP/PPPoE/
PPTP(Dual Access)/L2TP(Dual Access)/BigPond
Gestione
Controllo accessi locali e remoti
DHCP
Server, Client, DHCP Client List,
Address Reservation
Port forwarding
Virtual Server, Port Triggering, UPnP, DMZ
Dynamic DNS
DynDns, Comexe, NO-IP
VPN pass-through
PPTP, L2TP, IPSec
VPN
PPTP, L2TP, IPSec
Gestione accessi
Parental Control, Local Management Control, Host List,
Access Schedule, Rule Management
Firewall
DoS, SPI Firewall
IP Address Filtering/MAC Address Filtering/Domain Filtering
IP and MAC Address Binding
Protocolli
IPv4
IPv6
Condivisione USB
Storage Sharing
FTP Server
Media Server (*2)
Print Server (*1)
Rete ospiti
1 rete guest a 2.4GHz
1 rete guest a 5GHz
ALTRO
Certificazione
CE, FCC, RoHS
Contenuto della confezione
Archer C20i
Alimentatore
Cavo Ethernet
Guida all'installazione rapida
CD-ROM
Requisiti di sistema
Nessuno (*1) (*2).
Ambiente
Temperatura di funzionamento: 0°C ÷ 40°C
Temperatura di stoccaggio: 40°C ÷ 70°C
Umidità di funzionamento: 10% ÷ 90% senza condensa
Umidità di stoccaggio: 5% ÷ 90% senza condensa
Iscriviti alla newsletter TP-Link prende la Privacy seriamente. Per maggiori informazioni sul trattamento dei tuoi dati consulta l'Informativa Privacy.
From United States?
Get products, events and services for your region.