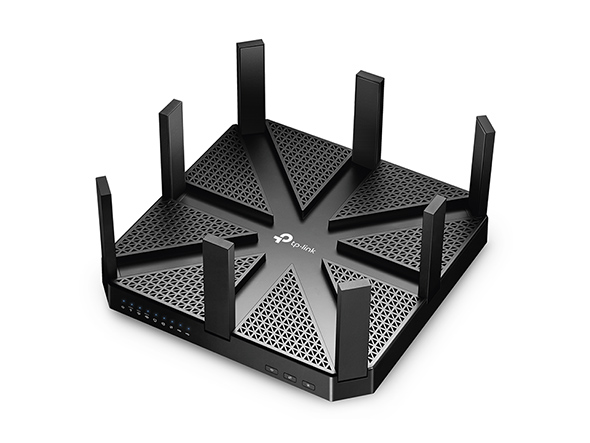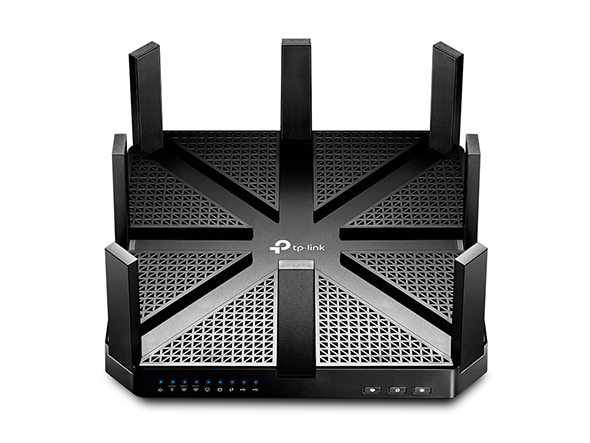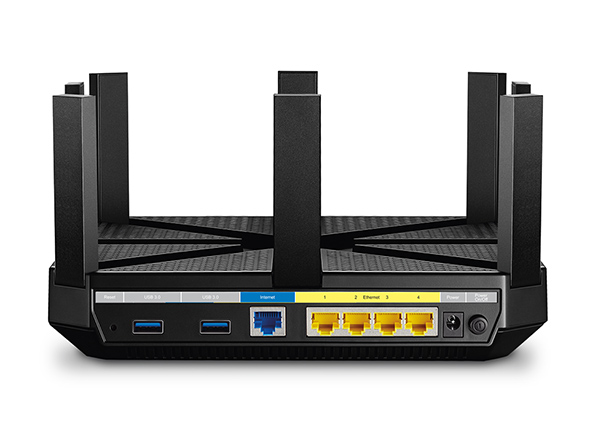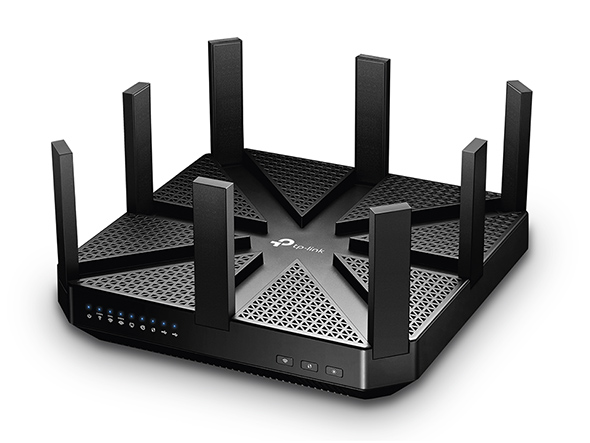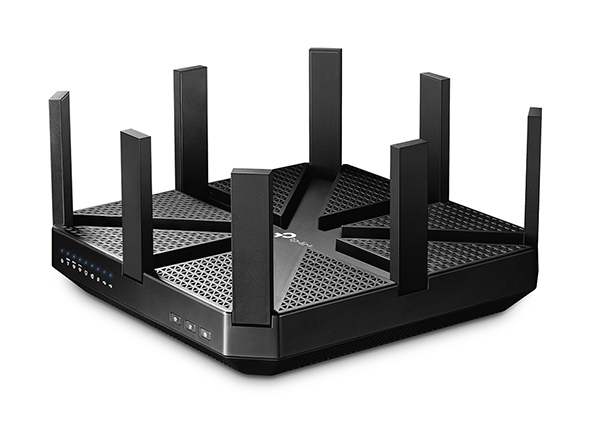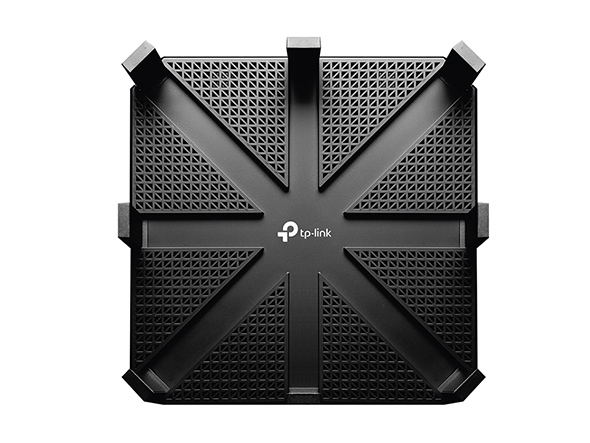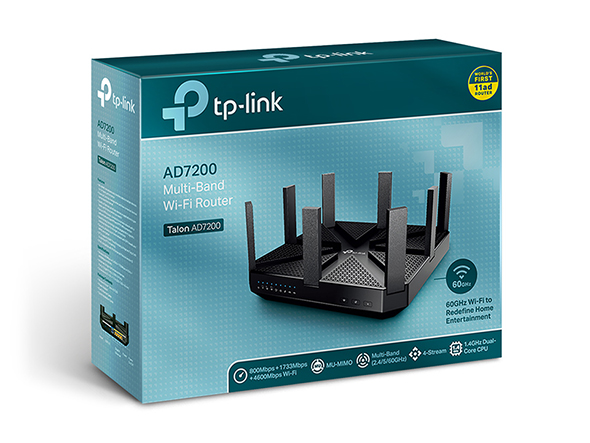 Router Wi-Fi AD7200, 4 porte 1Gbps, 2 USB 3.0
Supporta lo standard 802.11ad, protocollo wireless estremamente innovativo
Velocità wireless combinata fino a 7200Mbps: fino a 800Mbps su 2.4GHz, 1733Mbps su 5GHz e 4600Mbps sulla nuova banda 60GHz
La tecnologia multi banda crea tre reti diverse per permetterti di collegare più dispositivi senza rinunciare alle performance
MU-MIMO trasmette a più dispositivi simultaneamente a velocità 3 volte superiori rispetto agli standard
Il processore Dual-Core da 1.4Ghz gestisce un gran numero di attività complesse nello stesso momento
Otto antenne esterne altamente performanti massimizzano la copertura e migliorano la stabilità
La Tecnologia Beamforming garantisce connessioni wireless più forti e affidabili
802.11ad
Il più veloce che tu abbia mai visto
Talon AD7200, con tecnologia wireless potente di ultima generazione, raggiunge velocità fino a 4600Mbps sulla nuovissima banda 60GHz, rivoluzionando del tutto la tua concezione di velocità.
La rivoluzione della velocità su flusso unico
10

x

più veloce di 802.11ac

30

x

più veloce di 802.11n
802.11n

150Mbps

802.11ac

433Mbps

802.11ad

4600Mbps
Wi-Fi 60GHz
L'evoluzione dell'Home Entertainment
Trasferimento
file da 1GB*

Salva
mille foto*

Scarica un
film in HD*
Più Wi-Fi per più dispositivi
AD7200 utilizza la tecnologia multi banda per operare su tre bande Wi-Fi distinte contemporaneamente, raggiungendo una velocità Wi-Fi complessiva di 7200Mbps e creando una rete a cui connettere più dispositivi senza sacrificare le performance di ciascuno.

Smart Connect assicura stabilità e performance di tutti i dispositivi assegnando dinamicamente la banda più veloce disponibile a ciascuno di essi. (Coming Soon)
Scopri di più su Smart connect
>
Connessioni multiple per divertimento no-stop
Wireless AC e Tecnologia MIMO multi-utente permettono ad AD7200 di comunicare con più dispositivi simultaneamente a velocità 3 volte maggiori sulle bande 2.4GHz e 5GHz.
Scopri di più su Tecnologia MU-MIMO
>
Router tradizionale
Trasmissione dati a un solo dispositivo alla volta
Router MU-MIMO
Trasmissione dati a più dispositivi contemporaneamente
La potenza nel cuore della rete
Il processore Dual-Core da 1.4GHz è in grado di gestire attività a banda intensiva anche in presenza di molti utenti connessi in rete. Così tutti in casa possono navigare, guardare film in streaming e giocare online simultaneamente senza rinunciare alla velocità.
1.4GHz
Processore Dual-Core
Copertura Wi-Fi dinamica
La tecnologia wireless AD unita alla nuova banda 60GHz altamente performante incrementa drasticamente la velocità e riduce le interferenze. Inoltre, lo standard AC incorporato permette al router di creare una copertura completa attraverso le bande wireless 2.4GHz e 5GHz.
Wi-Fi 60GHz
Copertura Wi-Fi in un'area specifica
Wi-Fi 2.4GHz, 5GHz, 60GHz
Copertura Wi-Fi affidabile in tutta la casa
Schieramento di antenne
per un Wi-Fi più preciso
Uno schieramento di 32 antenne crea una banda di 60GHz che assicura un segnale Wi-Fi mirato verso i dispositivi, focalizzando la trasmissione dati dove ne hai maggiormente bisogno.
AD7200
Wi-Fi 60GHz
Router senza schieramento di antenne
Tutti si divertono
insieme
USB 3.0
Porte Gigabit
Stampanti
Hard Disk
Fotocamera
USB
Desktop
HDTV 4K
Computer
Nas
Connettività completa
AD7200 utilizza porte USB 3.0 e quattro porte Gigabit Ethernet per trasferire dati a velocità supersoniche. In questo modo tutti i dispositivi collegati via cavo ottengono le massime prestazioni.
VPN

Garantisce un accesso remoto sicuro alla tua rete

Download offline

Scarica file anche quando il computer o i dispositivi mobile sono disconnessi dalla rete

Rete ospiti

Garantisce la sicurezza della rete creando una rete separata per gli ospiti

Parental Control

Gestisci le modalità di accesso a Internet da parte di ciascun dispositivo
*La velocità in download varia a seconda delle condizioni effettive della rete e dei file.
WIRELESS
Standards
IEEE 802.11ad 60 GHz
IEEE 802.11ac/n/a 5 GHz
IEEE 802.11n/b/g 2.4 GHz
WiFi Speeds
AD7200
60 GHz: 4600 Mbps (802.11ad)
5 GHz: 1733 Mbps (802.11ac)
2.4 GHz: 800 Mbps (802.11n)
WiFi Range
Case di medie dimensioni

---

8× Antenne fisse ad alte prestazioni
Per un segnale forte e stabile e ampia copertura

Beamforming
Concentra il segnale nelle aree in cui si trovano i client e ottimizza la copertura wireless
WiFi Capacity
Alta

---

Tri-Band
Assegna dispositivi alle bande disponibili per ottenere prestazioni ottimali

3×3 MU-MIMO
Connessioni simultanee con dispositivi dotati di tecnologia MU-MIMO

Airtime Fairness
Aumenta l'efficienza della rete assegnando la stessa disponiblità di tempo a tutti i dispositivi, anche quelli più lenti dotati di standard Wi-Fi obsoleto

DFS
Rende disponibile una banda extra per ridurre la congestione
Working Modes
Modalità Router
Modalità Access Point
HARDWARE
Processor
1.4 GHz Dual-Core CPU
Ethernet Ports
1× Porta Gigabit WAN
4× Porte Gigabit LAN
USB Support
2× Porte USB 3.0

Formati di partizione supportati:
NTFS, exFAT, HFS+, FAT32

Funzioni supportate:
Apple Time Machine
FTP Server
Media Server
Buttons
Tasto Wi-Fi On/Off
Tasto Power On/Off
Tasto LED On/Off
Tasto WPS
Tasto Reset
Power
12 V ⎓ 4.2 A
SICUREZZA
WiFi Encryption
WEP
WPA
WPA2
WPA/WPA2-Enterprise (802.1x)
Network Security
SPI Firewall
Controllo accessi
IP & MAC Binding
Application Layer Gateway
Guest Network
1× Rete Ospiti 5 GHz
1× Rete Ospiti 2.4 GHz
VPN Server
OpenVPN
PPTP
SOFTWARE
Protocols
IPv4
IPv6
Parental Controls
Filtro URL
Limiti di tempo
WAN Types
IP Dinamico
IP Statico
PPPoE
PPTP
L2TP
Quality of Service
QoS per dispositivo
Cloud Service
Aggiornamento Firmware Automatico
TP-Link ID
DDNS
NAT Forwarding
Port Forwarding
Port Triggering
DMZ
UPnP
IPTV
IGMP Proxy
IGMP Snooping
Bridge
Tag VLAN
DHCP
Riserva Indirizzi
Lista Client DHCP
Server
DDNS
TP-Link
NO-IP
DynDNS
Management
Tether App
Pagina Web
Simulatore web>
PHYSICAL
Dimensions (W×D×H)
9.0 × 9.0 × 4.23 in
(230 × 230 × 43 mm)
Package Contents
Wi-Fi Router Talon AD7200
Alimentatore
Cavo Ethernet RJ45
Guida rapida all'installazione
OTHER
System Requirements
Internet Explorer 11+, Firefox 12.0+, Chrome 20.0+, Safari 4.0+, o altri browser che supportano JavaScript

Cable o DSL Modem (se necessario)

Abbonamento con un Service Provider per l'accesso a Internet
Certifications
FCC, CE, RoHS
Environment
Temperatura di Funzionamento: 0℃~40℃ (32℉ ~104℉)
Temperatura di Stoccaggio: -40℃~70℃ (-40℉ ~158℉)
Umidità di Funzionamento: 10%~90% senza condensa
Umidità di Stoccaggio: 5%~90% senza condensa
TEST DATA
WiFi Transmission Power
CE:
<20dBm(2.4GHz)
<23dBm(5GHz)
FCC:
<30dBm(2.4GHz & 5.15GHz~5.825GHz)
<24dBm EIRP(60GHz)
WiFi Reception Sensitivity
5GHz:
11a 6Mbps: -94dBm
11a 54Mbps: -76dBm
11ac VHT20_MCS0: -93dBm
11ac VHT20_MCS8:-69dBm
11ac VHT40_MCS0: -90dBm
11ac VHT40_MCS9: -64dBm
11ac VHT80_MCS0: -87dBm
11ac VHT80_MCS9: -61dBm
2.4GHz:
11g 6Mbps: -95dBm
11g 54Mbps: -78dBm
11n HT20_MCS0: -95dBm
11n HT20_MCS7: -75dBm
11n HT20_MCS8: -70dBm
11n HT40_MCS0: -92dBm
11n HT40_MCS7: -72dBm
11n HT40_MCS9: -66dBm
Iscriviti alla newsletter TP-Link prende la Privacy seriamente. Per maggiori informazioni sul trattamento dei tuoi dati consulta l'Informativa Privacy.
From United States?
Check products and services for your region.