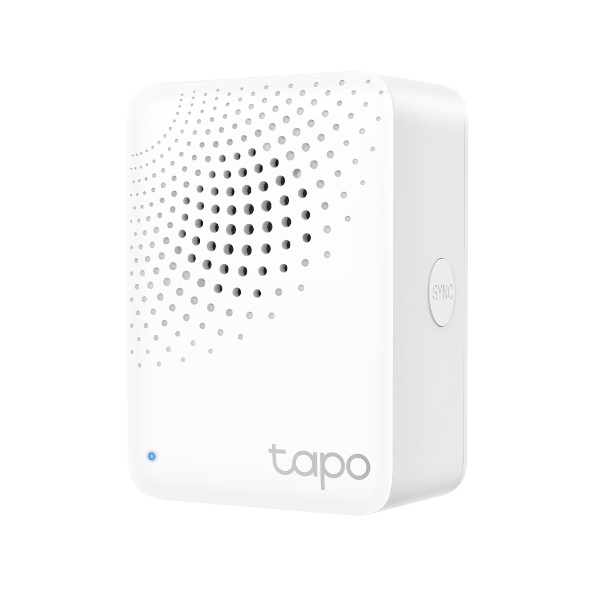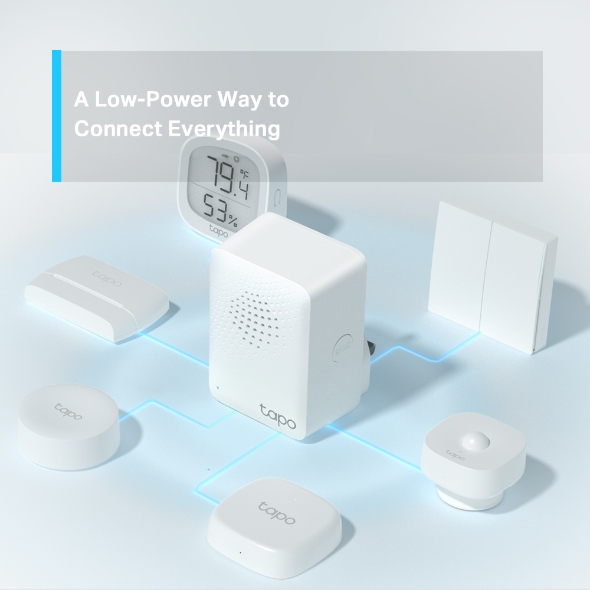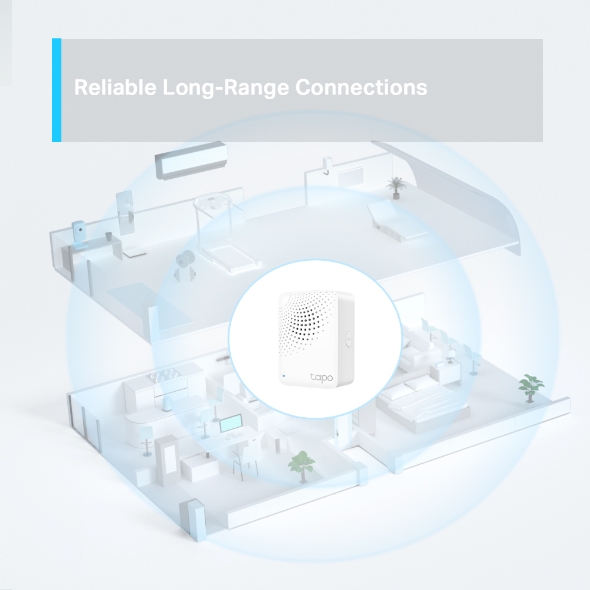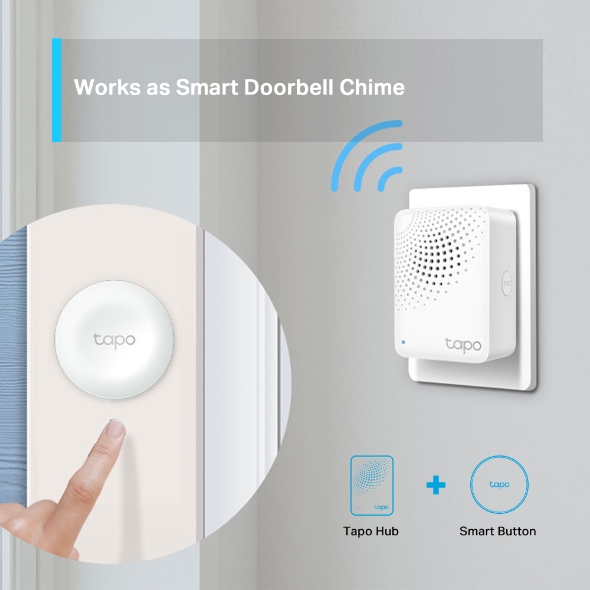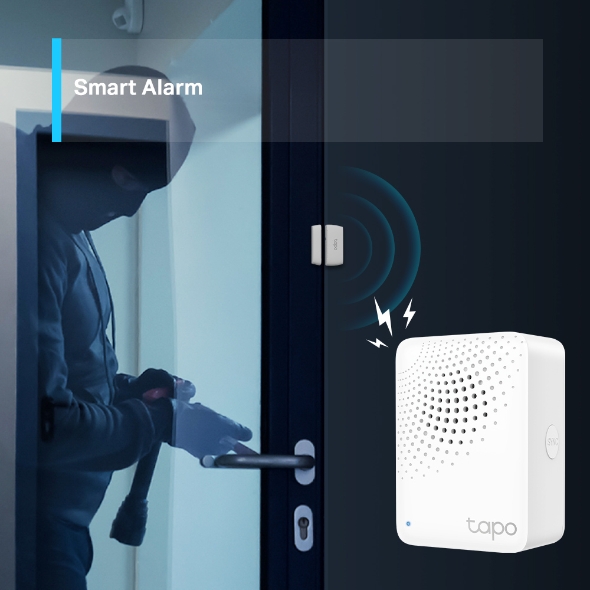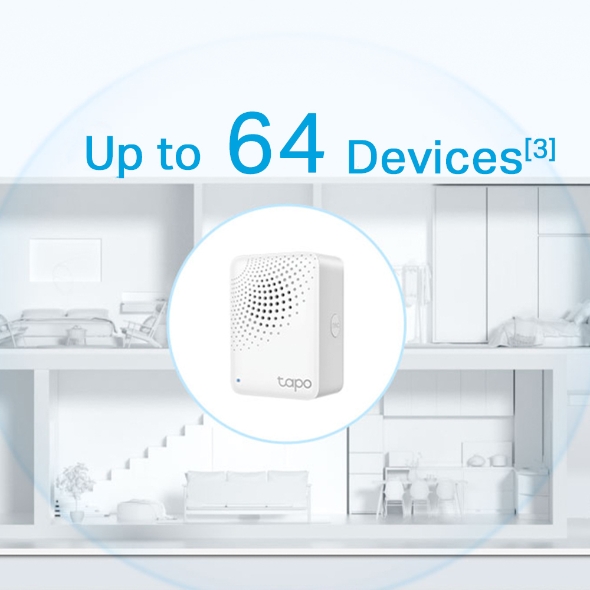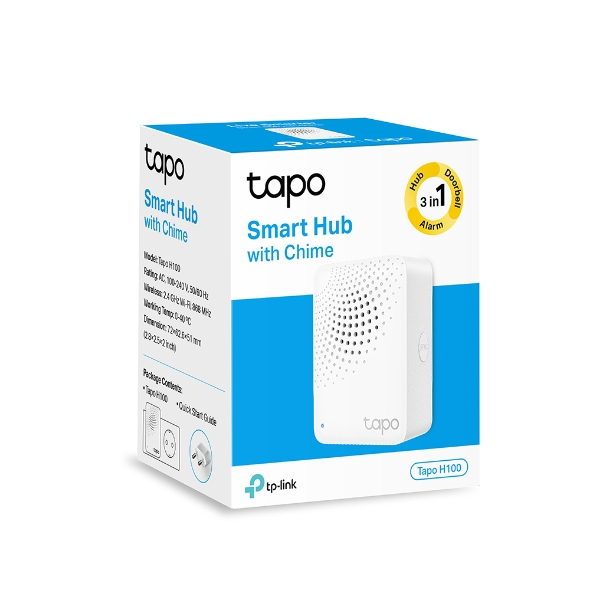 Tapo H100
Smart Hub con campanello
Ecosistema Tapo - Collega fino a 64 dispositivi smart per un'esperienza di smart-living completa.
Ampia copertura - Mantieni i dispositivi secondari sempre connessi attraverso la rete wireless.
Risparmio energetico - Il protocollo wireless Low-Power consente di connettere i dispositivi secondari in modo più efficiente, diminuendo il consumo di energia dei dispositivi a batteria.
Allarme Smart - Abbina lo Smart Hub a un Sensore Smart per innescare l'allarme sonoro al passaggio di eventuali intrusi.
Campanello Smart - Abbina lo Smart Hub a un Tasto Smart e scegli tra 19 suonerie per creare il tuo campanello intelligente.
Il centro del tuo Ecosistema Smart
Smart Hub con campanello
Tapo H100
Connetti ogni cosa in modo rapido ed efficiente
Lo Smart Hub Tapo è il cuore pulsante della tua casa smart: connetti i prodotti Tapo e crea Smart Action per sfruttare appieno le potenzialità di ogni dispositivo. Lo Smart Hub sfrutta il protocollo wireless Low-Power che aiuta i dispositivi Tapo alimentati a batteria a risparmiare energia, aumentandone la durata.[1]
Connessioni ad ampio raggio
Lo Smart Hub Tapo trasmette segnali su una banda larga meno affollata e a bassa frequenza, che gli consente di raggiungere in modo affidabile i dispositivi in ​​ogni angolo della casa senza interferenze. [2]
Maggiore velocità e affidabilità per le tue Smart Action
Con lo Smart Hub Tapo le tue Smart Action preferite funzionano anche quando Internet è in down. Non è necessario nessun collegamento al Cloud, il tuo impianto domotico Tapo sarà sempre affidabile e puntuale.
Il tuo nuovo campanello smart
Creare un campanello intelligente è facile e veloce: installa un Tasto Smart Tapo sulla porta di ingresso e associalo allo Smart Hub Tapo per essere avvisato di eventuali visite. Non vuoi essere disturbato? Puoi decidere di attivare e disattivare l'hub in base alle tue necessità.
*Tasto Smart venduto separatamente
Protect Your Home Day and Night
Working with Tapo motion sensors, door/window sensors, and more, the Tapo Hub can sound a loud siren (up to 90 dB) to warn of danger or deter intruders.
Tapo Hub
Smart Motion Sensor
Smart Contact Sensor
*Smart Motion Sensor and Smart Contact Sensor are sold separately.
Keep Your Home Comfy at All Times
Working with Tapo environmental sensors, the Tapo Hub helps to keep an eye on your home's comfort levels. You will receive an instant hub alarm when water leaks are detected or when temperature and humidity levels fall outside your customized ranges.
Tapo Hub
Smart Temperature & Humidity Sensor
Smart Water Leak Sensor
*Temperature & Humidity Sensor and Smart Water Leak Sensor are sold separately.
19 suonerie

Scegli fra numerose suonerie quella perfetta per il tuo scenario applicativo.

Suono regolabile

4 differenti livelli (forte, normale, basso o silenzioso) per adattarsi aogni necessità.
Tutti i dispositivi Tapo in un solo Hub
Ogni Smart Hub Tapo può connettere fino a 64 dispositivi Tapo creando un vero e proprio ecosistema smart da gestire in modo rapido e semplice tramite app Tapo.[3]

Fino a 64 dispositivi [3]
Instllazione rapida e semplice
Scarica l'app Tapo
Collega e configura Tapo Smart Hub
Aggiungi gli accessori Tapo e crea le tue Smart Action
NETWORK
Protocol
868 / 922 MHz
Wireless Type
2.4GHz Wi-Fi
GENERALE
Operating Temperature
0~40°C
Dimensioni
72 x 62.5 x 51 mm(2.8 x 2.5 x 2 inch)
Material
UL94-V0 Flame Ratardant
Buttons
SYNC/Mute Button
Power Requirements
AC, 100~240V, 50/60Hz
[1] Rispetto ai dispositivi alimentati a batteria che utilizzano il protocollo Wi-Fi.
[2] I termini "meno affollato" e "frequenza più bassa" vengono confrontati con i sistemi di rete wireless nella banda 2,4 GHz. I dati relativi alla copertura e alla portata sono stati ottenuti da laboratori interni. I risultati effettivi possono variare in base a differenti condizioni ambientali.
[3] Ogni Tapo Hub può connettere fino a un massimo di 64 dispositivi. Il numero massimo effettivo di dispositivi consentiti può variare in base al tipo di dispositivo.
From United States?
Get products, events and services for your region.