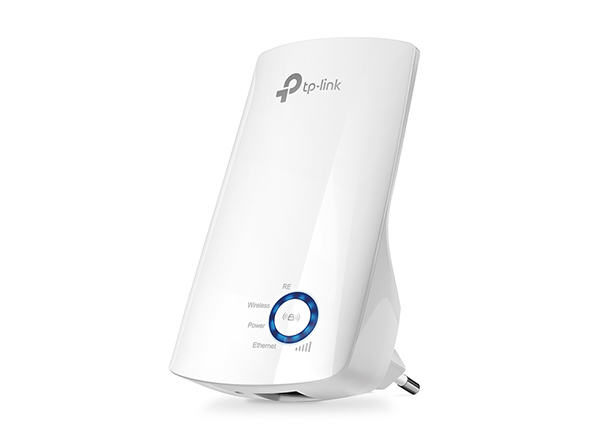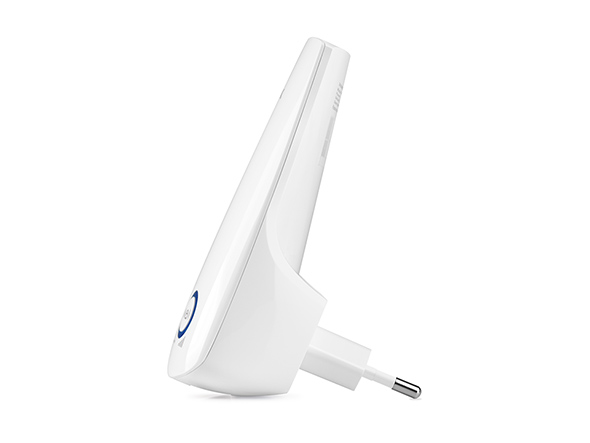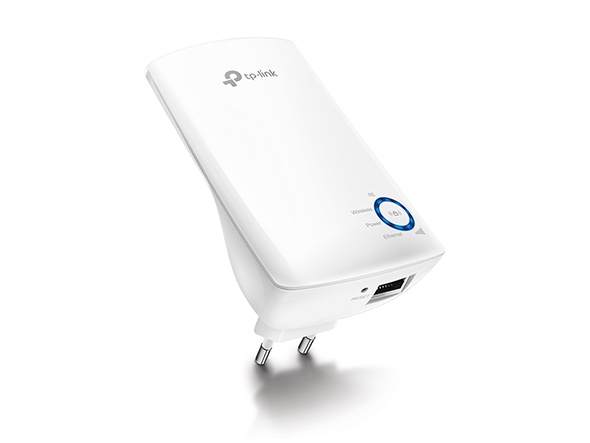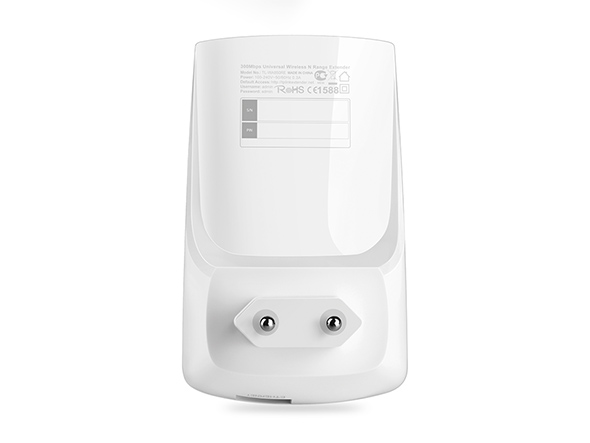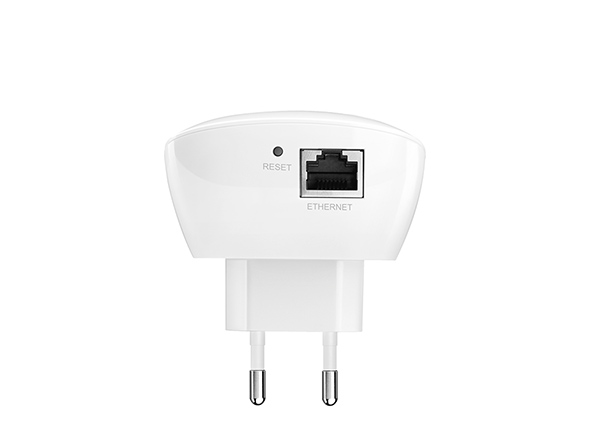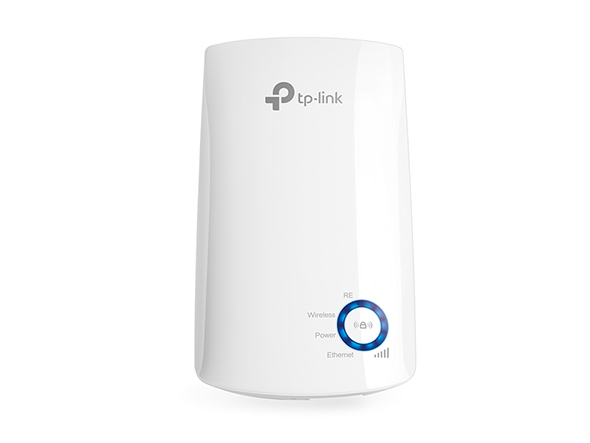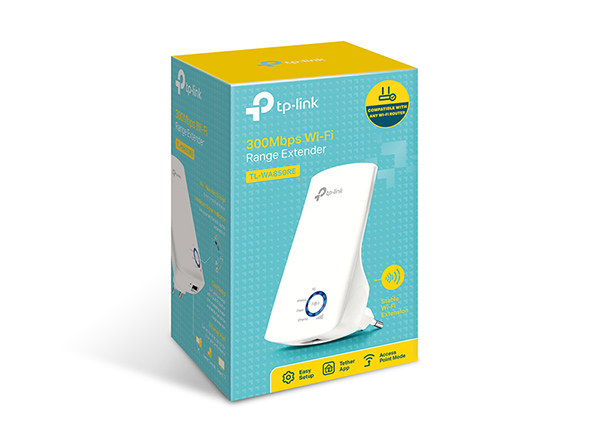 Range Extender Wi-Fi N 300Mbps
Velocità wireless - fino a 300Mbps per streaming video ed online gaming
Modalità Range Extender - Incrementa il segnale wireless in aree prima inaccessibili o difficili da raggiungere
Tasto RE - Impostazione della crittografia wireless rapida e intuitiva
Porta LAN - Per la connessione dei dispositivi Ethernet
Tether App - Per gestione semplice via smartphone e tablet
Smart LED - Posizionamento rapido grazie al segnale LED
Estendi il segnale
wireless ovunque
Range Extender Wi-Fi
300Mbps
TL-WA850RE
Amplia il tuo Network Wireless
Stanco delle zone d'ombra nella connessione? Il Range Extender TL-WA850RE connesso al tuo router, potenzia ed espande il segnale nelle aree che il router da solo non riesce a raggiungere, riducendo al minimo le interferenze.
Router Wireless
TL-WA850RE
Copertura del router
Estensione della copertura Wi-Fi
Estensione cablata
Configurazione intuitiva
e posizionamento flessibile
Premendo il tasto WPS del router e il tasto Range Extender di TL-WA850RE bastano pochi minuti per connettere l'extender al network wireless. Una volta connesso potrai spostare il Range Extender ovunque sia presente una presa di corrente, aiutandoti con il segnale luminoso smart per trovare il punto perfetto.
Ethernet Bridge
TL-WA850RE è dotato di portaethernet per connettere via cavo i dispositivi come console di gioco e smart TV, continuando a distribuire contemporaneamente la connessione wireless.
Laptop
Tablet
Smart Phone
Smart TV
Gaming Console
Desktop
300
Mbps
Segnale Smart
I 5 LED indicano la potenza del segnale che TL-WA850RE riceve dal router, aiutandoti ad individuare il punto perfetto per estendere la copertura.
Si raccomanda di posizionare TL-WA850RE in un punto con almeno 3 tacche verdi.
Tether App per
gestione intuitiva
Con Tether potrai accedere alle funzioni del dispositivo da qualunque smartphone o tablet Android e iOS, compresa la modalità notte degli Indicatori Smart, per dormire sonni tranquilli.


Scarica Tether App
WIRELESS
Working Modes
Range Extender/Access Point
CARATTERISTICHE HARDWARE
Tipo di connettore
EU, UK, US
Interfaccia
1 porta LAN
Ports
1 x 10/100Mbps Ethernet Port (RJ45)
Tasto
Range Extender
RESET
Input Power
100-240V~50/60Hz
Consumo energetico
Circa 3W
Standard wireless
IEEE 802.11n, IEEE 802.11g, IEEE 802.11b
Dimensioni ( L x P x A )
110 x 65.8 x 75.2 mm
Antenna
2 antenne interne
CARATTERISTICHE WIRELESS
Standard wireless
IEEE 802.11n, IEEE 802.11g, IEEE 802.11b
Frequenza
2.4~2.4835GHz
Signal rate
11n: Up to 300Mbps (dynamic)
11g: Up to 54Mbps (dynamic)
11b: Up to 11Mbps (dynamic)
Sensibilità di ricezione
270M: -68dBm@10% PER
130M: -68dBm@10% PER
108M: -68dBm@10% PER
54M: -68dBm@10% PER
11M: -85dBm@8% PER
6M: -88dBm@10% PER
1M: -90dBm@8% PER
Potenza di trasmissione
< 20 dBm (EIRP)
Modalità wireless
Range Extender/Access Point
Funzionalità wireless
WMM (Wi-Fi Multimedia)
Wireless MAC Address Filtering
Wireless Statistic
Domain Login Function
Sicurezza wireless
64/128/152-bit WEP
WPA-PSK / WPA2-PSK
Potenza di trasmissione
< 20 dBm (EIRP)
ALTRO
Certificazione
CE, RoHS
Contenuto della confezione
TL-WA850RE
Guida all'installazione rapida
Requisiti di sistema
Nessuno.
Ambiente
Temperatura di funzionamento: 0°C ÷ 40°C
Temperatura di stoccaggio: 40°C ÷ 70°C
Umidità di funzionamento: 10% ÷ 90% senza condensa
Umidità di stoccaggio: 5% ÷ 90% senza condensa
Premi

Recommended

TL-WA850RE is awarded "Producto Recomendado" by website Zero13Wireless in Spain.

2013, Spain

2013 IT PRODUCT

TL-WA850RE Wins "2013 IT PRODUCT" from ComputerWorld Magazine in the Czech Republic

2013, Czech

Price Tip

TL-WA850RE received "Price Tip" award from CHIP in Germany.

2013, Germany

Gold Award

TL-WA850RE received a Gold Award from Web User

2013, UK
Le stime relative alla massima velocità di trasmissione wireless si riferiscono alle specifiche dello standard IEEE 802.11. I dati reali possono variare in base a: 1) fattori ambientale, inclusi materiali di costruzione, oggetti fisici e ostacoli, 2) condizioni del network, incluse interferenze locali, volume e densità del traffico, posizione del dispositivo, complessità del network e network overhead; 3) limitazioni del client, incluse performance stimate, posizione, qualità di connessione e condizioni del client.
Il dispositivo potrebbe non essere compatibile con router e gatevays con firmware alterati, basati su programmi open-source, non standard o obsoleti.
From United States?
Get products, events and services for your region.