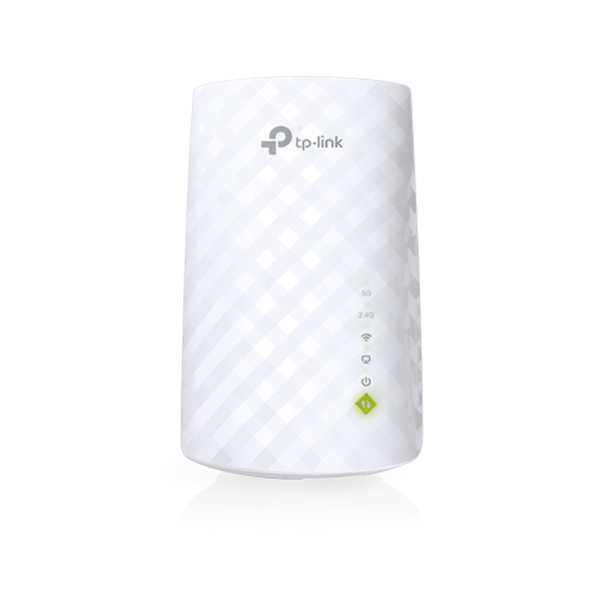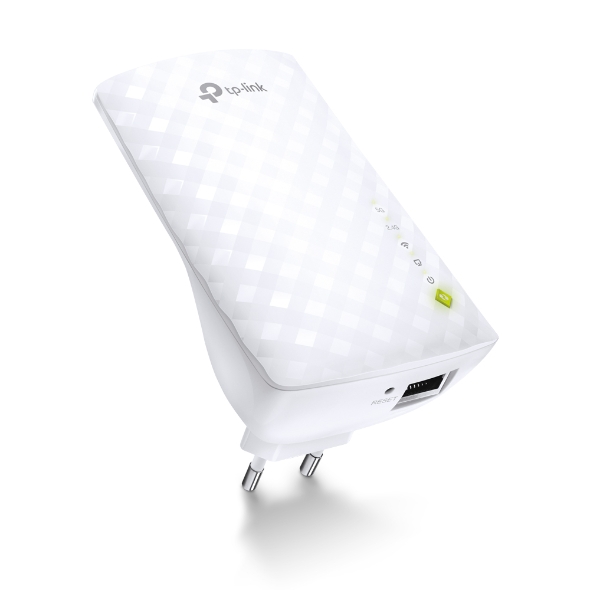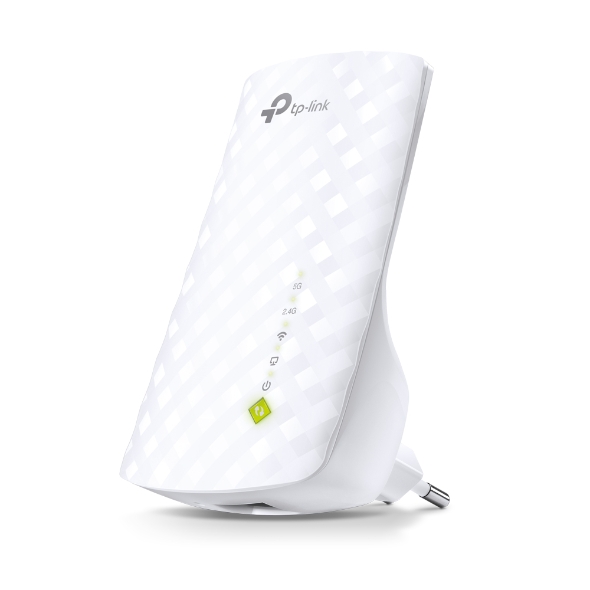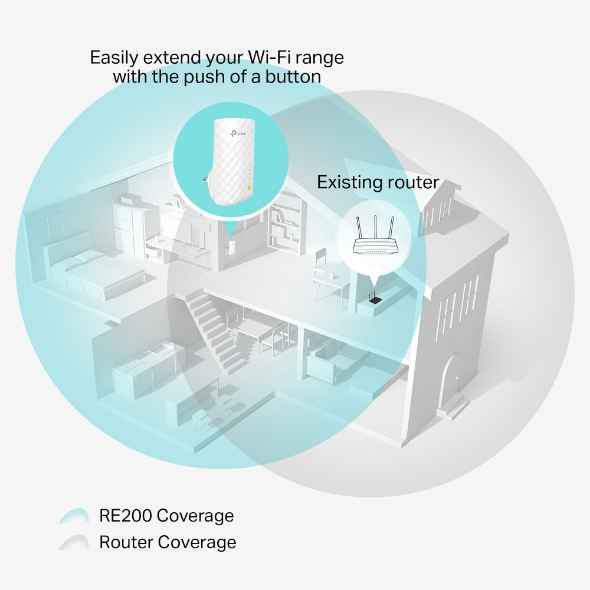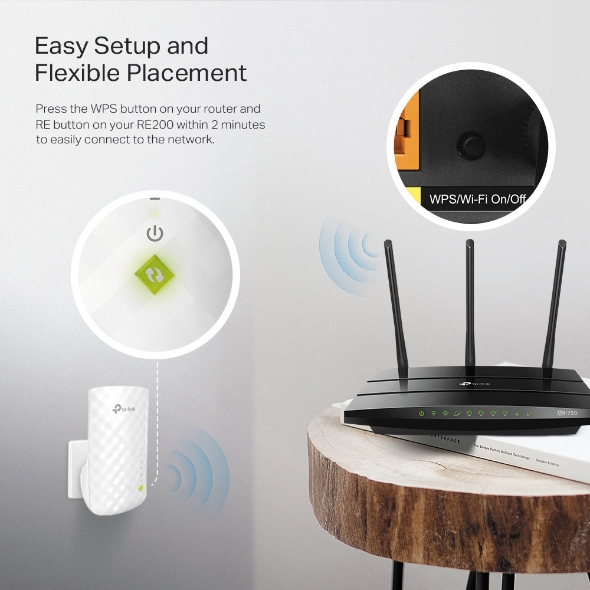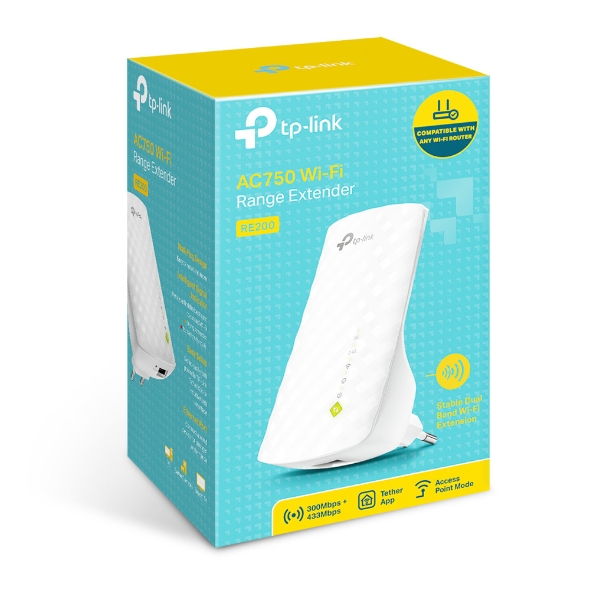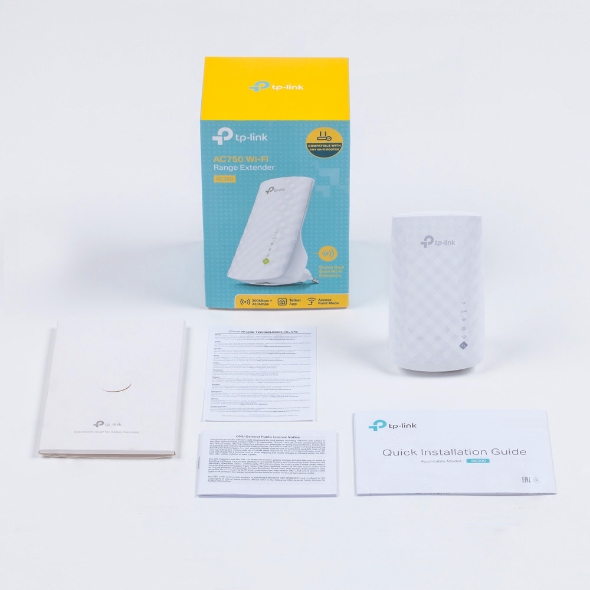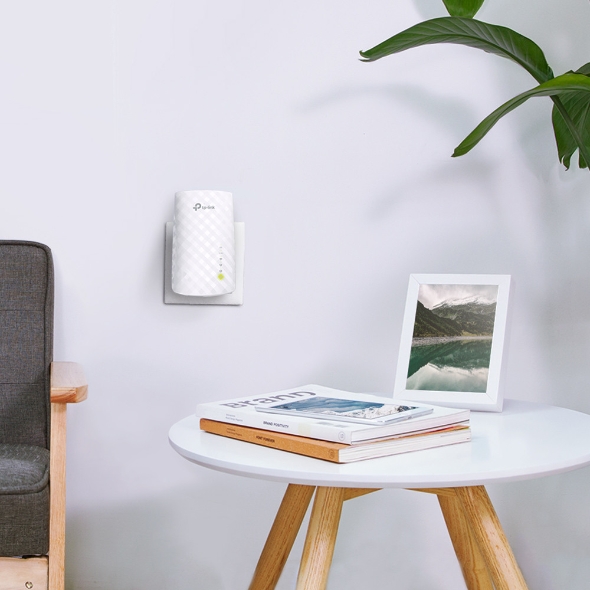 AC750 Wi-Fi Range Extender
Modalità Range Extender - Incrementa il segnale wireless in aree prima inaccessibili o difficili da raggiungere
Compatibilità - Perfettamente compatibile con i prodotti 802.11b/g/n/ac
Dual Band - Velocità combinata dual band fino a 750Mbps
Smart LED - Ti aiuta a trovare la posizione migliore per una copertura ottimale
Porta LAN - Per la connessione di dispositivi Ethernet
Amplifica la connessione Wi-Fi in zone difficili da raggiungere
Sia in casa che in ufficio, espandi la copertura wireless ed elimina le zone d'ombra con RE200, per godere di una connessione wireless altamente affidabile. La velocità combinata delle due bande, fino a 750Mbps, non ti permette solo di estendere la tua rete su superfici fino a 185mq, ma ti garantisce la velocità ideale per attività ad alta intensità di banda, come lo streaming di video HD e il gaming online.
Copertura RE200

Copertura di partenza del Router
Estendi la copertura Wi-Fi
premendo un semplice tasto
Router
Wi-Fi AC750
Massima compatibilità
La tecnologia wireless AC di RE200, lavorando in sinergia con qualunque router standard o access point, ti permette di generare coperture wireless più forti e stabili per la tua abitazione, garantendo una connessione Wi-Fi costante per più dispositivi.
Retro compatibile
802.11 a/b/g/n
Connessione One Key
Per connettere il tuo range extender al network Wi-Fi in pochi secondi, premi il pulsante WPS del tuo router e il tasto RE di RE200. Una volta connesso al router, potrai riposizionare RE200 in qualsiasi punto della tua abitazione per sfruttare al massimo la potenza del segnale.
Indicatore Smart
Il LED smart mostra la potenza del segnale che RE200 riceve dal router sorgente. Segui le indicazioni luminose per trovare la posizione migliore per il tuo RE200.
Buona connessione

Troppo lontano dal router!

Connessione assente
Ethernet Adapter
Grazie alla porta Ethernet, RE200 può anche connettere dispositivi cablati come PC, console di gioco, lettori Blu-ray® e smart-TV.
Sviluppiamo tecnologie per il Networking da oltre 20 anni
Ci dedichiamo con passione e professionalità nello sviluppare e fornire prodotti di networking dall'affidabilità comprovata nel tempo.
CARATTERISTICHE HARDWARE
Tipo di connettore
EU, UK, US, AU
Standard e protocolli
IEEE802.11ac,IEEE 802.11n, IEEE 802.11g, IEEE 802.11b
Interfaccia
1 porta LAN
Tasto
Range Extender
RESET
Consumo energetico
Circa 6.5W
Dimensioni ( L x P x A )
110 x 65.8 x 75.2 mm
Antenna
3 antenne interne
CARATTERISTICHE WIRELESS
Frequenza
2.4GHz & 5GHz
Signal rate
5GHz: fino a 433Mbps
2.4GHz: fino a 300Mpbs
Sensibilità di ricezione
2.4G:
270M: -70dBm@10% PER
130M: -70dBm@10% PER
108M: -73dBm@10% PER
54M: -75dBm@10% PER
11M: -86dBm@8% PER
6M: -92dBm@10% PER
1M: -94dBm@8% PER
5G:
390M: -60dBm@10% PER
29.3M: -83dBm@10% PER
180M: -64dBm@10% PER
13.5M: -87dBm@10% PER
78M: -68dBm@10% PER
6.5M: -90dBm@10% PER
54M: -75dBm@10% PER
6M:-90dBm@10% PER
Potenza di trasmissione
< 20 dBm (EIRP)
Modalità wireless
Range Extender
Funzionalità wireless
WMM (Wi-Fi Multimedia)
Wireless Statistic
Domain Login Function
Sicurezza wireless
64/128/152-bit WEP
WPA-PSK / WPA2-PSK
ALTRO
Certificazione
CE, FCC, RoHS
Contenuto della confezione
RE200
Cavo Ethernet
CD-ROM
Guida all'installazione rapida
Requisiti di sistema
Nessuno.
Ambiente
Temperatura di funzionamento: 0°C ÷ 40°C
Temperatura di stoccaggio: 40°C ÷ 70°C
Umidità di funzionamento: 10% ÷ 90% senza condensa
Umidità di stoccaggio: 5% ÷ 90% senza condensa
Premi

Recommendation

RE200 was recommended with 4/5 stars from Alt om DATA

2015, Denmark

Recommender Product

Wireless range extender RE200 received the award "Recommended Product" from 3Dnews

2016, Russia
Iscriviti alla newsletter TP-Link prende la Privacy seriamente. Per maggiori informazioni sul trattamento dei tuoi dati consulta l'Informativa Privacy.
From United States?
Check products and services for your region.