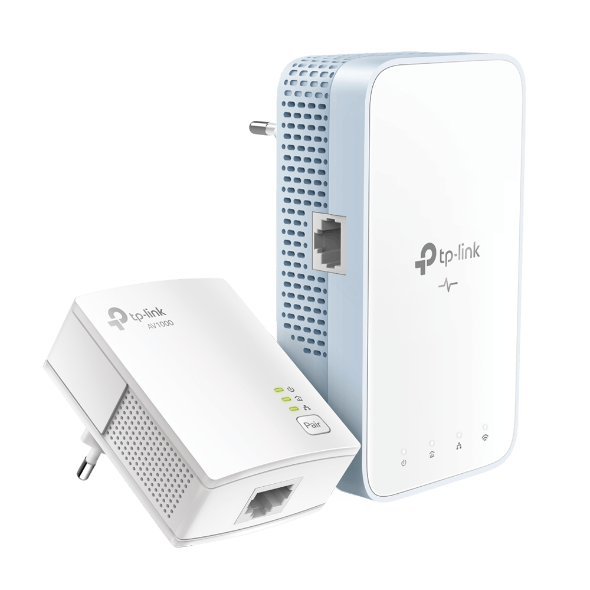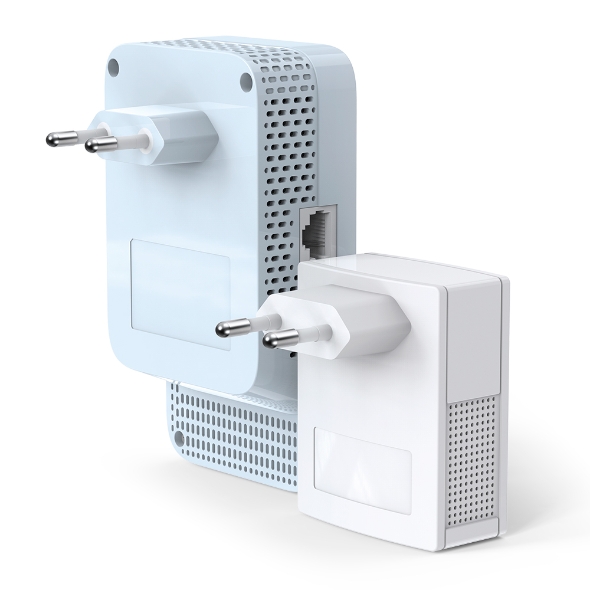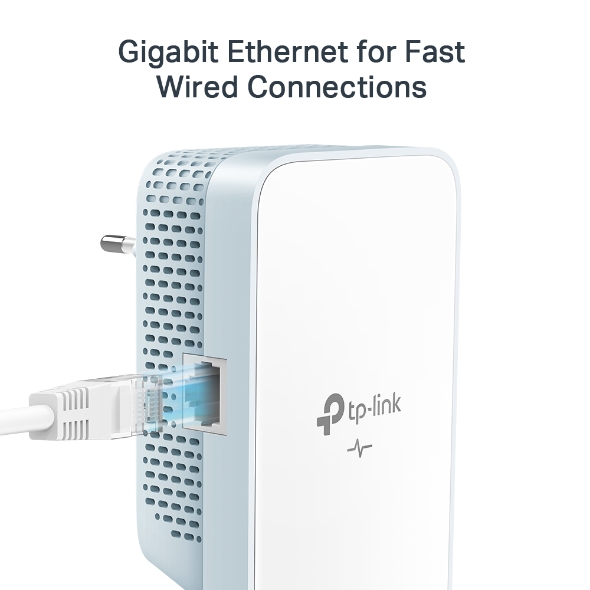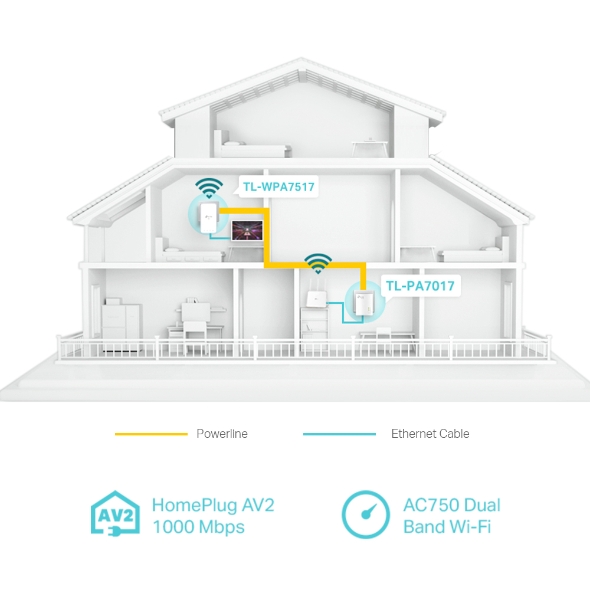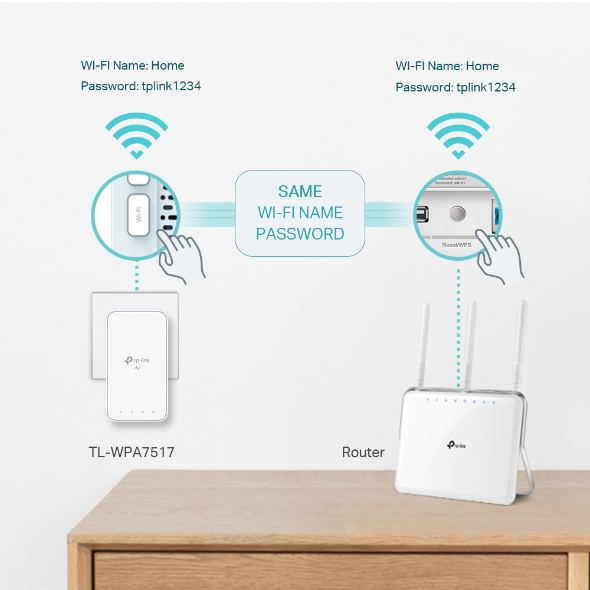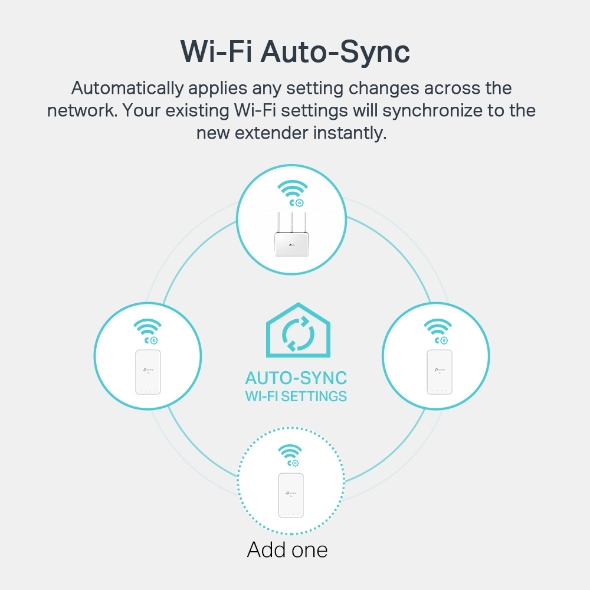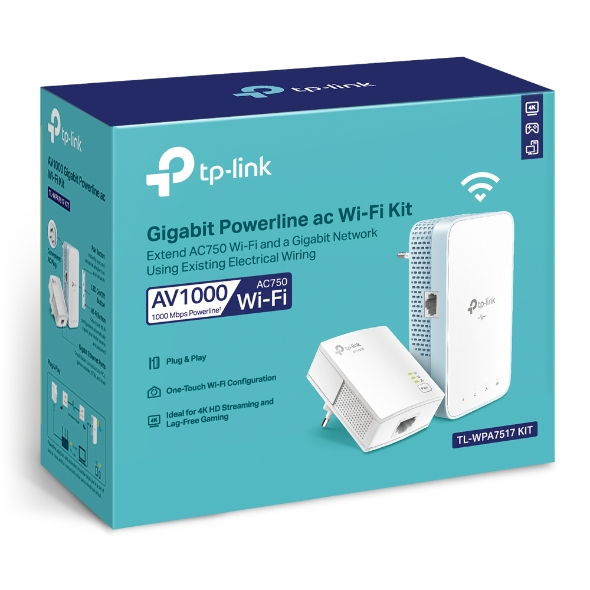 TL-WPA7517 KIT
Kit Powerline AV1000 + Wi-Fi AC750 con porta Gigabit
Powerline Homeplug AV2 - Estendi la rete domestica sfruttando l'impianto elettrico per trasmettere dati ad alte frequenze con velocità fino a 1000Mbps.
Wi-Fi AC750 - Wi-Fi Dual Band 802.11ac con velocità fino a 433Mbps in 5GHz e 300Mbps in 2.4GHz, ideale per attività come streaming HD, gaming online e attività di navigazione quotidiana.
Wi-Fi Auto-Sync - Configurazione e replicazione rapida delle impostazioni del router.
Porta Gigabit Ethernet Port - Connetti dispositivi cablati come PC desktop, smart Tv e console di gioco per una maggiore stabilità e velocità. di connessione.
Installazione rapida - Installazione semplice in tre mosse Plug, Pair & Play.
Estendi la rete cablata e Wi-Fi in ogni stanza sfruttando la rete elettrica preesistente
Kit Powerline AV1000 + Wi-Fi AC750
con porta Gigabit Ethernet
TL-WPA7517 Kit
Supera ogni ostacolo
TL-WPA7517 Kit trasforma la tua rete elettrica in un network Gigabit ad alta velocità, portando la connessione cablata e Wi-Fi ovunque sia presente una presa elettrica.
> Nessun intervento tecnico invasivo per l'installazione dei cavi di rete
> Il Network è in grado di superare ostacoli come muri spessi e lunghe distanze
> Puoi espandere la copertura aggiungendo altre unità powerline
> I Kit powerline sono composti da 2 o più unità che lavorano in sinergia sullo stesso impianto elettrico
HomePlug AV2
1000Mbps

Wi-Fi Dual Band AC750
Velocità AV1000 fino a 300 metri
Grazie alla tecnologia HomePlug AV2, TL-WPA7517 Kit assicura alte velocità di connessione sia Wi-Fi che cablata, con trasmissione dati fino a 1000 Mbps* tramite cavi elettrici con lunghezza fino a 300 metri. Ideale per attività come streaming HD e gaming online, per connettere postazioni di lavoro e studio e per le attività di navigazione quotidiana.
Internet
Router
TL-PA7017
TL-WPA7517
fino a 300 metri
Wi-Fi Dual Band AC750
Dotato di tecnologia Wi-Fi 802.11ac, TL-WPA7517 crea un network Wi-Fi Dual Band con velocità fino a 300 Mbps in 2.4 GHz e 433 Mbps in 5 GHz in grado di offrire ampia disponibilità di banda e minori interferenze.
433

Mbps
in 5GHz

300

Mbps
in 2.4GHz
Telecamera Smart
Presa Smart
Lampadina Smart
Configurazione Wi-Fi One-Touch
Imposta la rete Wi-Fi in un click
Setup rapido con impostazione automatica delle impostazioni di crittografia del router sorgente.
AUTO-SYNC


WI-FI SETTINGS
Aggiunta dispositivo
Wi-Fi Auto-Sync
Applica le modifiche alle impostazioni della rete, sincronizzando automaticamente l'unità powerline.
WI-FI Name: Home
Password: tplink1234
WI-FI Name: Home
Password: tplink1234
SAME


WI-FI NAME
PASSWORD
TL-WPA7517
Router
Plug, Pair & Play, nessuna configurazione necessaria
1

Connetti l'unità TL-PA7017
al router.

2

Collega l'unità TL-WPA7517 dove hai
bisogno di portare la connessione.

3

Premi il tasto "Pair" e goditi
la nuova rete powerline.
Porta Gigabit Ethernet
La porta Gigabit Ethernet ti permtte di connettere dispositivi cablati come PC desktop, Smart TV e console di gioco. Se hai bisogno di più porta LAN puoi connettere alla porta uno Switch Ethernet.
Gestione intuitiva tramite app
Gestisci il tuo network powerline tramite l'app tpPLC per dispositivi Android e iOS), oppure tramite la nuova utility per desktop tpPLC.
Monitora la velocità powerline in real-time
Controlla i LED control (funzione on/off)
Crea una rete guest
Design compatto e funzionale
Porta Gigabit Ethernet
Tasto Pair
Tasto LED On/Off
Tasto Wi-Fi
65 mm
28.5 mm
52 mm
69.5 mm
35 mm
124.1 mm
CARATTERISTICHE HARDWARE
Tipo di connettore
EU
Standard e protocolli
HomePlug AV2, HomePlug AV, IEEE 1901, IEEE 802.3, IEEE 802.3u,IEEE 802.3ab, IEEE 802.11b/g/n (2.4GHz), IEEE 802.11a/n/ac (5GHz)
Interfaccia
TL-WPA7517: 1 Ethernet PortTL-PA7017: 1 Ethernet Port
Tasto
Pair, Reset, Wi-Fi Clone, LED On/Off
Consumo energetico
TL-WPA7517: Maximum: 11W, Typical: 6.5WTL-PA7017: Maximum: 2.9W, Typical: 2.6W
Indicatore LED
Power, Powerline, Ethernet, Wi-Fi (2.4GHz), Wi-Fi (5GHz)
Dimensioni ( L x P x A )
TL-WPA7517: 2.7 × 1.4 × 4.9 in. (69.5 × 35 × 124.1 mm)TL-PA7017: 2.0 × 1.1 × 2.6 in. (52 × 28.5 × 65 mm)
Copertura
Up to 300 meters/1000 feet over existing electrical wiring
Compatibility
Compatible with all HomePlug AV & AV2 standard powerline adapters
Transmission Speeds
Powerline: Up to 1000 MbpsEthernet: 10/100/1000 Mbps
CARATTERISTICHE SOFTWARE
Gestione
tpPLC: Scan the QR code to download TP-Link tpPLC App.Or download new tpPLC Utility on PCs: www.tp-link.com.
Modulazione
OFDM (PLC)
Crittografia
Powerline: 128-bit AES EncryptionWireless: WPA-PSK / WPA2-PSK, WEP Encrptions
SOFTWARE
OneMesh™
OneMesh™ SupportedWithout replacing your existing devices or buying a whole new WiFi ecosystem, OneMesh™ helps you create a more flexible network that covers your entire home with TP-Link OneMesh™ products. Learn More>All OneMesh Products>
ALTRO
Certificazione
CE, RoHS
Contenuto della confezione
AV1000 Powerline Wi-Fi Kit: TL-WPA7517 & TL-PA7017Ethernet Cable × 2Quick Installation Guide
Requisiti di sistema
Windows 10/8.1/8/7/Vista/XP, Mac OS, Linux
Ambiente
Operating Temperature: 0°C~40°C (32°F~104°F)Operating Humidity: 10%~90% non-condensing
*1. Compatibile con gli adattatori Powerline HomePlug AV e AV2. Potrebbe non essere compatibile con modem e router dal firmware alterato, basato su programmi open source, fuori standard oppure obsoleti.
*2. La massima velocità wireless si basa sulle specifiche dello standard IEEE 802.11. I dati effettivi relativi al throughput e alla copertura wireless non sono garantiti e possono variare in base a: 1) fattori ambientali, inclusi materiali di costruzione, oggetti fisici e ostacoli; 2) condizioni del network, incluse interferenze locali, volume e densità del traffico, posizione del dispositivo, complesità e sovraccarico della rete; 3) limitazioni del client, incluse performance stimate, posizione, qualità della connessione e condizioni del client.
*3. La stima della velocità di trasmissione dati si riferisce alle specifiche dello standard HomePlug AV/AV2. I dati non sono garantiti e possono variare in base a condizioni del network e fattori ambientali, inclusi distanza, traffico, disturbi lungo la rete elettrica, tipo di struttura e materiali di costruzione, qualità dell'impianto elettrico, presenza di differenziali e altre condizioni avverse.
From United States?
Get products, events and services for your region.