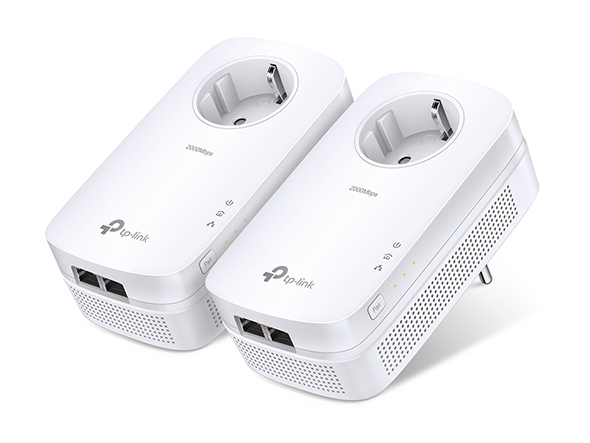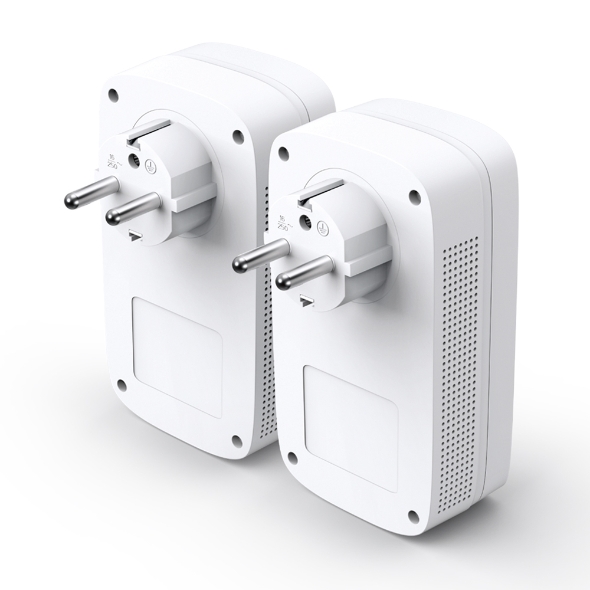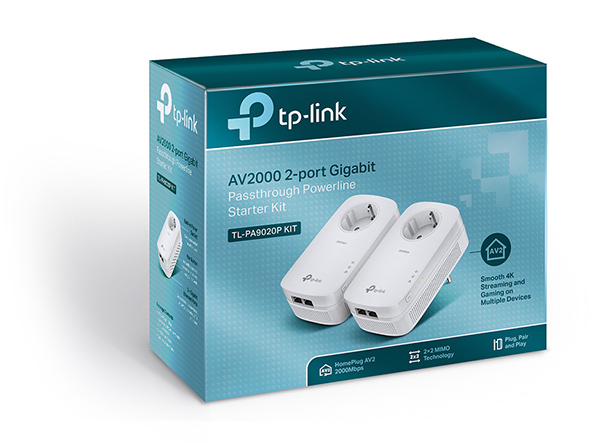 TL-PA9020P KIT
End of life
Starter Kit Powerline AV2000 con 2 porte Gigabit e presa elettrica integrata
Compatibile con standard HomePlug AV2, trasferimento dati ultra veloce fino a 2000Mbps1
2X2 MIMO con Beamfroming gestisce connessioni multiple simultanee per maggiore velocità powerline e stabilità
2 porte Gigabit connettere in sicurezza dispositivi via cavo come PC, SmartTV o console di gioco
Presa passante integrata
Plug & Play: nessuna configurazione richiesta
Modalità di risparmio energetico riduce automaticamente i consumi dell'85%2
Internet per una vita più smart
AV2000 Starter Kit Powerline Gigabit con presa passante
TL-PA9020P KIT
Porta la tua rete powerline al prossimo livello
Grazie all'innovativa tecnologia HomePlug AV2 MIMO, TL-PA9020p garantisce un trasferimento dati fino a 2000Mbps su rete Powerline in grado di soddisfare le tue esigenze. Non ti perderai più nulla con una connessione senza lag!
2000Mbps
HomePlug AV2
2X2
MIMO
Trasferimento dati ad alta velocità
Diffuso
nel mercato
AV2000
4x
0Mbps
Trasferimento dati ad alta velocità fino a 2000Mbps su rete Powerline*
Una rete veloce esclusiva per i tuoi dispositivi
TL-PA9020p crea connessioni cablate altamente performanti per connettere i tuoi dispositivi preferiti, come HDTV 4K. Da oggi puoi semplicemente collegare il Powerline a una presa elettrica qualsiasi e goderti una rete esclusiva senza rallentamenti.
Streaming fluido e gioco online con 2X2 MIMO
2X2 MIMO con Tecnologia Beamforming aumenta drasticamente la velocità, specialmente in orari di punta.
Connessioni più stabili
2X2 MIMO è come aggiungere una corsia extra in un'autostrada. Genera connessioni simultanee multiple più stabili.
Trasmissione SISO tradizionale
SISO: Single-In-Single-Out
Advanced MIMO Transmission
MIMO: Multiple-In-Multiple-Out
Performance migliori su lunghe distanze
2X2 MIMO con Tecnologia Beamforming offre una copertura migliore in tutta l'abitazione, in particolare in zone difficilmente raggiungibili in precedenze.
SISO
Lunga distanza
MIMO
Lunga distanza
Connessioni via cavo classe Gigabit
Connessioni di livello Gigabit anche per SmartTV, console di gioco, computer ed altri dispositivi. Basta utilizzare un cavo Ethernet per collegare i tuoi dispositivi all'adattatore Powerline.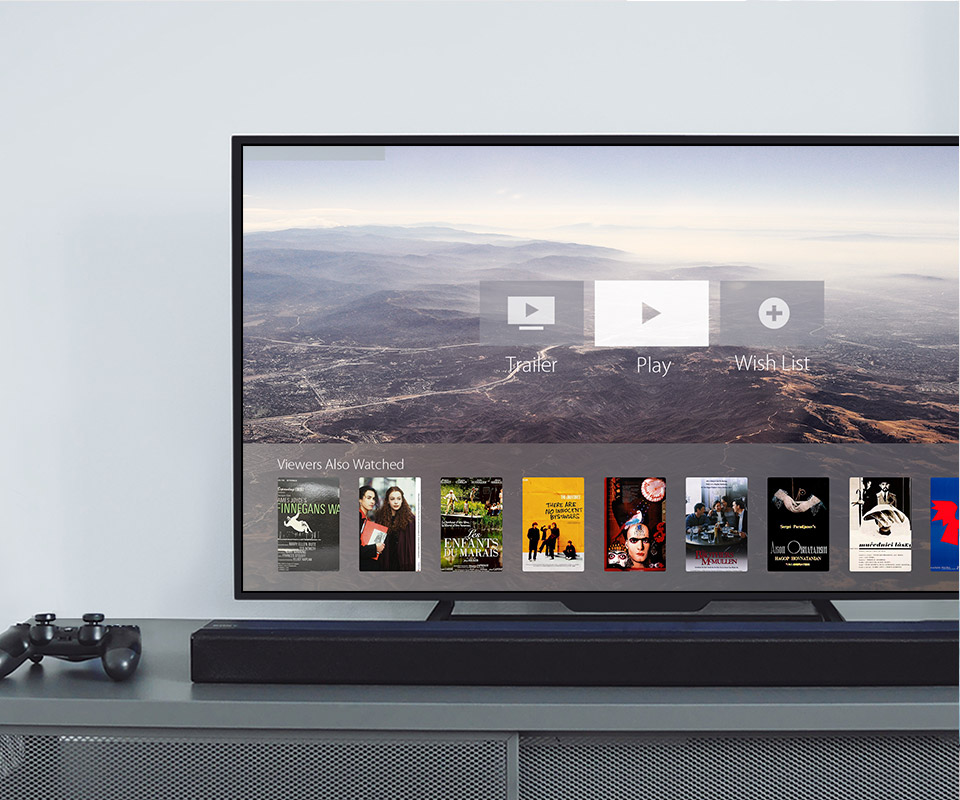 SmartTV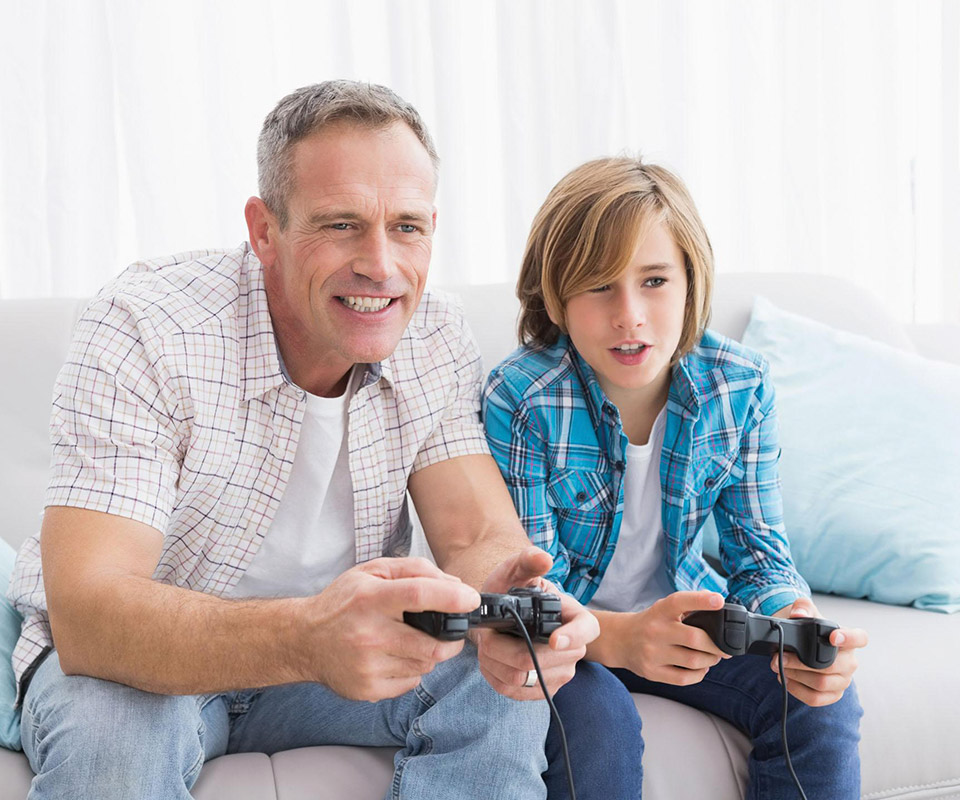 Console di gioco
Reti semplificate per una vita migliore
Plug, Pair, Play!
1. Connetti TL-PA9020P al router
2. Connettine un altro dove ti occorre maggiore copertura
3. Premi il tasto "Pair" su tutti gli adattatori
Ben fatto! Sei pronto per divertirti con connessioni via cavo senza interferenze.
Nessuna presa viene sprecata
Avere una presa passante integrata significa poterla utilizzare per altri dispositivi insieme al Powerline. Il filtro anti-rumore incorporato aiuta ad eliminare disturbi sul segnale elettrico che potrebbero alterare le prestazioni della trasmissione dati via Powerline.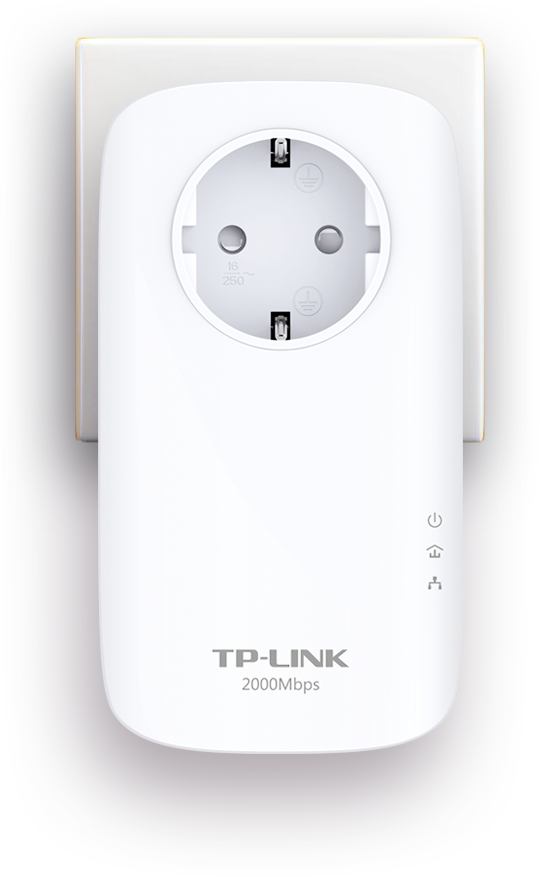 CARATTERISTICHE HARDWARE
Tipo di connettore
EU, UK, US,FR
Standard e protocolli
HomePlug AV2, HomePlug AV, IEEE 1901,
IEEE 802.3, IEEE 802.3u, IEEE 802.3ab
Interfaccia
2 * Gigabit Ethernet Port, Power Socket
Tasto
Pair
Consumo energetico
Maximum: 5.8 W (230V/50Hz)
Standby: 0.5 W (230V/50Hz)
Indicatore LED
Power, Powerline, Ethernet
Dimensioni ( L x P x A )
5.2×2.8×1.7 in. (131×72×42 mm)
Copertura
Up to 300 meters/1000 feet over existing electrical wiring
Compatibility
Compatible with all AV2000, AV1200, AV1000, AV600, AV500 &
AV200 powerline adapters
Transmission Speeds
Powerline: up to 2000 Mbps
Ethernet: 10/100/1000 Mbps
CARATTERISTICHE SOFTWARE
QoS (Quality of Service)
ToS
Supports up to 4-level type QoS
Support up to 8-level VLAN priority
Sicurezza
128-bit AES Encryption
Modulazione
OFDM
ALTRO
Certificazione
CE, RoHS
Contenuto della confezione
AV2000 2-port Gigabit Passthrough Powerline Adapter, TL-PA9020P * 2
2-meter RJ-45 Ethernet Cable * 2
Quick Installation Guide
Requisiti di sistema
Windows 8.1/8/7/Vista/XP, Mac OS, Linux
Ambiente
Operating Temperature: 0°C~40°C (32°F~104°F)
Storage Temperature: -40℃~70℃ (-40℉ ~158℉)
Operating Humidity: 10%~90% non-condensing
Storage Humidity: 5%~90% non-condensing
La velocità massimo di trasferimento dei dati deriva dalle specifiche di HomePlug AV2 e può variare in base alle condizioni della rete compresi: distanza, traffico di rete, disturbi sui cavi elettrici, materiale da costruzione, qualità dell'impianto elettrico ed altre condizioni avverse.
I dati effettivi variano in base alle condizioni della rete e all'ambiente di utilizzo.
Iscriviti alla newsletter TP-Link prende la Privacy seriamente. Per maggiori informazioni sul trattamento dei tuoi dati consulta l'Informativa Privacy.
From United States?
Check products and services for your region.