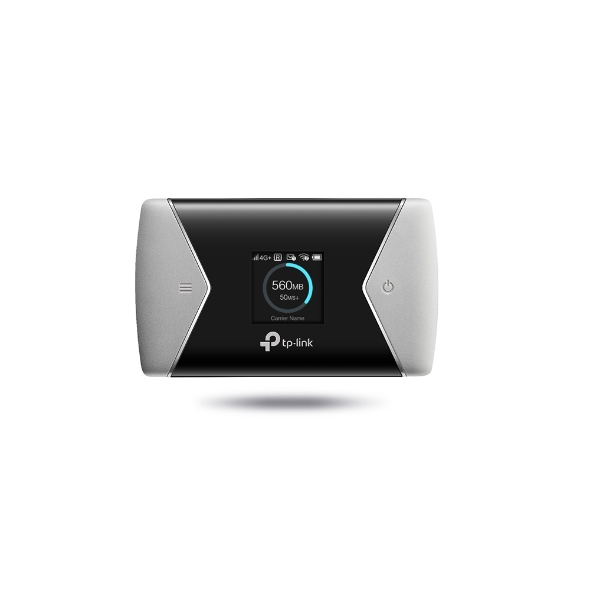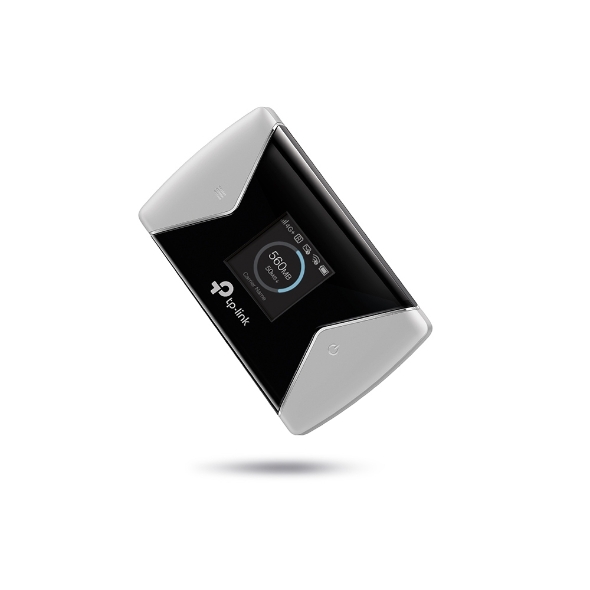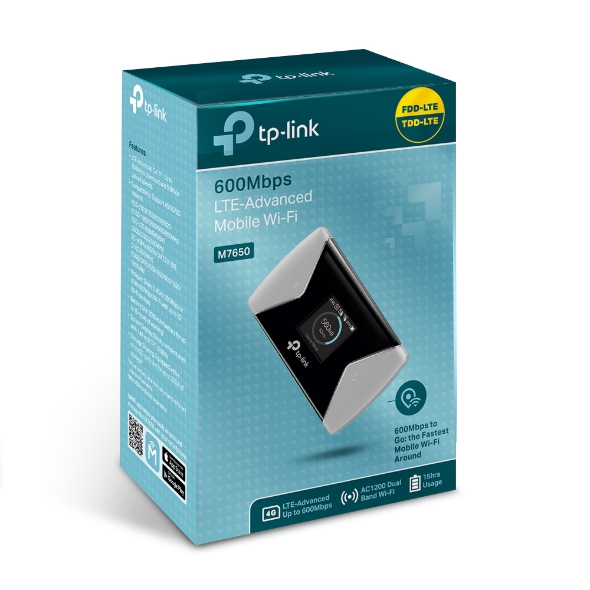 M7650
Mobile Wi-Fi 4G+ fino a 600Mbps con display a colori
4G+ (LTE-Advanced Cat.11) fino a 600Mbps in download e 50Mbps in upload
Fino a 32 dispositivi connessi contemporaneamente
Wi-Fi dual band selezionabile: 300Mbps su 2.4GHz o 867Mbps su 5GHz
Display informativo con le funzionalità fondamentali visibili
Batteria da 3000mAh con durata fino a 15 ore
Slot per Micro SD fino a 32GB di archiviazione
Semplice gestione con App tpMiFi
Mobile Wi-Fi più veloce, maggior divertimento
Mobile Wi-Fi 4G+
M7650
Velocità fino a 600Mbps
M7650 supporta la nuovissima rete 4G+ (LTE-Advanced Cat.11), con carrier aggregation. Questa tecnologia di ultima generazione consente di utilizzare simultaneamente diverse bande di frequenza per aumentare sensibilmente le prestazioni, fino a 600Mbps.

* Massima compatibilità, consente un facile accesso a reti 4G/3G/2G.
Fino a 150Mbps


banda1

Fino a 150Mbps


banda2

Fino a 150Mbps


banda3
Aggregated
Data Pipe
450Mbps
3X
più veloce
Divertiti di più grazie ad una connessione ultra veloce
Con una velocità 4G+ fino a 600Mbps, puoi goderti film HD senza interruzioni, download di file in pochi secondi e gioco online senza blocchi.
M7650
600Mbps
Altro Mi-Fi
150Mbps
Il Wi-Fi che ti accompagna nella vita quotidiana
M7650 ti garantisce un Wi-Fi dual band selezionabile, con velocità di 867Mbps su 5GHz o 300Mbps su 2.4GHz. Così puoi condividere il Wi-Fi con tutti i tuoi amici durante la giornata.
Appuntamento in primavera,
Amanda
Meeting di lavoro,
Mattia
Display avanzato & Menù intuitivo
Grazie al display intuitivo di M7650 è semplice tenere d'occhio i consumi mensili e altre funzionalità relative a batteria, segnale, stato del Wi-Fi, utenti connessi e altro ancora.
Casa
Info dispositivo
Risparmio energetico
WPS
Banda Wi-Fi
Modalità rete
Roming dati
Download App
Condivisione Internet: fino a 32 dispositivi simultaneamente
Con M7650 puoi condividere facilmente una connessione 4G/3G in modalità wireless fino a 32 dispositivi come tablet, portatili e smartphone contemporaneamente. L'hotspot supporta inoltre connessioni via cavo per PC grazie alla porta USB integrata.
Naviga tutto il giorno
Grazie a una potente batteria da 3000mAh, M7650 ha una durata fino a 15 ore in modalità operativa e fino a 900 ore in standby. M7650 si ricarica tramite cavo micro USB connesso a un PC, un portatile o ad un qualsiasi adattatore.
ore
All'avventura
Relax
A casa
* La durata della batteria può variare in base alle reali condizioni di utilizzo.
Esplora nuovi orizzonti restando

sempre connesso
Grazie al design elegante e alle linee morbide, M7650 è il compagno ideale per viaggi personali e di lavoro, attività all'aperto e molto altro.
Condivisione wireless con scheda Micro SD
Condividi facilmente foto, musica, video e molto altro via wireless con la Micro SD attraverso l'apposito slot con supporto fino a 32GB di archiviazione.
* Micro SD venduta separatamente.
* Accesso e condivisione file attraverso App tpMifi per iOS/Android.
Micro SD Card
Micro SIM Card
Semplice gestione con App tpMiFi
Grazie all'App tpMifi puoi gestire M7650 con estrema semplicità da dispositivi iOS e Android. L'app ti permette di stabilire limiti di trasferimento dati, controllare quali dispositivi sono connessi al to Wi-Fi, inviare messaggi e condividere file multimediali con la scheda Micro SD rimovibile

CARATTERISTICHE HARDWARE
Interfaccia
1 micro USB port for power supply1 Micro SIM card slot1 Micro SD card slot
Tasto
Power On/Off,Menu
Alimentazione
3000mAh Rechargeable Battery
Tipo di rete
FDD-LTE: B1/B3/B7/B8/B20(2100/1800/2600/900/800MHz)
TDD-LTE: B38/B40/B41 (2600/2300/2500MHz)
DC-HSPA+/HSPA/UMTS: B1/B8(2100/900MHz)
EDGE/GPRS/GSM: 850/900/1800/1900MHz

Carrier Aggregation:
2CA:
B1+B7/B8/B20
B3+B3/B7/B8/B20/B38/B40
B7+B7/B8/B20
B38+B38
B40+B40
B41+B41
3CA:
1+41+41
1+7+20
3+7+8
3+7+20
3+7+7
3+3+7
3+3+20
3+20+38
40+40+40
41+41+41

Velocità di trasferimento dati
DL: 600Mbps, UL: 50Mbps
Dimensioni ( L x P x A )
112.5*66.5*16mm
Antenna
Internal Antenna
Lettore MicroSD
Up to 32GB
Schermo
1.44 inch TFT
CARATTERISTICHE WIRELESS
Standard wireless
IEEE 802.11a/b/g/n/ac 300Mbps at 2.4GHz or 867Mbps at 5GHz
Frequenza
2.4GHz&5GHz
Potenza di trasmissione
2.4G <20dbm, 5G <23dbm
Sicurezza wireless
Support WPA-PSK/WPA2-PSK, Wireless MAC Filtering
DHCP
DHCP server, DHCP Client List
ALTRO
Certificazione
CE, RoHS
Contenuto della confezione
600Mbps LTE-Advanced Mobile Wi-Fi M7650Micro USB CableNano to Micro SIM Card Adapter3000mAh BatteryQuick Installation Guide
Requisiti di sistema
Windows 10/8/7/vista/XP, Mac OS, Android, iOS, Windows Phone
Iscriviti alla newsletter
TP-Link prende la Privacy seriamente. Per maggiori informazioni sul trattamento dei tuoi dati consulta l'Informativa Privacy.
From United States (English)?
Check products and services for your region.