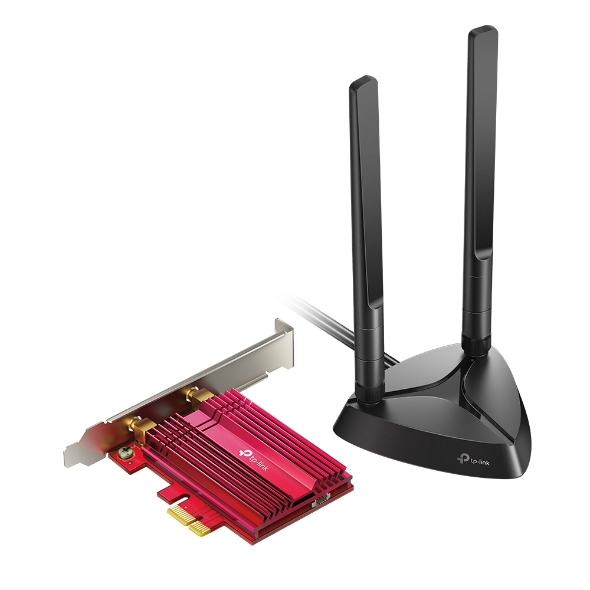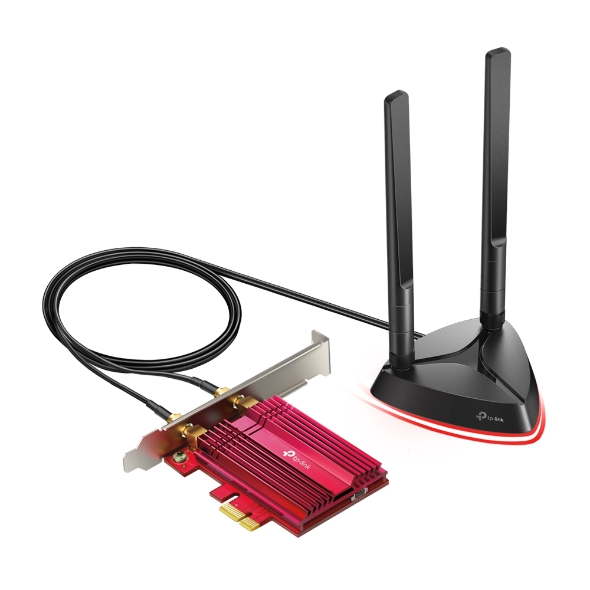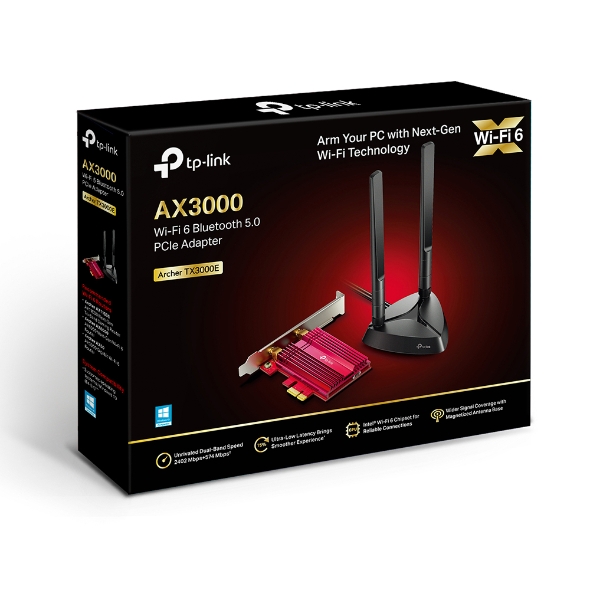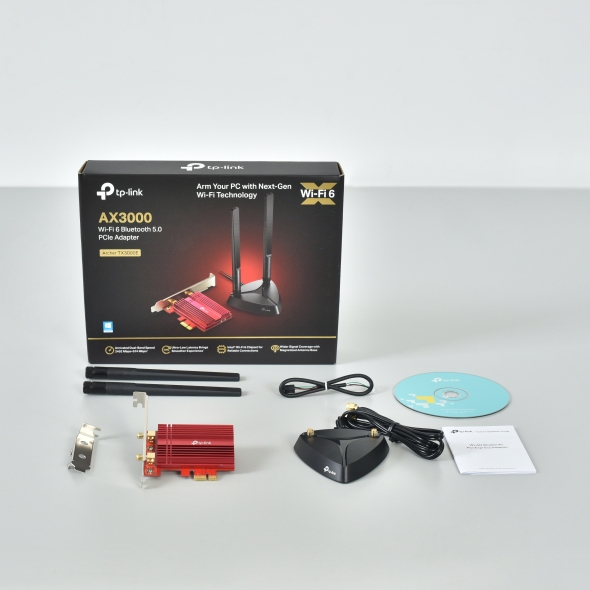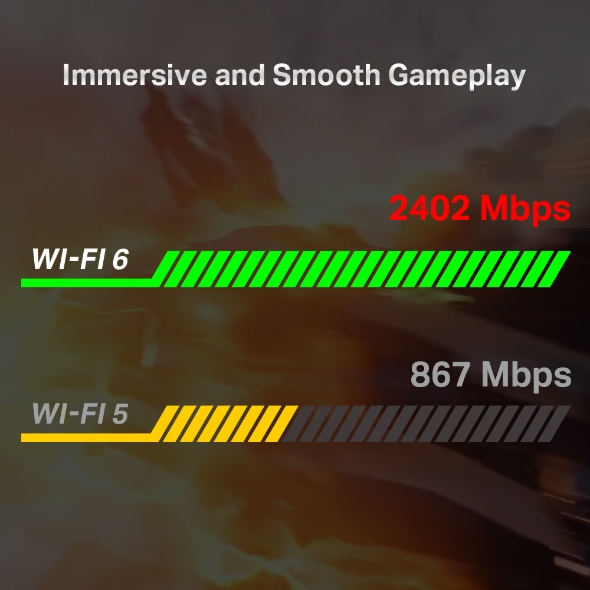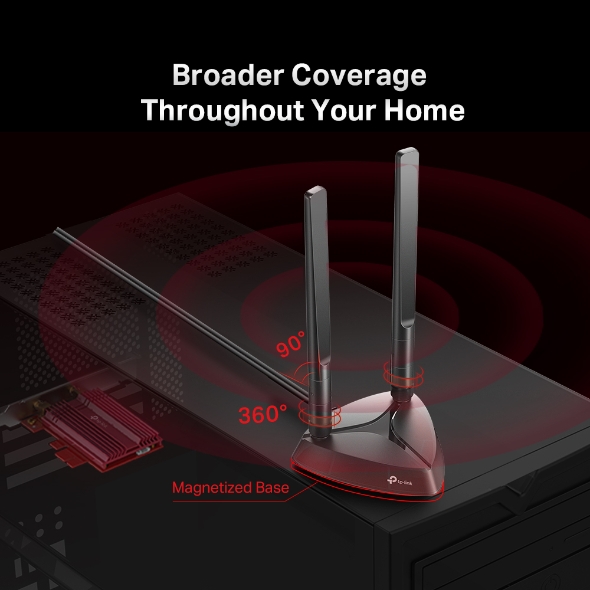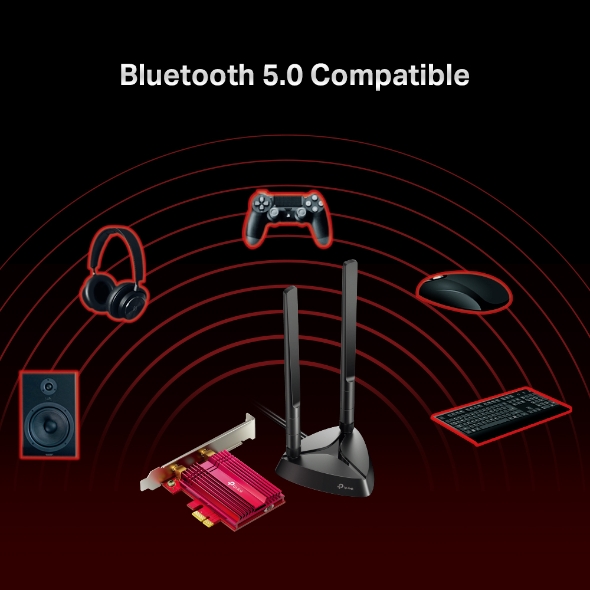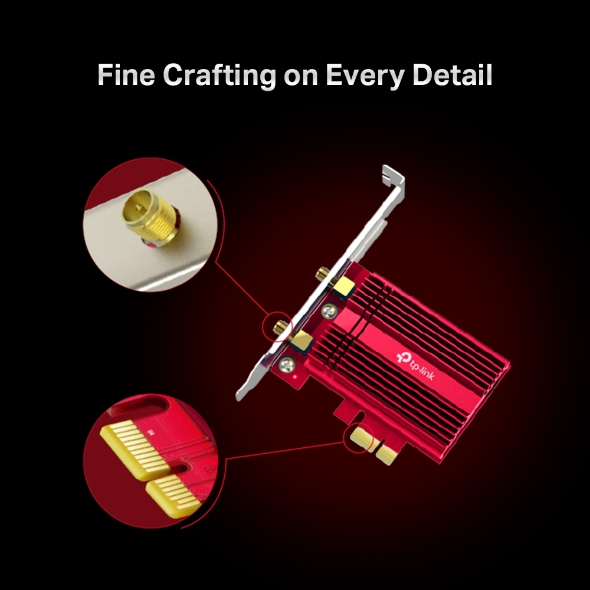 Archer TX3000E
Scheda di rete Wi-Fi 6 AX3000 e Bluetooth 5.0 PCIe
Wi-Fi 6 ultra veloce - Oltrepassa il Gigabit con velocità fino a 2402Mbps (5 GHz) + 574Mbps (2.4 GHz)
Elimina il lag - Riduce sensibilmente la latenza per esperienze di gioco real-time
Efficienza estrema - Il Chipset Wi-Fi 6 sfrutta appieno il potenziale del nuovo standard
Copertura ottimale - Due antenne omnidirezionali a base magnetica per ottimizzare la copertura
Bluetooth 5.0 - Tecnologia Bluethooth avanzata
Sicurezza avanzata - Crittografia WPA3 per il massimo livello di sicurezza
Design ricercato - Materiali di alta qualità e design pensato per la massima stabilità
Massima compatibilità - Supporta i precedenti standard Wi-Fi 802.11ac/a/b/g/n
Wi-Fi 6 di nuova generazione per il
tuo PC Desktop
Scheda di rete Wi-Fi 6 AX3000
e Bluetooth 5.0 PCIe
Archer TX3000E
Next-Level Gaming
Ottimizza la tua esperienza di gioco dotando il tuo PC Desktop del nuovo standard Wi-Fi 802.11ax che permette al router di ottimizzare le necessità di più dispositivi e applicazioni, garantendo performance mai raggiunte prima.†
1Gbps

Velocità con connessione cablata: 1Gbps

2.4Gbps

Con TX3000E

Con TX3000E

Velocità con Wi-Fi 6: fino a 2.4 Gbps
Potenza e stabilità
Archer TX3000E utilizza la modulazione Wi-Fi 6 1024-QAM per trasmettere più dati nello stesso tempo, aumentando vertiginosamente la velocità rispetto alla tecnologia precedente.


WI-FI 6
5 GHz, HT1602402Mbps
WI-FI 5
5 GHz, HT80867Mbps
Connessioni Lag-Free
Per vincere le tue sfide devi prima sconfiggere il lag.
La tecnologia OFDMA li riduce sensibilmente per un'esperienza di gioco
ultra-reattiva ed esperienze VR davvero fluide. *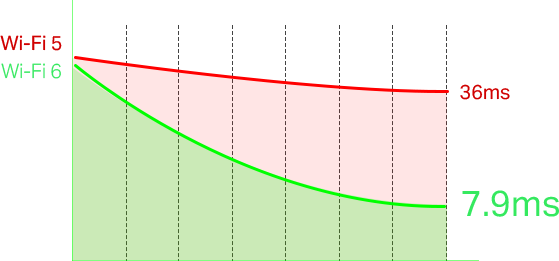 Latenza
Massima copertura
Due antenne omnidirezionali ad alto guadagno aumentano la capacità di ricezione del segnale, permettendoti di godere di una connessione ancora più stabile in qualsiasi angolo della casa. La base magnetica permette di posizionare le antenne ovunque sulla tua postazione per ottenere i migliori risultati.
Wi-Fi 6 limita sensibilmente la riduzione delle performance in condizioni di copertura ridotta.
Base magnetica
Connessioni simultanee
Con le tecnologie Wi-Fi 6 OFDMA, MU-MIMO e BSS Color, Archer TX3000E consente al tuo PC di mantenere elevate prestazioni anche in presenza di numerosi dispositivi o in scenari con numerose reti Wi-Fi.
802.11ac | senza OFDMA

802.11ax | con OFDMA
Bluetooth 5.0
La tecnologia Bluetooth 5.0 assicura copertura e velocità sensibilmente maggiori rispetto al precedente standard 4.2.***
Sicurezza avanzata
Archer TX3000E supporta il nuovo standard di sicurezza WPA3, per garantire i massimi livelli di riservatezza in rete. Utilizza infatti uno nuovo protocollo che protegge anche le password considerate più "deboli".**
Progettata per
durare nel tempo
Il dissipatore in lega realizzato consente ad Archer TX3000E di lavorare anche ad alte temperature preservandone la durata dei componenti hardware.
Tutti i componenti sono realizzati con materiali di qualità che superano numerosi test di resistenza. Le connessioni sono placcate oro per assicurare la massima conduttività elettrica.
Setup intuitivo

Software di installazione e utility su CD

Sistema operativo

Compatibile con Windows 11/10 (64-bit)

Supporti standard e Low-Profile

Per installazione su PC Desktop e mini PC
CARATTERISTICHE HARDWARE
Dimensions
3.7 x 4.8 x 0.8 in(95.2 x 120.8 x 21.5 mm)
Tipo di antenna
Two High-Gain Dual Band AntennasMagnetized Antenna Base
Chipset
Intel Wi-Fi 6 Chipset
CARATTERISTICHE WIRELESS
Standard wireless
IEEE 802.11ax/ac/n/a 5 GHzIEEE 802.11ax/n/g/b 2.4 GHzBluetooth 5.0/4.2/4.0
WLAN Signal Rate
5 GHz11ax: Up to 2402 Mbps(dynamic)11ac: Up to 1733 Mbps(dynamic)11n: Up to 300 Mbps(dynamic)11a: Up to 54 Mbps(dynamic)2.4 GHz11ax: Up to 574 Mbps(dynamic)11n: Up to 300 Mbps(dynamic)11g: Up to 54 Mbps(dynamic)11b: Up to 11 Mbps(dynamic)
WLAN Reception Sensitivity
5 GHz :11ax HT160:-56.25dBm11ax HT80: -59dBm11ax HT40: -62.25dBm11ax HT20: -65dBm11ac HT160:-62dBm11ac HT80: -65.5dBm11ac HT40: -69.75dBm11ac HT20: -73.75dBm11n HT40: -74.5dBm11n HT20: -77.5dBm11a 54Mbps: -77.75dBm11a 6Mbps: -94.5dBm2.4GHz :11ax HT40: -60.75dBm11ax HT20: -63.75dBm11n HT40: -73dBm11n HT20: -76.25dBm11g 54Mbps: -76.5dBm11b 11Mbps: -89dBm
WLAN Transmit Power
5 GHz : 27dBm(FCC) / 23dBm(CE) (EIRP)2.4 GHz : 26dBm(FCC) / 20dBm(CE) (EIRP)
WLAN Modes
Infrastructure mode
Sicurezza wireless
Support 64/128 bit WEP, WPA/WAP2/WPA3, WPA-PSK/WPA2-PSK, 802.1x
Modulazione
DBPSK, DQPSK, CCK, OFDM, 16-QAM, 64-QAM, 256-QAM, 1024QAM
Bluetooth Profiles
Archer TX3000E support the native BT profiles implemented in Windows 10. For the latest information on Windows 10 BT profiles please refer to https://support.microsoft.com/en-us/help/10568/windows-10-supported-bluetooth-profiles
ALTRO
Certificazione
CE, FCC, RoHS
Contenuto della confezione
Archer TX3000EMagnetized Antenna Base with 1m RF CableTwo 5 dBi High Gain AntennasLow-Profile BracketBluetooth Header CableQuick Installation GuideResource CD
Requisiti di sistema
Windows 10(64-bit) only
Ambiente
Operating Temperature: 0℃~40℃ (32℉~104℉)Storage Temperature: -40℃~70℃ (-40℉~158℉)Operating Humidity: 10%~90% non-condensingStorage Humidity: 5%~90% non-condensing
*La massima velocità wireless deriva dalle specifiche del nuovo standard IEEE 802.11. I dati effettivi relativi alla velocità di trasmissione dati, alla copertura wireless e alla quantità di dispositivi connessi non sono garantiti e possono variare in base a diversi fattori come: condizioni del network, limitazioni del client, fattori ambientali - inclusi materiali di costruzione, ostacoli, volume e densità del traffico, posizionamento del client.
*L'utilizzo dello standard Wi-Fi 802.11ax, incluse le funzionalità OFDMA, MU-MIMO, HE160, 1024-QAM necessita di un client compatibile con il medesimo standard.
* L'utilizzo di WPA3 necessità di un AP che supporti le corrispondenti caratteristiche.
* Numerose funzionalità come, a titolo esemplificativo non esaustivo, una velocità raddoppiata e una copertura quattro volte più ampia rispetto al Bluethooth 4.2 sono state introdotte nel documento Bluetooth Core Specification 5.0 Release.
Iscriviti alla newsletter TP-Link prende la Privacy seriamente. Per maggiori informazioni sul trattamento dei tuoi dati consulta l'Informativa Privacy.
From United States?
Get products, events and services for your region.