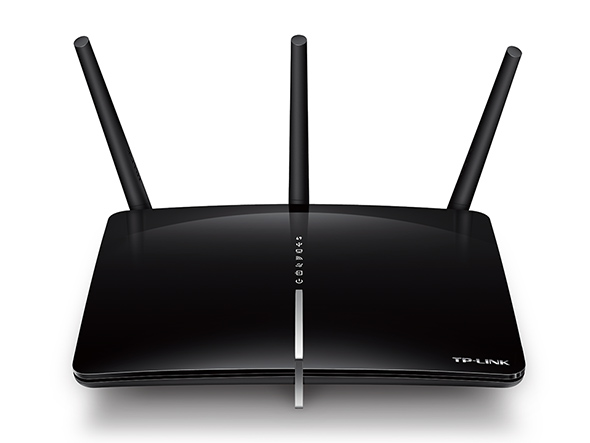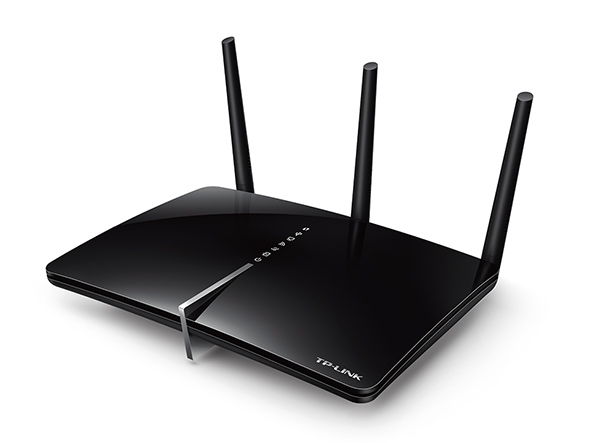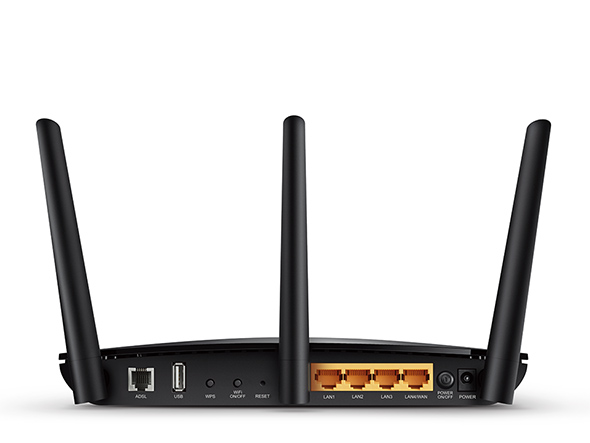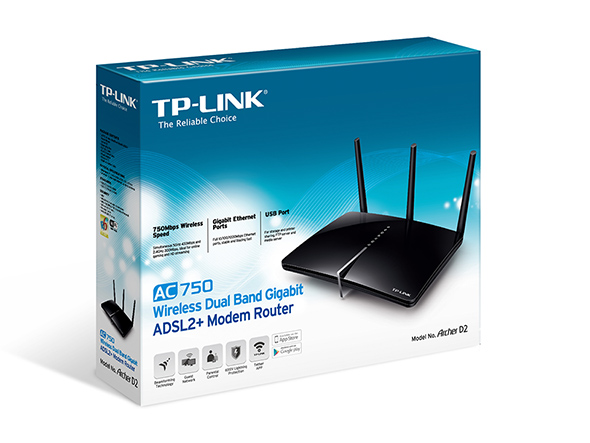 Modem Router Gigabit ADSL2+ Wireless AC750
Supporto standard 802.11ac – la prossima generazione WI-FI
Dual band simultaneo 300Mbps a 2.4GHz e 433Mbps a 5GHz.
Condivisione di stampanti locali, file e contenuti multimediali sulla rete locale e via FTP
Ethernet WAN (EWAN) offre un'altra opzione di connettività a banda larga per il collegamento di modem VDSL, via cavo o fibra
Tether APP per una semplice gestione della rete
Descrizione del prodotto
Archer D2 è un modem/router wireless ADSL2+ AC750 all-in-one che consente agli utenti l'accesso ad Internet ad alta velocità attraverso la rete cablata e wireless, eliminando l'ingombro dei cavi e riducendo lo spazio necessario. Archer D2 è perfetto per la casa o l'ufficio.

802.11ac – L'ultima generazione Wi-Fi
Archer D2 è dotato di Wi-Fi standard di ultima generazione – 802.11ac, compatibile con 802.11n e tre volte più veloce. Grande efficienza e sicurezza, la tecnologia Wi-Fi 802.11ac è la soluzione perfetta per accelerare la trasmissioni di contenuti multimediali ed evitare congestioni causate dall'utilizzo di numerosi dispositivi.

Dual band simultaneo 750Mbps - Più banda, meno interferenze
Archer D2 crea due reti: 433Mbps a 5GHz e 300Mbps a 2.4 GHz. Sarà quindi possibile utilizzare la rete a 2.4GHz per le applicazioni tradizionali (es. web, e-mail) riservando la rete a 5GHz per applicazioni multimediali a banda intensiva (es. streaming HD e 3D, giochi online).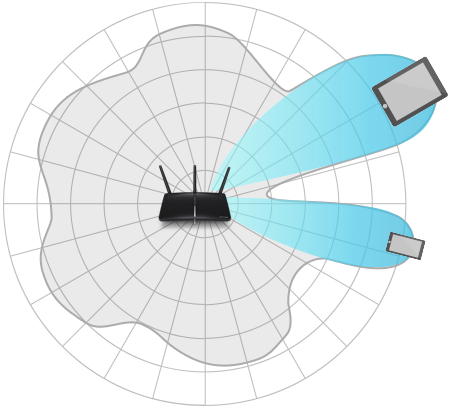 3 antenne esterne ed amplificatori ad alta potenza - Il massimo della copertura
Le antenne esterne dual band utilizzano la miglior tecnologia radiotrasmissiva per ottenere una completa copertura anche in grandi ambienti.Gli amplificatori ad alta potenza incrementano la stabilità del segnale.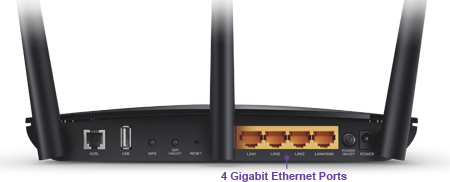 Porte Gigabit Ethernet - Massima velocità di trasferimento
Le porte Gigabit Ethernet sono fondamentali per massimizzare le performance di applicazioni a banda estremamente intensiva e voluminosi trasferimenti dati.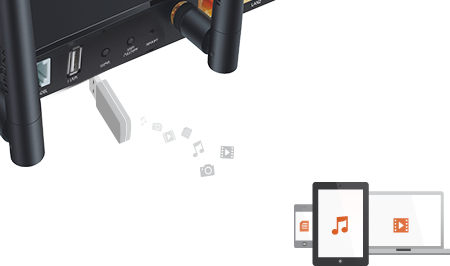 Porta USB 2.0 - Condivisione
Utilizzando la porta USB 2.0, si avrà facilmente accesso alla condivisione di stampanti locali e file con dispositivi in rete oppure remoti attraverso la funzionalità FTP.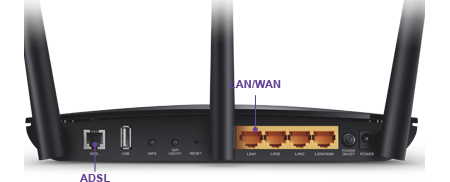 Porta LAN/WAN commutabile - Connettività versatile
Archer D2 supporta connessioni ADSL o Ethernet WAN (EWAN) che consentono agli utenti di avere maggiore flessibilità.Questa funzionalità offre la possibilità di collegamento ad un modem esterno per la connessione ad Internet tramite reti VDSL, in fibra ottica o wireless.
Configurazione guidata

Archer D2 è configurabile attraverso l'interfaccia web che guida l'utente al collegamento ed alla prima configurazione del prodotto.

Guest Network

La rete Guest è particolarmente indicata per la connessione di dispositivi "ospite" ai quali è imposto un alto livello di sicurezza ed isolamento dal resto della rete.

IPv6

Completo supporto alla tecnologia IPv6, pienamente compatibile con il nuovo standard di indirizzamento.
CARATTERISTICHE HARDWARE
Interfaccia
1 porta 10/100/1000Mbps RJ45 WAN/LAN
3 porte 10/100/1000Mbps RJ45 LAN
1 porta RJ11
1 porta USB 2.0
Tasto
1 pulsante Power ON/OFF
1 pulsante Wi-Fi ON/OFF
1 pulsante WPS
1 pulsante RESET
Alimentatore esterno
12VDC/1.5A
Standard IEEE
IEEE 802.3, 802.3u, 802.3ab
Standard ADSL
ITU-T G.992.3 (G.DMT.bis)
Standard ADSL2
ITU-T G.992.3 (G.DMT.bis)
Standard ADSL2+
ITU-T G.992.5
Dimensioni ( L x P x A )
229 x 160 x 37mm
Tipo di antenna
3 antenne esterne
Guadagno antenna
3 × 2dBi 2.4GHz, 3 × 3dBi 5GHz
CARATTERISTICHE WIRELESS
Standard wireless
IEEE 802.11ac/n/a 5GHz
IEEE 802.11n/g/b 2.4GHz
Velocità wireless
5GHz: fino a 433Mbps
2.4GHz: fino a 300Mbps
Frequenza
2.4GHz e 5GHz
Potenza di trasmissione
<20dBm(EIRP)
Funzionalità wireless
Wi-Fi ON/OFF, Bridge WDS, WMM, stastistiche Wireless
Sicurezza wireless
Supporto WEP, WPA/WPA2, WPA-PSK/WPA2-PSK, Filtraggio Wireless MAC
Schedulazione wireless
2.4GHz e 5GHz
CARATTERISTICHE SOFTWARE
QoS (Quality of Service)
ATM QoS, Traffic Control(IP QoS)
Sicurezza
NAT Firewall, Access Control, MAC / IP / URL Filtering,
Denial of Service (DoS), SYN Flooding, Ping of Death
IP and MAC Address Binding3
IPv6
IPv6 / IPv4 dual stack
Modalità operative
ADSL Modem Router, Wireless Router
Gestione
Gestione web
Gestione remota
SSL per TR-069, SNMP v1/2c
Firmware aggiornato, Diagnostic Tool
DHCP
Server, Client, DHCP Client List,
Address Reservation, DHCP relay
Port forwarding
Virtual server, Port Triggering, DMZ, ALG, UPnP
Dynamic DNS
DynDns, NO-IP
VPN pass-through
PPTP, L2TP, IPSec Passthrough
Protocolli ATM/PPP
ATM Forum UNI3.1/4.0,
PPP over ATM (RFC 2364),
PPP over Ethernet (RFC2516),
IPoA (RFC1577/2225),
MER\IPoE (RFC 1483 Routed)
Bridge (RFC1483 Bridge)
PVC – Up to 8 PVCs
Funzionalità avanzate
Parental Control
Network Address Translation (NAT);
Port Mapping (Grouping), Static Routing, RIP v1/v2 (optional);
DNS Relay, DDNS, IGMP V1/V2/V3
Condivisione USB
File Server (SMB) / FTP Server / Media Server / Print Server
Rete ospiti
Guest network a 2.4GHz
Guest network a 5GHz
VPN IPsec
Fino a 10 tunnel IPsec
ALTRO
Certificazione
CE, FCC, RCM, RoHS
Contenuto della confezione
Modem Router Gigabit ADSL2+ Wireless Dual Band AC750
Splitter esterno
Cavo RJ-11
Cavo Ethernet RJ-45
Cavo alimentazione
Guida installazione rapida
Requisiti di sistema
Compatibile con tutti i sistemi operativi.
Ambiente
Temperatura di funzionamento: 0°C ~ 40°C
Temperatura di stoccaggio: -40°C ~ 70°C
Umidità di funzionamento: 10% ~ 90% senza condensa
Umidità di stoccaggio: 5% ~ 90% senza condensa
Premi

Silver award

Archer D2 has gained Silver award from Buycoms magazine

2015, Thailand
Iscriviti alla newsletter TP-Link prende la Privacy seriamente. Per maggiori informazioni sul trattamento dei tuoi dati consulta l'Informativa Privacy.
From United States?
Get products, events and services for your region.