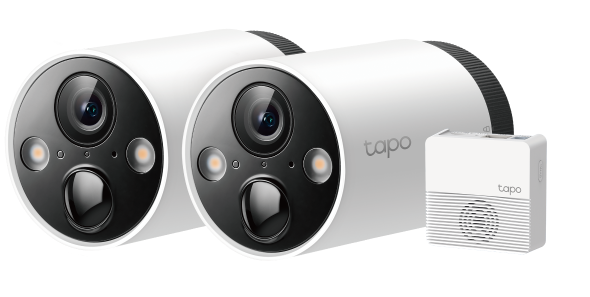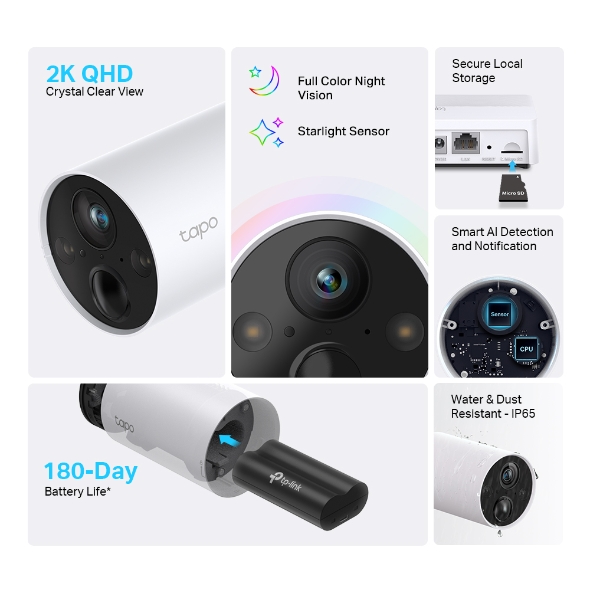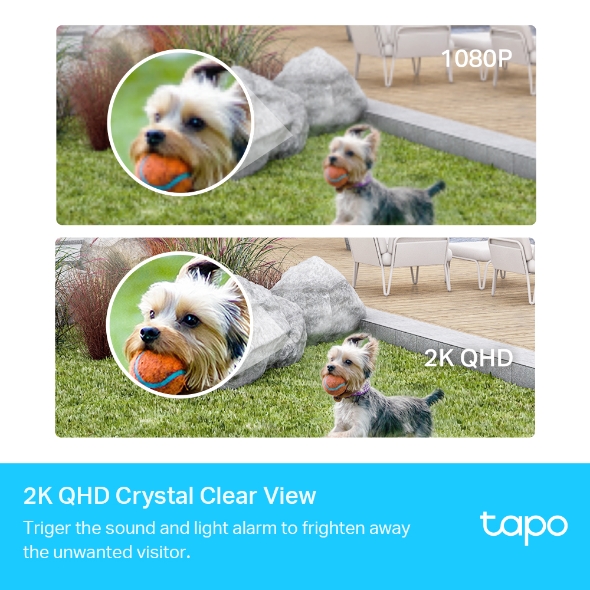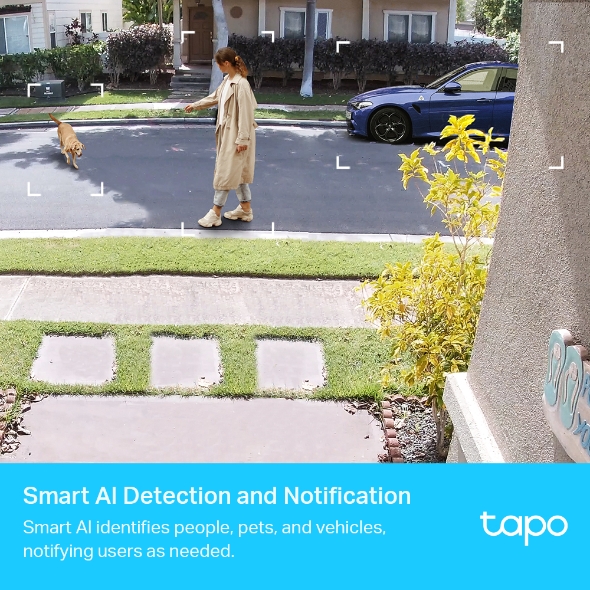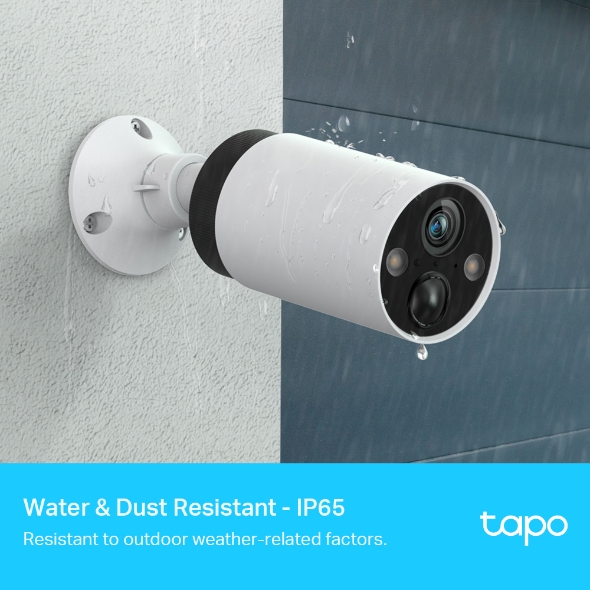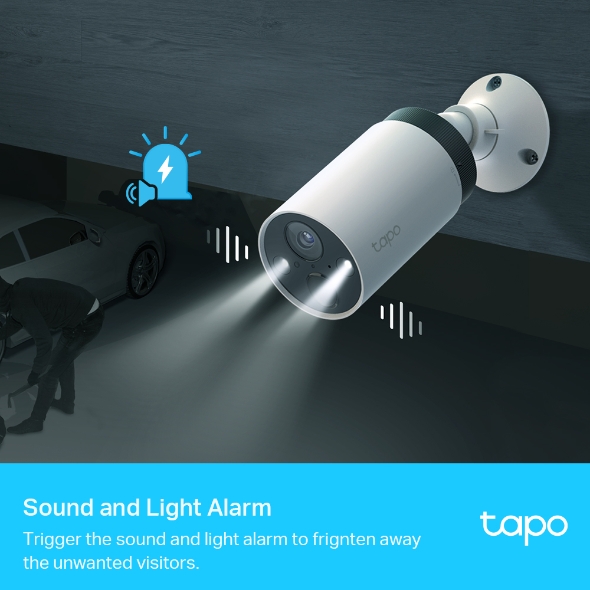 Telecamere Smart wire-free a batteria con storage hub
Sistema di Videosorveglianza Wire-Free - Il kit include 2 telecamere di sorveglianza Wi-Fi con batteria a lunga duarata e uno smart Hub H200. L'hub si connette alla rete locale tramite cavo LAN e si interfaccia con le telecamere tramite Wi-Fi 2.4Ghz e protocolli low power, permettendo di accedere allo storage locale su Micro SD.
Installazione flessibile - Le telecamere Tapo C420S2 non necessitano di cavo di alimentazione o di rete, questo significa che puoi posizionarle ovunque in ambienti interni e spazi esterni.
Batteria a lunga durata - Le telecamere sono dotate di batteria con protocollo low-power con durata fino a 180 giorni di utilizzo.*
Riprese video 2K QHD - Riprese nitide e cristalline con risoluzione 2560×1440px.
Full-Color Night Vision - Rivela dettagli e colori ad alta fedeltà anche di notte con lo starlight sensor.
Rilevamento Smart AI e notifiche - La tecnologia Smart AI identifica persone, animali domestici e automobili avvisandoti solo quando necessario.
Allarme acustico e luminoso - Attiva l'allarme quando viene rilevato un movimento sospetto.
Two-Way Audio - Comunica con chi si trova nell'are a sorvegliata grazie a microfono e speaker integrati.
Opzioni di storage flessibili - Salva i video dei rilevamenti nella MIcro SD Card fino a 256 GB installata nell'apposito hub, oppure sfrutta i vantaggi del servizio si storage cloud Tapo Care. † **
Protezione IP65 - Impermeabili e antipolvere per eccellenti prestazioni in scenari outdoor.
Smart. Sicuro. Intuitivo.
Telecamere di Sicurezza Smart
wire-free con batteria a lunga durata
Tapo C420S2
Fino a 180 giorni di autonomia*
Le telecamere del sistema Tapo C420S2 sono dotate di batteria rimovibile e ricaricabile per la massima flessibilità di installazione. I protocolli a bassa potenza consentono inoltre di prolungare notevolmente la durata della batteria.
*La durata della batteria fino a 180 giorni si basa su test di laboratorio relativi all'attivazione di 10-20 rilevazioni al giorno. La durata effettiva della batteria può variare in base alle impostazioni del dispositivo, all'utilizzo e a fattori ambientali.
Grande Apertura
Protocolli Low Power
Supportati
Starlight Sensor
Batteria Rimovibile
2K QHD
Full-Color Night Vision
Starlight Sensor
2K QHD Crystal Clear View
Now with 1.7 times more pixels than 1080p, providing clearer videos and more crisp photos.
Full-Color Night Vision
I faretti integrati permettono di catturare immagini a colori anche di notte.
Night Vision
Full-Color Night Vision
Starlight Sensor
Cattura immagini di alta qualità con colori vividi anche in condizioni di scarsa illuminazione.
Senza Starlight Sensor
Con
Starlight Sensor
Smart AI Detection e Notifiche
La tecnologia Smart AI identifica persone, animali e veicoli inviandoti notifiche solo se necessario.
Allarme sonoro e luminoso
Attiva l'allarme sonoro e luminoso per allontanare visitatori indesiderati e scoraggiare tentativi di intrusione.
Posizionamento flessibile

Puoi scegliere sia spazi Indoor che Outdoor.

Two-Way Audio

Comunica direttamente con chi si trova nell'area antistante la telecamera.

Activity Zone personalizzate

Rileva i movimenti solo nelle zone desiderate.

Storage locale

Salva i video nella Micro SD fino a 256GB inserita nell'Hub.

Storage Cloud

Spazio di archiviazione illimitato con Tapo Care.

Resistente a acqua e polvere

Resistente agli agenti atmosferici esterni.
Tapo App dedicata
Live view, playback, salvataggio clip e configurazione in una sola app.
Scarica Tapo App
Accendi la telecamera
Segui le istruzioni in-app
NETWORK
Wi-Fi Protocol
IEEE 802.11b/g/n, 2.4 GHz
Protocol
TCP/IP, ICMP, DNS, HTTPS, TCP, UDP
Frequency
2.4 GHz
Wireless Security
WPA/WPA2-PSK
ACTIVITY NOTIFICATIONS
Input Trigger
Motion detection, Persondetection, Pet detection, Vehicle detection.
Output Notification
Notification,Snapshot(Tapo care),Clips(Tapocare).
ENVIRONMENT
Operating Temperature
-20℃~45℃(-4°F ~113 °F )
Storage Temperature
-20℃~60℃ (-4°F~140°F)
Operating Humidity
10%~90%RH, Non-condensing
Storage Humidity
5%~90%RH, Non-condensing
PACKAGE CONTENTS
Package Contents
Tapo C420 Cameras (Battery Included) Tapo H200 Hub USB Adapter USB Adapter Cable DC Power Adapter Mounting Screws Mounting Templates Camera Brackets Quick Start Guide RJ45 Ethernet Cable
HARDWARE
Button
Camera Button: Reset/SYNC ButtonHub Button: Reset Button; SYNC Button
Indicator LED
Camera Indicator LED: System LEDHub Indicator LED: System LED
Adapter Input
Camera Adapter Input: 100-240V, 50/60HzHub Adapter Input: 100-240V, 50/60Hz, 0.3A
Adapter Output
Camera Adapter Output: 5.0V, 1.0AHub Adapter Output: 9.0V, 0.85A
Dimensions (W x D x H)
Camera Dimensions: 4.35 x 2.52 x 2.52in.(110.6*64.2*64.2mm)Hub Dimensions (L x W x H): 2.8 x 2.8 x 1.2 in.(71.45*71.45*31.25mm)
CAMERA
Sensore di immagine
1/3"
Risoluzione
2K QHD (2560 × 1440 px)
Lenti
F/NO: 1.61±10%; Focal Length: 3.18mm±5%
Angolo di ripresa
113°
Night Vision
850 nm IR LED up to 49 ft/15m
VIDEO/IMMAGINE
Codec video
H.264
Frame rate e risoluzioni
15/20 fps
Streaming video
2K QHD
AUDIO
Comunicazione audio
2-way audio
Audio Input & Output
Built-in microphone and speaker
* Durata della batteria fino a 180 giorni. La stima si basa su test di laboratorio attivando 10-20 rilevazioni al giorno. La durata effettiva della batteria può variare in base a impostazioni del dispositivo, condizioni di utilizzo e fattori ambientali.
† MicroSD Card non inclusa.
** https://www.tapo.com/en/tapocare/
Iscriviti alla newsletter TP-Link prende la Privacy seriamente. Per maggiori informazioni sul trattamento dei tuoi dati consulta l'Informativa Privacy.
From United States?
Get products, events and services for your region.