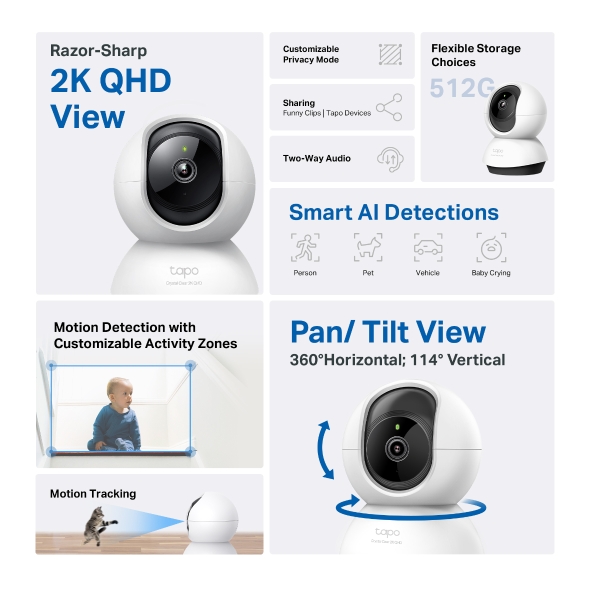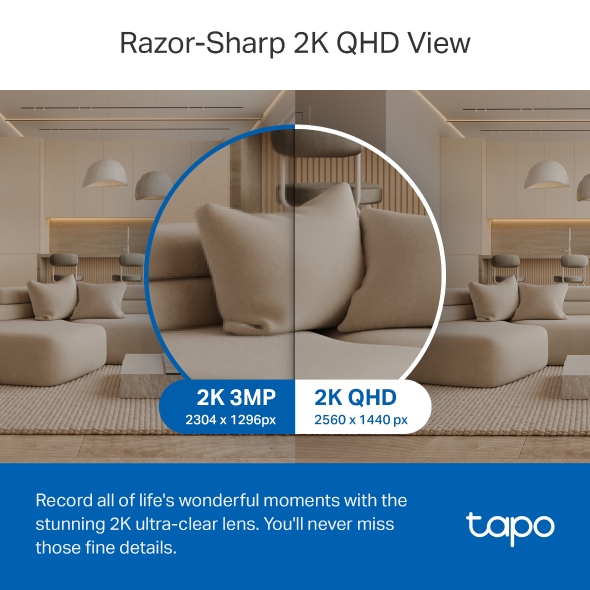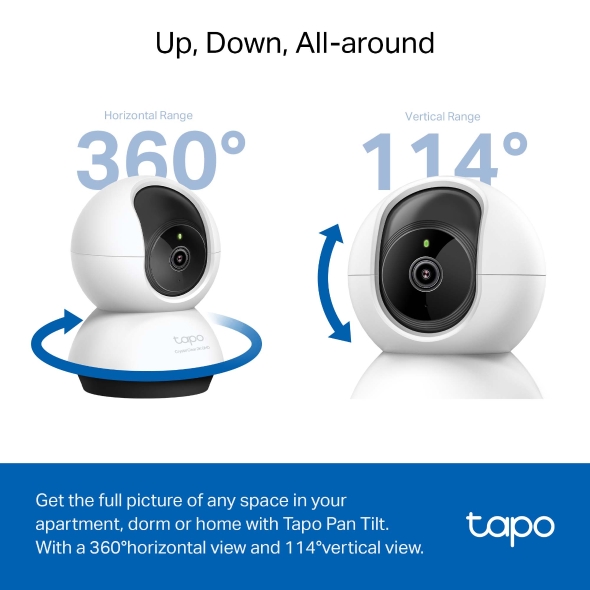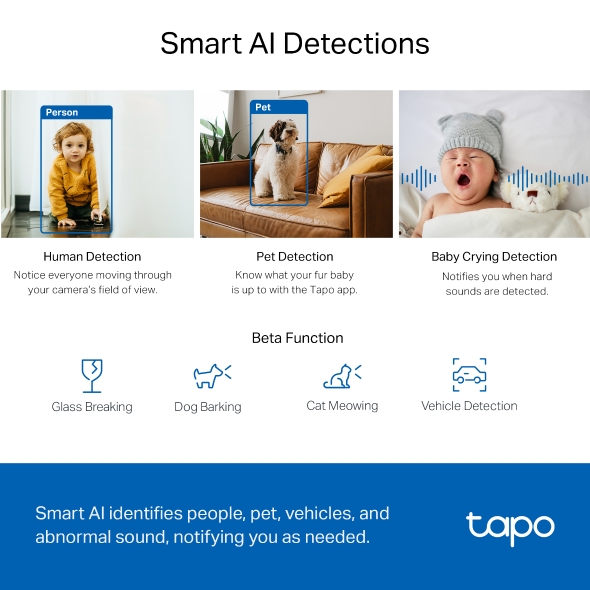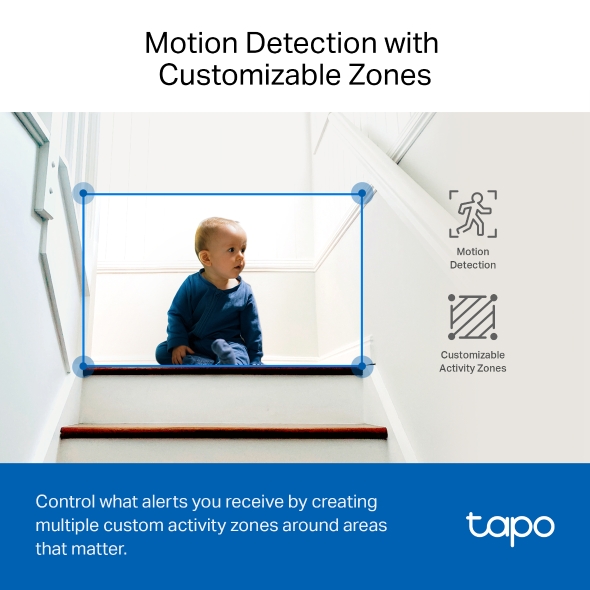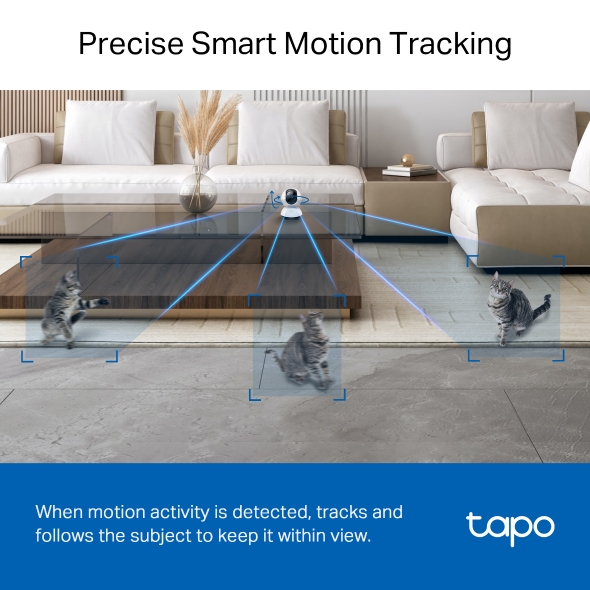 Tapo C220
Telecamera 2K Smart AI Wi-Fi Pan/Tilt Indoor
Videosorveglianza Indoor - Supporta Wi-Fi 2.4GHz e gestione tramite app Tapo.
Alta qualità video - Cattura video ricchi di dettagli con risoluzione 2K 4MP QHD.
Rotazione pan/tilt - Controlla ogni angolo della stanza grazie alla rotazione 360º orizzontale e 114º verticale.
Visione notturna - Osserva la scena con chiarezza fino a 9 metri anche in condizioni di scarsa luminosità.
Rilevamento e notifiche Smart AI - Sfrutta le tecnologie smart AI per effettuare un monitoraggio mirato e ricevere notifiche solo in caso di reale bisogno.
Allarme acustico e luminoso - Scoraggia eventuali visitatori indesiderati innescando l'allarme integrato.
Audio bi-direzionale - Comunica con chi si trova nell'area sorvegliata sfruttando speaker e microfono incorporati.
Opzioni di archiviazione - Storage locale su MicroSD card fino a 512 GB (non inclusa), o in Cloud con servizio TapoCare.
Smart. Sicuro. Semplice.
Un occhio sempre attento su ciò a cui tieni di più.
Telecamera 2K Smart AI Wi-Fi Pan/Tilt Indoor
Tapo C220
Qualità video 2K QHD
Sorveglia la casa con la massima precisione quando sei lontano e registra i tuoi momenti più belli in famiglia grazie a Tapo C220 con risoluzione 2K QHD 4MP.
Rilevazioni e Notifiche Smart AI
Tapo C220 supporta algoritmi Smart AI che consentono di identificare persone, animali o veicoli e riconoscere suoni anomali come, ad esempio, il pianto di un bambino, per inviarti notifiche solo quando necessario.
Persona

Rilevamento persone

Notifica la presenza di chiunque si stia muovendo all'interno dell'area sorvegliata.

Cucciolo

Rilevamento animali

Controlla cosa sta combinando il tuo amico a quattro zampe con l'intuitiva app Tapo.

Rilevamento suoni anomali

Notifica il verificarsi di suoni specifici come il pianto di un bambino.
Rilevazione movimento e notifiche
Crea zone di attività personalizzate
Tramite app Tapo è possiile impostare zone di attività personalizzate su cui focalizzare il monitoraggio video per ricevere alert e notifiche solo quando necessario.
Rilevazione movimento
Zone di attività personalizzate
Rotazione Pan/Tilt
Tieni d'occhio ogni angolo della stanza
L'hardware di Tapo C220 offre un'ampio raggio di visuale grazie alla rotazione 360° sull'asse orizzontale e 114° sull'asse verticale.
Smart Motion Tracking
Monitoraggio mirato
Tapo C220 è in grado di seguire soggetti in movimento attraverso la stanza o l'area sorvegliata.
Tapo Care ‡

microSD Card † (fino a 512 GB)
Opzioni di storage flessibili
Salva i video su microSD Card†(fino a 512 GB)o in Cloud con il servizio Tapo Care‡.
† MicroSD Card venduta separatamente.
‡ Il servizio Cloud Tapo Care è in abbonamento (prova gratuita per il primo mese).
Audio bidirezionale
Sfrutta il microfono e lo speaker integrati per comunicare con chi si trova nell'area sorvegliata.
Hey! Fai attenzione con quello!
Privacy Zone
Proteggi la tua privacy quando necessario
Evita che informazioni personali vengano divulgate impostando zone dell'area sorvegliata che non saranno incluse nelle registrazioni.
Filtra i tuoi spazi personali, come ad esempio il letto, e monitora solo le zone che necessitano di controllo come le porte di ingresso o le finestre.
Condivisione video
Registra i tuoi momenti migliori
Registra video dei tuoi momenti speciali con Tapo C220 e condividi i filmati con parenti e amici.
CAMERA
Sensore di immagine
1/3"
Risoluzione
2K 4MP QHD (2560 * 1440 px)
Lenti
Focal Length: 4.0mm±5%F/NO: 2.0±10%
Pan/Tilt Range
360° Horizontal114° Vertical
Night Vision
850nm IR LED Night Vision up to 30ft
VIDEO
Frame Rate
2560×1440@30fps
Video Compression
H.264
AUDIO
Comunicazione audio
Two-Way Audio
Audio Input & Output:
Built-in microphone and speaker
NETWORK
Sicurezza
128 bit AES encryption with SSL/TLS
Protocol
TCP/IP, DHCP, ICMP, DNS, NTP, HTTPS, TCP, UDP
Wireless Rate
11Mbps(802.11b)54Mbps(802.11g)72.2Mbps(802.11n)
Cloud
Supported
ONVIF
Supported
ACTIVITY NOTIFICATIONS
Input Trigger
Motion detection、Person detection、line Crossing detection、Tamper detection、Baby Crying Detection、Vehicle Detection、Pet Detection、Meow Detection、Bark Detection、Glass Detection
Output Notification
Notification,Snapshot(Tapo care)Clips(Tapo care)
ENVIRONMENT
Operating Temperature
0℃~40℃
Storage Temperature
-20℃~60℃
Operating Humidity
10%~90%RH, Non-condensing
Storage Humidity
5%~90%RH, Non-condensing
POWER
Camera input
3 Meter Power Cable
PACKAGE CONTENTS
Package Contents
Tapo Pan/Tilt Home Security Wi-Fi CameraPower AdapterQuick Start GuideMounting ScrewsMounting PlateCamera Base
HARDWARE
Button
Reset Button
Indicator LED
System LED
Adapter Input
100-240VAC, 50/60Hz, 0.3A
Adapter Output
9.0V/0.6A
Product Dimensions (W x D x H)
3.4 x 3.3 x 4.6 in. (86.6 x 85 x 117.7 mm)
From United States?
Get products, events and services for your region.