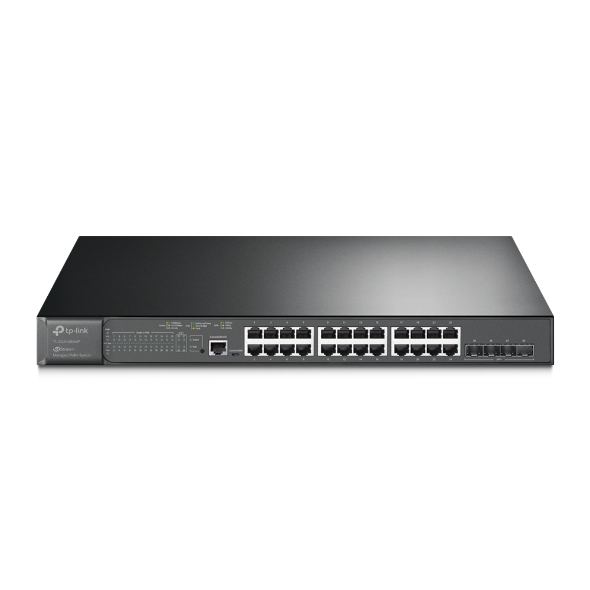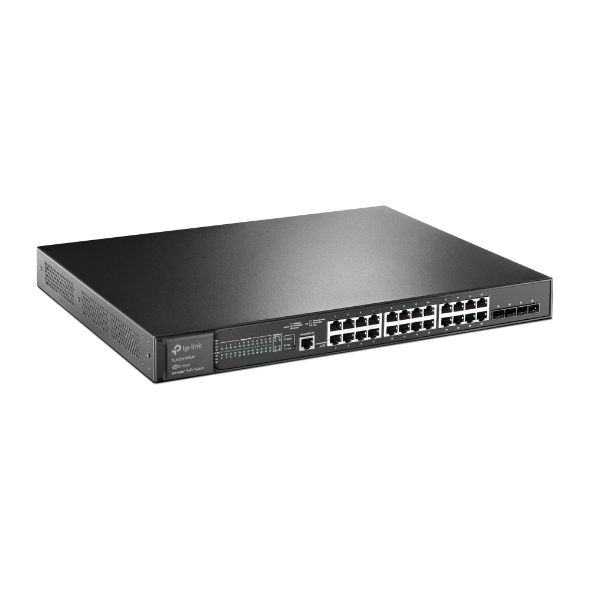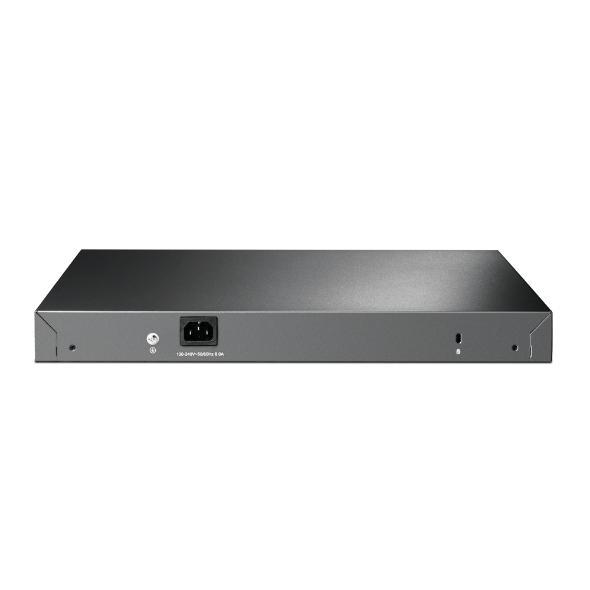 Switch Managed L2+ con 24 Porte Gigabit PoE+ e 4 slot SFP+ 10GE | JetStream by Omada
Uplink SFP 10 GE - 4 slot SFP+ 10Gbps per connessioni ad alta velocità.
Switch Gigabit - 24 porte Gigabit LAN PoE+.
Power Budget PoE 384W - Le 24 porte PoE+ supportano gli standard 802.3at/af con power budget totale di 384W, fino a 30W per singola porta.*
Static Routing - Il routing statico consente di ottimizzare le risorse di rete impostando percorsi di connessione interni predefiniti dall'amministratore.
Sicurezza avanzata - IP-MAC-Port Binding, ACL, Port Security, DoS Defend, Storm control, DHCP Snooping, 802.1X, Radius Authentication e molto altro.
Ottimizzazione video/voce: Con funzionalità L2/L3/L4 QoS e IGMP snooping.
Gestione intuitiva standalone - Modalità gestite WEB, CLI (Console Port, Telnet, SSH), SNMP, RMON e Dual Image.
Dispositivo integrato Omada SDN* - La nuova soluzione Omada Software Defined Networking consente di gestire le reti Omada con modalità Hybrid Cloud e Full-Cloud. Integra Access Point della serie EAP, Router VPN SafeStream e Switch JetStream by Omada.
App Omada - L'intuitiva app Omada, per dispositivi Android e iOS, consente di accedere da remoto alla rete tramite Cloud, in qualunque momento, ovunque ti trovi.

Software Defined Networking
Switch Managed con uplink SFP+ 10G e 24 porte PoE+ per network di livello enterprise
TL-SG3428XMP
Uplink SFP+ 10G

Velocità senza paragoni per attività ad alta intensità di banda

Supporto PoE+

24× Porte Gigabit PoE+ con power budget totale 384W*

Gestione Centralizzata

Dispositivo integrato nella soluzione Cloud Omada SDN

Funzionalità L2+

Static Routing, IGMP Snooping, 802.1Q VLAN e molto altro
Switch Managed con uplink 10G
I 4 slot SFP+ 10G garantiscono performance di switching senza paragoni, ideali per connettere in modo performante e stabile dispositivi come server e altri switch di rete.
24 Porte PoE+
per diversi tipi di scenario
La tecnologia PoE+ 802.3af/at, con power budget totale 384W, consente alle 24 porte Gigabit di fornire alimentazione e traffico dati su un singolo cavo di rete, gaarntendo la massima flessibilità di installazione e scalabilità del network in numerosi scenari applicativi.*
Telecamere IP
Telefoni IP
Access Point
TL-SG3428XMP
Router
Internet
24× Porte Gigabit PoE+ fino a 30 W per porta Power Budget Totale 384W
Omada SDN - Software Defined Networking con gestione Cloud
Omada SDN è la soluzione Software Defined di TP-Link che offre soluzioni wireless e cablate ideali per strutture alberghiere e sanitarie, edifici scolastici, aziende, spazi pubblici e molto altro. Omada SDN integra una gamma completa di dispositivi - Access Point, Switch, Gateway e Hardware Controller - in una soluzione altamente scalabile con gestione Full-Cloud e Hybrid-Cloud.
Wi-Fi 6
Indoort
Wall Plate
Outdoor
Piattaforma di gestione unificata
Cloud
Gestione Full-Cloud o
Hybrid-Cloud

Gestione Cloud
Multi-sito

Zero-Touch
Provisioning (ZTP)**
Funzionalità avanzate L3
Numerose funzionalità avanzate L2+ e L3 consentono di creare reti stabili, sicure e altamente scalabili, ideali per applicazioni di livello enterprise.***
Impostazioni di sicurezza
TL-SG3428XMP è dotato di numerosi impostazioni di sicurezza per difendere il network dai pericoli della rete. Tra le funzioni disponibili troviamo IP-MAC-Port-VID Binding, Port Security, Storm Control e DHCP Snooping, ma il dispositivo integra anche una lista degli attacchi DoS più comuni e difusi, per poterli prevenire più rapidamente. Inoltre la funzionalità Access Control Lists (ACL, da L2 a L4) limita l'accesso alle risorse sensibili del network rifiutando pacchetti basati su sorgente/destinazione, come indirizzo MAC, indirizzo IP, porte TCP/UDP oppure VLAN ID. L'accesso degli utenti alla rete può essere controllato tramite autenticazione 802.1X, che lavora in sinergia con un server RADIUS/Tacacs+ per garantire l'accesso agli utenti con credenziali valide.
Funzionalità di livello Enterprise
Il dispositivo supporta una gamma completa di funzionalità Layer 2, tra cui 802.1Q VLAN, Port Mirroring, STP/RSTP/MSTP, Link Aggregation Control Protocol e 802.3x Flow Control. IGMP Snooping consente al dispositivo di instradare in modo intelligente gli stream multicast, ottimizzando la distribuzione del traffico, mentre l'IGMP throttling e filtering limitano l'azione di ogni utente su una singola porta per prevenire accessi multicast non autorizzati. La funzionalità Static Routing consente di segmentare la rete impostando percorsi di trasmissione predefiniti dall'amministratore, ottimizzando le risorse del network.
QoS avanzato
Le applicazioni possono essere prioritizzate tramite indirizzo IP, indirizzo MAC, numero di porta TCP o UDP e molto altro. Grazie al QoS (Quality of Service), applicazioni tempo-sensibili come video e voce sono sempre fluide e prive di interruzioni, anche in presenza di scarsa disponibilità di banda.
Funzionalità ISP***
Il dispositivo è dotato di funzionalità di autenticazione sFlow, QinQ, L2PT PPPoE ID Insertion, e IGMP, sviluppate per incontrare le esigenze dei Service Provider. 802.3ah OAM e Device Link Detection Protocol (DLDP) consentono di effettuare operazioni di monitoraggio e troubleshooting dei link Ethernet.
Supporto IPv6
Lo Switch è dotato di funzionalità IPv6 d'avanguardia come Dual IPv4/IPv6 Stack, MLD Snooping, IPv6 ACL, DHCPv6 Snooping, IPv6 Interface, Path Maximum Transmission Unit (PMTU) Discovery e IPv6 Neighbor Discover. La tua rete sarà già pronta per la Next Generation Network (NGN) senza bisogno di hardware upgrade.
Switch per Sorveglianza

La gamma Jetstream di TP-Link comprende numerosi modelli PoE ideali per la creazione di infrastrutture di rete e per l'implementazione di sistemi di videosorveglianza, per un network scalabile e flessibile in grado di crescere in base alle esigenze del tuo business.

Trasmissione PoE a lunga distanza
Auto Camera Recovery
Sicurezza avanzata del Network

Switch Reti Business

La gamma Switch JetStream di TP-Link comprende numerosi modelli ideali per la creazione di reti professionali flessibili e scalabili, in grado di supportare le attività aziendali e crescere insieme alle esigenze del tuo business.

Switch per reti cablate ad alta velocità
Gestione intuitiva e costi contenuti
Funzionalità di sicurezza avanzate
Sim Lim Square

Singapore's largest IT and electronics shopping mall, Sim Lim Square, deploys TP-Link Auranet Indoor Wi-Fi solution

Sim Lim Square

Singapore's largest IT and electronics shopping mall, Sim Lim Square, deploys TP-Link Auranet Indoor Wi-Fi solution

"Our customer satisfaction levels have been greatly improved since we started offering free public Wi-Fi throughout the entire mall. For that alone, the solution TP-Link provided was the best choice." —Sean Chia, Head of Advertising & Promotions, Sim Lim Square.
CARATTERISTICHE HARDWARE
Interfaccia
• 24× 10/100/1000 Mbps RJ45 Ports• 4× 10G SFP+ Slots• 1× RJ45 Console Port• 1× Micro-USB Console Port
Numero ventole
2
Alimentazione
100-240 V AC~50/60 Hz
Porte PoE+
• Standard: 802.3at/af compliant
• PoE+ Ports: 24 Ports, up to 30 W per port
• Power Budget: 384 W
Dimensioni ( L x P x A )
17.3 × 13.0 × 1.7 in (440 × 330 × 44 mm)
Tipo di montaggio
Rack Mountable
Max Power Consumption
34.4 W (110V/60Hz) ( no PD device connected)465.8 W (110V/60Hz) ( with 384 W PD device connected)
Max Heat Dissipation
117.38 BTU/h (110 V/60 Hz) (no PD device connected)1589.31 BTU/h (110 V/60 Hz) (with 384 W PD device connected)
PRESTAZIONI
Capacità di switching
128 Gbps
Packet Forwarding Rate
95.23 Mpps
Tabella ARP
16 K
Jumbo frame
9 KB
CARATTERISTICHE SOFTWARE
QoS (Quality of Service)
• 8 priority queues
• 802.1p CoS/DSCP priority
• Queue scheduling
- SP (Strict Priority)
- WRR (Weighted Round Robin)
- SP+WRR
• Bandwidth Control
- Port/Flow based Rating Limiting
• Smoother Performance
• Action for Flows
- Mirror (to supported interface)
- Redirect (to supported interface)
- Rate Limit
- QoS Remark
Funzionalità L2 e L2+
• Link Aggregation - static link aggregation - 802.3ad LACP - Up to 8 aggregation groups, containing 8 ports per group• Spanning Tree Protocol - 802.1d STP - 802.1w RSTP - 802.1s MSTP - STP Security: TC Protect, BPDU Filter, Root Protect• Loopback Detection - Port based - VLAN based• Flow Control - 802.3x Flow Control - HOL Blocking Prevention• Mirroring - Port Mirroring - CPU Mirroring - One-to-One - Many-to-One - Tx/Rx/Both
L2 Multicast
• IGMP Snooping - IGMP v1/v2/v3 Snooping - Fast Leave - IGMP Snooping Querier - IGMP Authentication• IGMP Authentication• MLD Snooping - MLD v1/v2 Snooping - Fast Leave - MLD Snooping Querier - Static Group Config - Limited IP Multicast• MVR• Multicast Filtering: 256 profiles and 16 entries per profile
VLAN
• VLAN Group - Max 4K VLAN Groups• 802.1Q Tagged VLAN• MAC VLAN: 7 Entries• Protocol VLAN: Protocol Template 16, Protocol VLAN 16• Private VLAN• GVRP• VLAN VPN (QinQ) - Port-Based QinQ - Selective QinQ• Voice VLAN
ACL (Access Control List)
• Time-based ACL• MAC ACL - Source MAC - Destination MAC - VLAN ID - User Priority - Ether Type• IP ACL -Source IP - Destination IP - Fragment - IP Protocol - TCP Flag - TCP/UDP Port - DSCP/IP TOS - User Priority• Combined ACL• Packet Content ACL• IPv6 ACL• Policy - Mirroring - Redirect - Rate Limit - QoS Remark• ACL apply to Port/VLAN
Sicurezza
• IP-MAC-Port Binding
- 512 Entries
- DHCP Snooping
- ARP Inspection
- IPv4 Source Guard: 100 Entries
• IPv6-MAC-Port Binding
- 512 Entries
- DHCPv6 Snooping
- ND Detection
- IPv6 Source Guard: 100 Entries
• DoS Defend
• Static/Dynamic Port Security
- Up to 64 MAC addresses per port
• Broadcast/Multicast/Unicast Storm Control
- kbps/ratio control mode
• 802.1X
- Port base authentication
- Mac base authentication
- VLAN Assignment
- MAB
- Guest VLAN
- Support Radius authentication andaccountability
• AAA (including TACACS+)
• Port Isolation
• Secure web management through HTTPS with SSLv3/TLS 1.2
• Secure Command Line Interface (CLI) management with SSHv1/SSHv2
• IP/Port/MAC based access control
IPv6
• IPv6 Dual IPv4/IPv6
• Multicast Listener Discovery (MLD) Snooping
• IPv6 ACL
• IPv6 Interface
• Static IPv6 Routing
• IPv6 neighbor discovery (ND)
• Path maximum transmission unit (MTU) discovery
• Internet Control Message Protocol (ICMP) version 6
• TCPv6/UDPv6
• IPv6 applications
- DHCPv6 Client
- Ping6
- Tracert6
- Telnet (v6)
- IPv6 SNMP
- IPv6 SSH
- IPv6 SSL
- Http/Https
- IPv6 TFTP
Caratteristiche L3
• 16 IPv4/IPv6 Interfaces• Static Routing - 48 static routes• Static ARP - 128 Static Entries• Proxy ARP• Gratuitous ARP• DHCP Server • DHCP Relay - DHCP Interface Relay - DHCP VLAN Relay• DHCP L2 Relay
Gestione
• Web-based GUI• Command Line Interface (CLI) through the console port, telnet• SNMP v1/v2c/v3 - Trap/Inform - RMON (1,2,3,9 groups)• SDM Template• DHCP/BOOTP Client• 802.1ab LLDP/LLDP-MED• DHCP AutoInstall• Dual Image, Dual Configuration• CPU Monitoring• Cable Diagnostics• EEE• Password Recovery• SNTP• System Log
Caratteristiche avanzate
• Support Omada Hardware Controller (OC200/OC300), Software Controller, Cloud-Based Controller• Automatic Device Discovery• Batch Configuration• Batch Firmware Upgrading• Intelligent Network Monitoring• Abnormal Event Warnings• Unified Configuration• Reboot Schedule• ZTP (Zero-Touch Provisioning)**
MIBs
• MIB II (RFC1213)• Interface MIB (RFC2233)• Ethernet Interface MIB (RFC1643)• Bridge MIB (RFC1493)• P/Q-Bridge MIB (RFC2674)• RMON MIB (RFC2819)• RMON2 MIB (RFC2021)• Radius Accounting Client MIB (RFC2620)• Radius Authentication Client MIB (RFC2618)• Remote Ping, Traceroute MIB (RFC2925)• Support TP-Link private MIB
ALTRO
Certificazione
CE, FCC, RoHS
Contenuto della confezione
• TL-SG3428XMP Switch• Power Cord• Quick Installation Guide• Rackmount Kit• Rubber Feet
Ambiente
• Operating Temperature: 0–45 ℃ (32–113 ℉);• Storage Temperature: -40–70 ℃ (-40–158 ℉)• Operating Humidity: 10–90% RH non-condensing• Storage Humidity: 5–90% RH non-condensing
* Il calcolo del Power Budget PoEsi basa su test di laboratorio. Le prestazioni possono variare in base a limitazioni dei client e fattori ambientali.
* Verifica a questo link le funzionalità switch disponibili con Omada SDN.
Iscriviti alla newsletter TP-Link prende la Privacy seriamente. Per maggiori informazioni sul trattamento dei tuoi dati consulta l'Informativa Privacy.
From United States?
Get products, events and services for your region.