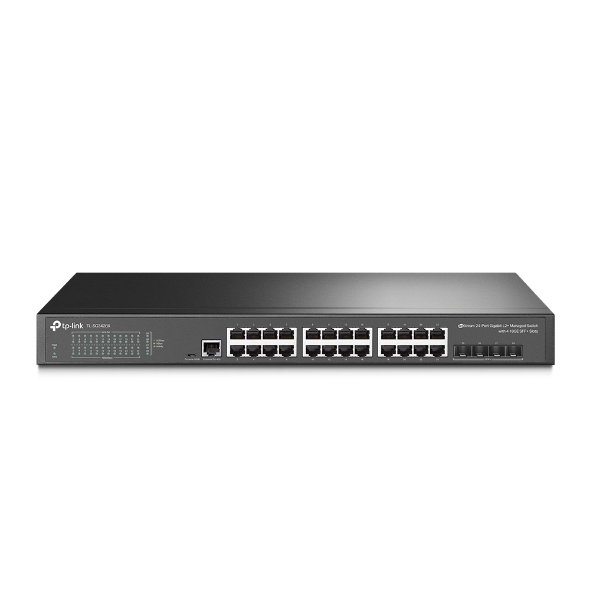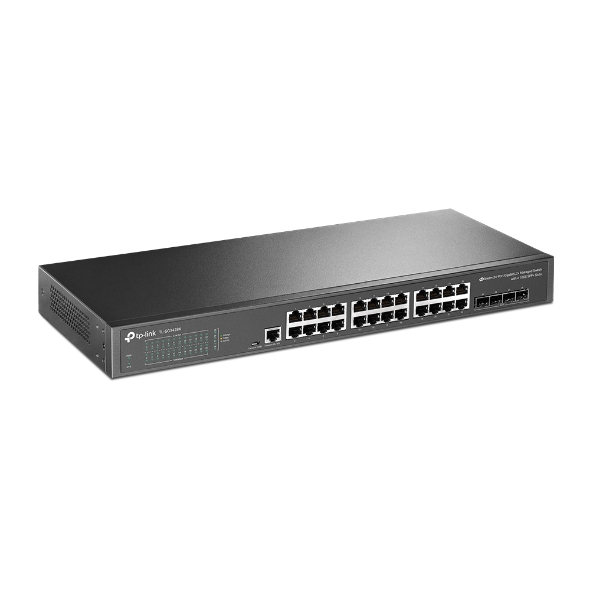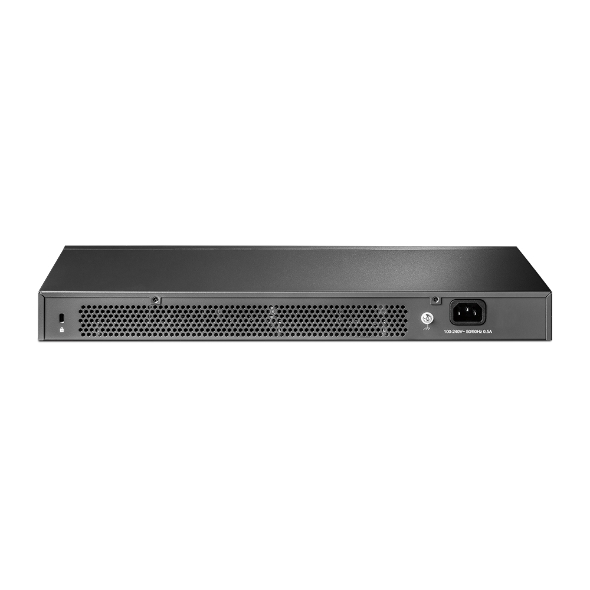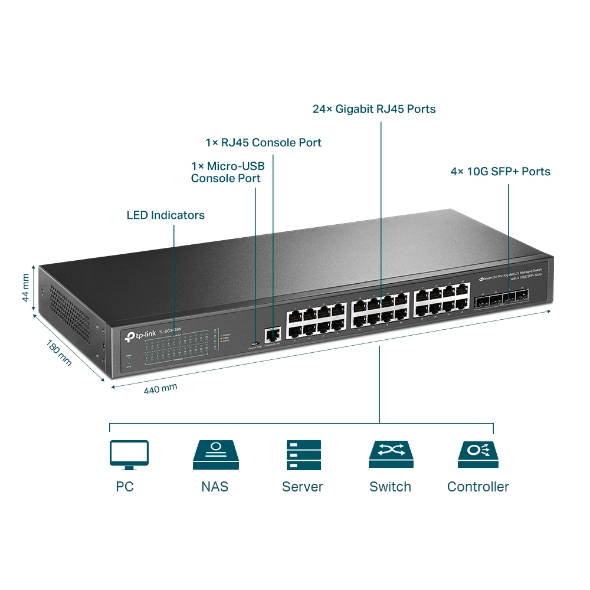 JetStream 24-Port Gigabit L2+ Menedzselhető switch 4 x 10GE SFP+ Slottal
10G Uplink: 4× 10 Gbps SFP+ slot.
Gigabit Sebesség: 24× gigabit RJ45 port.
Omada SDN integráció : Zero-Touch Provisioning (ZTP)*, Centralized Cloud Management.
Központi Management: Cloud access és Omada app elérés.
Static Routing: Statikus route tábla támogatás.
Bizontság: IP-MAC-Port Binding, ACL, Port Security, DoS Defend, Storm control, DHCP Snooping, 802.1X, Radius Authentication.
Voice és Video Applikációk támogatása: L2/L3/L4 QoS and IGMP snooping.
Management: Web, CLI (Console Port, Telnet, SSH), SNMP, RMON, és Dual Image támogatás.

Központosított menedzsment
10G uplink menedzselt switch a teljes
Omada hálózathoz
TL-SG3428X
10G villámgyors uplink kapcsolat

4 × 10 Gbps SFP+ slot a nagy sávszélességű csatlakozáshoz

Gigabites kapcsolat

A 24× Gigabit Ethernet portok megbízható kapcsolatokat kínálnak

Központosított felhőkezelés

SDN megoldások integrációja a rendkívül hatékony hálózatért

Speciális L2+ funkciók

Statikus routing, IGMP Snooping, 802.1Q VLAN és még sok más
Vállalati kapcsoló 10G Uplink kapcsolattal
A 4×10 Gb/s SFP+ bővítőhelyek nem blokkoló kapcsolási teljesítményt és rendkívül alacsony késleltetést biztosítanak, így megbízható és villámgyors kapcsolatok épülhetnek ki a szerverrel és más switchekkel.
Szoftver által meghatározott hálózat (SDN) felhőalapú hozzáféréssel
Az Omada Software Defined Networking (SDN) platformja integrálja a hálózati eszközöket, beleértve a hozzáférési pontokat, switch-eket és gateway-eket, 100%-ban központi felhőkezelést biztosítva. Az Omada egy rendkívül méretezhető hálózatot hoz létre – mindezt egyetlen interfészről irányítják. Zökkenőmentes vezeték nélküli és vezetékes kapcsolatok állnak rendelkezésre, amelyek ideálisak vendéglátásban, oktatásban, kiskereskedelemben, irodákban stb.
Wi-Fi 6
Plafonra szerelhető
Fali
Szabadtéri
Egységes kezelőfelület
Felhő
Problémamentes felhő- vagy
helyszíni vezérlők

Több webhelyes
felhőkezelés

Zero-Touch
Provisioning (ZTP)*
Speciális L3-funkciók**
Számos L2+ és L3 szolgáltatást támogat, hogy segítsen felépíteni egy rendkívül méretezhető és robusztus hálózatot, amely megbízható és hatékony megoldást jelent a vállalatok, egyetemek és internetszolgáltatók számára.
Biztonságos hálózat
A biztonsági funkciók közé tartozik az IP-MAC-Port-VID kötés, a portbiztonság, a Storm Control és a DHCP Snooping, hogy megvédje magát egy sor hálózati fenyegetés ellen. Elérhető a gyakori DoS-támadások integrált listája, így minden eddiginél egyszerűbb megelőzni őket. Ezenkívül a Hozzáférés-vezérlési listák (ACL, L2–L4) szolgáltatás korlátozza az érzékeny hálózati erőforrásokhoz való hozzáférést azáltal, hogy letiltja a csomagokat a forrás és a cél MAC-címe, IP-címe, TCP/UDP-portjai vagy VLAN-azonosítója alapján. A felhasználók hálózati hozzáférése 802.1X hitelesítéssel vezérelhető, amely egy RADIUS/Tacacs+ szerverrel működik, így csak érvényes felhasználói hitelesítési adatok megadása esetén biztosít hozzáférést.
Vállalati szintű szolgáltatások
Az L2+ szolgáltatások teljes választéka támogatott, beleértve a 802.1Q VLAN-t, a porttükrözést, az STP/RSTP/MSTP-t, a Link Aggregation Control Protocolt és a 802.3x Flow Controlt. A továbbfejlesztett IGMP Snooping biztosítja, hogy a switch intelligensen továbbítsa a multicast adatfolyamokat csak a megfelelő előfizetőknek, kiiktatva a szükségtelen forgalmat, míg az IGMP-szabályozás és szűrés minden egyes előfizetőt port szinten korlátoz, hogy megakadályozza a jogosulatlan multicast hozzáférést. A statikus útválasztás a hálózat szegmentálásának egyszerű módja, és a forgalom belső irányítása a switchen keresztül a hatékonyság növelése érdekében.
Fejlett QoS
A hang- és videoforgalom prioritást adhat IP-cím, MAC-cím, TCP-portszám, UDP-portszám stb. alapján. A QoS (Quality of Service) révén a hang- és videoszolgáltatások zökkenőmentesek maradnak, még akkor is, ha a sávszélesség szűkös.
ISP jellemzők**
Az sFlow, a QinQ, az L2PT PPPoE ID beillesztés és az IGMP hitelesítési funkciókat a szolgáltatók szem előtt tartásával fejlesztették ki. A 802.3ah OAM és a Device Link Detection Protocol (DLDP) az Ethernet kapcsolatok egyszerű megfigyelését és hibaelhárítását kínálja.
IPv6 támogatás
Az olyan IPv6-funkciók, mint a Dual IPv4/IPv6 Stack, MLD Snooping, IPv6 ACL, DHCPv6 Snooping, IPv6 Interface, Path Maximum Transmission Unit (PMTU) Discovery és IPv6 Neighbor Discover garantálják, hogy hálózata készen áll a következő generációs hálózatra (NGN) anélkül, hogy frissítené hardver.
Hardver jellemzők
Csatlakozások
• 24× 10/100/1000 Mbps RJ45 Ports• 4× 10G SFP+ Slots• 1× RJ45 Console Port• 1× Micro-USB Console Port
Ventilátorok száma
Fanless
Hálózati tápegység
100-240 V AC~50/60 Hz
Méretek (Sz x Mé x Ma)
17.3 × 7.1 × 1.7 in (440 × 180 × 44 mm)
Felszerelés
Rack Mountable
Max. áramfelvétel
23.6 W (110V/60Hz)
Max Heat Dissipation
80.353 BTU/h (110 V/60 Hz)
Működési jellemzők
Switching teljesítmény
128 Gbps
Csomagtovábbítási sebesség
95.23 Mpps
Fizikai (MAC) cím tábla
16 K
Jumbo Frame
9 KB
Szoftver jellemzők
QoS (szolgáltatás minősége)
• 8 priority queues• 802.1p CoS/DSCP priority• Queue scheduling - SP (Strict Priority) - WRR (Weighted Round Robin) - SP+WRR• Bandwidth Control - Port/Flow based Rating Limiting• Smoother Performance• Action for Flows - Mirror (to supported interface) - Redirect (to supported interface) - Rate Limit - QoS Remark
L2 és L2+ jellemzők
• Link Aggregation - static link aggregation - 802.3ad LACP - Up to 8 aggregation groups, containing 8 ports per group• Spanning Tree Protocol - 802.1d STP - 802.1w RSTP - 802.1s MSTP - STP Security: TC Protect, BPDU Filter, Root Protect• Loopback Detection - Port based - VLAN based• Flow Control - 802.3x Flow Control - HOL Blocking Prevention• Mirroring - Port Mirroring - CPU Mirroring - One-to-One - Many-to-One - Tx/Rx/Both
L2 Multicast
• IGMP Snooping - IGMP v1/v2/v3 Snooping - Fast Leave - IGMP Snooping Querier - IGMP Authentication• IGMP Authentication• MLD Snooping - MLD v1/v2 Snooping - Fast Leave - MLD Snooping Querier - Static Group Config - Limited IP Multicast• MVR• Multicast Filtering: 256 profiles and 16 entries per profile
VLAN
• VLAN Group - Max 4K VLAN Groups• 802.1Q Tagged VLAN• MAC VLAN: 7 Entries• Protocol VLAN: Protocol Template 16, Protocol VLAN 16• Private VLAN• GVRP• VLAN VPN (QinQ) - Port-Based QinQ - Selective QinQ• Voice VLAN
Hozzáférés-jogosultsági lista (ACL)
• Time-based ACL• MAC ACL - Source MAC - Destination MAC - VLAN ID - User Priority - Ether Type• IP ACL -Source IP - Destination IP - Fragment - IP Protocol - TCP Flag - TCP/UDP Port - DSCP/IP TOS - User Priority• Combined ACL• Packet Content ACL• IPv6 ACL• Policy - Mirroring - Redirect - Rate Limit - QoS Remark• ACL apply to Port/VLAN
Biztonság
• IP-MAC-Port Binding - 512 Entries - DHCP Snooping - ARP Inspection - IPv4 Source Guard: 100 Entries• IPv6-MAC-Port Binding - 512 Entries - DHCPv6 Snooping - ND Detection - IPv6 Source Guard: 100 Entries• DoS Defend• Static/Dynamic Port Security - Up to 64 MAC addresses per port• Broadcast/Multicast/Unicast Storm Control - kbps/ratio control mode• 802.1X - Port base authentication - Mac base authentication - VLAN Assignment - MAB - Guest VLAN - Support Radius authentication andaccountability• AAA (including TACACS+)• Port Isolation• Secure web management through HTTPS with SSLv3/TLS 1.2• Secure Command Line Interface (CLI) management with SSHv1/SSHv2• IP/Port/MAC based access control
IPv6
• IPv6 Dual IPv4/IPv6• Multicast Listener Discovery (MLD) Snooping• IPv6 ACL• IPv6 Interface• Static IPv6 Routing• IPv6 neighbor discovery (ND)• Path maximum transmission unit (MTU) discovery• Internet Control Message Protocol (ICMP) version 6• TCPv6/UDPv6• IPv6 applications - DHCPv6 Client - Ping6 - Tracert6 - Telnet (v6) - IPv6 SNMP - IPv6 SSH - IPv6 SSL - Http/Https - IPv6 TFTP
L3 jellemzők
• 16 IPv4/IPv6 Interfaces• Static Routing - 48 static routes• Static ARP - 128 Static Entries• Proxy ARP• Gratuitous ARP• DHCP Server • DHCP Relay - DHCP Interface Relay - DHCP VLAN Relay• DHCP L2 Relay
Vezérlés
• Web-based GUI• Command Line Interface (CLI) through the console port, telnet• SNMP v1/v2c/v3 - Trap/Inform - RMON (1,2,3,9 groups)• SDM Template• DHCP/BOOTP Client• 802.1ab LLDP/LLDP-MED• DHCP AutoInstall• Dual Image, Dual Configuration• CPU Monitoring• Cable Diagnostics• EEE• Password Recovery• SNTP• System Log
További jellemzők
• Support Omada Hardware Controller (OC200/OC300), Software Controller, Cloud-Based Controller• Automatic Device Discovery• Batch Configuration• Batch Firmware Upgrading• Intelligent Network Monitoring• Abnormal Event Warnings• Unified Configuration• Reboot Schedule• ZTP (Zero-Touch Provisioning)*
MIBs
• MIB II (RFC1213)• Interface MIB (RFC2233)• Ethernet Interface MIB (RFC1643)• Bridge MIB (RFC1493)• P/Q-Bridge MIB (RFC2674)• RMON MIB (RFC2819)• RMON2 MIB (RFC2021)• Radius Accounting Client MIB (RFC2620)• Radius Authentication Client MIB (RFC2618)• Remote Ping, Traceroute MIB (RFC2925)• Support TP-Link private MIB
Egyéb jellemzők
Tanúsítványok
CE, FCC, RoHS
Csomagolás tartalma
• TL-SG3428X Switch• Power Cord• Quick Installation Guide• Rackmount Kit• Rubber Feet
Környezet
• Operating Temperature: 0–45 ℃ (32–113 ℉);• Storage Temperature: -40–70 ℃ (-40–158 ℉)• Operating Humidity: 10–90% RH non-condensing• Storage Humidity: 5–90% RH non-condensing
*A Zero-Touch kiépítéshez az Omada felhőalapú vezérlő használata szükséges. Kérjük, lépjen az Omada felhőalapú vezérlő terméklistájára, hogy megtalálja az Omada felhőalapú vezérlő által támogatott összes modellt.
**Az L3 és az ISP szolgáltatások csak önálló módban konfigurálhatók.
From United States?
Get products, events and services for your region.