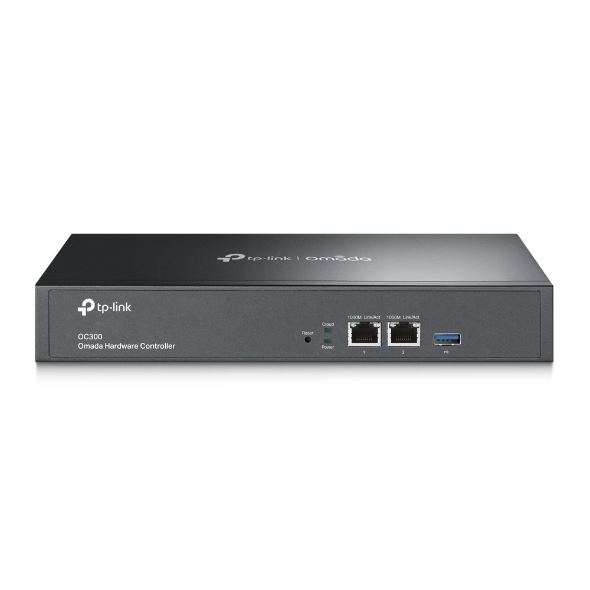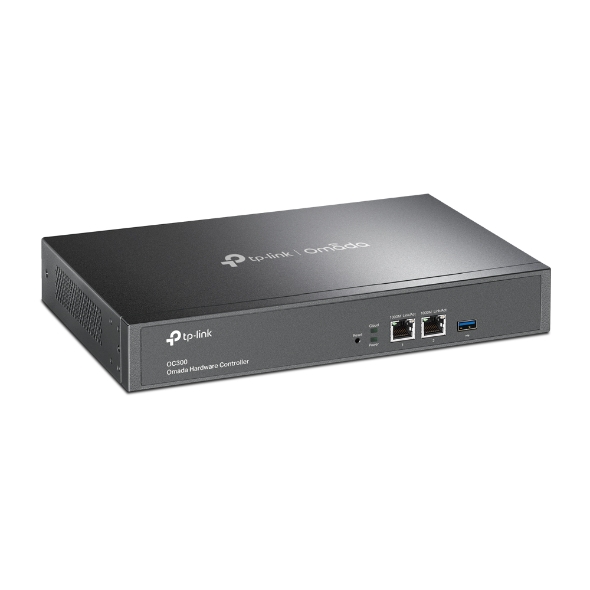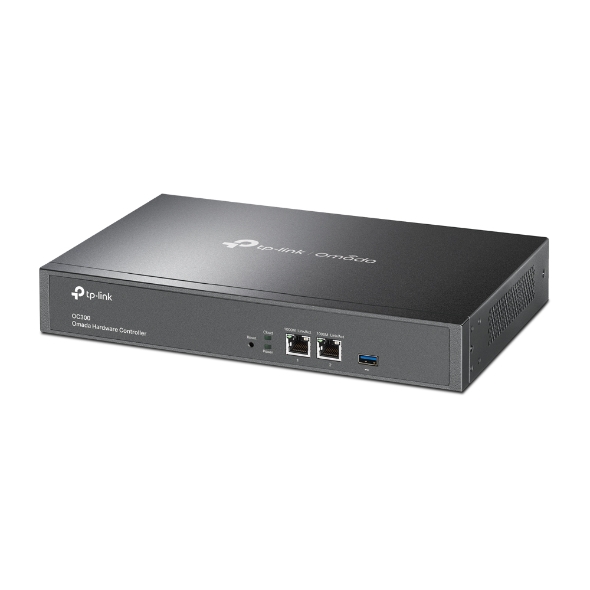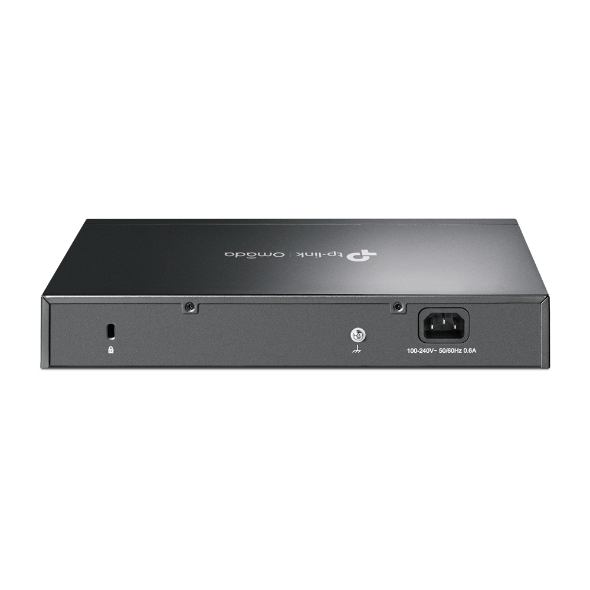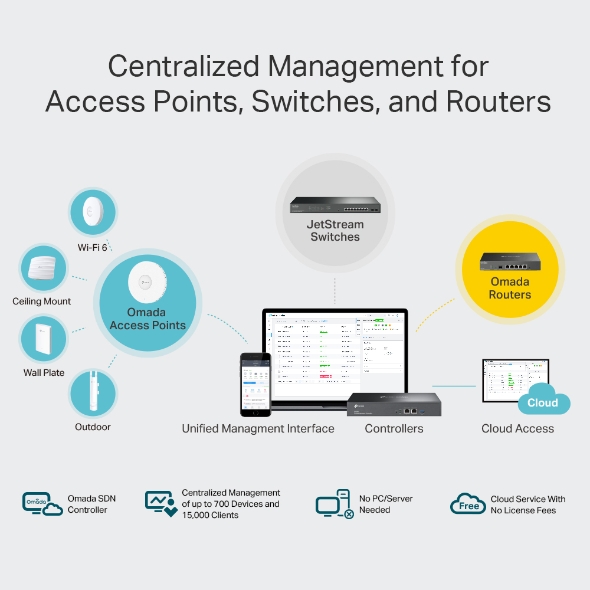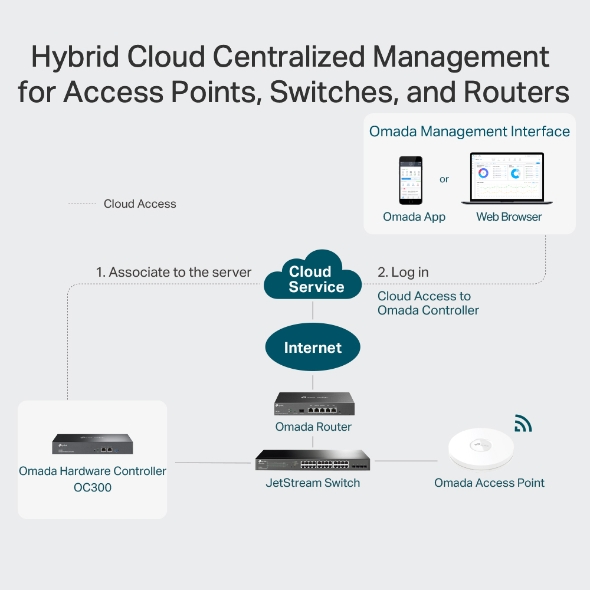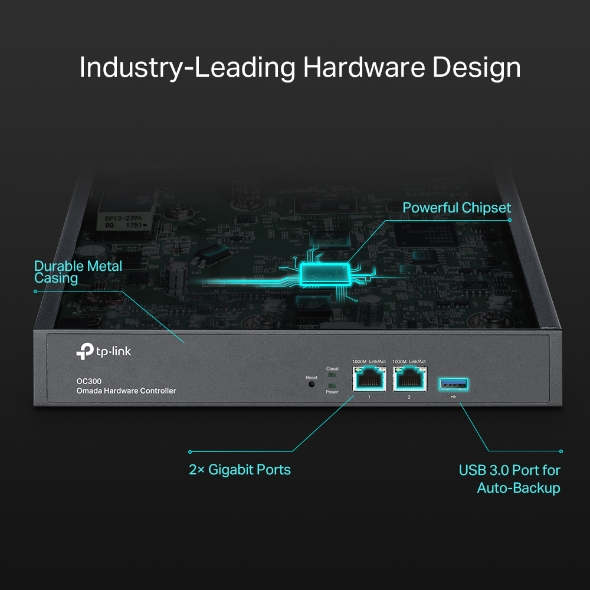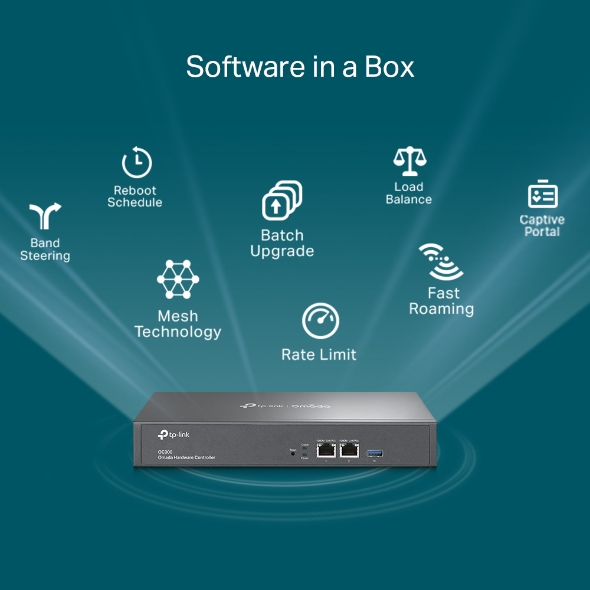 Omada Hardware Controller
Központi management akár 500 Omada access pointnak, JetStream switchnek vagy SafeStream routernek.
Cloud access - Felhős elérés bárhonnan, bármikor.
Omada app mobiltelefonokra.
USB 3.0 port -> auto backup funkció.
Batch management, multi-site management, távoli firmware frissítés minden eszköznek.
Automatikus Network topology - eszközfelderítés, kapcsolat monitorozás

Hardvervezérlő
Professzionális központosított felügyelet a hozzáférési pontokhoz, switchekhez és tűzfalakhoz
OC300

Központosított felügyelet a
hozzáférési pontokhoz, kapcsolókhoz és átjárókhoz
Az OC300, az Omada Software Defined Networking (SDN) platform hardvervezérlője a hozzáférési pontok, kapcsolók és átjárók 100%-ban központosított kezelését biztosítja – mindezt egyetlen interfészről vezérelve.
Omada SDN vezérlő

Akár 500 eszköz és 15 000 ügyfél központosított kezelése

Nincs szükség PC/Szerverre

Felhőszolgáltatás licencdíjak nélkül
Wi-Fi 6
Mennyezeti rögzítés
Fali lemez
Szabadtéri
Omada hozzáférési pontok
JetStream kapcsolók
SafeStream átjárók
Egységes felügyeleti felület
Vezérlők
Felhő hozzáférés
Felhő
Hibrid felhő a maximális kényelemért
A hibrid felhőtechnológiával rendelkező Omada Hardware Controller OC300 lehetővé teszi a teljes hálózat távoli vezérlését, bárhol is tartózkodik a világon, felhőalapú hozzáféréssel. Helyileg kezelheti az eszközöket a legnagyobb biztonsággal és stabilitással.
Felhő hozzáférés
1. Társítás a szerverhez
Omada OC300 hardvervezérlő
Felhőszolgáltatás
Internet
SafeStream átjáró
JetStream Switch
2. Jelentkezzen be
Felhő hozzáférés az Omada vezérlőhöz
Omada hozzáférési pont
Omada kezelőfelület
Omada App
vagy
Böngésző
Tartós fém burkolat
2× Gigabit portok
Erőteljes lapkakészlet
USB 3.0 port az automatikus biztonsági mentéshez
Iparágvezető hardvertervezés
A fejlett dizájnnal és a legújabb lapkakészlettel felszerelt OC300 elegendő feldolgozási teljesítménnyel rendelkezik ahhoz, hogy támogassa az üzleti hálózat masszív kezelését. A rackbe szerelhető/asztali kialakítás megkönnyíti és rugalmasan telepíti.
Egyszerű és intelligens hálózatfigyelés
The easy-to-use dashboard makes it easy to see your real-time network status; check network usage and traffic distribution; receive network condition logs, abnormal event warnings, and notifications; or even track key data for better business results. Network topology helps IT admins quickly see and troubleshoot connections at a glance.
Multiple Factors Guarantee Easier Network Maintenance
Batch Management, Multi-Site Management, and Remote Firmware Updates

Improve network maintenance without needing to configure on-site or manage devices one by one.

Powerful Scheduling

Maintain your network easily with more agile and effective processing. No manual tasks required.

Backup Schedule

Reboot Schedule

Wi-Fi Schedule

PoE Schedule

Channel Adjustment Schedule
Greater Convenience with the Omada App
Remotely access and configure your whole network with a tap of your phone from anywhere in the world.
Choose the Right Controller that Fits Your Business
Omada On-Premises Controller
Omada Cloud-Based Controller
Hardware Controller
(OC300)
Hardware Controller
(OC200)
Software Controller
Management Scale
<500 Devices
<100 Devices
<1,500 Devices*
Unlimited**
Usage Method
Connect to the intranet
Deploy to intranet servers
or private clouds
Log in and use
Network Type
Small/Medium local network
Medium/Large network
Medium/Large multi-site network
Pricing Model
Hardware costs
Free
Device license fee
Cloud Access
√
√
√
√
Automatic Channel
Selection
-
-
-
√
Zero-Touch
Provisioning
-
-
-
√
*Az Omada Software Controller tényleges kezelési skálája a számítógép/szerver hardverspecifikációitól függ.
**Az Omada Cloud-Based Controller v4.x eszközkezelési kapacitása 1500, és a korlátlan kapacitás érdekében 5.0-ra frissíthető. A V5.0 jelenleg fejlesztés alatt áll. Ha több mint 1500 eszközt kell kezelnie a v4.x használatával, további segítségért forduljon hozzánk .
Hospitality

TP-Link Omada allows hotels to build reliable WiFi networks. Hotel WiFi network solutions including network topology, design, features, installation, and products are introduced.

Full WiFi coverage and wired connections
Flexible guest control
Seamless roaming
Easy Management

Education

Due to its reliable, scalable, and secure network solution, TP-Link has been widely acknowledged by global customers in the Education market ranging from infant schools with a few APs up to colleges and universities with hundreds of APs.

Easy management
High-density WiFi
Full WiFi coverage and wired connections
VPN and security

Retail

A good wireless network cannot only serve the network office system of the mall, but also bring a more comfortable shopping experience to customers. The TP-Link Omada SDN Solution empowers store owners to create a modern and compelling in-store experience for every customer.

Boost online business
Full WiFi coverage
Seamless roaming
High-concurrent clients
Easy management
Many network technologies such as XGS-PON help Covid-19 Vaccine Center

Many network technologies such as XGS-PON help Covid-19 Vaccine Center

Many network technologies such as XGS-PON help Covid-19 Vaccine Center

Many network technologies such as XGS-PON help Covid-19 Vaccine Center
Hardver jellemzők
Csatlakozások
• 2× 10/100/1000 Mbps Ethernet Ports
• 1× USB 3.0 Port
Hálózati tápegység
100–240 V~50/60 Hz, 0.6 A
Dimensions
11.6 × 7.1 × 1.7 in (294 × 180 × 44 mm)
JELLEMZŐK
Vezeték nélküli funkciók
L3 ManagementMulti-SSIDLoad BalanceBand SteeringAirtime FarinessBeamformingRate LimitWireless ScheduleQoS
Vezeték nélküli biztonság
Captive Portal AuthenticationAccess ControlWireless Mac Address FilteringWireless Isolation Between ClientsSSID to VLAN MappingRogue AP Detection
AP vezérlés
Automatic Discovery Unified ConfigurationReboot ScheduleBatch Firmware UpgradeLED ON/OFF
Hitelesítés
Captive Portal
Vezérlés
Omada App
Yes
Centralized Management
• Up to 500 Omada access points, JetStream switches, and SafeStream routers*
• Up to 15,000 clients

*Only some JetStream switches and Safestream gateways can be centrally managed by OC300, please refer to www.tp-link.com/business-networking/all-omada/ to find all the models supported by OC300
Cloud Access
Yes
L3 Management
Yes
Multi-site vezérlés
Yes
Management Features
• Automatic Device Discovery
• Batch Configuration
• Batch Firmware Upgrading
• Intelligent Network Monitoring
• Abnormal Event Warnings
• Unified Configuration
• Reboot Schedule
• Captive Portal Configuration
Egyéb jellemzők
Tanúsítványok
CE, FCC, RoHS
Csomagolás tartalma
• Omada Hardware Controller OC300
• Quick Installation Guide
• Ethernet Cable
• Power Cord
• Rackmount Kit
Rendszerkövetelmény
Microsoft® Windows®10, 8, 7,Vista™, XP or MAC® OS, NetWare®, UNIX® or Linux
Környezet
• Operating Temperature: 0–50 ℃ (32–122 ℉)• Storage Temperature: -40–70 ℃ (-40–158 ℉)• Operating Humidity: 10–90% RH non-condensing• Storage Humidity: 5–90% RH non-condensing
From United States?
Get products, events and services for your region.