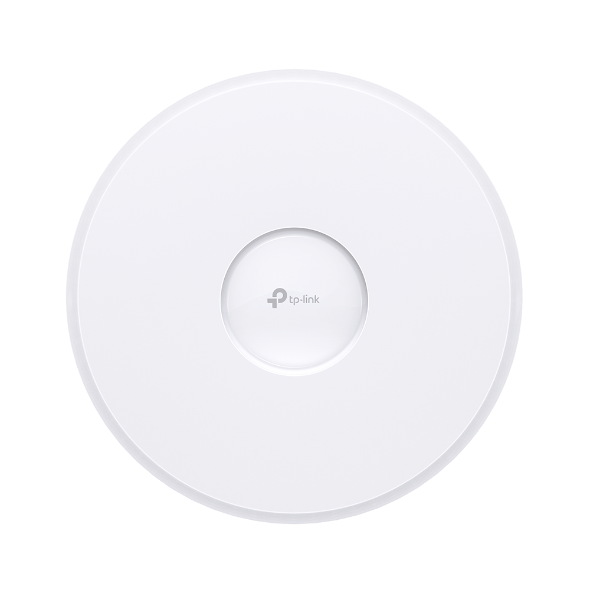 Omada EAP780
Hamarosan...
BE22000 Ceiling Mount Tri-Band Wi-Fi 7 Access Point
BE22000 háromsávos Wi-Fi 7 : 11520 Mbps (6 GHz) + 8640 Mbps (5 GHz) + 1376 Mbps (2,4 GHz). Élvezze a akadozásmentes élményt a VR/AR játékkal és a 4K/8K HD videókkal.
2 × 10G port : Több port biztosítja a hálózati rugalmasságot és növeli az átviteli sebességet, felszabadítva a Wi-Fi 7 teljes potenciálját.
Tiszta 6 GHz-es sáv : Tisztább és szélesebb sávú erőforrásokat biztosít Wi-Fi-hálózatához.
320 MHz-es sávszélesség: Az akár 320 MHz-es sávszélesség sokkal több egyidejű átvitelt tesz lehetővé a lehető legnagyobb sebességgel.
Nagy teljesítmény : A preambulum-puncturing, az MLO működés és a multi-RU együttmőködése felgyorsítja a hálózatot.
Speciális funkciók : Támogatja a központosított felügyeletet, a mesh-t és a zökkenőmentes barangolást.
Törje át
a Wifi hálózata határait
BE22000 mennyezetre szerelhető háromsávos WiFi 7 hozzáférési pont
OMADA EAP780
Háromsávos WiFi 7 Sebesség 22 Gbps-ig

Két 10G PoE port

Omada Mesh és Seamless Roaming

Bluetooth

Központosított menedzsment
Hardver jellemzők
Csatlakozások
2× 10G Ethernet Port, 1× USB Port
Hálózati tápegység
802.3bt PoE or 12V DC(DC Adapter Included)
Felszerelés
Ceiling / Wall Mounting (Kits Included)
Vezeték nélküli jellemzők
Frekvencia
6 GHz, 5 GHz, and 2.4 GHz
Adatátvitel
• 6 GHz: Up to 11520 Mbps• 5 GHz: Up to 8640 Mbps• 2.4 GHz: Up to 1376 Mbps
Vezeték nélküli funkciók
• MLO• 4K-QAM• Preamble Puncturing• MU-MIMO• HE320• Mesh• Automatic Channel Selection and Power Adjustment• BBS Coloring• OFDMA• Load Balance• Band Steering• Beamforming• Airtime Fairness• Multiple SSIDS• Wireless Schedule• Reboot Schedule
Vezeték nélküli biztonság
• PPSK• Captive Portal Authentication• WPA-Personal/Enterprise, WPA2-Personal/Enterprise,WPA3-Personal/Enterprise
Vezérlés
Omada App
Yes
Centralized Management
• Omada Cloud-Based Controller• Omada Hardware Controller (OC300)• Omada Hardware Controller (OC200)• Omada Software Controller
Cloud Access
Yes. Requiring the use of OC300, OC200, Omada Software Controller, or Omada Cloud-Based Controller
*A képek és információk csak tájékoztató jellegűek. A tényleges termékek változhatnak.
From United States?
Get products, events and services for your region.