Best WiFi 6 Mesh System: Should You Upgrade to It?
Homes nowadays are where everyone seems to work, play, and stream online. That's why a reliable home network is more important than ever.
For your typical apartment or mid-sized home, current wireless routers provide decent enough WiFi coverage. However, larger homes with multiple floors and dense walls require a stronger solution to cover every inch of living space. This is where WiFi 6 Mesh systems come in.
A WiFi 6 Mesh system is a whole-home WiFi solution featuring Mesh and WiFi 6 technology, designed to blanket your entire home with fast and reliable wireless connections.
Why Go With a Mesh Network?
In a traditional home network, each device only receives internet access through a fixed connection to a single access point. Since WiFi signals deteriorate as you move farther from the source, this makes it difficult to cover every corner of a house.
Sometimes one or more network nodes, such as range extenders or powerline devices, may be added to extend WiFi coverage, but each device forms a separate network, so people will experience network disconnections while moving from room to room.
In a Mesh WiFi network, multiple network nodes work together to form a single, unified network that provides a seamless WiFi connection for every home device. Multiple nodes auto-select the best connection as you move around, and your devices connect to the node with the best signal. To eliminate a WiFi dead zone, just add a new Mesh node.
What to Expect from WiFi 6
Due to improved technologies including OFDMA, 1024-QAM, MU-MIMO, and BSS Coloring, WiFi 6 (802.11ax WiFi) boosts the overall performance compared with WiFi 5 (802.11ac WiFi) for faster speed, higher efficiency, larger capacity, and stabler WiFi connection.
Explosively Faster WiFi Speed for Ultra-Smooth Streaming
With WiFi 6, experience stutter-free VR and enjoy stunningly vivid 4K and even 8K streaming. This standard expands the WiFi band up to 160 MHz, doubling the channel width and creating faster connections between your router and devices. Using 1024-QAM to provide a signal packed with more data, WiFi 6 makes WiFi speeds faster, roughly 30% faster than WiFi 5. The theoretical maximum transfer speeds are up to 9.6 Gbps.
Stabler Connection Without Signal Interference
Interference from your neighbors' wireless networks can cause issues with your wireless signal. BSS (Base Service Station) Coloring marks signals from neighboring networks so your router can ignore them. This lets you enjoy rock-solid connections for all your smart home, mobile, gaming, and desktop devices.
More Devices Connected Simultaneously
WiFi 6 uses 8×8 MU-MIMO, which works with both uploads and downloads, providing a larger capacity to handle more devices. Whether you're streaming, downloading, torrenting, exploring VR/AR, there's always more than enough bandwidth for everyone.
Reduced Power Consumption
Target Wake Time (TWT) allows devices to negotiate when and how often they will wake up to send or receive data, increasing device sleep time and substantially improving battery life for mobile and IoT devices.
TP-Link's Best WiFi 6 Mesh System
TP-Link has been at the cutting edge of WiFi technology, providing customers with blazing fast WiFi and reliable connections. The Deco Whole Home WiFi 6 Mesh System, featuring both TP-Link Mesh technology and WiFi 6, is made up of multiple units working together seamlessly to immerse your whole home in powerful WiFi no matter its size or shape.
The best WiFi 6 Mesh System is here for you:
Deco X50: AX3000 Whole Home WiFi 6 Mesh System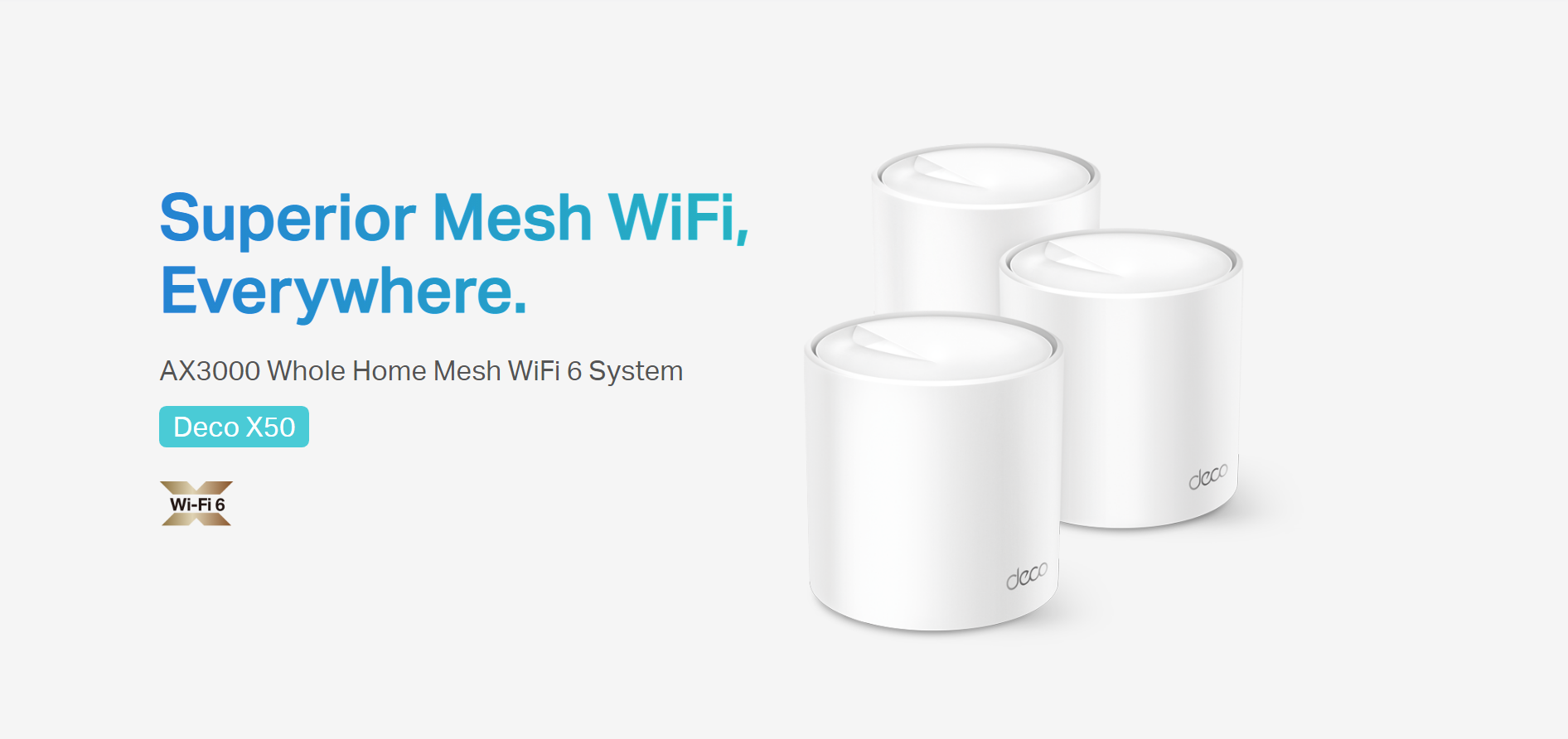 For larger homes, Deco X50 acts as a WiFi dead zone killer, filling areas that have shoddy connections with stable signals. It eliminates these weak signal areas with clearer and stronger WiFi with speeds of up to 3.0 Gbps. And with 3× Gigabit Ethernet ports, Deco X50 provides ultra-fast wired speeds. Broader coverage also makes interruption and buffering a thing of the past. For example, a 3-pack Deco X50 set easily covers up to 6,500 ft² with high-speed WiFi. Enjoy smooth 4K streaming, online gaming, and video calls throughout your home.
Besides all the basic features of a WiFi 6 Mesh router, Deco X50 is also equipped with a lot of advanced features to meet the future needs of smart home users.
Armed with AI-Driven Mesh technology, Deco X50 automatically learns and adapts itself from experience. This provides the ideal Mesh WiFi unique to your home and network environment.
Deco X50 also allows you to customize your home network with enhanced security using a kit of features built into TP-Link HomeShield. Whether detecting cyber threats to keep your privacy and connected devices well protected, blocking inappropriate content to maintain healthy online habits, or prioritizing your bandwidth needs to get a faster networking experience, HomeShield provides you the tools you need to fully manage your network.
The Deco WiFi 6 Mesh family includes various feature-packed models for every home network. For example, if you need WiFi speeds for bandwidth-intensive activities like streaming video and gaming, AX1800 Deco X20 is a solid choice. If faster WiFi is needed for 8K videos, VR, and high-frame-rate games, then AX3000 Deco X60 with six simultaneous data streams may work better for you. You can always find a system that best fits your needs.
To learn more, check out the entire Deco Whole Home Mesh WiFi 6 System and find the best one for you.
Learn More About WiFi 6 Mesh
SubscriptionTP-Link takes your privacy seriously. For further details on TP-Link's privacy practices, see TP-Link's Privacy Policy.
From United States?
Get products, events and services for your region.