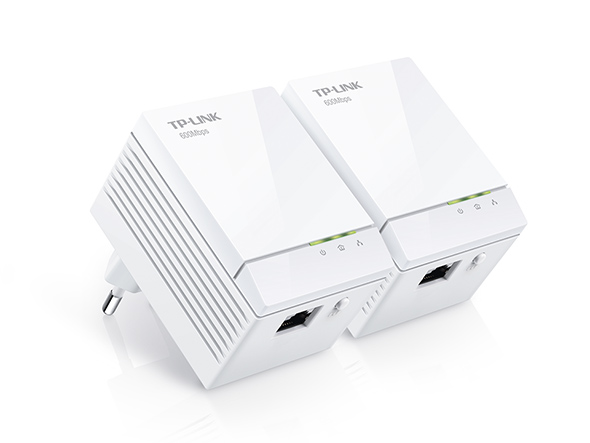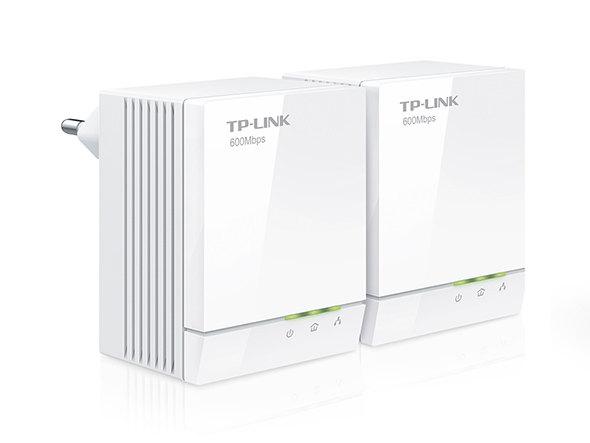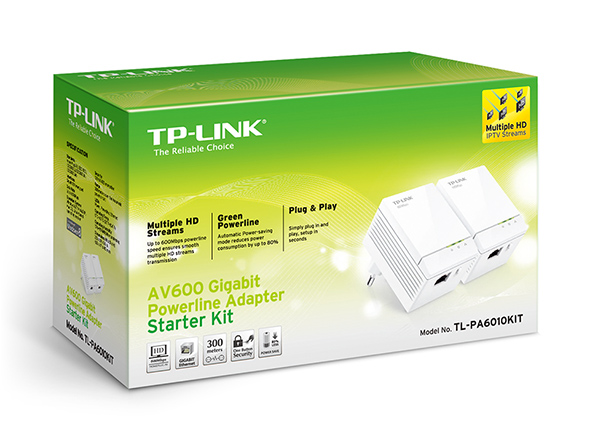 TL-PA6010KIT
Kit de démarrage adaptateurs CPL Gigabit AV600
Compatible HomePlug AV, transferts haut débit jusqu'à 600Mbps
Pas de nouveaux câbles, branchez et utilisez, pas de configuration nécessaire.
Pack de deux adaptateurs conçu pour la construction d'un réseau CPL de base
Mode veille breveté réduisant automatiquement la consommation électrique de près de 80%* * Donnée variable en fonction de la qualité du réseau électrique et de facteurs environnementaux.
Jusqu'à 600Mbps

Vitesse CPL!
Le Kit d'adaptateurs CPL AV600 Gigabit TP-LINK TL-PA6010KIT transforme votre circuit électrique en un réseau haut débit sans avoir à tirer de nouveaux câbles ni percer.
Parfait pour les utilisations consommatrices de bande passante.
Avec une vitesse atteignant près de 600Mbps, le TL-PA6010KIT transmet des flux HD voire des films 3D dans chaque pièce, cela en fait le choix privilégié pour construire un réseau dédié au multimédia.
Ultra-compact
Avec son boitier ultra compact, le TL-PA6010 de TP-LINK est l'un des plus petits adaptateurs CPL du monde en AV600
Plug and Play
Vous pouvez configurer sans difficultés un réseau CPL en moins d'une minute tout simplement en appuyant sur le bouton Pair des adaptateurs, ils chiffrent par la même occasion le réseau CPL et servent aussi à intégrer un adaptateur supplémentaire au réseau.
*Note: les adaptateurs CPL doivent être utilisés par deux ou plus.
LED Ethernet
LED Powerline
LED Power
Pair
Brancher les adaptateurs dans une prise électrique
Relier les appareils aux adaptateurs par un cordon Ethernet et c'est fini !

Recommandation:

Chiffrement AES 128 bits garantissant un réseau sain par le simple appui d'un bouton Pair sur les adaptateurs.
CARACTERISTIQUES MATERIELLES
Type de prise
EU
Standards et Protocoles
HomePlug AV, IEEE802.3, IEEE802.3u, IEEE802.3ab
Interface
1 port Ethernet Gigabit
Bouton
Bouton Pair (Reset)
Consommation
Maximum : 6.84W (220V/50Hz)
Typique : 6.68W (220V/50Hz)
Veille : 1.50W (220V/50Hz)
Témoins lumineux
Alimentation, CPL et Ethernet
Dimensions (LxPxH)
94 × 54 × 40 mm
Portée
300 m dans le réseau électrique
Autres
Certification
CE, FCC, RoHS
Contenu de l'emballage
2 TL-PA6010
2 cordons Ethernet de 2m
1 CD de ressources
1 Guide d'installation rapide
Système requis
Windows 2000/XP/2003/Vista, Windows 7/8, Mac, Linux
Environnement
Température de fonctionnement : 0 à 40°C
Température de stockage : -40 à 70°C
Humidité relative de fonctionnement : 10% à 90% sans condensation
Humidité relative de stockage : 10% à 90% sans condensation
Récompenses

Recommended

TL-PA6010KIT/TL-PA6010 received a Recommended Award from AVForums

2013, UK

Recommended Product

By Redes Zone: reference Spanish website in networking and telecommunications

2014, Spain
The theoretical maximum channel data transfer rate is derived from HomePlug AV specifications. Actual data transfer rate will vary from network environment including: distance, network traffic, noise on electrical wires, building material and construction, quality of electrical installation and other adverse conditions.
Actual data will vary because of the network conditions and environment factors.
De United States?
Infos produits, événements, services pour votre pays.