How to Configure IPTV function on Deco?
Este artículo se aplica a:
This article will introduce the configuration of IPTV function. Before we start, please make sure the internet is working on the Deco unit, if not, please set up the internet connection first.
Notes:
1. If you have already had access to the Internet and IPTV function normally by default, please ignore this article, just keep the default settings of the IPTV page.
2. Currently, some Deco models do not support IPTV feature, but they will support this feature via firmware update in the future.
Here we take Deco M5 as an example.
Step 1: On the Deco App, please go to the More -> Advanced -> IPTV/VLAN page.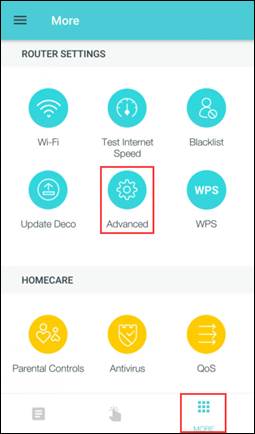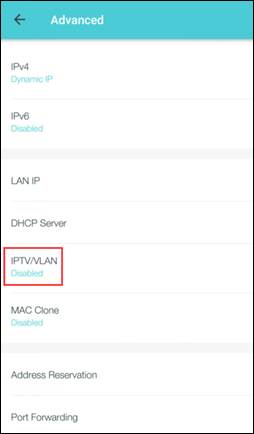 Step 2: Enable IPTV/VLAN, select the appropriate Mode according to your ISP.
There are many "Mode" available on the IPTV/VLAN setting page, such as Bridge, Singapore-Singtel, Malaysia-TM Unifi, Malaysia-Maxis and Custom etc.
These modes are designed for different ISPs. In other words, the mode which you need to choice is up to your ISP.
Bridge mode doesn't need you to type in the VLAN information, we just use this mode when ISP doesn't require VLAN settings.
Custom mode is used for some ISPs which require 802.1Q VLAN settings for IPTV service.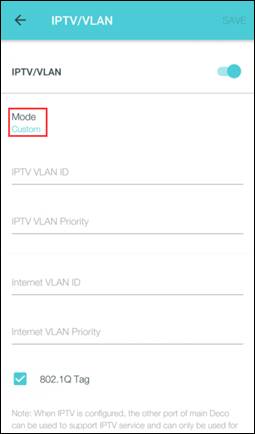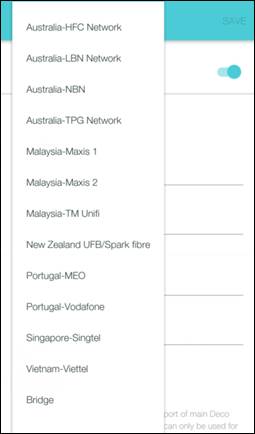 Note:
1. If you only need to set up the IPTV feature and no VLAN settings, then leave the Internet VLAN ID and Internet VLAN Priority blank.
2. You can set IPTV VLAN Priority and Internet VLAN Priority to 0 if no special number from your ISP is required.
3. Select the 802.11Q Tag or not is up to your ISP. Normally, the 802.1Q Tag should be checked.
4. The IPTV/VLAN page and the ISP list may vary slightly depending on the model due to different software versions, which will synchronize in future firmware updates.
Step 3: Click on Save to complete the configuration.
When IPTV is configured, the IPTV service only takes effect on the other Ethernet port of the main Deco, where you connect your IPTV device such as a set-top-box.
Other wired network clients or switches won't have internet access when connected to this Ethernet port on the main Deco. However, you can still connect them to the Ethernet ports of the satellite Deco units to get internet access.
Get to know more details of each function and configuration please go to Download Center to download the manual of your product.
¿Es útil esta faq?
Sus comentarios nos ayudan a mejorar este sitio.
From United States (English)?
Check products and services for your region.