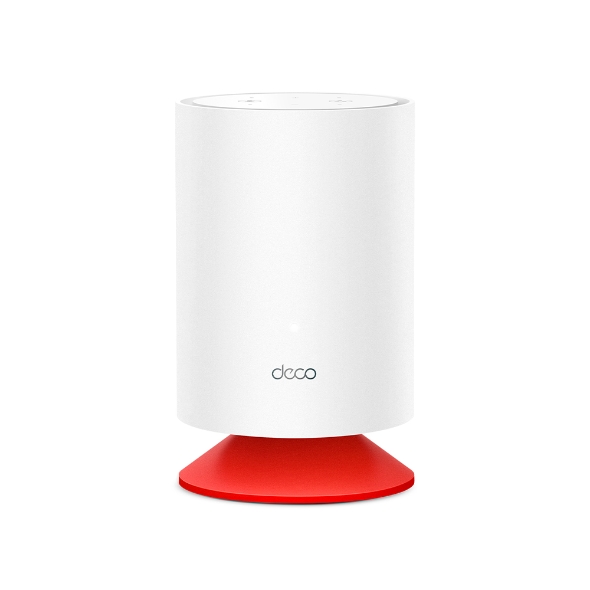 Deco Voice X20
Próximamente
AX1800 Mesh Wi-Fi 6 System with Alexa Built-In
Super-fast WiFi 6 speeds: 1201 Mbps (5 GHz) + 574 Mbps (2.4 GHz).
TP-Link Mesh Technology: Walk throughout your home and stay connected with the fastest possible speeds.
Alexa Built-in: Embrace a smarter home with whole-home voice control via Amazon Alexa.
Integrated Smart Speaker: Supports popular audio providers throughout your home with premium sound.
TP-Link HomeShield: Provides reliable IoT protection, robust parental controls, and comprehensive security reports.
Full Gigabit Ethernet: 2× Gigabit WAN/LAN Ethernet ports per Deco Voice unit provide warp-speed wired connections.
Setup Made Easier Than Ever: The Deco app walks you through the setup step-by-step.
Works with All Deco Models: Compatible with all Deco models to form a unified whole-home mesh network.
Corner to Corner Wi-Fi 6
Corner to Corner Voice Control
AX1800 Mesh Wi-Fi 6 System with Smart Speaker Deco Voice X20

Meet the Superior Mesh
Wi-Fi 6
The Deco whole-home mesh Wi-Fi 6 system is designed to deliver a huge boost in coverage, speed, and total capacity. Get the latest mesh Wi-Fi 6 to enjoy a future-proof network that loads faster and connects all of your devices.
Stronger Signals

Larger Capacity

Higher Speed
2.4 GHz wireless connection
5 GHz wireless connection
Internet
Amazon Alexa Built-in
With Alexa built in, Deco Voice transforms your smart home. Manage your smart home devices, get today's weather, make changes to your schedule, and queue your favorite playlists. All you have to do is ask Alexa.

Play your
favorite music
Stay sync with your family
Voice Control Smart Devices
Alexa, play top hits on Amazon Music.
Alexa, announce, "dinner is ready"
Alexa, turn off the dining hall lights.
Corner to Corner Acoustic Experiences
A powerful acoustic solution delivers premium sound throughout your home. Stream audio through Amazon Music, Spotify, Pandora, Tune in, and other platforms, cast your favorite songs or podcasts anywhere in your home.

Far-Field Voice Receiver
Precise voice pick-up in any environment at up to 10 meters
Immersive Acoustic System
Deep bass, all-around sound
All Decos Work Together
Deco Voice X20 is compatible with every other Deco model to form a unified mesh network.
Expand mesh Wi-Fi coverage anytime by simply adding more Decos.
Built-in



Itinerancia Perfecta
Las unidades Deco funcionan en conjunto formando una red unificada con un solo nombre de red. Tu teléfono o tablet se conecta automáticamente al Deco más rápido mientras te mueves por tu casa. El cambio tarda menos de 0.3 segundos y es fluído e imperceptible, creando una experiencia online perfecta.
Enrutamiento Adaptativo

La Tecnología Mesh de TP-Link elige dinamicamente la mejor ruta y banda para tus conexiones y aplicaciones, garantizando una Wi-Fi rápida sin importar donde te encuentras en tu casa.
Autocuración

Si un Deco presenta algún problema, el sistema enrutará de manera automática tus datos vía los demás Deco asegurando que estés online.
Wi-Fi + Powerline
Las conexiones powerline usan la red eléctrica de tu casa para unir los Decos, traspasando hasta los muros más gruesos y techos.
El Wi-Fi de banda dual y el powerline funcionan en conjunto para transmitir los datos entre las unidades Deco. La velocidad de red total se ve muy mejorada en comparación a usar solo Wi-Fi.
Wi-Fi + Powerline:

Sistema Wi-Fi Híbrido

Más Velocidad

Wi-Fi Mesh Tradicional:

Sistema Wi-Fi Tradicional
Powerline

Nota:Wi-Fi + Powerline solo en Deco P9
IoT Mesh
A diferencia de los centros inteligentes tradicionales, la tecnología TP-Link Mesh proporciona cobertura IoT para todo el hogar con Wi-Fi, Bluetooth y Zigbee integrados en un solo sistema. Disfruta de la magia de tu hogar inteligente en todas las habitaciones con la tecnología TP-Link Mesh. Di adiós a innumerables hubs.
- - -

Wi-Fi

- - -

Zigbee

- - -

Bluetooth
Wi-Fi 6 Mesh
Armado con tecnología Wi-Fi 6,
el Wi-Fi Mesh para todo el hogar Deco está diseñado para dar un gran impulso en la cobertura, la velocidad y la capacidad total. Conéctate al último Wi-Fi Mesh para disfrutar de la red futura que se carga más rápido y se conecta más.
Cobertura Amplia

Más Conexiones

Wi-Fi 6 Velocidades Más Rápidas
Mesh Impulsada por IA
Armado con la tecnología IA Mesh, Deco aprende y se mejora automáticamente a partir de la experiencia. Esto hace que Wi-Fi mesh sea ideal para crear un entorno de red único. Camina por tu casa y disfruta de una transmisión fluida a las velocidades más rápidas posibles.
Por qué TP-Link Mesh Technology
es una Solución Líder en la Industria?
Tabla Comparativa

Model Number
TP-Link Deco
Netgear Orbi
Google WiFi
Wireless Backhaul
Tri-Band(2.4G+5G_1+5G_2)¹
Single-Band(5G_1 Only)
Dual-Band(2.4G+5G)
Mesh Protocol Supported
IEEE 802.11k/v/r
IEEE 802.11k/v
IEEE 802.11s
True Seamless Roaming
√
×
×
APS(Adaptive Path Selection)
√
×
√
IoT Mesh
√²
×
×
Wi-Fi 6 Mesh
√5
√
×
AI-Driven Mesh
√6
×
×
Powerline Backhaul
√³
×
×
Wireless + Powerline Bandwidth
√⁴
×
×
Band Steering
√
√
√
AP Steering
√
√
√
Self-Healing
√
√
√

Notes: 1&2 For Deco M9 Plus Only;5 for Deco X20;Deco X90;6 for Deco X90 only.




Spec sourced by Dec. 2019
△Use of Wi-Fi 6 and other features including OFDMA, MU-MIMO, 1024-QAM, and BSS Color require clients to also support the corresponding features.
†Maximum wireless signal rates are the physical rates derived from IEEE Standard 802.11 specifications. Actual wireless data throughput and wireless coverage, and quantity of connected devices are not guaranteed and will vary as a result of network conditions, client limitations, and environmental factors, including building materials, obstacles, volume and density of traffic, and client location.
‡Clients need to support 802.11k/v/r and may require additional set up. Performance may vary depending on the client's device.
§HomeShield includes the Free Basic Plan. Fees apply for the Pro Plan. Visit tp-link/homeshield for more information.
△Users need to log in or register an Alexa account to use the Alexa voice assistant. Related functions and services are provided by Amazon Alexa. TP-Link will not collect, store, or use any voice information of users. For the privacy policy, please refer to Amazon's website.
*Amazon, Alexa and all related logos are trademarks of Amazon.com, Inc. or its affiliates.
** Alexa Calling, Messaging, and Announcements (ACM) features may not be available in early shipments, and users will need a subsequent firmware update.
***The Spotify Software is subject to third party licenses found here: www.spotify.com/connect/third-party-licenses.
From United States?
Check products and services for your region.