How to Choose LED Strip Lights?
LED strip lights are a new and versatile form of lighting. LED strip lights are becoming increasingly popular as they can transform the look of your home in a quick, easy and affordable way. When you plan to buy LED strip lights, you may find too many options on the market. This article introduces five key points that should be considered.
1. LED strip brightness
The brightness of LEDs is measured in lumens. You should always consider what brightness you need from your light strip, depending on your personal preference and how it will make the room look. Make sure you take note of the lumens/length along with the LEDs/length, as this will impact the light quality and the type of light the strip gives off.
The quality of the LED beads is essential for a better effect. Tapo L920 light strip stands out with high-quality LED beads, as they are 20% brighter and last 50% longer than other standard products.
2. LED strip color temperature
Color temperature is measured in Kelvins (K). Temperature indicates how "warm" or "cool" the white light appears. The Kasa Smart Light Strip KL430 goes from 2,000 K up to 9,000 K, and the temperature is adjustable via its app and cloud. Light appears more yellow at lower temps and a bluish-white at higher temps.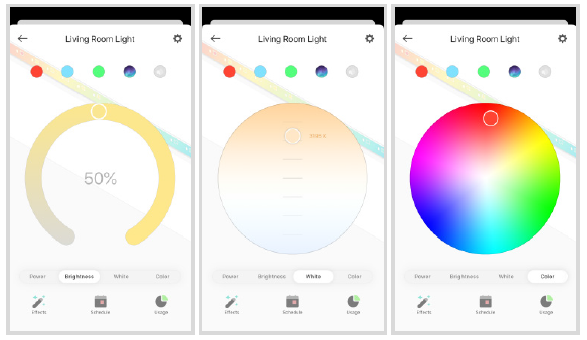 3. LED strip colors
LED strip lights come in a wide range of single colors as well as multi-color strips. The basic models only emit one fixed light color at a time. Multi-color strips lights can display any Red-Green-Blue combination color. Look at the comparison between two Tapo strips lights as below.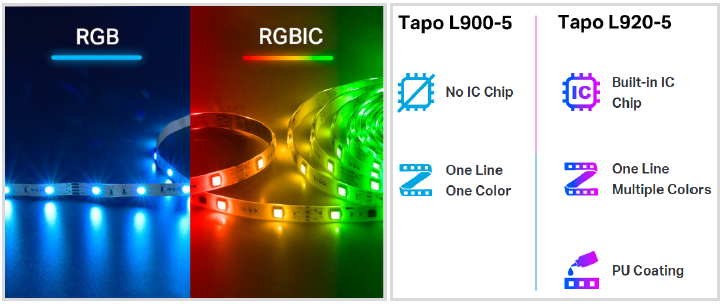 Some multi-color strip lights like KL430 offer a combination of four LED colors – red, green, blue, and white. The addition of white light enables you to create pastel shades in addition to all the colors offered by RGB LEDs.
4. LED strip controls
While smart light strips can be controlled from your smartphone, that's not always convenient. Some brands like TP-Link strip lights have the controller box attached. Its control button can turn the light strip on or off, reset the settings, and even change the current colors. It can be handy if you're installing them somewhere like a kid's bedroom.

5. LED strip smart features
When it comes to innovative features, smart strip lights and the app working together can fulfill a lot. Apart from the above points, there are some smart features you'd better consider before buying light strips.
Dimmable Feature - Manage the lighting to create the perfect atmosphere in your home at any time.
Schedule & Timer - Create schedules and count plans to turn on/off with the brightness/color you set.
Voice Control - Use simple voice commands to control your light strip with certain voice assistants such as Amazon Alexa and Google Assistant.
Preset for Convenience - Found your favorite lighting for watching movies? Save it as a setting you can simply select for future movie nights.
Away Mode - Intelligently simulates someone being home to frighten away, unwanted visitors.
Sync-to-Sound - Bounce to the beat of your favorite tunes. Coordinate the vibrant colors to your songs and fill your life with energy.
After reading this, you may find that buying proper LED strip lights does not have to be difficult.
Sign Up for News & OffersTP-Link takes your privacy seriously. For further details on TP-Link's privacy practices, see TP-Link's Privacy Policy.
From United States?
Get products, events and services for your region.