A New Smart Lifestyle with Kasa Smart Lighting
People are creating smart home lifestyles, and smart lighting is an essential part to let you create a unique mood and atmosphere. Choose a light for early morning to better start a new day, for late evenings to make it easier to fall asleep, or for working at home to improve efficiency. Create a scene for a party night, for game night, or movie night to enjoy and have fun.
Kasa Smart Lighting has everything you need to get started with smart lighting in your home. Just connect to your home's secure WiFi network, and start experimenting with millions of colors, designing your own effects for your perfect home lighting. No need for a hub or extra equipment.
Endless Lighting Effects
Addressable LEDs allow you to create your ambiance in tons of fun colors and levels of brightness, including cool to warm whites. Before going to bed, you can dim the smart bulb to the appropriate brightness to help you fall asleep quickly. To have a more comfortable reading or gaming environment, you can turn the smart bulb to a warmer or cooler color temperature or set your bulb to automatically adjust its color temperature to match natural light patterns from dawn to dusk.
To create an immersive ambiance for a romantic dinner with your significant other, then you can choose lights from the multicolor smart light bulb or light strip for the perfect atmosphere. Kasa Smart lighting helps you experience endless lighting possibilities and set the right lighting effect for any mood and activity.

Smart Lighting Controls
Imagine you come home and want to turn on the light but your hands are full of groceries, or you want to turn your house to the party atmosphere when your friends visit, or you realize that you forgot to turn off the bedroom light when you already left the house. What you need most is more intelligent lighting controls for your home lighting. Kasa Smart lighting meets all your needs with its intuitive controls.
Use simple voice commands to control your Kasa smart lighting hands-free with any Amazon Alexa, Google Assistant, or Samsung SmartThings device. Just tell your voice assistant "turn off the kitchen light" to turn it off without leaving the couch, or "turn on the party scene" to quickly change to a party atmosphere in your living room as guests arrive at the door.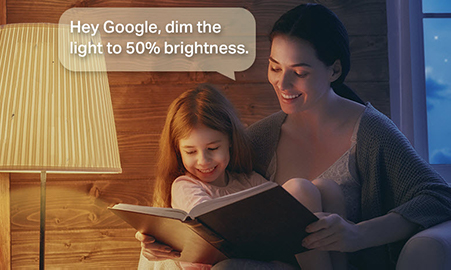 Switch Scenes with One Tap
As mentioned above, you can quickly switch to a specific scene with just your voice, but before that, you need to create one first. You can custom scenes for your lights and save your favorite lighting patterns as presets or scenes, then spruce up your spaces for unique lighting experiences with only a tap on your phone to perfectly suit the mood whether you're watching a movie, gaming, or just relaxing. A single tap is all it takes.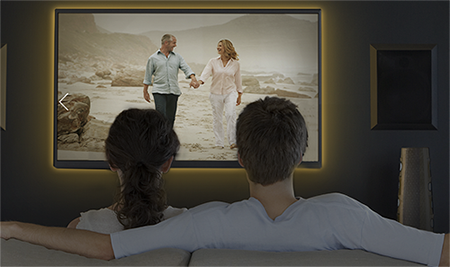 Set Schedules to Daily Life
For an even smarter lifestyle, you don't have to use voice control when you schedule your light to achieve effortless automation. Schedule when your light to turn on/off or adjust their brightness, hue, and effects you've already set. Coordinate your lighting with any event you host. Have your Kasa smart bulb turn on 5 minutes before sunset on weekends with a fade rate of 30 seconds as fall asleep. Setting schedules for your lighting following your daily routine liberates your hands completely.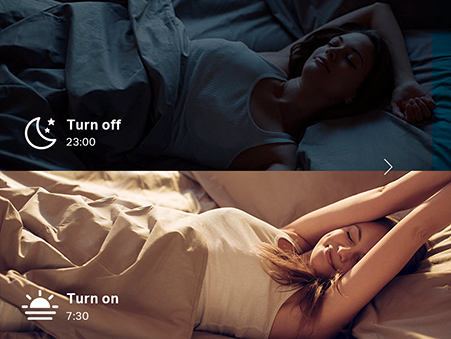 A truly connected home is a diverse smart home, and Kasa Smart provides a home ecosystem that includes not only lighting, but also plugs, cameras, and switches. The Grouping feature enables you to combine your smart lighting with other Kasa Smart devices together and control them all with a single tap on your mobile device. It's a much easier way to turn them all on when you get home and turn all off when you go out.
Your Home on One App
Control your Kasa Smart lighting from anywhere with the highly-rated free Kasa Smart app (available for iOS, Android). When you connect them all to your home's secure WiFi network and download the Kasa Smart app is when the real magic happens. Make sure you turn your bedroom lights off from the office or turn your living room lights on before you get home. Automate your lights and appliances with smart plugs and bulbs. Secure your home with Kasa cameras. Control it all from the Kasa app.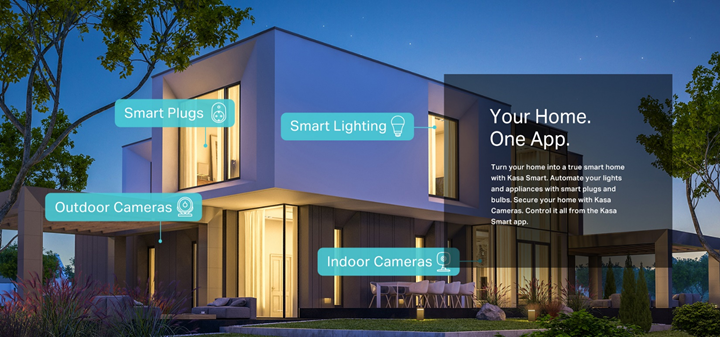 Energy and Money Saving
The Kasa Smart Lighting uses long-lasting modern LED technology to provide you with stable and durable lighting up to 25000 hours (approximately 22.8 years based on 3 hours a day), which helps to save more money and energy without losing brightness or quality. After all, it's always a hassle to change the bulb frequently.
Multiple Options for Diverse Needs
Currently Kasa Smart Lighting offers mutiple lighting devices with different features like dimmable bulbs, multicolor bulbs, filament bulbs and multicolor light strips, as well as offering diverse smart bulbs with different lamp bases and fittings, such as E26, E27 and B22, to meet different homes' needs. Just pick one as you like or need.
From multicolor bulbs that set the mood for any event to dimmable bulbs that give you that perfect ambiance, Kasa Smart Lighting has you covered. Control your lighting individually, in scenes, or group them with other Kasa Smart products for seamless control with a single tap of your phone. Try it and explore the endless lighting possibilities to start your new smart home lifestyle.
From United States?
Get products, events and services for your region.