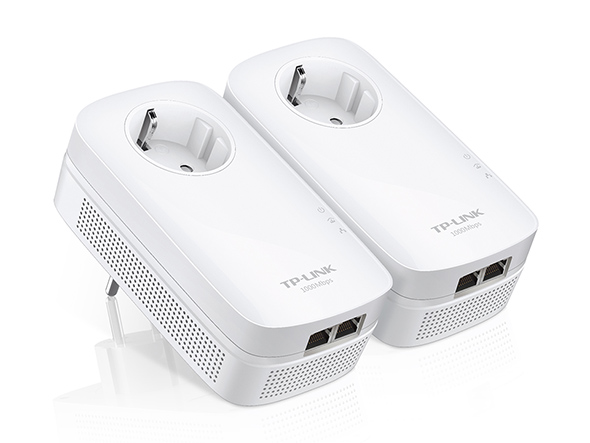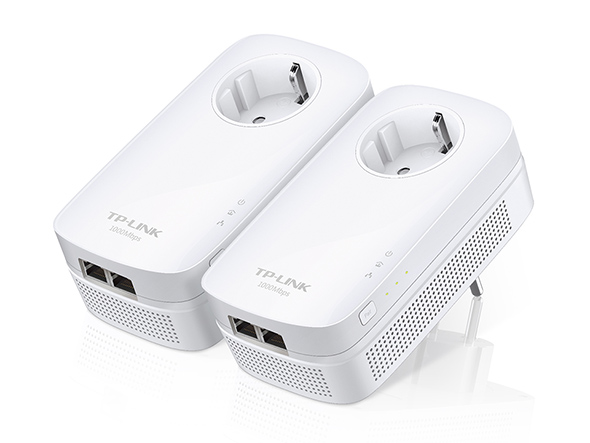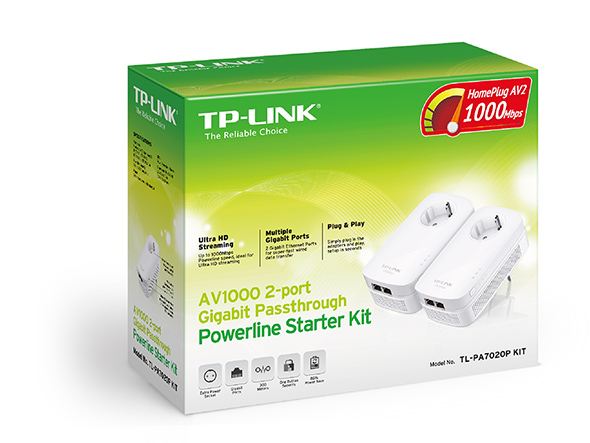 TL-PA7020P KIT
End of Life
Kit de Inicio Powerline AV1000 con 2 puertos Gigabit y Enchufe Incorporado
Compatible con el estándar HomePlug AV2, transferencia de datos de alta velocidad con tasas de transferencia de hasta 1000Mbps1, soporta todas sus necesidades online.
2 Puertos gigabit que permiten crear redes cableadas seguras para equipos de sobremesa o IPTV
La toma de enchufe incorporada garantiza no desperdiciar ninguna toma de corriente
Plug and play, no es necesaria configuración

Modo Ahorro de Energía patentado que reduce el consumo de energía hasta un 85%
1000Mbps!
Ideal para Streaming Fluido y Descargas Rápidas
Con la avanzada tecnología HomePlug AV2, el TL-PA7020P KIT proporciona altas velocidades de transferencia de hasta 1000Mbps a los usuarios, esto es perfecto para aplicaciones que demandan un gran ancho de banda como streaming de video HD/3K/4K, videojuegos online y transferencias de grandes archivos.
2 Puertos Gigabit
para una máxima conectividad
Con 2 puertos Gigabit, el TL-PA7020P KIT permite conectar simultáneamente dos dispositivos con conexión cableada. Esto convierte al TL-PA7020P KIT en el compañero ideal para su hogar. Conecte dos dispositivos; desde Smart TV y videoconsolas a sistemas NAS y ordenadores a Internet a la vez. Simplemente conecte el cable Ethernet a su powerline ¡y ya está!
Consolas
TV 4K
Ordenadores
Plug and Play,
No requiere configuración
Conecte un adaptador powerline a su router; conecte el otro adaptador powerline al enchufe de pared de otra habitación, conéctelo al dispositivo habilitado para Internet vía Ethernet – ¡y listo!
Enchufe Extra para dispositivos Adicionales
Cuando las tomas de corriente son escasas, el TL-PA7020P KIT con un enchufe AC integrado consigue que los adaptadores powerline puedan ser utilizados como un enchufe eléctrico tradicional. Conecte su smart TV o videoconsola en los powerlines, como si fueran un enchufe normal. No se desperdicia ninguna toma de corriente. El filtro de ruido incorporado ayuda a prevenir señal de ruido eléctrico que afecte al rendimiento del powerline.
*La salida de potencia de hasta 16A es adecuada para
conectar dispositivos eléctricos de alto consumo.
Reduce hasta el 85% del Consumo de Potencia
El TL-PA7020P KIT, una nueva generación de adaptador powerline, con su práctico diseño y sofisticado Modo de Ahorro de Energía, cambiará automáticamente su modo de operación "Funcionando" al modo de "Ahorro de Energía" reduciendo el consumo de energía hasta el 85% cuando sea necesario.
*Los datos reales de velocidad y consumo eléctrico pueden variar según
las diferentes condiciones y entornos de red.
Modo de funcionamiento
Modo de ahorro de energía
Productos Relacionados
TL-PA8030P

TL-PA8010P

AV1200 Gigabit Passthrough Powerline Starter Kit

TL-PA8010P KIT

HomePlug AV2 Standard

√

√

Powerline Speed

1200Mbps

1200Mbps

Ethernet Port

3 Gigabit Ports

1 Gigabit Port

Extra Power Socket

√

√

One Button Security

√

√

Power Saving Mode

85%

85%
CARACTERÍSTICAS DE HARDWARE
Tipo de Enchufe
EU, UK, FR
Interface
2 Puertos Gigabit Ethernet, Enchufe Incorporado
Botón
Botón de Emparejamiento
Consumo de Energía
Máximo: 6W (220V/50Hz)
Típico: 6W (220V/50Hz)
En espera: 0.5W (220V/50Hz)
Indicador LED
PWR, PLC, ETH
Dimensiones (W X D X H)
131×72×42 mm. (5.2×2.8×1.7 in)
Rango
300 Metros sobre el circuito eléctrico
Potencia de Salida Integrada al Socket
16 A
Otros
Certificacion
CE, RoHS
Contenidos del Paquete
Adaptador Powerline Ethernet
2. (m 6.5 ft) Cable Ethernet (RJ45)
CD de Recursos
Guía Instalación Rápida
Requisitos del Sistema
Windows 2000/XP/2003/Vista, Windows 7/8, Mac, Linux
Ambiente
Temperatura de Funcionamiento: 0°C~40°C (32°F ~104°F)
Temperatura de Almacenamiento: -40°C~70°C (-40°F ~158°F)
Humedad de Funcionamiento: 10%~90% sin condensación
Humedad de Almacenamiento: 5%~90% sin condensación
1. La tasa de transferencia de datos de canal máxima teórica es derivada de las especificaciones HomePlug AV2. La actual tasa de transferencia de datos variará según el entorno de la red incluyendo: distancia, tráfico en la red, ruido en el cableado eléctrico, material y construcción, calidad de la instalación eléctrica y otros factores adversos.
SuscripciónTP-Link toma en serio su privacidad. Para obtener más detalles sobre las prácticas de privacidad de TP-Link, consulte la Política de privacidad de TP-Link.
From United States?
Get products, events and services for your region.