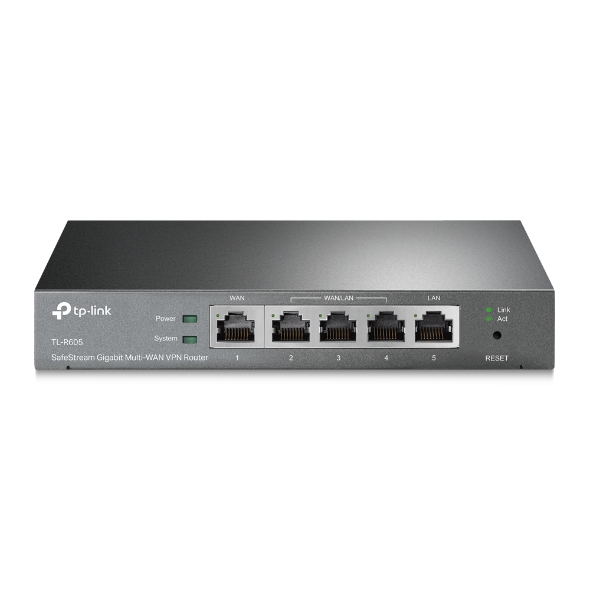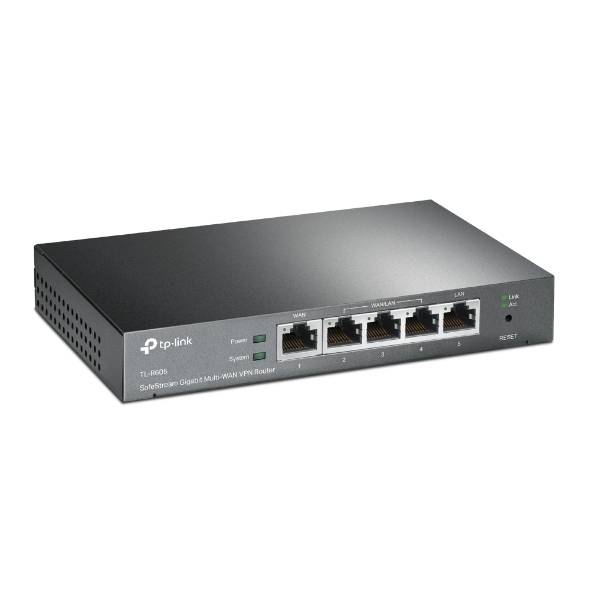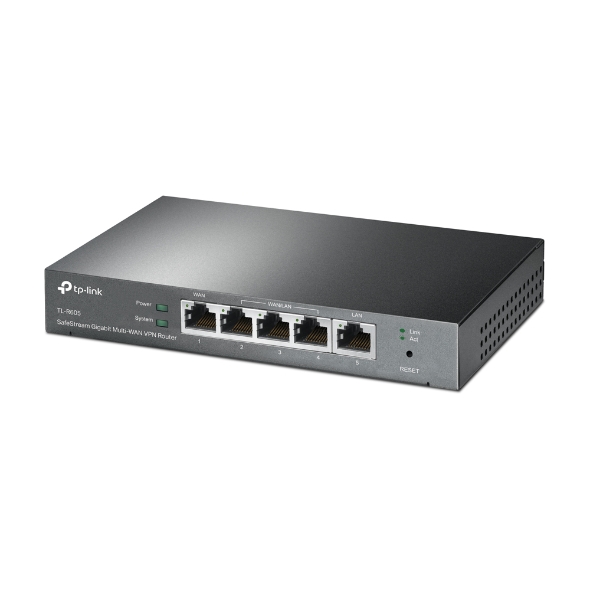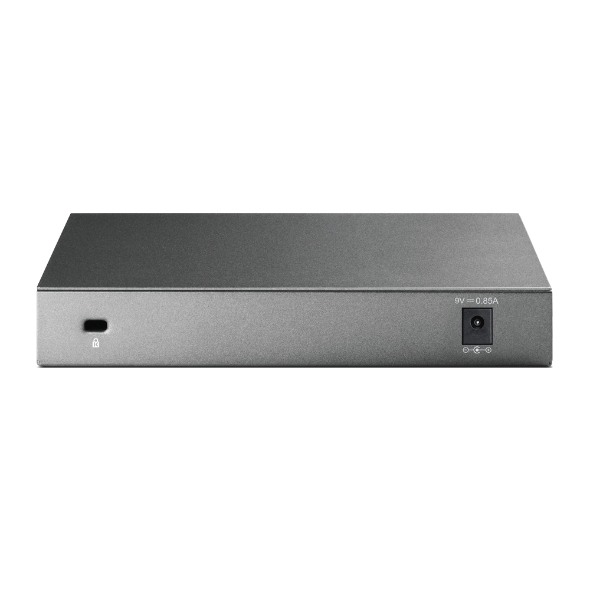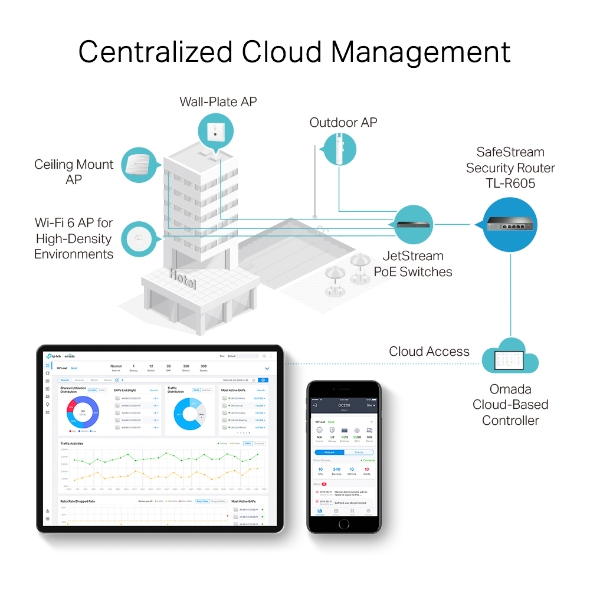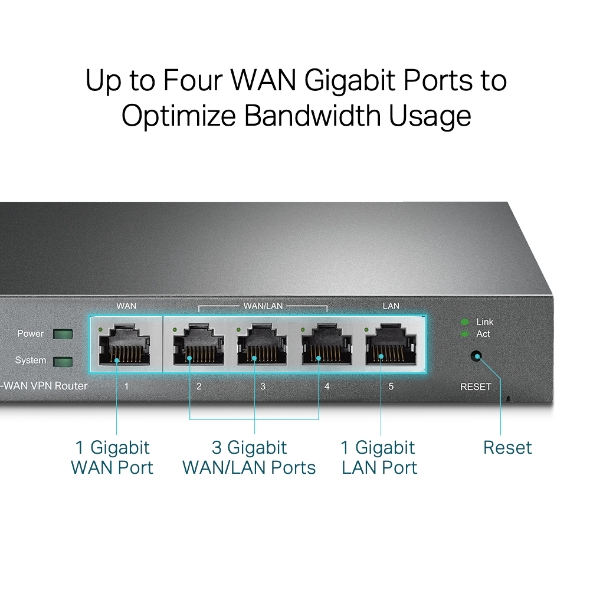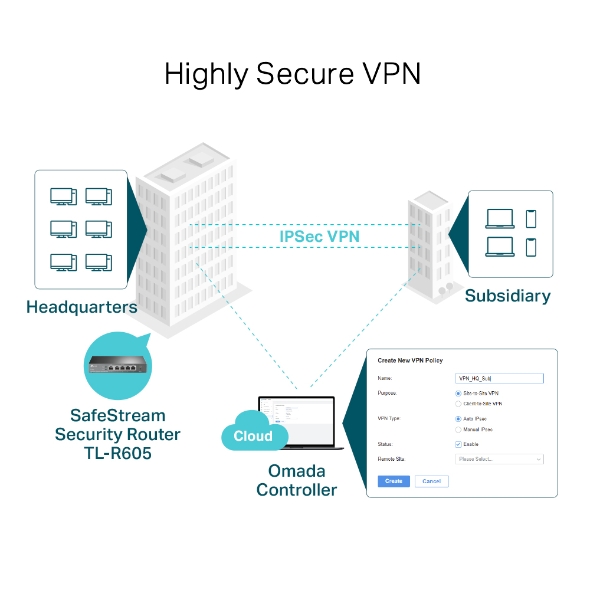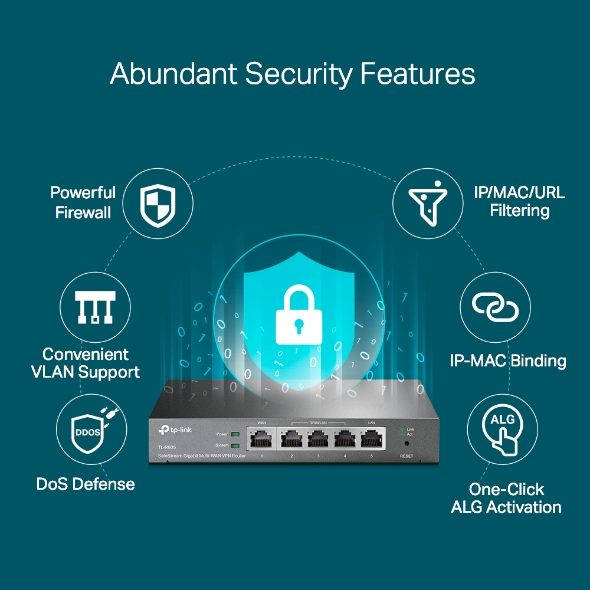 Router VPN SafeStream Gigabit Multi-WAN
Integrado en Omada SDN: Zero-Touch Provisioning (ZTP) ‡, Administración centralizada en la nube y monitorización inteligente.
Administración centralizada: acceso a la nube y aplicación Omada para una comodidad y administración fáciles.
Cinco puertos Gigabit: conectividad por cable de alta velocidad.
Hasta 4 puertos WAN: el puerto WAN de 1 gigabit y los puertos WAN / LAN de 3 gigabit optimizan el uso del ancho de banda.
VPN altamente segura: admite hasta 20 × IPsec LAN a LAN, 16 × OpenVPN *, 16 × L2TP y 16 × PPTP VPN.
Abundantes características de seguridad: políticas avanzadas de firewall, defensa DoS, filtrado de IP / MAC / URL y más funciones de seguridad protegen su red y fecha
Router VPN profesional, seguro y fiable Gigabit Multi-WAN VPN con capacidad de administración centralizada
SafeStream TL-R605
Gestión centralizada

Puertos Gigabit

Hasta 4 puertos WAN

Balanceo de carga

IPSec/OpenVPN/ PPTP/L2TP

Firewall Potente

VLAN
Omada SDN—la solución de nube más inteligente para redes de negocios
Como la puerta de enlace que se integra a la perfección en la plataforma Omada Software Defined Networking (SDN), TL-R605 permite la administración remota y centralizada, en cualquier lugar, en cualquier momento. La administración independiente a través de la interfaz de usuario web o la aplicación también está disponible para maximizar la comodidad.
PA Wi-Fi 6 para entornos de alta densidad
PA pared
PA exterior
PA techo
Switches PoE JetStream
Router de seguridad SafeStream TL-R605
Acceso Nube
Controlador
Omada en la nube
Gestión vía nube centralizada sin problemas:
Gestión vía nube 100% centralizada de toda la red desde diferentes sitios, todo controlado desde una única interfaz en cualquier lugar, en cualquier momento.
Hasta cuatro puertos WAN Gigabit para optimizar el uso del ancho de banda
Tres puertos libremente intercambiables que se pueden configurar en WAN o LAN permiten que el router admita hasta cuatro puertos WAN para satisfacer varios requisitos de acceso a Internet a través de un dispositivo. La función de equilibrio de carga multi-WAN distribuye flujos de datos de acuerdo con la proporción de ancho de banda de cada puerto WAN para aumentar la tasa de utilización de banda ancha multilínea.
1 Puerto Gigabit WAN
3 Puertos Gigabit WAN/LAN
1 Puerto Gigabit LAN
Reset
VPN de Alta Seguridad
El TL-R605 admite VPN IPSec / PPTP / L2TP sobre protocolos IPSec / SSL. Con un potente diseño de hardware, el enrutador admite y gestiona hasta 20 × conexiones IPsec LAN a LAN, 16 × OpenVPN *, 16 × L2TP y 16 × conexiones PPTP VPN. La VPN * IPSec automática con un solo clic simplifica enormemente la configuración de la VPN y facilita la administración y la implementación de la red al tiempo que asegura y encripta las comunicaciones de datos privadas de sitio a sitio que viajan a través de Internet.
Sede
Controlador Omada
IPSec VPN
Filial
Abundantes características de seguridad
Firewall Potente
Políticas de firewall avanzadas
protegen la red y los datos
Soporte VLAN
Crear segmentos de red virtual para
seguridad mejorada y addministración
simplificada de la red.
Defensa DoS
Automaticamente detecta y bloquea ataques de Denegación
de Servicio como inundaciones TCP/UDP/ICMP, Ping de la
muerte,y ortras amenazas relacionadas.
Filtrado IP/MAC/URL
Prevenir con fuerza virus y ataques
de intrusos.
Unión IP-MAC
Reserva de asignación de IP estática para
clientes y defensa de ataques ARP
y spoofing.
Activación ALG de Un Toque
Activación ALG con un toque para
aplicaciones como FTP, H323, SIP,
IPsec y PPTP.
Estrategia de gestión de acceso a internet
Estandarizar el comportamiento en línea de los usuarios y especificar fácilmente los derechos de acceso a Internet y las estrategias de los empleados a través del filtrado de IP / MAC / URL y la lista de control de acceso (ACL). La autenticación del portal cautivo facilita el control de los recursos de la red al capturar, autenticar y clasificar el acceso de los usuarios. También se pueden asignar recursos de red apropiados para usuarios particulares o invitados.
Administración fácil con la aplicación Omada
Sigue las instrucciones de configuración en la aplicación gratuita Omada para configurarlo en minutos. Omada permite configurar ajustes, monitorizar el estado de la red y administrar clientes, todo desde la comodidad de un teléfono inteligente o tableta.
Pulsa para ver los dispositivos compatibles con la App OMada >
Hospitality

TP-Link Omada allows hotels to build reliable WiFi networks. Hotel WiFi network solutions including network topology, design, features, installation, and products are introduced.

Full WiFi coverage and wired connections
Flexible guest control
Seamless roaming
Easy Management

Education

Due to its reliable, scalable, and secure network solution, TP-Link has been widely acknowledged by global customers in the Education market ranging from infant schools with a few APs up to colleges and universities with hundreds of APs.

Easy management
High-density WiFi
Full WiFi coverage and wired connections
VPN and security

Branch Location

TP-Link Omada offers enterprise-level VPN, real-time network monitoring, and quick network troubleshooting to meet the requirements of headquarters and branches.

VPN
Easy management
Network monitoring and troubleshooting
High security
SEGURIDAD
Control de acceso
Source/Destination IP Based Access Control
Filtering
WEB Group Filtering*URL FilteringWeb Security**These functions are supported only in Standalone Mode.
ARP Inspection
• Sending GARP Packets*• ARP Scanning*• IP-MAC Binding**These functions are supported only in Standalone Mode.
Defensa de Ataque
• TCP/UDP/ICMP Flood Defense• Block TCP Scan (Stealth FIN/Xmas/Null)• Block Ping from WAN
CARACTERÍSTICAS DE HARDWARE
Estándares y Protocolos
• IEEE 802.3, 802.3u, 802.3ab• TCP/IP, DHCP, ICMP, NAT, PPPoE, SNTP, HTTP, DNS, IPsec, PPTP, L2TP
Interface
• 1 puerto WAN Gigabit fijo
• 1 puerto LAN Gigabit fijo
• 3 puertos WAN / LAN Gigabit intercambiables
Medios de Red
• 10BASE-T: UTP categoría 3, 4, 5 cable (Máx.100 m)
EIA / TIA-568 100Ω STP (Máx.100 m)
• 100BASE-TX: UTP categoría 5, cable 5e (máx. 100 m)
EIA / TIA-568 100Ω STP (Máx.100 m)
• 1000BASE-T: cable UTP categoría 5, 5e, 6 (máx. 100 m)
Botón
Botón Reset
Fuente de Alimentación
Adaptador externo de 9V / 0.85A DC
Flash
SPI 16MB
DRAM
128 MB
LED
PWR, SYS, WAN, LAN
Dimensiones (W X D X H)
158 × 101 × 25mm (6.2 × 4.0 × 1.0 in)
RENDIMIENTO
Sesiones Concurrentes
25,000
Rendimiento VPN IPsec
41.5 Mbps
FUNCIONES BÁSICAS
WAN Connection Type
• Static/Dynamic IP• PPPoE• PPTP• L2TP
MAC Clone
Modificar dirección MAC de WAN
DHCP
• Servidor / Cliente DHCP
• Reserva de dirección DHCP
• DHCP de red múltiple
IPv6
Developing**IPv6 is being developed and will be updated in the following software versions
VLAN
802.1Q VLAN
IPTV
IGMP v2/v3 Proxy
FUNCIONES AVANZADAS
ACL
Filtrado IP / MAC / nombres de dominio
Advanced Routing
Enrutamiento estático
VLAN
802.1Q VLAN
ARP Inspection
Unión IP/MAC
Bandwidth Control
• IP/Port-based Bandwidth Control• Guarantee & Limited Bandwidth
Forwarding
• Servidor virtual
• Activación de puertos
• DMZ
• UPnP
Equilibrio de carga
• Intelligent Load Balance• Application Optimized Routing• Link Backup (Timing*, Failover)• Online Detection*The function is supported only in Standalone Mode.
NAT
• One-to-One NAT*• Multi-Net NAT• Virtual Server• Port Triggering*• NAT-DMZ• FTP/H.323/SIP/IPSec/PPTP ALG, UPnP*These function are supported only in Standalone Mode.
Seguridad
• Firewall SPI
• Paso de VPN
• FTP / TFTP / H.323 / RTSP ALG
• Defensa DoS, Ping de la muerte
• Administración Local
Límite de sesión
IP-based Session Limit
VPN
IPsec VPN
• 20 túneles VPN IPsec
• LAN a LAN
• Modo de negociación principal y agresivo
• Algoritmo de cifrado DES, 3DES, AES128, AES192, AES256
• Algoritmo de autenticación MD5, SHA1
• Manual, modo de gestión de claves IKE
• Detección de pares muertos (DPD)
• Secreto directo perfecto (PFS)
PPTP VPN
• 16 túneles VPN PPTP
• Servidor VPN PPTP
• PPTP con cifrado MPPE
L2TP VPN
• 16 Túneles L2TP VPN
OpenVPN
• 16 Túneles OpenVPN
AUTENTICACIÓN
Autenticación Web
• No Authentication• Simple Password*• Hotspot(Local User / Voucher* / SMS* / Radius*)• External Radius Sever• External Portal Sever*• Facebook**These functions require the use of Omada Hardware Controller, Software Controller, or Cloud-Based Controller
ADMINISTRACIÓN
Omada App
Yes
Centralized Management
• Omada Cloud-Based Controller• Omada Hardware Controller (OC300)• Omada Hardware Controller (OC200)• Omada Software Controller
Cloud Access
Sí (a través de OC300, OC200, Controlador Omada en la Nube o Controlador Omada Software)
Servicio
Dynamic DNS (Dyndns, No-IP, Peanuthull, Comexe)
Mantenimiento
• Configuracion de hora
• diagnóstico
• Actualización de firmware
• Valores predeterminados de fábrica / reinicio
• Copia de seguridad de restauracion
• Registro del sistema
• Gestión remota
• Estadísticas
Management Features
• Automatic Device Discovery• Intelligent Network Monitoring• Abnormal Event Warnings• Unified Configuration• Reboot Schedule• Captive Portal Configuration• ZTP (Zero-Touch Provisioning)**Zero-Touch Provisioning is supported only when using Omada Cloud-Based Controller.
Otros
Certificacion
CE, FCC, RoHS
Contenidos del Paquete
• TL-R605
• Adaptador de corriente
• Cable Ethernet RJ45
• Guía de Instalación Rápida
Requisitos del Sistema
Microsoft® Windows® 10, 8, 7,Vista™, XP o MAC® OS, NetWare®, UNIX® o Linux
Ambiente
Temperatura de Funcionamiento: 0℃~40℃ (32℉~104℉)
Temperatura de Almacenamiento: -40℃~70℃ (-40℉~158℉)
Humedad de Funcionamiento: 10%~90% sin condensación
Humedad de Almacenamiento: 5%~90% sin condensación
*Estas funciones requieren el uso de Omada Hardware Controller, Software Controller o Cloud-Based Controller.
‡ El aprovisionamiento Zero-Touch requiere el uso del controlador basado en la nube de Omada.
From United States?
Get products, events and services for your region.