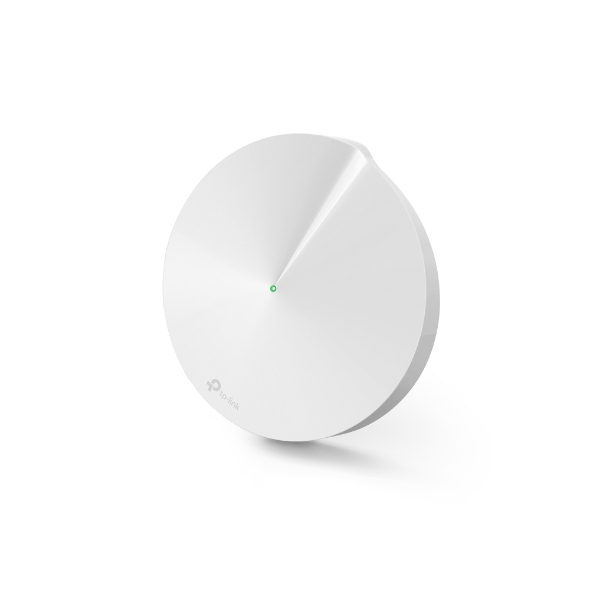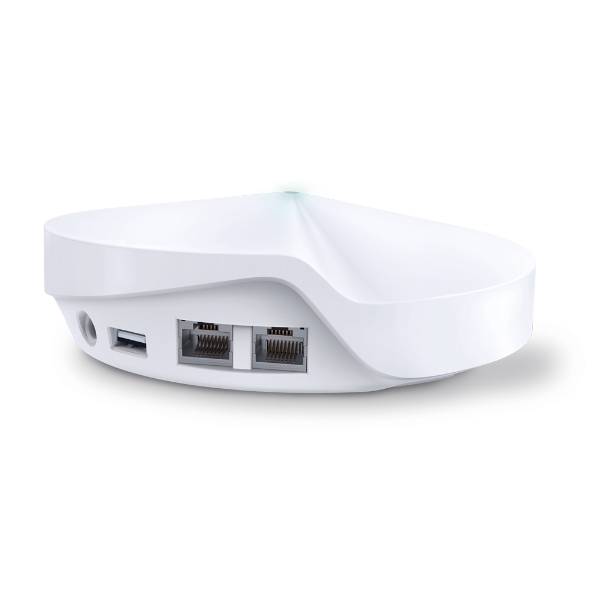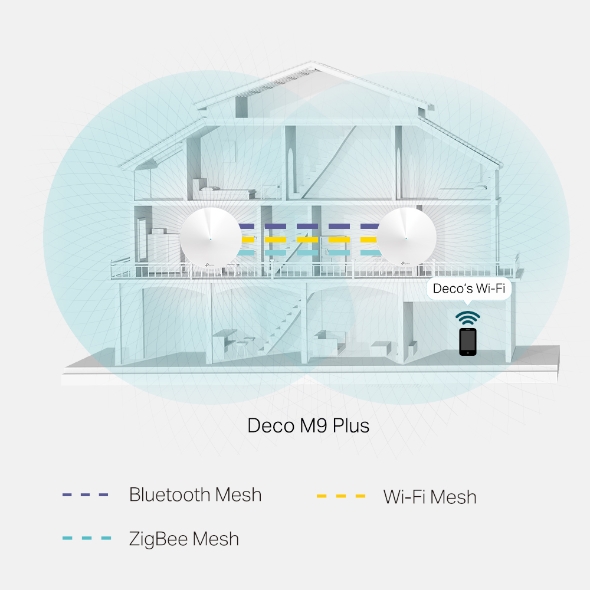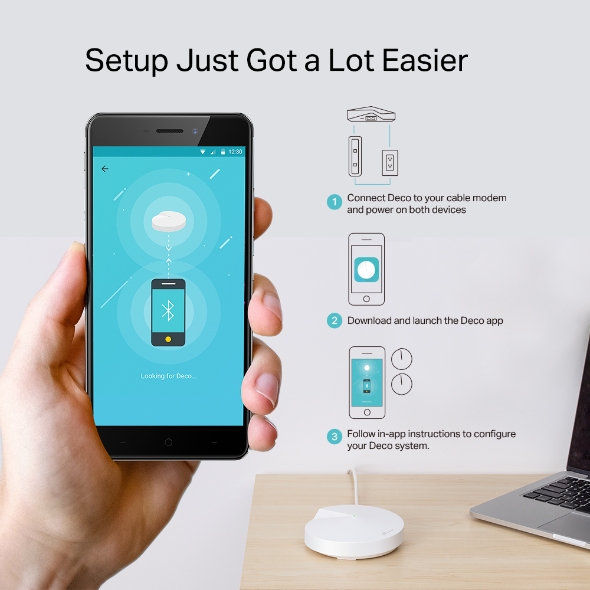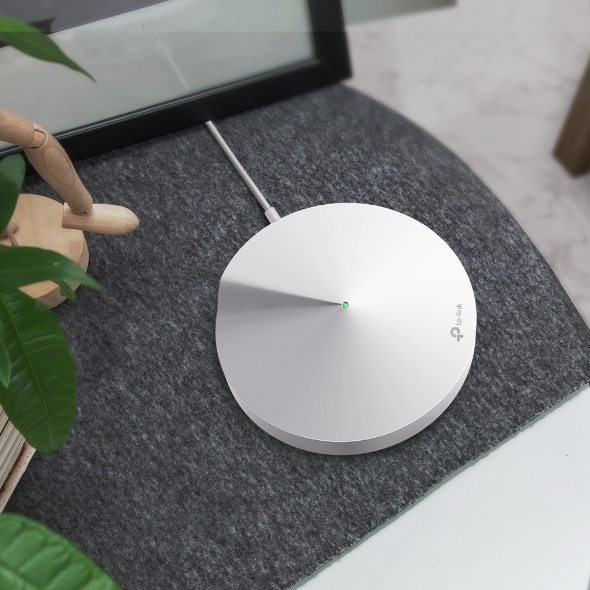 AC2200 Smart Home Mesh Wi-Fi System
Seamless Coverage: Achieve seamless whole-home coverage with a mesh Wi-Fi system and eliminate weak signal areas once and for all.
One Unified Network: Multiple units form a whole-home network that auto-selects the best connection as you move around your home.
Broad Coverage: Enjoy Wi-Fi coverage up to 2,500 square feet with every Deco M9 Plus unit.
Fast Connections: Three separate wireless bands up to 2134 Mbps with a dynamic backhaul up to 1.5 Gbps ensure stable, high-speed connections wherever you are in your home.
Seamless Management: Deco M9 Plus acts as a hub for your wireless and smart home devices.
Connect Multiple Devices: Deco handles traffic from even the busiest networks, providing lag-free connection for over 100 devices.
Total Security: HomeCareTM provides personalized features, including Parental Controls, Antivirus, and Quality of Service (QoS)* to ensure a safer online experience.
Setup Made Easier Than Ever: The Deco app walks you through setup—step by step.
Fast. Smart. Everywhere.
Smart Home Mesh Wi-Fi System
AC2200 Tri-Band Wi-Fi
Deco M9 Plus
Deco is the simplest way to guarantee a strong Wi-Fi signal in every corner of your home up to 4,500 square feet. Enjoy fast and secure Tri-Band Wi-Fi no matter how many devices you have. Deco M9 Plus connects and controls all your smart home devices as a hub, no need for additional hub.
Wi-Fi dead-zone killer

Superior Tri-Band Speed

Built-in smart hub

Connects over 100 devices
More than
Dedicated Wireless Connection
Three separate Wi-Fi bands deliver super-fast, stable connections to devices in every room of your home. More bandwidth is freed up with dedicated wireless links between Deco units. Say goodbye to lag with AC2200 Wi-Fi system. Deco M9 Plus uses not only 5G_1(867Mbps) as wireless backhaul but also 5G_2(867Mbps) and 2.4G(400Mbps) as backhaul while traffic gets heavy, delivering speeds over 1000Mbps which is ideal for your gigabit fiber.
Tri-Band wireless connection
Dead-zone Killer
Eliminate weak signal areas with whole-home Wi-Fi. No more searching around for a stable connection.
Want more coverage? Simply add another Deco.
No More Buffering
Tired of endless loading? With an ever increasing number of bandwidth-hungry gadgets in our homes, you need a network that can rise to the challenge. With network speeds three times faster than the previous generation routers thanks to 802.11ac wireless technology, Deco can provide lag-free connections for over 100 devices.
connects over
100
devices
Whole Home Seamless Roaming
Deco units work together to form one unified network. Enjoy your smart life not just in your living room, but all around your entire house with Deco M9 Plus' s smart mesh.
Deco M9 Plus
Router + Range Extender
Bluetooth Mesh
Wi-Fi Mesh
ZigBee Mesh
The Smart Hub of Your Home
Deco M9 Plus acts as a smart home hub, bringing all your products together in one easy-to-use app. Set interactions between Zigbee, Bluetooth and Wi-Fi devices. With Deco M9 Plus, enjoy the magic of the smart home in every room.
Great Compatibility
TP-Link smart devices, GE, Kwikset and other leading brands are supported, making possible a range of interactions between bulbs, locks, cameras and more.
Check the Full Compatible List >>
Setup Just Got a Lot Easier
Unbox Deco, install the app and then simply follow the on-screen directions. Deco will take care of the rest, getting your network up and running in minutes.
Connect Deco to your cable modem and power on both devices

Download and launch the Deco app

Follow in-app instructions to configure your Deco system.
TP-Link HomeCare TM
TP-Link HomeCare TM ensures every device on your network remains protected, with a threat database updated live by Trend Micro TM.
Powerful parental controls can limit online time and block inappropriate content according to unique profiles created for each family member.
Built-in Antivirus helps you defend against malicious website and guard your online payment.
Learn More >>
Block inappropriate content and restrict time spent online

Protect all connected devices in your home from online threats

Prioritize devices and applications for faster performance when needed
Fits Every Type of Home
Multi-story home

Modern home

Apartment
Skutečně bezproblémový roaming
Jednotky Deco mezi sebou spolupracují, aby vytvořily sjednocenou síť s jedním názvem. Váš telefon nebo tablet se automaticky připojují k nejrychlejší jednotce Deco, jak se pohybujete po domě. Přepnutí trvá méně než 0,3 sekundy a probíhá hladce a bez povšimnutí, takže se můžete spolehnout na nepřerušované internetové připojení.
Adaptivní výběr cesty připojení

Technologie TP-Link Mesh dynamicky vybírá nejvhodnější cestu a pásmo pro vaše připojení a aplikace, čímž zaručuje rychlé Wi-Fi připojení odkudkoliv v rámci vaší domácnosti.
Automatické odstranění problémů

Pokud se u některé z jednotek Deco vyskytnou potíže, systém automaticky přesměruje data přes ostatní jednotky, abyste zůstali připojení.
Wi-Fi + Powerline
Připojení Powerline využívá existující elektrické okruhy v domě k propojení jednotek Deco, aby signál prošel i těmi nejtlustšími zdmi a stropy.
Dvoupásmová Wi-Fi síť a Powerline síť mezi sebou spolupracují a přenášejí data mezi jednotkami Deco. Celková rychlost sítě je tak mnohem vyšší než při použití samotné Wi-Fi sítě.
Wi-Fi + Powerline:

Hybridní Wi-Fi systém

s vylepšenou rychlostí

Tradiční Mesh Wi-Fi síť:

Standardní Wi-Fi systém
Powerline

Note:Wi-Fi + Powerline is only for Deco P9
IoT Mesh
Na rozdíl od tradičních chytrých hubů technologie TP-Link Mesh zajišťuje IoT pokrytí celé domácnosti pomocí Wi-Fi, Bluetooth a Zigbee integrovaných do jednoho systému. Užívejte si kouzelné možnosti chytré domácnosti v každé místnosti s technologií TP-Link Mesh. Zapomeňte na nespočet hubů.
- - -

Wi-Fi

- - -

Zigbee

- - -

Bluetooth
Wi-Fi 6 Mesh
S technologií Wi-Fi 6 za zády
je Deco Wi-Fi Mesh systém pokrývající celou domácnost navržen k tomu, aby zajistil výrazné zlepšení v pokrytí, rychlosti a celkové kapacitě. Pořiďte si nejnovější Wi-Fi Mesh systém a získejte výhody sítě budoucnosti, která poskytuje vyšší přenosovou rychlost a připojí více zařízení.
Širší
pokrytí

Více připojených zařízení

Vyšší přenosové rychlosti Wi-Fi 6
Systém Mesh s umělou inteligencí (AI)
Jednotka Deco je vybavena technologií AI Mesh, díky které se automaticky učí a zlepšuje své chování podle získaných zkušeností. Umí tak poskytnout ideální Mesh Wi-Fi síť přesně podle požadavků vaší domácnosti a síťového prostředí. Pohybujte se po domácnosti a dopřejte si ničím nerušené streamování s nejrychlejšími možnými přenosovými rychlostmi.
Proč je technologii TP-Link Mesh
upřednostňovaným řešením v odvětví?
Srovnání s konkurencí

Model
TP-Link Deco
Netgear Orbi
Google WiFi
Wireless Backhaul
Tri-Band(2.4G+5G_1+5G_2)¹
Single-Band(5G_1 Only)
Dual-Band(2.4G+5G)
Podpora protokolu Mesh
IEEE 802.11k/v/r
IEEE 802.11k/v
IEEE 802.11s
True Seamless Roaming
✔
×
×
APS(Adaptive Path Selection)
✔
×
✔
IoT Mesh
✔²
×
×
Wi-Fi 6 Mesh
✔5
✔
×
AI-Driven Mesh
✔6
×
×
Powerline Backhaul
✔³
×
×
Wireless + Powerline Bandwidth
✔⁴
×
×
Band Steering
✔
✔
✔
AP Steering
✔
✔
✔
Self-Healing
✔
✔
✔

Notes: 1&2 For Deco M9 Plus Only;5 for Deco X20;Deco X90;6 for Deco X90 only.




Spec sourced by Dec. 2019
Správa sítě Deco na dosah ruky!
Aplikace Deco představuje nejsnadnější způsob nastavení, správy a monitorování vašeho Deco Mesh systému Wi-Fi pro celou domácnost na zařízeních iOS nebo Android.
Nastavení je nyní mnohem jednodušší
Rozbalte jednotku Deco, nainstalujte aplikaci a potom jednoduše postupujte podle pokynů na displeji. O zbytek se postará jednotka Deco, která aktivuje a zprovozní síť během několika málo minut.
Připojte jednotku Deco ke kabelovému modemu a zapněte obě zařízení.

Stáhněte si aplikaci Deco a spusťte ji.

Nakonfigurujte systém Deco podle pokynů v aplikaci.
Snadná správa
Deco usnadňuje správu vaší Wi-Fi sítě, ať sedíte na gauči, jste v práci, nebo se nacházíte kdekoli jinde.
Přehledný řídicí panel pro správu

Sledujte provozní stav sítě, monitorujte připojená zařízení a získejte všechny funkce nabízené routerem.

Několik jednotek Deco, jedna aplikace

Aplikace Deco se postará o správu všech vašich sítí Deco a zařízení připojených k Deco Wi-Fi síti.

Kontrola připojených zařízení

Zobrazte si seznam připojených zařízení s možností pozastavení a obnovení přístupu k internetu, testu rychlosti internetového připojení a upřednostnění nebo blokování vybraných zařízení.

Vzdálená správa

Ovládejte síť vzdáleně přes svůj telefon – z libovolného místa.
Robustní rodičovská kontrola
Jednoduchá, intuitivní rodičovská kontrola pomáhá zajistit bezpečnost vašich dětí v on-line světě.
Snadno vytvoříte profil pro každého člena rodiny a nastavíte specifické časové limity a množství povoleného času tráveného on-line. Přiřaďte zařízení k profilům, aby se pravidla rozšířila na jednotlivá zařízení i na členy rodiny.

Keep your family safe online with one-touch security settings that block content based on age-appropriateness.

Set limits on how much time each person in your family can spend online.

With Insights, you can check out which sites your children visit and how much time they spend on each. It's a great way to know your children are safe while they're having fun online.

Take a break from Wi-Fi for dinner and family game nights. Just tap a button to suspend internet access for everyone in your home.
Intuitivní aplikace s mnoha funkcemi
Přehled měsíčního využívání
Prohlédněte si podrobný seznam údajů o vaší síti za měsíc, včetně využívání, blokovaného obsahu, bezpečnostních hrozeb a dalších položek.
Home Automation
Make your life easy with powerful automation and voice control tools.
*Currently only for Deco M9 Plus
Flexible Shortcut
Flexibly control all devices from your phone or tablet with just one click.
*Currently only for Deco M9 Plus
Protect Your Network
Built-in Antivirus helps you defend against malicious website and guard your online payment.
*Currently only for Deco M9 Plus, Deco P7 and Deco M5
Prioritize Your Devices
Choose which devices always have the fastest connections
or set priority for a specific time duration.
Set Application Priorities
Allocate more bandwidth for the activities most important to you with simple controls.
*Currently only for Deco M9 Plus, Deco P7 and Deco M5
Share Wi-Fi with Friends
Set up separate Wi-Fi profiles for guests and share the password to
make it easier for them to hop online.
Check Your Speed
Run a speed test to ensure you're getting the internet speeds you're paying for.
View every device on your network and see how much bandwidth they're using.
Naše podpora vám kryje záda
Máte otázky k systému Deco? Pomoc je vždy nablízku. Odpovědi najdete v aplikaci Deco, a pokud ne, stačí jedno kliknutí a můžete nás kontaktovat.
Podpora
Poznámky: Rozhraní a funkce aplikace se mohou lišit u jednotlivých verzí aplikace a modelů Deco.
WIRELESS
Standards
Wi-Fi 5IEEE 802.11ac/n/a 5 GHzIEEE 802.11n/b/g 2.4 GHzBluetooth 4.2ZigBee HA 1.2
WiFi Speeds
AC22005 GHz: 867 Mbps (802.11ac)5 GHz: 867 Mbps (802.11ac)2.4 GHz: 400 Mbps (802.11n)
WiFi Range
4-6+ Bedroom Houses (3-pack)

---

TP-Link Mesh TechnologyOptional Ethernet backhaul work together to link Deco units to provide seamless coverage8× Antennas (Internal)Multiple antennas form a signal-boosting array to cover more directions and large areasBeamformingConcentrates wireless signal strength towards clients to expand WiFi range
WiFi Capacity
Medium

---

Tri-BandDistribute devices to different bands for optimal performance4×4 MU-MIMOSimultaneously communicates with multiple MU-MIMO clients
Working Modes
Router ModeAccess Point Mode
HARDWARE
Processor
Qualcomm 717 MHz Quad-core CPU
Ethernet Ports
2× Gigabit Ports *Per Deco Unit Supports WAN/LAN auto-sensing
Buttons
Reset Button
SECURITY
WiFi Encryption
WPA-Personal
WPA2-Personal
Network Security
SPI FirewallAccess ControlHomeCare™ Antivirus

---

Malicious Site CheckerPort Intrusion PreventionInfected Device IsolationNotification and Log
Guest Network
1× 5 GHz Guest Network1× 2.4 GHz Guest Network
SOFTWARE
Protocols
IPv4 IPv6
Service Kits
HomeCare™Learn More>Smart HubCompatible Smart Product>
Parental Controls
HomeCare™ Parental Controls

---

Custom ProfilesContent FilteringURL FIlteringTime Limit Time Schedule (Bed Time)Log InsightUsage MonitorMonthly Reports
WAN Types
Dynamic IPStatic IPPPPoEPPTPL2TP
Quality of Service
HomeCare™ QoS

---

QoS by DeviceQoS by Application
Cloud Service
OTA Firmware UpgradeTP-Link ID DDNS
NAT Forwarding
Port Forwarding
UPnP
IPTV
IGMP ProxyIGMP SnoopingBridge Tag VLAN
DHCP
Address ReservationDHCP Client ListServer
DDNS
TP-Link
Management
Deco App
PHYSICAL
Dimensions (W×D×H)
5.7 × 5.7 × 1.8 in (144 × 144 × 46 mm)
Package Contents
Deco M9 Plus (3-pack)3 Deco M9 Plus Units1 RJ45 Ethernet Cable3 Power Adapters1 Quick Installation GuideDeco M9 Plus (2-pack)2 Deco M9 Plus Units1 RJ45 Ethernet Cable2 Power Adapters1 Quick Installation GuideDeco M9 Plus (1-pack)1 Deco M9 Plus Unit1 RJ45 Ethernet Cable1 Power Adapter1 Quick Installation Guide
OTHERS
System Requirements
Android 4.4 or lateriOS 9.0 or later
Certifications
CE, FCC, IC, NCC, BSMI, IDA, RCM, JPA, JRF, VCCI, KC, RoHS
Environment
Operating Temperature: 0℃~40℃ (32℉ ~104℉)Storage Temperature: -40℃~70℃ (-40℉ ~158℉)Operating Humidity: 10%~90% non-condensingStorage Humidity: 5%~90% non-condensing
TEST DATA
WiFi Transmission Power
CE:<20 dBm (2.4 GHz)<23 dBm (5 GHz)FCC:<30 dBm
*1. Maximum wireless transmission rates are the physical rates derived from IEEE Standard 802.11 specifications. Range, coverage, and maximum quantity of connected devices are based on test results under normal usage conditions. Actual wireless data throughput. wireless coverage, and quantity of connected devices are not guaranteed and will vary as a result of 1) environmental factors, including building materials, physical objects, and obstacles, 2) network conditions, including local interference, volume and density of traffic, product location, network complexity, and network overhead, and 3) client limitations, including rated performance, location, connection quality, and client condition.
*2. TP-Link HomeCareTM is available for free for the first few months after subscription. Please visit and check: www.tp-link.com/homecare
From United States?
Get products, events and services for your region.