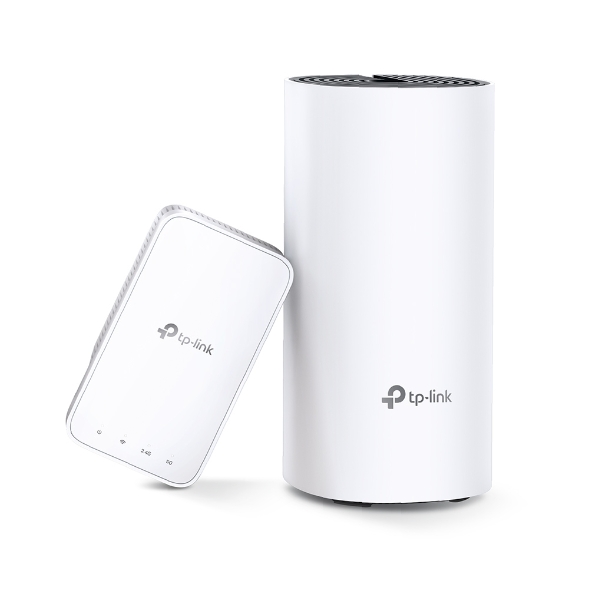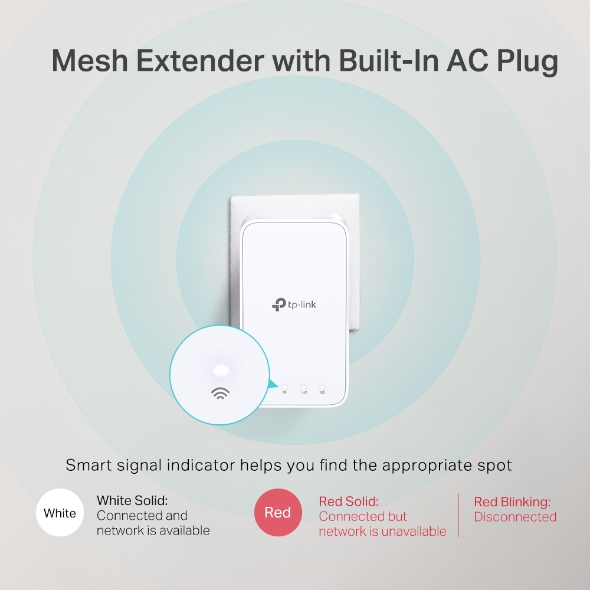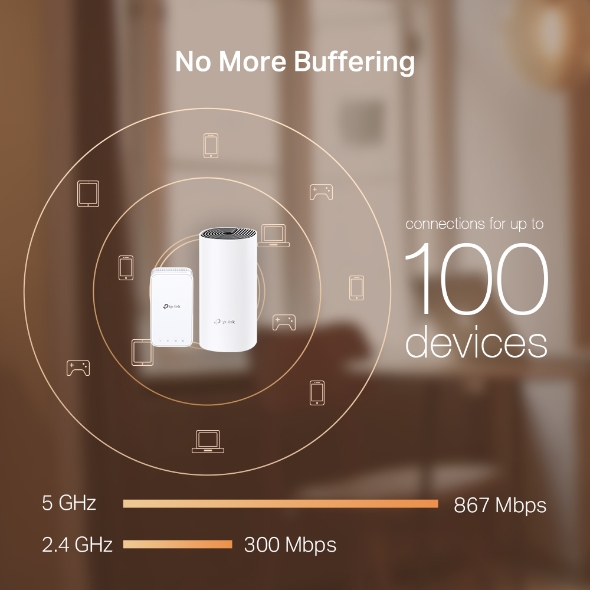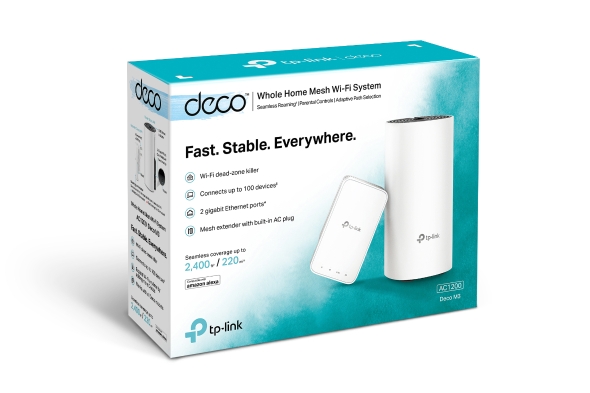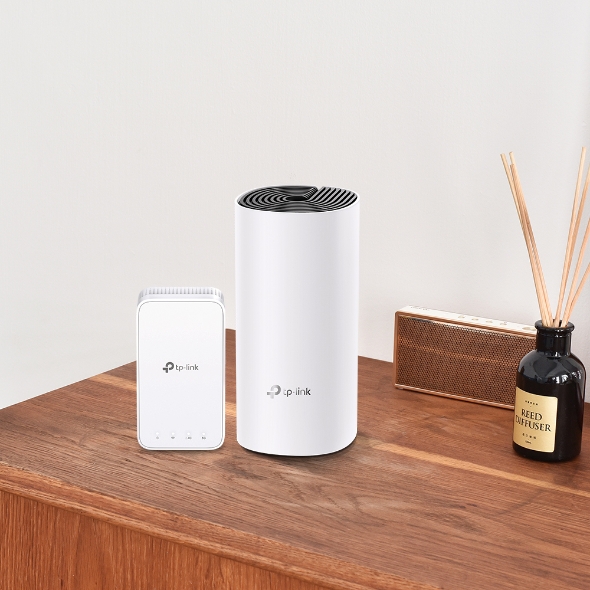 AC1200 Whole Home Mesh Wi-Fi System
Deco uses a system of units to achieve seamless whole-home Wi-Fi coverage — eliminate weak signal areas once and for all!
A Deco M3 two-pack (1 router—Deco M4R and 1 extender—Deco M3W) delivers Wi-Fi to an area of up to 2,400 square feet (EU version).
Get further mesh Wi-Fi coverage by simply plugging in more Deco add-on extender Deco M3W into a wall outlet.
With advanced Deco Mesh Technology, units work together to form a unified network with a single network name. Devices automatically switch between Decos as you move through your home for the fastest possible speeds.
Deco M3 provides fast and stable connections with speeds of up to 1167 Mbps and works with a major internet service provider (ISP) and modem.
Deco can handle traffic from even the busiest of networks, providing lag-free connections for up to 100 devices.
Parental Controls limit online time and block inappropriate websites according to unique profiles created for each family member.
Setup is easier than ever with the Deco app there to walk you through every step.
Fast. Stable. Everywhere.
Whole Home Mesh Wi-Fi System
AC1200 Dual-Band Wi-Fi
Deco M3
Can't get Wi-Fi in your
bedroom?

Lose connection while walking
around the house?

Network buffering
all the time?

Worried about your children's
network security?
Wi-Fi Dead-Zone Killer
Deco M3 is a simple way to guarantee a strong Wi-Fi signal in every corner of your home up to 2,400 square feet (2-pack, EU version). 2.4 GHz and 5 GHz wireless connections work together to provide even faster network speeds and truly seamless coverage.
Want more coverage? Simply add more Decos.†
2.4 GHz wireless connection
5 GHz wireless connection
Convenient Plug-In Wi-Fi for Additional Coverage
Weak Wi-Fi signal in the hallway, kitchen, garage or basement? Get further Mesh Wi-Fi coverage by simply plugging more Deco add-on compact extenders Deco M3W into wall outlet, and enjoy all the functions of the main router.
Notes: Deco M3W needs to work with Deco routers to extend Mesh Wi-Fi.
Plug in the extender about halfway between the main router and the Wi-Fi dead zone. The smart signal indicator helps you find the appropriate spot, just a glance, flexibly and conveniently.
White

White Solid:
Connected and network is available

Red

Red Solid:
Connected but network is unavailable

Red Blinking:
Disconnected
Seamless Roaming with One Wi-Fi Name
TP-Link Mesh means Deco units work together to form a unified network with a single network name. Enjoy uninterrupted streaming, downloading, gaming and more as you move through your home, and no more switching Wi-Fi names, creating a truly seamless online experience.‡
Seamless Roaming

Uninterrupted streaming when moving around your home Extender

One Wi-Fi Name

No more switching Wi-Fi network names

Stays Fast, Always

Adaptive path selection keeps your network running at top speed

Self-Healing

Ensure you stay online even if one node fails by automatically rerouting data
Traditional Router with Extender
Deco M3
No More Buffering
Network speeds three times faster than previous generation routers, thanks to 802.11ac wireless technology, make Deco capable of providing a lag-free connection to up to 100 devices.†
Single-application
connections for up to
100
devices
Smooth Operation for Multiple Applications
*Testing of multiple applications conducted by TP-Link in December 2018.
Robust Parental Controls
Simple, intuitive parental controls make it easy to
keep your children safe while they're online.
Easily create a profile for each family member and set custom time limits and online time allowances.

Keep your family safe online with one-touch security settings that block websites based on age-appropriateness.

Set limits on how much time each person in your family can spend online.

Check out which sites your children visit and how much time they spend on each to ensure your children are safe while they're having fun online.

Take a break from Wi-Fi for dinner and family game nights. Just tap a button to suspend internet access for everyone in your home.
Wi-Fi Made Easy
Setup Just Got a Lot Easier

Installing Deco M3 is fast and easy. Just unpack the system, download the Deco app and follow its onscreen directions.

Learn how to set up the Deco system >>

Convenient Management

Manage your Wi-Fi at home or away in the Deco app, including seeing the connected devices, prioritizing your devices, setting up a guest network and more.

Voice Control

Pair with Alexa to control Deco M3 with simple voice commands.
All Decos
Work Together
Deco M3 is compatible with other Deco models to
form Mesh network. Expand Mesh Wi-Fi coverage
anytime by simply adding more Decos.
Notes: A Deco M3 two-pack is comprised of a router (Deco M4R) and a extender (Deco M3W).
†Maximum wireless signal rates are the physical rates derived from IEEE Standard 802.11 specifications. Actual wireless data throughput and wireless coverage, and quantity of connected devices are not guaranteed and will vary as a result of network conditions, client limitations, and environmental factors, including building materials, obstacles, volume and density of traffic, and client location.
‡Seamless roaming requires that clients need to support 802.11k/v/r and may require additional set up. Performance may vary depending on the client device.
Skutečný bezproblémový roaming
Jednotky Deco spolupracují navzájem na vytvoření jedné jednotné sítě. Váš telefon nebo tablet se automaticky připojí k nejrychlejší jednotce Deco podle toho, jak se pohybujete doma a vytváří skutečně bezproblémový online zážitek. S podporou IEEE 802.11r stejně jako 802.11k/v je přepínání z jedné jednotky Deco na druhou tak hladké, že je nepozorovatelné, a to i při streamování.
Adaptive Path Selection (Výběr adaptivní cesty)

TP-Link Mesh technologie dynamicky zvolí nejlepší trasu a pásmo pro vaše data, což zaručuje rychlé připojení nezávisle na tom, kde se doma nacházíte.
Samopokrytí

Pokud má jedna jednotka Deco nějaký problém, systém automaticky přesměruje data přes druhou jednotku Deco, abyste s jistotou zůstali online.
Wi-Fi + Powerline
Připojení přes elektrickou síť využívá elektrický obvod vašeho domova k propojení jednotek Deco, obchází dokonce i nejsilnější stěny a stropy.
Kombinace připojení přes elektrickou síť a bezdrátových připojení dosahuje až o 60% rychlejší síťové připojení ve srovnání s bezdrátovým připojením.
tBoosted speeds
60%
Standard Wi-Fi System
Hybrid Wi-Fi System
Powerline

Poznámka: Wi-Fi + Powerline je pouze pro Deco P7
IoT Mesh
Technologie TP-Link Mesh poskytuje na rozdíl od tradičních inteligentních rozbočovačů pokrytí IoT v celém domě s Wi-Fi, s Bluetooth a Zigbee integrovanými do jediného systému. Vychutnejte si kouzlo svého inteligentního domova v každé místnosti s technologií TP-Link Mesh. Rozlučte se s nespočetnými rozbočovači.
- - -

Wi-Fi

- - -

Zigbee

- - -

Bluetooth
Why is TP-Link Mesh Technology
an industry-leading solution?
Complete Comparison

Model Number
TP-Link Deco
Netgear Orbi
Google WiFi
Wireless Backhaul
Tri-Band (2.4G+5G_1+5G_2)¹
Single-Band (5G_1 Only)
Dual-Band (2.4G+5G)
Mesh Protocol Supported
IEEE 802.11k/v/r
IEEE 802.11k/v
IEEE 802.11s
True Seamless Roaming
√
×
×
APS(Adaptive Path Selection)
√
×
√
IoT Mesh
√²
×
×
Powerline Backhaul
√³
×
×
Wireless + Powerline Bandwidth
√⁴
×
×
Band Steering
√
√
√
AP Steering
√
√
√
Self-Healing
√
√
√

Notes: 1&2: For Deco M9 Plus Only

3&4: For Deco P7 Only

Spec sourced by Dec. 2017