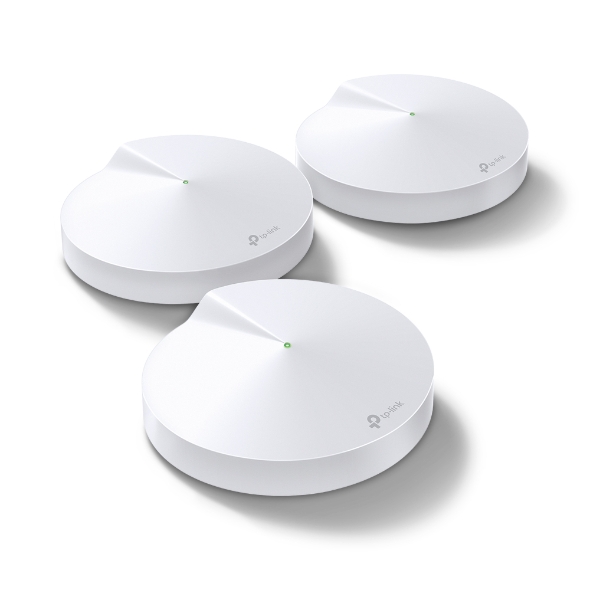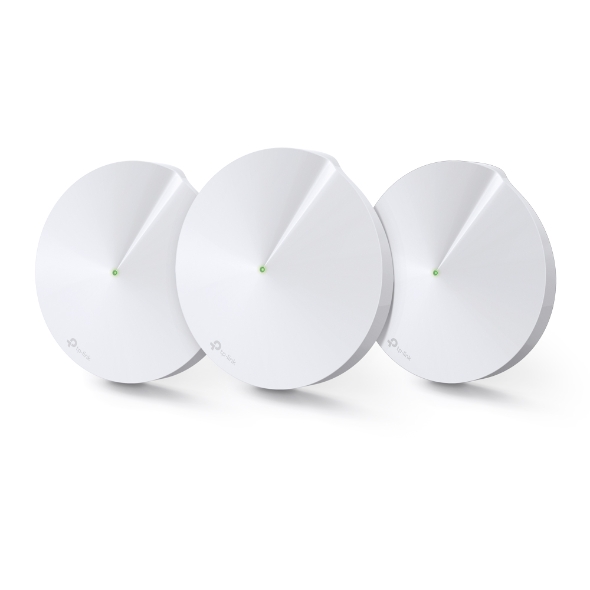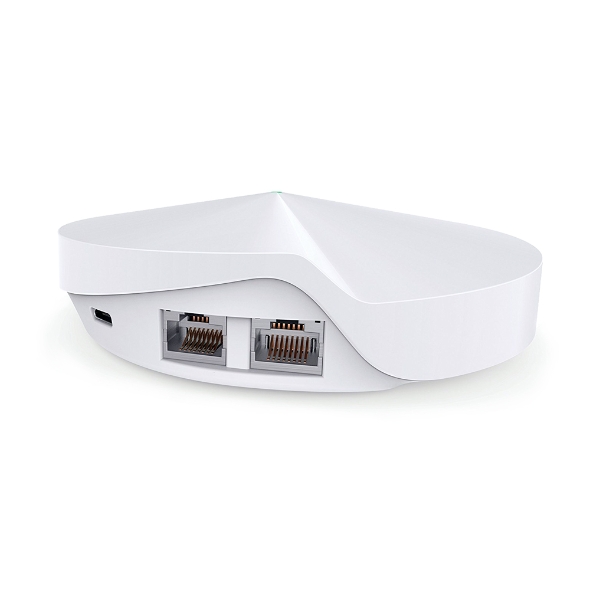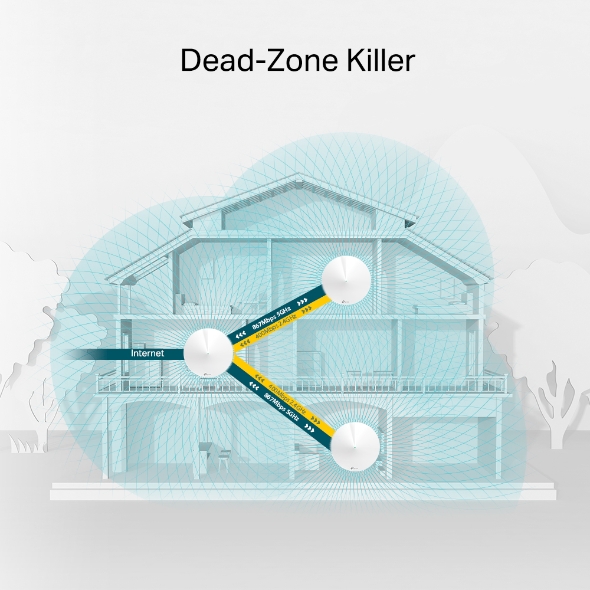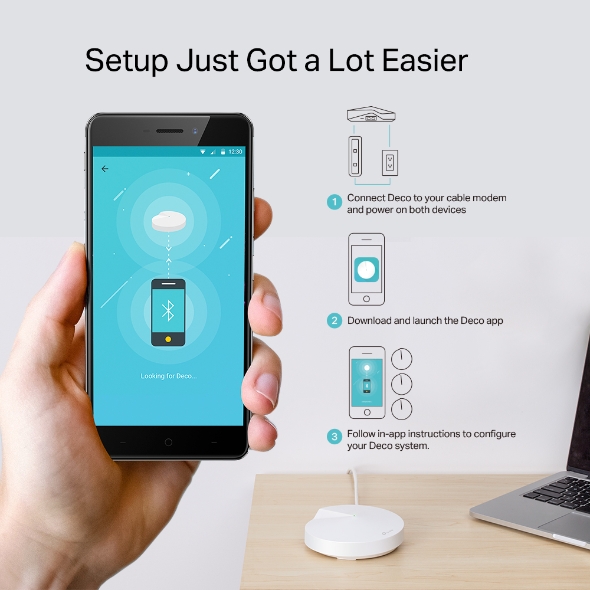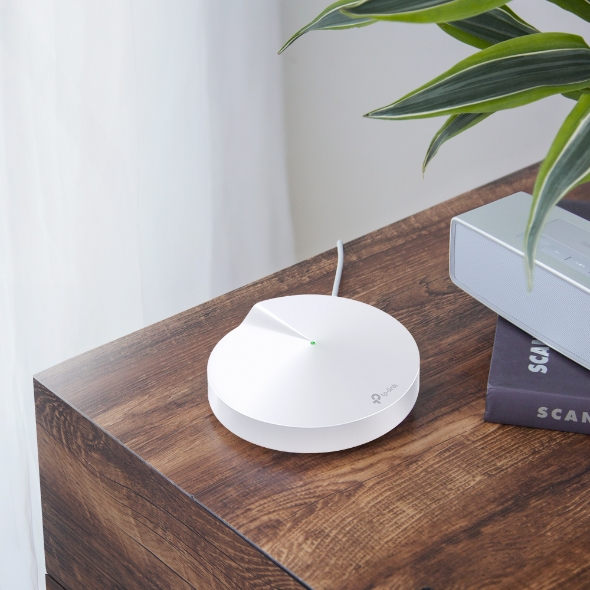 Deco Whole-Home Wi-Fi Deco M5
Deco uses a system of units to achieve seamless whole-home Wi-Fi coverage — eliminate weak signal areas once and for all!
With advanced Deco Mesh Technology, units work together to form one unified whole-home network with the same network name. Devices automatically switch between Decos as you move through your home for the fastest possible speeds.
A Deco M5 three-pack delivers Wi-Fi to an area of up to 5500 square feet, while a Deco M5 two-pack delivers up to 3800 square feet. And if that's not enough, simply add more Decos to the network anytime to increase coverage.
Deco M5 provides fast and stable connections with speeds of up to 1267Mbps and works with any internet service provider (ISP) and modem.
Deco can handle traffic from even the busiest of networks, providing lag-free connections for over 100 devices.
TP-Link HomeCareTM provides a suite of personalized and secure features, including Parental Controls, built-in Antivirus and Quality of Service (QoS).
Setup is easier than ever with the Deco app there to walk you through every step.
Vive la Vida Sin Interrupciones
Deco es la solución Wi-Fi para todo el hogar con la seguridad más extensa. Ofrece unos resultados rápidos, Wi-Fi ininterrumpido para cada habitación sacando el máximo partido de los tres equipos separados del AC1300 de hasta 4,500 pies² de cobertura total. Deco es también fácil de configurar y crece a medida que se añaden dispositivos a su hogar. Y Deco está respaldado por el soporte de por vida 24/7 de la industria..
Router Deco
Router Tradicional con Extensor
Características Bajo un Dominio Perfecto
HomeCareTM

HomeCare le ofrece a Deco la más completa seguridad que cualquier sistema de Wi-Fi para todo el hogar.

Incluye con HomecareTM

Controles Parentales Robustos

Maneja el contenido y controla cuándo cada dispositivo puede tener acceso a Internet.

Antivirus Integrado durante 3 Años

Protege todos los dispositivos conectados de su hogar de virus y software/programas informáticos dañinos.

Reporte de Uso

Revisa una lista mensual del uso, contenido bloqueado y amenazas de seguridad.

Calidad del Servicio

Prioriza dispositivos y aplicaciones para un desempeño más rápido cuando lo necesite.

SABER MÁS
Configuración Asistida

Deco te ayuda a encontrar rápidamente el lugar perfecto para cada unidad.
Prueba de velocidad

Verifica las velocidades de carga y descarga de tu red para mantenerlo operando a toda velocidad.
ART (Adaptive Routing Technology - Tecnología de enrutamiento Adaptable)

Elige automáticamente la ruta más directa para todos los dispositivos basados en la ubicación de cada unidad de Deco.
Porque Wi-Fi Debería Funcionar Siempre
Deco es una solución de Wi-Fi para todo el hogar que mantiene tu red fuerte, no importa el tamaño o la construcción de tu casa. Crea una red Wi-Fi unificada de tal modo que puedas disfrutar de una conexión perfecta conforme se mueve alrededor de tu casa.
M5
El primer sistema de Wi-Fi para todo su hogar con seguridad extensa.
Características del Producto
ARTTM de TP-Link
(Adaptive Routing Technology - Tecnología de Enrutamiento Adaptativo)
La mejor conexión. Todo el Tiempo. En cada cuarto.
ART elige automáticamente la ruta más directa para todos los dispositivos de su hogar en función de la ubicación de cada unidad de Deco. No importa dónde se encuentre, siempre tiene la mejor conexión posible, todo ello a través de un SSID (nombre de red) único. Ya sea de 2,4 GHz o 5 GHz, ART pone a sus dispositivos en la banda correcta dependiendo del dispositivo y para qué lo esté usando. Con ART, usted es libre para moverse de una habitación a otra ya sea para utilizar el stream, juegos en línea, descargar y navegar - todo en una conexión Wi-Fi perfectamente integrada.
Optimiza automáticamente su red de Deco mediante el Wi-Fi
Lo conecta automáticamente a la mejor unidad de Deco para obtener la mejor conexión de Internet
HomeCareTM de TP-Link
Whole-Home Wi-Fi. Whole-Home security.
HomeCare desarrollado por Trend Micro (un valor de $360) protege cada uno de los dispositivos conectados a su red de más de 100,000 nuevas amenazas de seguridad diariamente. AV-TEST, un instituto independiente de pruebas, lo clasificó en primer lugar en las categorías de protección, rendimiento y funcionalidad. Procesa ocho billones de URLs cada día que pueden afectar a productos con Wi-Fi activado, como computadoras, smartphones, cerraduras inteligentes y cámaras IP.

Cuando salen al mercado nuevas URLs maliciosas, también las bloquea en 15 minutos. Un sistema de defensa de tres fases bloquea las amenazas maliciosas y los sitios de phishing (suplantación de identidad), aprende a dejar de atacar el tráfico y aísla los dispositivos infectados. Para proteger mejor su red contra virus y malware (programas informáticos dañinos), Deco se actualiza automáticamente con las últimas definiciones y proporciona controles parentales muy eficacez, fáciles de usar.
SABER MÁS
Tres años de HomeCare gratuito desarrollado por Trend Micro (valor DE $360)
Los controles parentales le permiten filtrar contenido por grupos de edad
Establezca límites de tiempo para los distintos miembros de la familia
Pause el internet siempre que desee
Controle su red u otros (con permiso) de forma remota
Reporte de uso y salud del Internet
Los dispositivos de la lista negra que acceden a su red
Uso de la App en el Exterior
Opera tus dispositivos a su velocidad.
La app móvil de Deco va más allá de Wi-Fi. La app le da el poder de priorizar los dispositivos para velocidades más rápidas y compartir - todo desde su smartphone.
Prioriza los dispositivos y aplicaciones para obtener un rendimiento más rápido
Comparte la información de Wi-Fi de la red de invitados
Solución de problemas, prueba de velocidad y ejecuta diagnósticos
Supervisa el tráfico de dispositivos individuales
Especificaciones
Todo está en los detalles.
CPU de cuatro núcleos
Inalámbrico: 400 Mbps en 2.4 GHz + 867 Mbps en 5 GHz
4 antenas internas por unidad Deco
2 puertos Gigabit por unidad Deco
1 puerto USB Tipo C
Compatible con IPv6 (Versión 6 del Protocolo de Internet)
Dimensiones del producto (120 mm diámetro x 38 mm altura)
Bluetooth 4.2
Comparación
Deco M5
Eero
Luma
Google WiFi

Características de Wi-Fi

MU-MIMO
Selección de Ruta Automática
Direccionamiento del AP
Direccionamiento de la Banda
Haz modelado

Fácil de Usar

App Móvil
Bluetooth Integrado
Asistente de Ubicación
Prueba de Velocidad
Lista de Dispositivos
Fácil Compartición de Wi-Fi para los Invitados

Software y Seguridad

Escaneo de la Red
Antivirus basado en el Router
Seguridad de Firewall (cortafuegos)
QoS (Por Dispositivo)
QoS (Por Aplicación)
Reporte de Actividades del Dispositivo
Controles Parentales (Con Restricción de Tiempo)
Controles Parentales (Filtrado de URL)
Reportes de Uso Mensuales
Actualización Automática de FW
*Por favor tenga en cuenta que la comparación se ha elaborado en base a la información disponible del producto de folletos y sitios web de los productos a partir del 4/12 del 2017. Ninguna prueba actual fue realizada.
Comencemos con Deco
M5
Deco es una solución de Wi-Fi para todo el hogar que crece contigo, de tal manera que cada dispositivo está perfectamente cubierto.
*1. Maximum wireless transmission rates are the physical rates derived from IEEE Standard 802.11 specifications. Range, coverage, and maximum quantity of connected devices are based on test results under normal usage conditions. Actual wireless data throughput. wireless coverage, and quantity of connected devices are not guaranteed and will vary as a result of 1) environmental factors, including building materials, physical objects, and obstacles, 2) network conditions, including local interference, volume and density of traffic, product location, network complexity, and network overhead, and 3) client limitations, including rated performance, location, connection quality, and client condition.
*2. TP-Link HomeCareTM is available for free for the first few months after subscription. Please visit and check: www.tp-link.com/homecare
*3. Deco M3/ E3 is comprised of a router (Deco M4R/ E4R) and one or two satellites (Deco M3W), while Deco M4/ E4 is comprised of two or three Deco M4R/ E4R units. And Deco M3W will be released soon.
True Seamless Roaming
Deco units work together to form one unified network. Your phone or tablet automatically connects to the fastest Deco as you move through your home, creating a truly seamless online experience. Support for IEEE 802.11r as well as 802.11k/v mean switching from one Deco to another is so smooth it's unnoticeable, even during streaming.
Adaptive Path Selection

TP-Link Mesh Technology dynamically
chooses the best route and band for
your data, guaranteeing a fast connection no
matter where you are in the home.
Self-Healing

If one Deco has an issue, the system will
automatically reroute data via the other
Decos to make sure you stay online.
Wi-Fi + Powerline
Powerline connections utilize your home's electrical circuit to link Decos, bypassing even the thickest of walls and ceilings.
The combination of powerline and wireless connections achieves up to 60% faster network speeds compared with only wireless connection.
Boosted speeds
60%
Standard Wi-Fi System
Hybrid Wi-Fi System
Powerline

Note:Wi-Fi + Powerline is only for Deco P7
IoT Mesh
Unlike traditional smart hubs, TP-Link Mesh Technology provides whole-home IoT coverage with Wi-Fi, Bluetooth and Zigbee integrated into a single system. Enjoy the magic of your smart home in every room with TP-Link Mesh Technology. Say goodbye to countless hubs.
- - -

Wi-Fi

- - -

Zigbee

- - -

Bluetooth
Why is TP-Link Mesh Technology
an industry-leading solution?
Complete Comparison

Model Number
TP-Link Deco
Netgear Orbi
Google WiFi
Wireless Backhaul
Tri-Band (2.4G+5G_1+5G_2)¹
Single-Band (5G_1 Only)
Dual-Band (2.4G+5G)
Mesh Protocol Supported
IEEE 802.11k/v/r
IEEE 802.11k/v
IEEE 802.11s
True Seamless Roaming
√
×
×
APS(Adaptive Path Selection)
√
×
√
IoT Mesh
√²
×
×
Powerline Backhaul
√³
×
×
Wireless + Powerline Bandwidth
√⁴
×
×
Band Steering
√
√
√
AP Steering
√
√
√
Self-Healing
√
√
√

Notes: 1&2: For Deco M9 Plus Only

3&4: For Deco P7 Only

Spec sourced by Dec. 2017
ALIMENTACIÓN
Entrada del adaptador AC
100-240V ~ 50/60Hz 0.4A
Salida del adaptador AC
12V ⎓ 1.2A
CARACTERÍSTICAS DE HARDWARE
Procesador
Quad-core CPU
Interface
2 LAN/WAN Gigabit Ethernet Ports
Botón
1 Reset button on the underside
Fuente de Alimentación Externa
12 V/1.2 A
Dimensiones
Φ4.7 in. x 1.5 in. (Φ120 mm x 38 mm)
Antenas
4 internal antennas per Deco unit
Versión de Bluetooth
4.2 and above
CARACTERÍSTICAS INALÁMBRICAS
Estándares Inalámbricos
IEEE 802.11 ac/n/a 5 GHz, IEEE 802.11 b/g/n 2.4 GHz
Frecuencia
2.4 GHz and 5 GHz
Tasa de Señal
400 Mbps on 2.4 GHz867 Mbps on 5 GHz
Potencia de Transmision
FCC: <30 dBmCE: <20 dBm (2.4 GHz) <23 dBm (5 GHz)
Seguridad Inalámbrica
WPA-PSK/WPA2-PSK
Funciones Avanzadas
● Router/ Access Point Mode● Optional Ethernet Backhaul● TP-Link Mesh Technology:MU-MIMOAuto Path SelectionSelf-HealingAP SteeringBand SteeringBeamforming
CARACTERÍSTICAS DE SOFTWARE
Calidad de servicio
WMM
IPv6
Support
WAN Type
Dynamic IP/Static IP/PPPoE
Administración
Local Management, Remote Management
DHCP
Server, Client
Port Forwarding
Support
Control de Acceso
Blacklist
Seguridad de cortafuegos
SPI Firewall
Protocolos
Supports IPv4 and IPv6
Características Avanzadas
Homecare:AntivirusParental ControlsQuality of Service
Funciones Avanzadas
SpeedtestMonthly Usage ReportsAuto FW UpdateExpand for more deco
Red de invitados
2.4 GHz guest network * 15 GHz guest network * 1
Beamforming
Support
APP
Easy setup by Deco App
OTROS
Certificacion
CE, FCC, IC, NCC, BSMI, IDA, RCM, JPA, JRF, VCCI, KC, RoHS
Contenido del paquete
● Deco M5 (3-pack):3 Deco units1 RJ45 Ethernet Cable3 Power Adapters● Deco M5 (1-pack):1 Deco unit1 RJ45 Ethernet Cable1 Power Adapter
Requisitos de Teléfono Inteligente / Tableta
iOS 8.0 or laterAndroid 4.3 or laterBluetooth 4.0 or later
Ambiente
Operating Temperature: 0℃~40℃ (32℉~104℉)Storage Temperature: -40℃~70℃ (-40℉~158℉)Operating Humidity: 10%~90% non-condensingStorage Humidity: 5%~90% non-condensing