What are the sensitivity settings and how do I control them?
*Note: All Kasa Cams require and only work with the Kasa for Mobile App
There are two sensitivity settings: Motion and Sound.
Motion sensitivity indicates how little or how much activity must occur to trigger a notification.
Sound sensitivity indicates whether you want to listen for noise or not.
You can access the camera sensitivity settings from the device details page. For motion sensitivity and when sound sensitivity is enabled, your options are more sensitive, normal or less sensitive.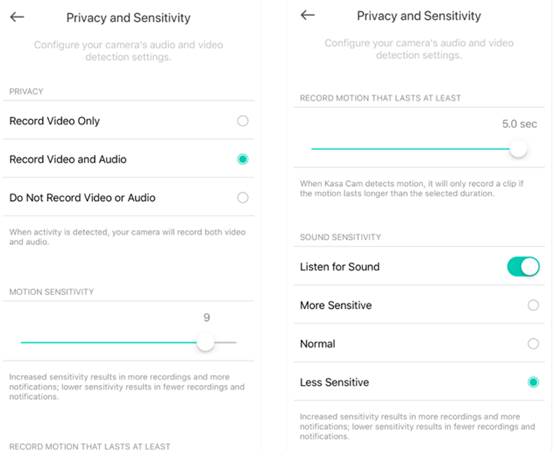 If you need further assistance contact TP-Link Customer Support here.
Finden Sie diese FAQ hilfreich?
Mit Ihrer Rückmeldung tragen Sie dazu bei, dass wir unsere Webpräsenz verbessern.
Subscription Für TP-Link ist Datenschutz sehr wichtig. Weitere Informationen zu unseren Datenschutzbedingungen finden Sie in der Datenschutzerklärung von TP-Link.